SES is investing heavily in its ground-based infrastructure as well as in new satellite capacity. This past few days have seen two celebratory events, one to lay the foundation stone on a major expansion of facilities at its Betzdorf headquarters (see separate box), and earlier this summer the official opening of its impressive new Astra Platform Services play-out centre near Munich, Germany.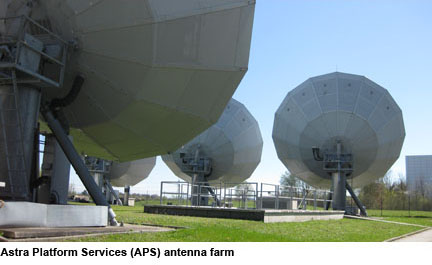 Indeed, it is sometimes difficult for strangers to imagine the importance of Munich to Germany — and now international — TV. It is a region whose media businesses directly employed 371,000 people in more than 29,000 different firms and generated €72 billion in annual revenues. It isn't Los Angeles, or London, but Munich in Germany, which is more or less the headquarters of Germany's media industry. Of course, there are plenty of other hot-spots, not the least Cologne (HQ for RTL) and Berlin, but Munich has almost completely cornered the media market.

Munich, and in particular its suburb of Unterfuering, can best be described as sitting at the crossroads of German broadcasting. At its heart is Astra Platform Services (APS), sitting on Beta Strasse, but at the junction of MedienAllee and ZDF Strasse. APS is in some impressive company, across the road from Sky Deutschland's brand-new HQ, and just 50 paces from Germany's second public broadcaster ZDF. Right next door is Kabel Deutschland's HQ, and a stone's throw away is commercial TV giant Pro7/Sat1, while around the corner is a Bavaria Film Studios facility.

APS counts almost all these names as very regular clients. But it also has a major customer operating some 8400 kilometres away, in Johannesburg, and in the shape of Top TV. Handling Top TV's extra 60+ channels was one of the reasons APS started building a second Network Operations Centre (NOC). Stefan Hennecke, CTO at APS, says Sky Deutschland remains their largest customer, "but we have enjoyed good channel growth over the past six months. Since 2004 we have grown three-fold and now handle more than 300 channels, and are constantly adding new channels and services."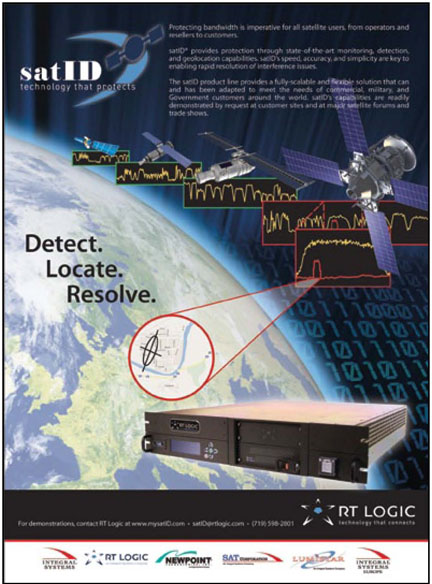 Hennecke explains that APS' role is to make channel play-out seamless for clients and viewers. "For example, we recently had to handle a change of location for N24 [a German all-news channel] which was bought out by its management from Pro7/Sat1, and the technical service for the channel moved from down the street [from Pro7's HQ] to here! It could have been miles and miles away, it would have been just as complex an operation, but we switched over for them on January 1st. There was considerable time pressure on them and us, and we only won the contract last September. They had to extract themselves from every aspect of their previous home, including all their ingest which is based in Berlin and all their back-office systems, and to make matters even more challenging we had to handle the links to their new Media Sales agency. Play-out and the full automation system for the channel is based here in Munich. They operate live until early afternoon, and then we take over from here. This mixed operational approach is, I think, quite unique. However, they have full access to over-ride our automation system so that when something major happens, like the Japanese earthquake, they re-take control and on that occasion ran a 24-hour schedule from Berlin."

Hennecke adds that what N24 wanted, as with the bulk of his other clients, was a highly-secure environment, with complete systems redundancy extending well beyond simple power back-up installations. "All their archive is kept here, again with full access for them, so they dip into for their own production and promotional use. Given that most of our clients use us for, can I say, fairly predictable movie or series channels, this one is especially dynamic."

"It is the same with the new demands for handling channels to smaller screens, whether computers, iPads, iPhones and the other variants, and the new breed of so-called 'connected TVs' and Over The Top services," admits Hennecke. "There is a strong demand, a strong trend, to see more of these services added by clients. We can already play out to dish viewers, to cable head-ends, and streamed services to these new devices. All of these services are straightforward for us. The next step for many of our customers is those 'on demand' services. We already have the Media Asset Management skills here, complete with encryption and the other needs of any broadcaster. More importantly, perhaps, we can be highly competitive. The broadcast industry today faces some key questions. It used to be that every small town had many video rental stores. They are vanishing, but how will the demand be replaced? Will it be one or two national or international VOD service providers, or might there be 20, or 50 or 100? We don't know. But I suspect that recommendation service engines, as part of the EPG or an online service, will be important. How will this be integrated into a video or service stream?"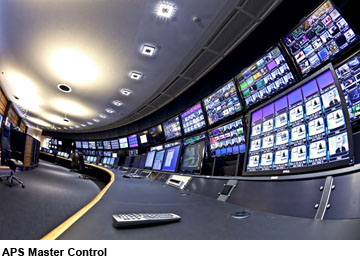 A Client Of The Major Kind
Sky Deutschland is another major client, and is also rapidly adding channels including HDTV and 3D-TV offerings. A recent addition is Sky Sports News HD, and adding more than 100 staff for the service. Sky D's subs base has grown a net 183,000 during 2010 to today's nearly-three million homes.

Sky's channel growth is useful to APS, but where are the new demands coming from? Hennecke said that its growth over the past few years meant that fresh investment had to be made. "Our operator's room had 20 full racks of equipment and there was no space for growth. That had filled in less than two years, so expansion was not a difficult decision to make. We now find that our planned-for growth is in fact happening faster than we anticipated. But what also needs fresh rack space are the new services we are now adding for clients. It is nice to have a new building, but our plan is to cope with growth for the next five to eight years from here and to have the flexibility to add more power, and more air conditioning and more monitoring equipment, as it is needed. This is why we started from scratch. The old building could have coped with a little more but we were also at the end of our flexibility in adding fresh cabling and circuitry, hence the wish to start again. We also wanted to avoid the risks and problems associated with making key alterations to an existing 24/7 facility. Every engineer knows that there are major risks to that strategy."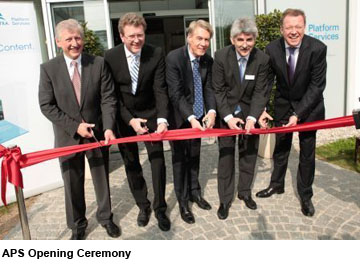 Hennecke says APS is now geared to offering services almost anywhere on the planet. He says Africa, the Middle East and Central/Eastern Europe are all firmly in their sights. "The task for us is to overcome the sales hype from our competitors and to show potential clients how extremely efficient we are. But these countries, well outside Germany's borders, are where we will be operating. We have new capacity coming on stream in all of these locations, and places like Africa represent a great opportunity for us. We are perfectly situated to get signals into Africa, and the European content that we already handle is extremely attractive to some potential customers in the Continent. We are working hard on some ideas, and at a reasonable price level. It is highly competitive, but we know that quality, plus our proven track record will help. And this new facility allows us to scale, not just in the number of channels we can handle but in the growing number of additional services that clients want. We now have that space to add new channels."

APS' parent company SES is also responsible for marketing the Ku-band capacity on YahSat, a brand new satellite serving the Middle East and owned by the Abu Dhabi government. Asked whether APS hoped to win contracts out of and into Abu Dhabi for Middle East viewers, Hennecke's face broke into a wide grin: "We're hopeful," he admitted.

APS Infrastructure Offerings

– Fully redundant power distribution system equipped with invisibly switching capabilities (invisible switchover between the two systems in case of maintenance etc.)
– Air condition system based on groundwater cooling technology
– Two-stage fire detection system with early fire detection
– Latest generation of Harmonic SD and HD Encoders and Multiplexers for DVB-S/DVB-S2 distribution
– Fully Redundant Snell Sirius 800 routing system
– BFE router control system
– Harris Predator Multiviewer systems for service monitoring
– LED Backlight 46" screens and LED room light to minimize heat dissipation in MCR
– In house developed monitoring framework for error detection and display.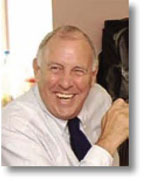 About the author
Chris Forrester is a well-known broadcasting journalist and industry consultant and has been reporting on the "broadband explosion" for more than 25 years. Since 1988, Chris has been a freelance journalist who specializes in content, the business of television, and emerging applications, on all delivery platforms.

* * * * * * * * *

Using APS, and operating from 8,400km away...

Outsourcing, under the Top TV brief, meant APS had to create a system from scratch that operated seamlessly, with NDS conditional access encryption as well as integrating an EPG service, along with systems for programming schedules, metadata gathering and a professional Media Asset Management solution for the opening bouquet of 53 TV and 25 radio channels — and space for expansion. Subs have grown far faster than anticipated and many new channels added. In July Top TV beat off tough competition from well-established MultiChoice and others to win SatCom's Star Award as 'Best Satellite Broadcast Provider for Africa'. TopTV's citation highlights the company's move into TV's new directions, namely its MPEG4 transmissions, and that TopTV has helped bring television entertainment and information to the previous "not haves" of society.

Frans Lindeque is Top TV's COO. "We looked closely at the world's best service providers in the broadcast media industry, who could have done a very good job for us, but when we looked at the standards being suggested by APS, they were impressive. Their overall performance and the quality levels they met were superb. In fact, the APS operational standards are incredible. Just look at the way they operate in Munich, look at the way they built their own systems. It has all been done so professionally. The team, and the support we got from them, was absolutely stunning. We know they're growing and we'd like to grow with them. I'd like to think that the contract and the relationship were governed by a technological rapport where we all wanted to do the very best we could and with sensible pricing.

* * * * * * * * *

Portfolio Extension
APS has has expanded outside Europe. APS today serves the operation of some 300 TV channels with dozens in High Definition, 3D-TV channels, plus 42 radio channels and 59 data services. These data services are growing fast says APS, as broadcasters tap into delivering programming into multiple devices. The new playout centre will complement the existing premises which continue to operate as a physical back-up.

Wilfried Urner, CEO of Astra Platform Services, says: "In the past years our customer base has doubled. We have entered new markets such as South Africa and added new services such as Digital Asset Management. The new playout centre will open up further growth opportunities for our fast growing company, and allow us to further develop our product portfolio and expand geographically. It therefore represents a very important milestone for our international growth strategy." 

* * * * * * * * *

SES Is Also Busy At Betzdorf

SES' senior officials April 26 laid the foundation stone at a new €34m satellite control centre at its Betzdorf, Luxembourg headquarters. The expansion plans will also see an additional business centre constructed at Betzdorf. Part of the brief is that Betzdorf is ready for the O3b MEO constellation.

The construction project will include a new Technical Building with associated office space to handle future needs for SES' expanding global satellite fleet of 44 satellites, and an extended antennae field. The new facilities will also host the Satellite Operations Centre (SOC) for satellite infrastructure start-up O3b, whose MEO (Mid Earth Orbit) constellation of initially eight spacecraft will be flown out of Betzdorf starting 2013. Next to the new 5,000+ square metre Technical Building, the extended antennae field will be capable of holding up to 40 large scale satellite communications dishes with the ability to cover an orbital arc over Europe stretching from 62 degrees West to 70 degrees East. SES is also investing in a new 3,500 square metre energy-efficient Business Centre for developing SES divisions, and to host third-party activities on the Betzdorf Mediaport.

The SES investment is accompanied by a significant investment from the Luxembourg Government and the Commune of Betzdorf, whose contributions will add 3.2 kilometres of roads, water, gas, electricity and vital communications lines to the Betzdorf site, and will be complemented by a new local power grid station and water tower.