ICESat-2 launch, Delta II adieu
After several delays, the United Launch Alliance's (ULA) Delta II rocket was launched for the final time carrying NASA's weather satellite, ICESat-2. This is the end of an era for the Delta II rocket that was first launched on February 14, 1989.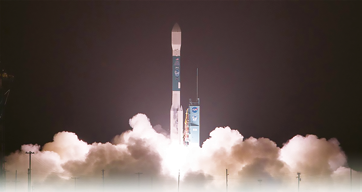 The launch of ICESat-2 aboard the final blast-off of the United Launch
Alliance Delta II rocket familiy.
Gary Wentz, ULA vice president of Government and Commercial Programs, said, "This vehicle has truly created a legacy throughout its history launching NASA, critical U.S. military satellites and commercial clients."
NASA's satellite, ICESat-2, with its single instrument — the Advanced Topographic Laser Altimeter System (ATLAS), manufactured by Northrop Grumman) — will provide scientists with height measurements to create a global portrait of Earth's third dimension, gathering data that can precisely track changes of terrain including glaciers, sea ice, forests and more.
In addition to ICESat-2, this mission includes four cubesats that will launch from dispensers mounted to the Delta II's second stage.
This mission was launched aboard a Delta II 7420-10 configured rocket, which includes a 10 foot in diameter payload fairing (PLF). The booster for this mission is the Aerojet Rocketdyne RS-27A engine — the second stage is powered by that company's AJ10-118K engine.

To date, ULA has a track record of 100 percent mission success with 129 successful launches. With more than a century of combined heritage, United Launch Alliance is the nation's most experienced and reliable launch service provider.
ULA has successfully delivered more than 125 satellites to orbit that aid meteorologists in tracking severe weather, unlock the mysteries of the solar system, provide critical capabilities for troops in the field and enable personal device-based GPS navigation.
ULA Summary
United Launch Alliance (ULA) also revealed that the last Delta II rocket will join a lineup of historic rockets in the Rocket Garden on display at NASA's Kennedy Space Center Visitor Complex at Cape Canaveral, Florida.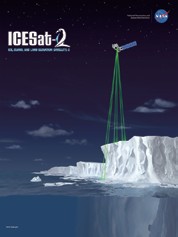 "The Delta II rocket has been a venerable workhorse for NASA and civilian scientists, the U.S. military, and commercial clients throughout its almost 30 years of service," said Tory Bruno, ULA president and CEO. "This program comes to a close with the final launch of NASA's ICESat-2, but its legacy will continue and the Visitor Complex will help us keep the story of the success of this much-revered rocket in the hearts and minds of the public."
The maiden Delta II flight occurred on Valentine's Day in 1989 and successfully delivered the first operational GPS satellite to orbit.
Since that first launch, Delta II rockets have launched 154 successful missions. Its resume includes several trips to Mars as well as the planet-hunting Kepler, the twin lunar-orbiting GRAIL spacecraft, 48 GPS satellites and numerous commercial imaging and communications satellites.
NASA Summary
NASA's Ice, Cloud and land Elevation Satellite-2 (ICESat-2) successfully launched from California at 9:02 a.m. EDT on Saturday, September 15, embarking on a mission to measure the ice of Earth's frozen reaches with unprecedented accuracy.
ICESat-2 lifted off from Space Launch Complex-2 at Vandenberg Air Force Base on United Launch Alliance's final Delta II rocket. Ground stations in Svalbard, Norway, acquired signals from the spacecraft about 75 minutes after launch. The satellite is performing as expected and orbiting the globe, from pole to pole, at 17,069 mph from an average altitude of 290 miles.
"With this mission we continue humankind's exploration of the remote polar regions of our planet and advance our understanding of how ongoing changes of Earth's ice cover at the poles and elsewhere will affect lives around the world, now and in the future," said Thomas Zurbuchen, associate administrator of NASA's Science Mission Directorate.
ICESat-2 carries a single instrument, the Advanced Topographic Laser Altimeter System (ATLAS). ATLAS will be activated approximately two weeks after the mission operations team completes initial testing of the spacecraft. Then ICESat-2 will begin work on its science objective, gathering enough data to estimate the annual height change of the Greenland and Antarctic ice sheets to within four millimeters – the width of a pencil.
"While the launch today was incredibly exciting, for us scientists the most anticipated part of the mission starts when we switch on the laser and get our first data," said Thorsten Markus, ICESat-2 project scientist at NASA's Goddard Space Flight Center. "We are really looking forward to making those data available to the science community as quickly as possible so we can begin to explore what ICESat-2 can tell us about our complex home planet."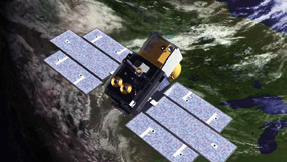 Artistic rendition of the ICESat-2 satellite on orbit. Image
is courtesy of NASA/Northrop Grumman.
The high-resolution data will document changes in the Earth's polar ice caps, improve forecasts of sea level rise bolstered by ice sheet melt in Greenland and Antarctica, and help scientists understand the mechanisms that are decreasing floating ice and assess how that sea ice loss affects the ocean and atmosphere.
ICESat-2 continues the record of ice height measurements started by NASA's original ICESat mission, which operated from 2003 to 2009, that were continued by the agency's annual Operation IceBridge airborne flights over the Arctic and Antarctic, which began in 2009. Data from ICESat-2 will be available to the public through the National Snow and Ice Data Center.
Goddard built and tested the ATLAS instrument, and manages the ICESat-2 mission for NASA's Science Mission Directorate.
Northrop Grumman designed and built the spacecraft bus, installed the instrument and tested the completed satellite. NASA's Launch Services Program, based at Kennedy Space Center in Florida, is responsible for launch service acquisition, integration, analysis and launch management.
Northrop Grumman Summary
Northrop Grumman Corporation (NYSE: NOC) built the Ice, Cloud and Land Elevation spacecraft (ICESat-2) for NASA and the satellite was successfully launched aboard a United Launch Alliance (ULA) Delta II rocket from Vandenberg Air Force Base, California.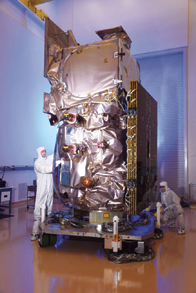 Photo of ICESat-2 upon completion of
manufacturing. Image is courtesy of
Northrop Grumman.
In addition to manufacturing the spacecraft, Northrop Grumman also provided propulsion, key composite structures, a space navigation system and other components on the Delta II launch vehicle. This event marks the final launch of the Delta II rocket.
ICESat-2 will provide precise measurements of the changing height of Earth's glaciers, ice sheets and sea ice. The satellite is carrying the Advanced Topographic Laser Altimeter System (ATLAS), built at NASA's Goddard Space Flight Center, which will measure the height of a changing Earth one laser pulse at a time. The instrument will enable scientists to measure the topography of the Greenland and Antarctic ice sheets in unprecedented detail. With 10,000 laser pulses per second, the fast-shooting laser technology allows ATLAS to take measurements every 28 inches along the satellite's path.
"ICESat-2 demonstrates the company's expertise in delivering high-quality Earth science satellites that help scientists gain a better understanding of the changes that can affect the planet's frozen and icy areas," said Steve Krein, Vice President, science, environmental and weather programs, Northrop Grumman. "As a key focus of NASA's Earth science research, ICESat-2 paves the way for scientific discoveries that will yield new data on the potential effects of a changing Earth."
Northrop Grumman designed and manufactured the ICESat-2 spacecraft at its Gilbert, Arizona, satellite manufacturing facility and will provide mission operations at its Dulles, Virginia, site.
The company built the satellite on its flight-proven LEOStar-3™ platform, which will be also used for the upcoming Landsat-9 and JPSS spacecraft.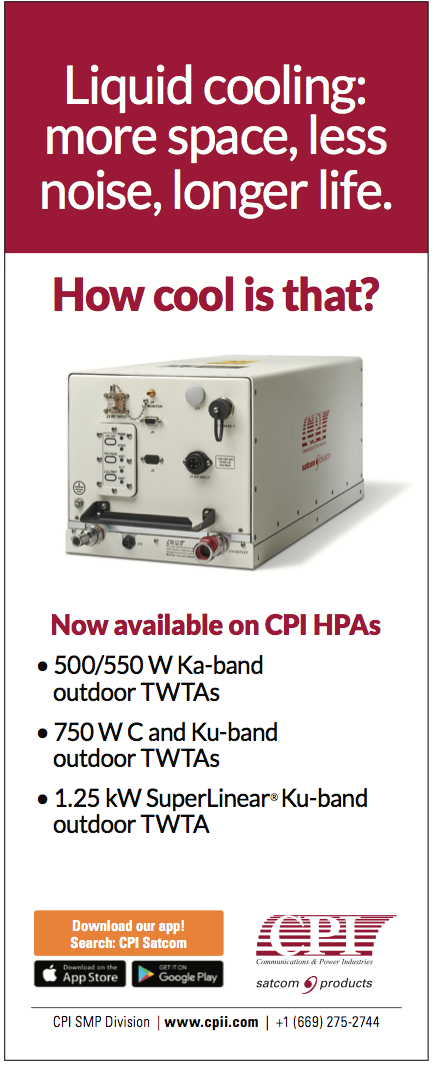 Company facilities in California and Maryland provided numerous subsystems, including the satellite's diaphragm propellant tank, pressurant tank, solar arrays and heat pipes for two components on the spacecraft.
Northrop Grumman also supplied its Scalable Space Inertial Reference Unit (Scalable SIRU™) navigation system for the satellite to enable spacecraft attitude control and sensor pointing/stabilization. The Scalable SIRU is the industry standard for high-precision, long-life attitude control solutions supporting commercial, government and civil space missions.
Northrop Grumman also manufactured the Delta II rocket's four Graphite Epoxy Motors 40 (GEM 40), which provided an additional 460,000 pounds of maximum thrust during today's launch. Northrop Grumman has been supplying solid propulsion motors to ULA and its predecessor companies for a variety of launch vehicles since 1964 and is ULA's largest legacy supplier of solid propulsion.
"As the Delta II program finishes its long, successful run, we note that 1,003 GEM 40 strap-on boosters have helped launch 132 Delta II missions, including today's," said Charlie Precourt, Vice President and General Manager, propulsion systems, Northrop Grumman. "The Delta II rocket enjoys the longest consecutive success record in commercial rocket motor history."
Northrop Grumman manufactured the GEM 40 motors in Utah, the Delta II rocket's 10-foot diameter composite fairing in Mississippi and the rocket's second stage helium and nitrogen pressurization bottles in California.
www.ulalaunch.com/rockets/delta-ii
www.nasa.gov/feature/goddard/2018/counting-on-nasas-icesat-2
---
Payload delivered
Orbital Micro Systems (OMS) has delivered their first ever commercially owned and operated, space-based, passive microwave radiometer for atmospheric observation to Clyde Space in Glasgow, Scotland, for satellite integration.
Employing proven technology used in many larger weather monitoring platforms, such as the Advanced Technology Microwave Sounder (ATMS) aboard the Joint Polar Satellite System, the innovative OMS radiometer will deliver highly-accurate temperature, humidity, and precipitation data critical for business decisions at a fraction of the cost of heritage government programs. The mission is part of the In-Orbit Demonstrator (IOD) Program, funded by Innovate UK and managed by the Satellite Applications Catapult. OMS is on track to launch six to eight satellites in 2019 to establish its Global Environmental Monitoring System (GEMS) constellation.
The payload, consisting of a 10x10x15 cm. sized instrument in a 3U cubesat, will be launched and put into LEO via the NanoRacks CubeSat Deployer (NRCSD) on the International Space Station (SS) — via NanoRacks' Space Act Agreement with NASA's U.S. National Lab. The launch is planned for early 2019.
OMS established its UK-based organization under the guidance of the UK Global Entrepreneur Program in 2017. The expansion has enabled the company to accelerate its business plans through projects such as the IOD and other UK-funded initiatives.
Michael Hurowitz, CTO for OMS, said that the IOD mission is the first member of the GEMS constellation that will pave the way for never-before-possible temporal coverage of global weather conditions. In addition, the OMS data scientists at the International Center for Earth Data (ICED) are developing advanced analytics to integrate the data generated from the firm's satellites with public and private data streams that will provide a much more complete and accurate view of weather conditions in near real time.
www.orbitalmicro.com
---
Dual satellites + 100th launch
Kudos to Arianespace with the September 25 successful 100th launch of Ariane 5 from the European spaceport in Kourou (French Guiana).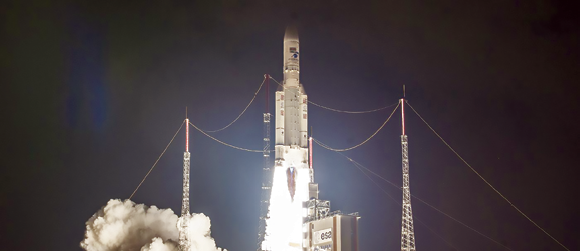 The 100th launch of the Ariane 5 for flight VA243.
Photo is courtesy of Arianespace.
This event was the result of the efforts of an enormous network of specialists and employees whose common goal was to see this mission's success of placing two telecommunications satellites Horizons 3e and Azerspace-2/Intelsat38 into orbit weighing a total of 9,940 kg... and they did.
An archive video of the launch may be viewed at https://www.youtube.com/watch?v=A3rBUie9Rlw&feature=player_embedded.
Arianespace
In 22 years of service, the Arianespace Ariane 5 has launched more than 170 satellites to GTO as well as the Rosetta probe, five transfer vehicles (ATV) to resupply the International Space Station (ISS) and 12 satellites for the European Galileo navigation service.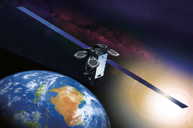 Artistic rendition of the Horizons-3e
satellite.
This Ariane 5 ECA brought a net total of 9,940 kg. in total mass for the two satellites and 10,827 kg. gross mass (including the ACU, payload adapters, the SYLDA, which is the Ariane dual launch system, and the LVA 3936 Launch Vehicle Adaptor) to the launch. Since 2016, the net performance gain for Ariane 5 has increased by 150 kg.
Alain Charmeau, CEO of ArianeGroup stated, "Launching 10 metric tons into orbit is now normal business for Ariane 5, and this 100th lift-off is an opportunity to celebrate the expertise of the teams at ArianeGroup, Arianespace and all of their industrial partners across Europe, who are working constantly to improve their capabilities and the performance and competitiveness of our launcher, while at the same time preparing the arrival of Ariane 6 in just two years from now.
"I warmly thank them and the European Space Agency, CNES and all our partners in European space, with whom we celebrate this success. Without the interest and constant support of the political powers in Europe over these two decades, this success would not have been possible. During the course of these 100 flights since 1996, Ariane 5 has not only supported the development of the European and global space industry in the field of telecommunications, but has also contributed to exploration and to science.
"Soon, Ariane 6 will take up the torch. Until that time, other impressive missions await Ariane 5, whose next flight is a very important one: BepiColombo which will head for Mercury next month. Ariane 5 has not yet written the final page of its space legend."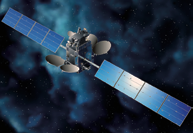 Artistic rendition of the Azerspace-2 /
Intelsat 8 satellite. Image is courtesy
of SSL.
In addition to the 170 telecommunications satellites placed in GEO over the past 22 years, Ariane 5 has also launched payloads to a number of various orbits: The second flight of the recoverable ARD capsule; the XMM, Herschel and Planck telescopes; the Rosetta probe; the ENVISAT Earth observation satellite; two HELIOS remote-sensing satellites; five ATV automated freighters to resupply the International Space Station and, more recently, 12 navigation satellites for Europe's Galileo constellation. Ariane 5 thus confirms its reputation as the world's most reliable commercial launcher.
In celebration of this 100th launch, more than 7,000 people around Europe virtually launched Ariane 5 themselves via social media. This successful joint campaign by ArianeGroup, Arianespace, CNES and ESA was launched on July 25 to raise awareness about Ariane 5 among the citizens of Europe.
Finally, the various ArianeGroup sites in France (notably in Kourou) and in Germany celebrated this 100th launch by sharing memories and future ambitions with their 9,000 employees and all of
their partners.
As the industrial lead contractor for development and operation of the Ariane 5 and Ariane 6 launchers, ArianeGroup coordinates an industrial network of more than 600 companies in 13 European countries, including more than 350 Small and Medium Enterprises. ArianeGroup oversees all the industrial activities, from the performance improvements and studies necessary for Ariane 5 up to its production, the provisioning of data or software specific to each mission, without forgetting the global marketing activities by Arianespace. This chain includes equipment and structures, engines manufacturing, integration of the various stages and finally launcher integration in French Guiana.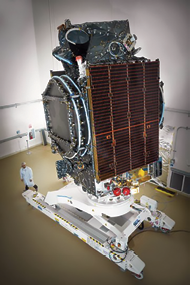 The SSL-built Azerspace-2/Intelsat 38
satellite was successfully launched on
September 25 and is performing according
to plan. Photo of the satellite post-
manufacturing is courtesy of SSL.
Additional statistics pertaining to Ariane 243's launch include...
• 75th consecutive success by a launcher fitted with a Vulcain® 2 engine
• 100th success by a launcher fitted with the solid propellant strap-on boosters (EAP)
• 140th consecutive success by a launcher fitted with the HM7B engine
This launch sent two satellites to orbit, the Horizons 3e and the Azerspace-2/Intelsat 38.
Horizons 3e/Intelsat
Horizons 3e was deployed from Ariane 5's upper payload slot and is owned by a joint venture of Intelsat and SKY Perfect JSAT Corporation.
Built by Boeing using Intelsat's EpicNG® design, it will provide coverage for aeronautical and maritime mobility, fixed and wireless operators, as well as mobility and government customers. In addition, Horizons 3e is the first satellite in Intelsat's EpicNG spacecraft series to feature entire Ku-band spot beams using multi-port amplifiers that optimize power across the spacecraft.
As Ariane 5's upper passenger on Flight VA243, Horizons 3e is owned by a joint venture between Intelsat and SKY Perfect JSAT, marking this as the fourth collaboration between the two companies.
Horizons 3e completes the Intelsat EpicNG® network's global coverage, bringing the next level of high-throughput services to the Asia-Pacific region and expanding coverage in the Pacific Ocean.
The all-digital Horizons 3e payload represents a continued evolution of the award-winning Intelsat EpicNG® platform. It features full beam interconnectivity in C- and Ku-bands and also includes a multi-port amplifier that optimizes power across the satellite, enabling a power adjustment of each spot beam to better meet a customer's throughput demands.
This feature brings additional efficiency and flexibility to address regional and application requirements for broadband, mobility and government customers operating in the Asia-Pacific and Pacific Ocean.
The 6,441 kg. satellite will provide 30 gigabits per second of bandwidth for fixed and mobile customers, and it is to be stationed at the 169 degrees East orbital location to replace Intelsat 805.
Horizons 3e is the 60th Intelsat satellite, as well as the 20th for SKY Perfect JSAT, to be launched by Arianespace — and as such, it embodies more than 35 years of shared success in the unique partnership between Intelsat, SKY Perfect JSAT Corporation
and Arianespace.
Boeing is the prime contractor of Horizon 3e and this is the 56th satellite from this manufacturer to be launched by Arianespace.
Azerspace-2/Intelsat 38
Azerspace-2/Intelsat 38 is a multi-mission satellite to be located at 45 degrees East.
The Azerspace-2/Intelsat 38 co-passenger to be orbited by Flight VA243 from Ariane 5's lower passenger position was produced by SSL and is designed to provide a range of telecommunications relay duties at the service of its two operators — Intelsat and Azercosmos, the latter being a company owned by the government of the Azerbaijan Republic.
This is Azercosmos' second telecommunications satellite and is will expand on the current capacity of Azerspace-1. Azerspace-2 will also increase the coverage area and spectrum of services provided
by Azercosmos.
The satellite's planned orbital position is only one degree away from the current Azerspace-1 orbital location at 46 degrees East, which creates favorable opportunities for existing and new customers to start expanding their current satellite solutions.
The satellite will offer enhanced capacity, coverage and service offerings to support growing demand in the region for Direct-to-Home (DTH), government and network services in Europe, Central and South Asia, the Middle East and Sub-Saharan Africa.
The satellite is ideally designed for smaller antennas and has cross-connectivity between East Africa, West Africa and Central Africa, Europe and Central Asia.
Intelsat 38 will provide Ku-band capabilities and deliver continuity of service for the Intelsat 12 satellite located at 45 degrees East. The satellite will host leading Direct-to-Home television platforms for the fast-growing Central and Eastern Europe and Asia-Pacific regions.
The satellite will support the growth objectives of customers operating in these regions. Intelsat 38 will also provide critical broadband connectivity for corporate network and government services in Africa.
Built by California-based SSL, a Maxar Technologies Company, Azerspace-2/Intelsat 38 offers 35 active transponders in Ku-band. Its designed lifetime is more than 15 years. This is the 65th satellite based on an SSL platform to be launched by Arianespace.
SSL
The Azerspace-2 / Intelsat 38 satellite is performing post-launch maneuvers as expected, stated SSL, a Maxar Technologies company (formerly MacDonald, Dettwiler and Associates Ltd.) (NYSE: MAXR) (TSX: MAXR), following launch on September 25 aboard an Ariane 5 launch vehicle from the European Spaceport in Kourou, French Guiana.
The satellite deployed its solar arrays shortly after launch and will fired its main thruster on September 27 to propel the craft toward final orbit at 45 degrees East.
The satellite design is based on the highly reliable SSL 1300 satellite platform that provides the flexibility for a broad range of applications and technology advances. Azerspace-2/Intelsat 38 is designed to provide service for 15 years or more. SSL has built more than 275 satellites over the firm's 60 year history. With this launch, there are now 90 satellites built by SSL in geostationary orbit.
Dario Zamarian, Group President of SSL, said that SSL-built satellites such as Azerspace-2/Intelsat 38 help to build a better world, making information and communications more accessible. He thanked Azercosmos and Intelsat for their trust in SSL, as well as the company's teams at SSL and Arianespace for the excellent teamwork and commitment making this launch a success.
Rashad Nabiyev, Chairman and Chief Executive Officer of Azercosmos, added that SSL proved to be an excellent and reliable partner to help the company make Azerspace-2 a reality. Now that the satellite has successfully launched, the firm looks forward to providing enhanced service offerings to customers.
Ken Lee, Intelsat's SVP of space, noted that SSL has been a trusted and valued manufacturing partner of Intelsat's for many years. The company's customers have benefited from their innovative designs and the new Intelsat 38 satellite payload is no exception. The satellite will enable Intelsat's media customers in Central and Eastern Europe and Asia to grow their business and deliver fast, reliable broadband connectivity to corporate enterprise and government customers in Africa.
arianespace.com
www.sptvjsat.com/en/
azercosmos.az
www.intelsat.com
www.sslmda.com
---
Viasat names ULA to launch their Viasat-3 satellite
Viasat Inc., (Nasdaq: VSAT) has selected United Launch Alliance's (ULA's) proven Atlas V vehicle to launch one of their ViaSat-3 satellite missions — this is the first commercial contract ULA has directly signed since assuming responsibility for the marketing and sales of the Atlas V launch vehicle from Lockheed Martin Commercial Launch Services earlier this year.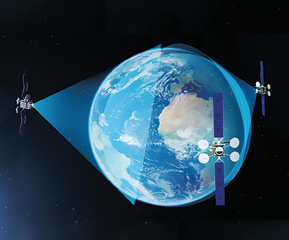 Artistic rendition of Viasat's broadband satellites on orbit.
The Viasat mission will carry one of the ViaSat-3 series spacecraft and is scheduled to launch in the 2020 to 2022 timeframe from Space Launch Complex-41 at Cape Canaveral Air Force Station in Florida. This mission will launch aboard an Atlas V 551 configuration vehicle, the largest in the Atlas V fleet. The 551 configuration provides the performance to deliver a ViaSat-3 satellite into a high-energy geostationary transfer orbit where it can begin on-orbit operations faster than with other available launch vehicles.
The selection of Atlas V for one of the ViaSat-3 missions is the next step in implementing Viasat's integrated launch strategy which is designed to ensure the on-time launch of all of the ViaSat-3 spacecraft through launch vehicle diversity and an integrated approach to launch planning. Viasat will announce specific mission assignments for each of the contracted launch vehicles at a later date.
The ViaSat-3 class of Ka-band satellites is expected to provide unprecedented capabilities in terms of service speed and flexibility for a satellite platform. The first two satellites will focus on the Americas and on Europe, Middle East and Africa (EMEA), respectively, with the third satellite planned for the APAC region, completing Viasat's global service coverage. Each ViaSat-3 class satellite is expected to deliver more than 1-Terabit per second of network capacity, and to leverage high levels of flexibility to dynamically direct capacity to where customers are located.
Atlas V has launched 78 missions with 100 percent success including 17 successful commercial missions. The workhorse rocket also delivered critical science missions for NASA such as Mars Science Lab, Pluto New Horizons and Mars InSight, and critical missions for the Department of Defense including Space-Based Infrared System (SBIRS) and Wideband Global SATCOM (WGS.
Dave Ryan, the President of Space Systems at Viasat, said that ULA continues to demonstrate schedule certainty and flexibility, as well as be a trustworthy and reliable business partner. This coupled with unmatched Atlas V launch vehicle reliability and tailored mission design capabilities made ULA a strong partner for a ViaSat-3 launch mission. ULA is known for providing an innovative launch solution that is focused on mission success, which will allow ViaSat to meet the company's business objectives to bring high-speed, high-quality broadband connectivity to meet end-user demand.
Tory Bruno, ULA's President and CEO, added that ULA's Atlas V launch vehicle is the most reliable launch vehicle in the world and the company is pleased that Viasat has recognized the value the Atlas V can offer and has decided to select this rocket to launch their commercial communications satellite.
www.viasat.com
www.ulalaunch.com
---
First Irish smallsat nearly ready...
John Halligan TD, Minister for Training, Skills, Innovation, Research and Development, has announced that Ireland's first satellite, EIRSAT-1, has successfully completed the first phase of the European Space Agency's (ESA's) Fly your Satellite! (FYS) Program, the Critical Design Review, and has now moved one step closer to launch into space.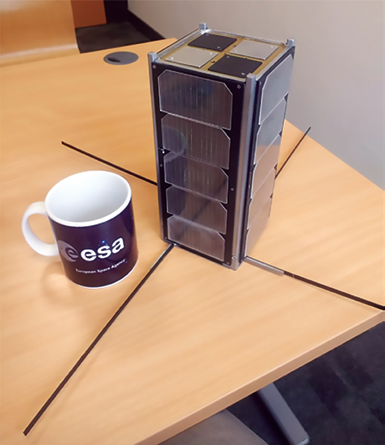 Minister Halligan TD made the announcement during a visit to University College Dublin (UCD), where he met with the interdisciplinary team of 16 UCD postgraduate students who are building the satellite with the support of ESA's Education Office.
EIRSAT-1 (Educational Irish Research Satellite-1) is a smallsat and is comparable in size to that of an average shoebox. In May 2017, EIRSAT-1 was selected to be part of the second cycle of the FYS! Program. ESA has concluded that the objectives of the satellite's Critical Design Review have now been achieved, marking an important milestone for the project. The UCD team now moves to the next phase of the program and will begin to assemble and test an EIRSAT-1 prototype in newly installed clean rooms at the University.
Subject to passing further reviews and mission milestones, EIRSAT-1 is expected to be delivered to ESA in mid-2020 with three scientific experiments on board. After subsequent launch, it is anticipated to operate for a 6 to 12 month period. Once on orbit, the satellite will communicate data to Earth through a ground radio station, located at EIRSAT-1 mission control in the UCD School of Physics.
The three EIRSAT-1 experiments, designed and developed in UCD, will include technology from Irish industry partners that include ENBIO and SensL (now part of ON Semiconductor).
The main experiment on-board EIRSAT-1 will be a novel gamma-ray detector, called GMOD, which aims to detect gamma-ray bursts, the most energetic explosions in the universe, which occur when some stars die or collide. The second experiment, EMOD, is an in-flight demonstration of thermal control coatings developed by the Irish company ENBIO Ltd. The third experiment, called Wave-Based Control, or WBC, tests a UCD-developed algorithm to control the movement of EIRSAT-1.

The EIRSAT-1 team includes students from the UCD Schools of Physics; Mechanical and Materials Engineering; Electrical and Electronic Engineering; and Mathematics and Statistics. The students, funded by the Irish Research Council, Science Foundation Ireland and ESA, are being supported by academic staff, postdoctoral researchers, technicians and industry mentors.
The EIRSAT-1 mission is supported by industry partners that include ENBIO, SensL (now part of ON Semiconductor) and Parameter Space.
Minister Halligan TD said that the EIRSAT-1 project provides the UCD student team with a great opportunity to develop skills in satellite development, a first in Irish space science education. The development of these skills will have an impact beyond those directly participating in the project, including in the expanding space industry sector in Ireland. Furthermore, UCD's participation in the Fly Your Satellite! program has significant potential to drive an interest in space among students at all levels of education at a time when Ireland's STEM capabilities are playing an increasingly important role in our international competitiveness."
Professor Lorraine Hanlon, UCD School of Physics and EIRSAT-1 Project Leader, added that cubesats, such as EIRSAT-1, are disrupting the traditional space sector globally, providing a fast and cost effective route to gaining spaceflight heritage. As an emerging space nation, Ireland's future space endeavors will benefit from the skills developed by the talented team of UCD students who are building EIRSAT-1.
Professor Orla Feely, UCD Vice-President for Research, Innovation and Impact, congratulated the EIRSAT-1 team of UCD students on successfully completing the first phase of ESA's Fly Your Satellite! program and wished them every success with the next phase of assembling and testing the satellite, adding that the Government's recent announcement of Ireland's membership of the European Southern Observatory provides significant benefits for advancing the skills agenda and research excellence in the space sector in Ireland. A key objective of the EIRSAT-1 mission is through its success to inspire the next generation of students to study STEM subjects. The skills base and the research and development agenda are closely aligned, and both need continuing investment by Government to ensure that Ireland can maximize its return from global opportunities in the space sector. The ongoing implementation of the Innovation 2020 strategy is key to building critical mass in key areas of importance in the space sector in Ireland to the benefit of individual enterprises and the economy.
www.ucd.ie
https://www.esa.int/Education/CubeSats_-_Fly_Your_Satellite
---
ThinKom and Telesat MoU
ThinKom Solutions, Inc. and Telesat have signed a memorandum of understanding (MoU) to jointly develop a Ka-band enterprise user terminal for Telesat's planned LEO constellation of satellites.

As an initial step in the process, ThinKom's ThinAir® Ka2517 phased array antenna system, which is currently in production for commercial and government in-flight connectivity (IFC), will be used for over-the-air testing on Telesat's Phase 1 LEO satellite over the next few months.
Telesat's state-of-the-art LEO constellation will combine the company's global spectrum rights in Ka-band with Telesat's proprietary LEO architecture to transform global communications. The constellation will deliver an unsurpassed combination of capacity, speed, security, resiliency, latency and low cost.
Telesat's LEO constellation will accelerate 4G/5G expansion, bridge the digital divide by bringing fiber-like high-speed services into rural and remote communities, and set new levels of performance for commercial and government broadband on land, sea and in the air.

ThinKom and Telesat will collaborate in the development of a new Telesat LEO-compliant enterprise terminal for terrestrial applications. Building on ThinKom's disruptive antenna technology and Telesat's commercial and technical expertise in satellite communications, the new terminal will be cost effective while delivering high-performance connectivity for applications including mobile backhaul, WiFi hotspots, isolated cable and DSL networks, and remote institutions.
Michel Forest, Director of Engineering at Telesat, said that ThinKom's new terminal, combined with the revolutionary value proposition of Telesat's LEO constellation, will unlock new satellite communications market opportunities with better value economics for service providers and their customers. Easy to deploy, cost effective and agile beam antenna technology are key requirements for the company's Telesat LEO constellation, which will be able to allocate bandwidth seamlessly and instantly where it's most needed. Live, over-the-air testing with Telesat's Phase 1 LEO satellite will validate that the ThinKom Ka-band aero antennas, which currently operate on geostationary satellites, meet all of the Telesat LEO system requirements.
Bill Milroy, Chairman and Chief Technical Officer of ThinKom Solutions, noted that ThinKom's patented phased-array architecture provides rapid switching speeds without the drawbacks typical of electronic scanning antennas in terms of limited instantaneous bandwidth, poor low look-angle performance, high power consumption and lower aperture efficiency. The company's proven antenna technology has the versatility to support an integrated LEO constellation solution offering gap-free pole-to-pole coverage with automatic beam switching, rapid outage recovery and network optimization for different geographical regions. This means ThinKom can offer a fast-track path to commercialization of a fully interoperable, multi-orbit solution in the near term.
For more on ThinKom's LEO/MEO/GEO interoperability, view the company's video at:
www.thinkom.com/future-proofed-satcom-antenna-technology/
www.telesat.com/
---