Congressman Mike D. Rogers (R-AL) recently published an article entitled, "Changing the Military's Approach to Commercial Satellite Communications," which was refreshing to see in that a leading member of the House Armed Services Committee was seriously addressing an important, if somewhat obscure, issue.
I suspect there haven't been many votes either won or lost over the question of whether (or how) the Department of Defense reforms the way it buys commercial satellite capacity, but the stakes are surprisingly high and the Congressman and his staff deserve a lot of credit for taking the lead in a discussion that has been ongoing (but, unfortunately, going nowhere) for years.
In his article, Congressman Rogers points out that current DoD SATCOM procurement practices are both costly and risky, facts which no one in the industry would dispute. While I doubt it is their official acquisition strategy, today's reality is that the government buys commercial capacity when and where it needs it, accepting whatever performance it provides, paying whatever it costs, and accepting the risk of non-availability. To be fair, other than being much more expensive than it needs to be, this approach has worked satisfactorily during our decade of heavy engagement in Iraq and Afghanistan. Unfortunately though, that's not likely to be the case in the future.
Regarding cost, reform efforts to date have focused primarily on changing the way DoD leases satellite capacity. In the 2014 National Defense Authorization Act, Congress calls on the Pentagon to prepare a strategy for the expansion of satellite acquisition authorities that would effectively help to reduce risk and cost to the Department. Specifically, DoD is asked to examine the use of longer and larger quantity leases, and those changes will help bring lease costs into line with what large commercial customers pay.
To his credit, though, Congressman Rogers is looking beyond cost. In his piece, he observed that the current methodology "lacks strategic foresight, puts our troops at risk, and disadvantages our industrial base." Over the past year, he has led an effort to ensure our warfighters are not dependent for critical communications on satellites that are under the control of unreliable partners, such as China, and his efforts have yielded budget language that places strict limits on the practice. That legislation went a long way toward addressing the risk and industrial base questions, but the issue of "strategic foresight" remains.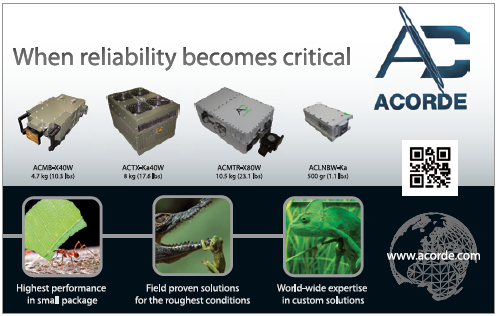 In recognizing that the manner in which the government purchases satellite capacity today is short sighted, Congressman Rogers has taken a logical leap that others have missed: Commercial satellite capacity is an essential infrastructure for our troops and will remain so in the future.
Given that reality, we should not limit ourselves to buying satellite capacity in the same way we buy janitorial services, using one-year contracts and behaving as if there were an unlimited number of potential providers. In fact, the most important satellite related language in the bill encourages the Defense Department to continue its efforts to implement alternative buying strategies that would better leverage the capabilities of commercial industry and ensure the future availability of adequate commercial bandwidth to meet DoD needs.
By encouraging the Pentagon to explore the use of completely new approaches, and expressing his support for innovation in the acquisition of satellite communications, Congressman Rogers has opened the door to a variety of alternative approaches, such as the ongoing Space and Missile Systems Center Pathfinder program that seeks to acquire more reliable and affordable communications capabilities to support the U.S. Africa Command.
Although previous, similar initiatives have been killed by defenders of the status quo inside and outside of government, the Chairman's intervention ensures that future attempts to innovate will at a minimum be given a fair hearing.
From an industry perspective, Chairman Rogers' leadership and initiatives such as Pathfinder are welcome because they enable us to look further into the future and justify investments in the capabilities the Department is likely to need from us years from now, something we have had great difficulty doing in the one-year lease environment. This is particularly important if we are to allocate the capital necessary to build up capacity in the vast Asia Pacific region where there is currently little available spare bandwidth.
As the pace of operations slows in the Middle East and Southwest Asia and requirements grow in Africa and the Pacific, demand and supply patterns for satellite communications are changing. However, what is not changing is the fact that commercial satellites provide much of the communications backbone needed by our Soldiers, Sailors, Airmen and Marines wherever they are stationed.
By taking the lead in improving the way the government and the satellite industry work together, Congressman Rogers is looking after the interests of both our warfighters and our taxpayers.
About SES GS
In the evolution of SES Government Solutions, SES has combined three decades of Americom's USG experience with the global capabilities and assets of the SES satellite fleet. The result is a new organization, formed in April 2010, created solely to provide bandwidth and hosted payload opportunities to U.S. Government, Intelligence and Civilian agencies.
The SES GS infosite is located at: http://www.ses-gs.com/

About the author
Mr. Robert Tipton (Tip) Osterthaler joined SES in 2006 when he became the President and CEO of AMERICOM Government Services. Since then, the wholly-owned subsidiary of SES SA has grown and integrated with other government focused elements within SES to become SES Government Solutions (SES GS).
During his tenure at SES, the U.S. Government business has been transformed from a product oriented sales channel into a solutions-focused independent subsidiary responsible for all aspects of SES's U.S. Government business, including planning for the next generation of satellites that will be needed by government users. Under his leadership, SES Government Solutions transitioned into a Proxy Corporation structure, allowing the company to broaden its business base to include a wider range of customers and technologies. In 2008, SES GS entered into a ground breaking contract with the U.S. Air Force to fly the Commercially Hosted Infra Red Payload known as CHIRP, and in 2009, SES GS did its first ever acquisition, enabling the company to better serve the intelligence community.