Welcome to SatMagazine's annual YEAR IN REVIEW issue. Dozens of leading companies have offered their insights and an examination of their experiences regarding their operations during 2013. Offered in alphabetical order, these major representatives of the SATCOM and related industries look forward to the coming year despite global economies that are, generally speaking, somewhat lethargic. We can report that the SATCOM industry, as a whole, appears to be solid and experiencing growth. There have been, and will be, mergers and acquisitions as well as transition of personnel and projects in a variety of companies around the globe.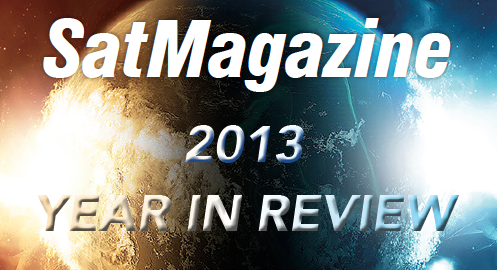 Company executives were asked by SatMagazine about their 2013 successes, the challenges they faced and overcame, and their look into the future. Some companies decided to follow a Q&A format, while others preferred a narrative style. In either instance, we hope the readers of SatMagazine find the following Roundtable to be of interest and, most importantly, an inspiration realizing that the SATCOM and related industries face a bright future.
All our best — the editors.
* * * * * * * * *
Advantech Wireless experienced a number of major "wins" during 2013—the company won the prestigious 'Most Innovative Product of the Year Award' from Satellite Markets and Research at the Vision Awards Ceremony during SATCON 2013 for the SapphireBluTM Series of GaN HPAs is, a great recognition from industry peers.

In 2013, Advantech Wireless continued its expansion into emerging markets that included South East Asia, India and South America. New offices were opened in Kolkata, India and Advantech do Brasil, a new company based in Sao Paulo, Brazil.
"At the same time, we have experienced substantial growth in traditional markets such as the US and Europe, even during these difficult economic times," Mr. Gelerman said. "We expect to continue to do very well in these markets in 2014, specially in the military and broadcast sectors."
The SapphireBlu™ Series of HPAs opened the door for to the lucrative and growing DTH market, one that bass been traditionally reserved for indoor Klystrons or linearized TWTs. Now, the SapphireBlu Series HPAs represent a superior alternative to indoor Klystrons or linearized TWTs for a fraction of the cost. Comments from current users have been extremely positive and the company expect to capitalize on the momentum and grow their market share significantly in 2014.

"In the military sector, many clients have confirmed the expansion of their network in 2014," added Mr. Gelerman. "We expect to more than double demand for very powerful High Power Amplifiers specially in Ku-, S-, X- and Ka-Band.
"2013 exceeded all expectations with increased customer confidence in our innovative and cost-effective solutions. For the first time in the history of Satellite Communications, we were able to saturate all transponders of the satellite with a single 13m antenna and a single amplifier per polarization. "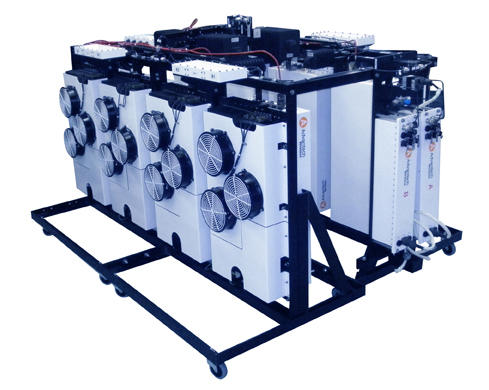 On the VSAT product line, Advantech Wireless recently presented a game-changing terminal design which is set to dramatically improve and simplify the provision of VSAT terminals for use with High Throughput Satellites. The new terminal features a fully integrated Ka-band transceiver and VSAT modem that is able to receive the entire data capacity of a 500MHz Ka-band satellite transponder, representing more than 1.8Gbps of traffic, and route the content appropriately.
Advantech Wireless has been selected by SAVIS Tecnologia e Sistemas to provide a geographically redundant Military Satellite Communication Network System for SISFRON, the largest border security program in Latin America.

"We have a proven track record in providing communication equipment to key defence agencies in deployments around the globe and we are pleased to provide the most advanced end-to-end VSAT solution, which includes high power, lightweight, compact and cost-effective products to our government and military customers," said Gelerman. "As a global company, we are committed to creating best in class technologies to meet and exceed our customers' needs. For both commercial and military needs, Advantech Wireless is uniquely positioned to satisfy the most demanding requirements, on land, sea, air or space. Advantech Wireless is delivering real-world solutions today with more than 20 years of proven field technology and main offices around the world".
Advantech Wireless is a leading-edge wireless broadband communications solution provider. Since 1988, Advantech Wireless designs, manufactures and deploys networking for broadband connectivity, broadcast solutions, video contribution and distribution, mobile 2G, 3G and LTE backhaul and DTH & DTT video distribution, using satellite and terrestrial wireless communications. The company products include VSAT Hubs and Terminals, world-leading GaN technology High Power Amplifiers (SSPAs), Block-Up Converters (SSPB), Frequency Converters, Satellite MCPC/SCPC Modems, fixed and deployable Antennas, Antenna Controllers, Terrestrial Microwave Radios, Routers and ruggedized military products.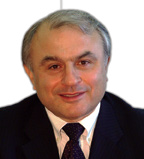 To learn more about Advantech Wireless, access their infosite at:
http://www.advantechwireless.com/
About the author
Mr. David Gelerman founded Advantech Wireless in 1988, serving initially as President and, since March 2006, as Chief Executive Officer. Prior to founding the Company, Mr. Gelerman has held various positions at Nortel Networks, including Manager of the Transmission Networks Division, where he managed and supervised teams which developed several key Point-to-Point (P2P) radio systems. Mr. Gelerman holds a Master's of Science degree in Electrical Engineering (MSEE), specializing in Wireless Communications and Broadcasting from the Moscow Institute of Telecommunications.
* * * * * * * * *
Asia Broadcast Satellite (ABS)
By Mohamed Youssif, Chief Operating Officer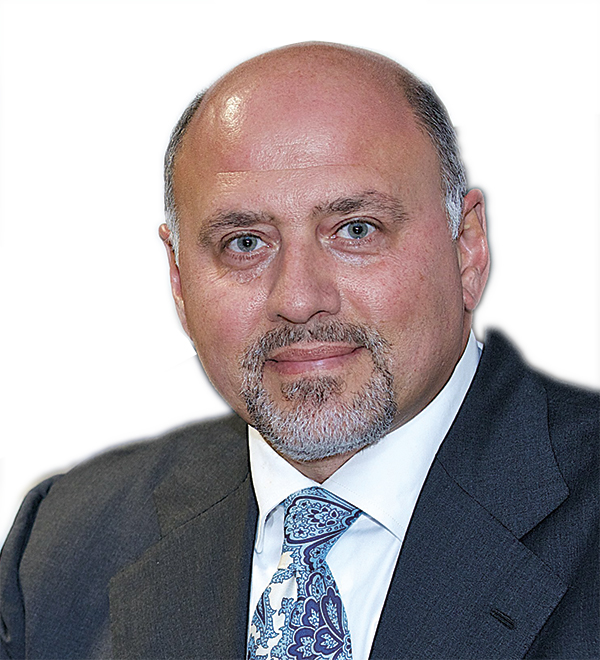 Asia Broadcast Satellite was established in 2006 as a Bermuda company. This is a young and fast growing global satellite operator, with an entrepreneurial and creative business approach. ABS has offices and executives based in Bermuda, United States, Dubai, South Africa, Germany, Philippines, Indonesia, Malaysia and Hong Kong.
ABS is majority owned by the Permira funds, which are advised by European Private Equity firm Permira. The Permira funds acquired ABS in 2010. Historically, the Permira funds have been a leading investor in the satellite industry with substantial ownership stakes in Intelsat and Inmarsat.
ABS operates a fleet of 5 satellites and has procured 3 satellites, allowing ABS to provide global coverage to our customers. These satellites include: ABS-1, ABS-1A, ABS-2i, ABS-3 and A degrees East and 116 degrees East. The high powered ABS-2 satellite will be launching in January of 2014.
The two other planned satellites include the new Boeing 702SP satellites, ABS-3A and ABS-2A, which are scheduled to launch in 2015 and to be slotted at 3 degrees West and 75 degrees East locations, respectively. We are also evaluating the business case for additional satellites serving premium, high growth regions.

In addition to the successful expansion of our global fleet, we have invested significantly in our ground facilities and teleports in the Philippines, Bahrain and Tel Aviv. ABS has signed a multi-year and multi-million dollar contract agreement with FOX International Channels Philippines Corporation (FIC) for MCPC services, playout and satellite capacity on ABS-1 and ABS-2 satellites.
We have made several senior executive appointments in 2013 globally as we continue to grow and expand our leadership level and expertise. Henry Au-Yeung is the Chief Network Officer (CNO) primarily responsible for network and teleport operations. In Africa, Felix Damiba is the Managing Director responsible for business development, sales and operations. We have hired a number of sales, engineering and risk management executives joining us in Africa, Dubai, Hong Kong, Malaysia and the United States. They bring a wealth of experience in sales and customer relations. Also, I have the privilege of joining this exciting company as the Chief Operating Officer (COO) responsible for global sales and revenue.
The satellite service industry continues to grow in spite of the massive developments in terrestrial and wireless technologies. For instance, WiMax communications pose a threat to satellite signals transmitted in the C-band frequency. In countries where WiMax services have been introduced, there have been significant interference issues and services interruptions for satellite ground stations and related services.
We at ABS are continuing to work with International Regulatory Bodies, such as the ITU, Industry associations, administrations and other satellite operators, to lobby and protect our satellite spectrum and networks. Discussions on spectrum sharing will be continued at the next World Radio Communication Conference in 2015 (WRC-15) and ABS will be participating in the various working groups of the ITU R sector and following the discussions.
We are also seeing oversupply of capacity in certain markets. With more satellites being launched by governments around the world, and fierce competition from regional satellite operators, there are concerns of sustaining supply on certain regional markets. For us to remain relevant in these times of oversupply, we have looked at creative ways to procure satellites and deliver capacity to end users more affordably. ABS' strategy of signing a multi-satellite procurement contract with Boeing for all-electric propulsion satellites (ABS-3A and ABS-2A) and with SpaceX for dual launch service has allowed ABS to get similar economies of scale as that of larger operators. As a result, ABS' cost-per-transponder price for a 50 transponder satellite that can be built in less than 26 months is similar, or less than, that of a large 80 to 90 transponder satellite with a 30+ month program and a much larger Capex investment.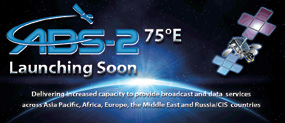 ­­­­In January 2014, the launch of ABS-2 will bring valuable and extended capacity at our prime location 75 degrees East. ABS-2 will have 89 active C-, Ku- and Ka-band transponders (more than 135 C- and Ku-band 36MHz equivalent transponders). Serving four continents, ABS-2 will have excellent coverage over Africa, Asia Pacific, Eastern Europe, the Middle East and CIS/ Russia regions. Direct-To-Home (DTH) services will be provided on six dedicated, high-powered Ku-band beams, as well as multiple connectivity options. Connectivity requirements for MEA (Middle East, Africa) and SE Asia will be accommodated by high-powered C-band beams. The Ka-band beam will offer cost effective solutions for commercial and military applications in the MENA region.
ABS-1 will be redeployed to 159 degrees East in the first half of 2014 and will be renamed "ABS-6." The satellite will provide excellent coverage over the Pacific Ocean and East Asia region at its new location. The high-powered C and Ku–band beams will be highly suitable for maritime, VSAT, TV distribution, IP trunking and Cellular backhaul services.
Our two procured Boeing 702SP satellites (ABS-3A, ABS-2A) remain on track and are targeted to launch in 2015. ABS-3A at 3 degrees East will bring 48 C- and Ku-band 36MHz equivalent transponders into the Americas, Europe, Africa, the Middle East and extending into the Atlantic Ocean region. ABS-2A at 75 degrees East will be equipped with 5 dedicated Ku-band beams covering Russia, India, South East Asia, Africa and the MENA region.
These satellites are among the most technologically advanced and cost effective commercial satellites using cutting edge technology and will provide additional coverage over the Americas and the Atlantic Ocean.
Moving forward, ABS is committed to the long term global growth of the company by exploring innovated opportunities to increase its fleet and global footprint. We are continuing our efforts to secure more expansion slots and leveraging our orbital locations by bringing in new satellites that will compliment and expand our global fleet.
For additional information regarding Asia Broadcast Satellite, access:
http://www.absatellite.net/
About the author
Mohamed Youssif is the Chief Operating Officer for Asia Broadcast Satellite.
* * * * * * * * *
Astrium Services
By Tore Morten Olsen, Head of Maritime
2013 has been a significant year for VSAT coverage growth, technology innovations and major contract wins. The market continues to demand greater coverage to ensure link availability in mainstream and remote maritime regions whilst the increasing number of value adds and VSAT products is improving the value proposition for the maritime clients. This will continue to evolve especially with the introduction of the next generation HTS satellite networks.
In February, we signed a multi-year renewal agreement with Intelsat for C-band capacity to be used by our customers in the Mediterranean, Atlantic Ocean, North Sea and Gulf of Mexico. We extended this in in the summer with a significant contract for 100MHz of additional Ku-band capacity on the Intelsat 907 satellite, to serve North Sea and European waterways users.
This capacity will serve an increased requirement for high bandwidth by the oil & gas industry in the North Sea, a market sector that leads the way in high-end requirements for completely customized VSAT networks. Companies like Petroleum Geo Services, who asked us to provide a 12Mbit/s dedicated return link for their seismic survey vessel Atlantic Explorer earlier in the summer (Editor's note: read more concerning this subject on page -- in this issue) are at the very cutting edge of VSAT usage. Our services are often used for highly demanding and often hazardous operations as well as day-to-day running of drilling platforms and offshore vessels, so the stability and reliability of the link is vital. In order to meet these high-end requirements, we have to ensure we have more than enough capacity available at all times, for now and the future.

In October, we also announced VSAT coverage extensions with two other key space segment partners. Enhanced capacity on Eutelsat's E36B will provide improved services and more bandwidth for users operating in the Mediterranean and Middle East, in addition to the area North of Norway and Russia (Barents Sea). We already offer coverage from multiple satellites over these regions, ensuring high service performance and availability for ship-owners operating there but our commitment is to always have coverage available for changing needs and new customers.
Also announced in October was new Ku-band capacity on SES' AMC-21 satellite, enabling more comprehensive coverage over the US. As part of the capacity extension deal with SES, we moved from AMC-9 to AMC-21, which provides enhanced coverage over the Gulf of Mexico, the Caribbean Sea and part of the North Atlantic Ocean, so customers, especially in workboats and the leisure sector will see improved performance and availability of their satellite services.
The coverage extensions in 2013 support our entire service portfolio including standardised VSAT services for core sectors such as maritime transport, leisure and fisheries. The capacity is providing vessels with an attractive solution for their data and voice requirements. Ku-band VSAT exceeds the speeds of the fastest L-band services while offering unlimited data, but we have also seen significant growth among our broadband MSS users with Fleet Broadband, a product which may be better suited for some segments of the market.
With many ship-owners focusing on dual strategies of crew welfare in order to attract and retain the best people, and vessel efficiency in order to reduce costs, the availability of more, less costly data is an important development. For crews, offering low cost voice calling, reliable email and access to the web for browsing and social media is today a real necessity. While for vessel efficiency, the use of engine monitoring applications, e-documentation and replication of servers on land, as examples, is growing significantly. By sharing vessel and fleet data, shipping companies are taking greater control of fleet activity and are seeing tangible savings. VSAT services now offer the bandwidth and coverage required at affordable fixed monthly costs, so operating expenses can be optimised even further.
Many major ship-owners upgraded to Ku-band VSAT in 2013. In April, German ship operator Hartmann Reederei selected our standardised Ku-band VSAT services for its diversified fleet of 74 vessels. By upgrading its existing Inmarsat E&E services, Hartmann sought a new communications platform to cater for its most important needs: Improve crew retention, increase operational efficiency and facilitate IT management remotely.
Based on the WaveCall Ku-band service and XChange solution, this is the largest major contract to-date using new bandwidth allowance packages that we developed to maximise value for customers upgrading from L-band services. The packages provide a significant bandwidth increase for crew connectivity at a very low per MB cost, with add-on data packages available if needed. Revenue from offering improved crew connectivity is offset against fixed and predictable service costs, enabling Hartmann to choose a service that enables far more bandwidth and flexibility. The new bandwidth allowance packages come in affordable increments of 5, 10, 20 and 30 GB to meet different consumption needs among ship owners.
In August, we announced another major customer for our standardised VSAT services. CMA CGM Group, the world's third largest container shipping group, selected us to upgrade the majority of its fleet to WaveCall VSAT, again in combination with the XChange solutions platform. WaveCall will be installed on over 35 CMA CGM vessels, including the CMA CGM Jules Verne, one of the largest container vessels in the world. As CMA CGM's fleet covers global trade routes, extensive Ku-band coverage was a key requirement when choosing WaveCall. The proposition to CMA CGM is based on a cost-effective 5GB/month data plan, which enables a significant increase in email, web browsing and voice calling, when compared to the 200MB/month FleetBroadband packages used before.
In addition to expanding our coverage, we have also worked hard at improving the procurement and installation aspects of VSAT, which have traditionally and understandably, been quite complex in the maritime sector. As part of our work to make standardised VSAT a highly defined product, we have developed a concise antenna installation and commissioning system that will support engineers and crews to have vessels fully connected in just 24 hours.
This means that Ku-band services can be installed during scheduled port-calls anywhere in the world, without affecting a vessel's operational schedule. With field engineers all over the world, we are able to board a vessel in port and have the VSAT connectivity up and running very quickly as long as the operator and owner agree to support the process by preparing certain aspects in advance.
So, coverage really is key in the maritime SATCOMs arena, but 2013 has also been a significant year for technology development at Astrium Services, with significant upgrades to our XChange network management platform and our value added portfolio of business tools for shipping companies.
We have also been involved in many cutting-edge projects, such as the development of hybrid networks offering least-cost routing from a choice of carriers, on ferries in Scandinavia. Looking forward, we will continue to grow VSAT coverage across the oceans and closely follow the development of HTS for maritime users. With reliability and high speed links over HTS even in very remote areas, the potential for shipping customers to offer even more crew welfare facilities and reduce operational costs further through vessel efficiency is very high.
Because of this, our commitment is to continue to develop the value of our broadband solutions through continued focus on innovation and coverage improvements, helping maritime stakeholders to further benefit from advanced satellite communication solutions. We will make these services as widely available as possible to all of our customers in the coming years.

Further information regarding Astrium Services Maritime:
http://www.astriumservices.com/business-communications-maritime/
About the author
Tore Morten Olsen holds a M.Sc in Telecommunications from the Norwegian Technical University from 1993, and has participated in Executive MBA programs at Wharton Business School in the United States, Insead in France and Stockholm School of Economics in Sweden. He has 19 years of experience in the satellite communications sector, starting out as a technical product manager in 1994 and moving on to hold several senior management positions with Telenor, Marlink and Astrium Services.
* * * * * * * * *
Axiros
By Kurt Peterhans, Chief Executive Officer
It's one thing to tag yourself as an industry leader, but quite another to have the numbers that back up the assertion. Axiros, a Germany-based company focused on open device and service management, is able to do both. With an installed productive base of more than 127 deployed solution platforms worldwide and as the leading subscriber device management system—deployed and productive at more than 35 percent of Europe´s top 50 operators and carriers—the company has earned its position atop the telecommunications industry.
Founded in 2002, Axiros is 100 percent management-owned and self-financed and prides itself on a highly flexible business approach. Additionally, the company is a leader in the TR-069 protocol, having played a key role on the Broadband Forum, a non-profit industry consortium dedicated to developing broadband network specifications. "We keep a laser sharp focus on customer needs and industry shifts," said CEO Kurt Peterhans.

Axiros' solutions are delivered across fixed and mobile networks for consumer, enterprise and M2M markets. They are scalable, flexible, modular and open, giving providers the ability to manage and support any protocol, device, or service at any time. Products offer a fast time to integration and a very short release cycle, resulting in an impressively high return on investment.
Over the past few years, Axiros has made a concerted effort to extend its reach beyond Germany. In the past six months alone, it has closed deals with Mobily in Saudi Arabia, Optimus in Portugal, Spectranet in Nigeria, Vodafone Iceland, and Une in Columbia.
In addition to its Munich, Germany headquarters, Axiros has sales and service subsidiaries in Milan, New York, Aarau, Sao Paulo, Lisbon and Kasaan.
Peterhans attributes much of the company's success to his team's unyielding commitment to performance controls: Market position; innovation and performance; productivity; product appeal; liquidity and cash flow; and profitability. "From day one, we've made a concerted effort to always keep these parameters—along with customer service—front of mind," he said.
The Move Into Satellites
The move into satellite as an access technology is new territory for Axiros. The company recently signed a deal with ViaSat, whereby ViaSat will leverage Axiros' technology and expertise for its own satellite services as well as for those it resells to other satellite providers. The deal marks ViaSat's first deployment of the TR-069 protocol over satellite and, Peterhans says, the move presents exciting possibilities in the satellite market.
"I have no doubt that satellites will have a major impact on all the players along the value chain—manufacturers, operators, service providers, equipment vendors and end-users, from government to broadcasters to individual Internet users," he said. He says that his company is already seeing surging demand for bandwidth and feels strongly that high throughput satellites will acceleratethis trend.
"Service providers are making plans to capitalize on these growth opportunities by adding new hubs, upgrading to faster remotes and deploying larger networks," he said.
Looking Ahead
Peterhans believes that the fast, flexible approach that has served his company well in the past will be instrumental to its continued success. "Absolutely, we must be responsive to customer needs," he said.
Other factors that he deems critical to making inroads in the satellite industry include highly efficient business operations and a fully optimized network that allows providers to understand exactly how it's being utilized by each individual remote across the entire deployment. "Any inefficiency represents bandwidth that can be reclaimed and marketed," he said.
Also on his list is open device and service management. "This is really at the heart of the industry's future because it touches every aspect of the communications business. It's where key events are managed and important decisions that impact profitability, growth and differentiation, are made. It's also the place where you get to know customers and respond to their needs."
Peterhans believes it will be critical that these platforms drive productivity inside the Operations Center, offer flexibility so that users can customize to individual tasks, and automate core operations, such as troubleshooting. Outside the OC, he says, there will be an increasing need for solutions that are constantly available on any mobile device.
"Workflow customization, automation and mobile access enable superior customer service and lower costs and risks," he said. "A device management solution is the window into satellite networks. It should provide a deep and broad view, detect and resolve inefficiencies at the individual remote level, and provide insight to how bandwidth is allocated across every remote. With this view, you can turn every bit of bandwidth into revenue."
Other features include the ability for customers to view real-time data and bandwidth utilization reports, and the ability for them to interact with the network through self-service features, such as ordering additional bandwidth or changing the service level.
He believes all of this should lead to an open API feature that enables service providers to create tailored apps for their customers.
This open system is where Axiros is firmly rooted and, as Peterhans sees it, where the industry is heading. "An open technology enables the NMS to connect with other business systems, such as billing and inventory, integrate with terrestrial networks, and even provide inter-network roaming with other service providers. That's the key to gaining greater insight across a customer base, network and business," he said. "With the right protocol, you can quickly adapt to change and find new ways to grow your business."
Additional Growth Opportunities
Peterhans says that the industry is constantly in a state of flux, and already, he can see other opportunities for growth. Ultra-HD, new broadband applications and other advanced services continue to increase the demands on satellite communications systems. Service providers will need answers to a set of questions they have yet to ask.
"Ultimately, the winners in the satellite industry will be those who are smart about how they distinguish their services, are hand-in-glove with their customers and operate at peak performance. More than ever, device and service management will be the game changer."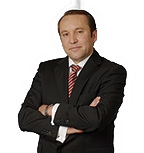 For more information regarding Axiros, please visit:
http://www.axiros.com/
About the author
Kurt Peterhans possesses more than 14 years experience in business and IT management. While working for companies such as Microsoft, Lucent, Vodafone and I.N.S. International Network Services, he headed up national and international projects as a management consultant. At o2 Germany GmbH, Kurt worked as a senior process manager, responsible for IT operations, IT change and configuration management. His professional interest is in ICT and IT project management, process management, ITIL, PRINCE2, CobiT and IT Governance. His particular interest is IT business alignment—that is, to make IT more efficient and profitable through economic means.