Around the world, on the ground and in the air, consumer electronic devices such as smartphones, e-readers, tablets and laptops, consume more and more bandwidth, placing increased demand on satellite connectivity and infrastructure.
Demand for data traffic is expected to grow by a factor of 50 for smartphones and a factor of 62 for tablets. In addition to the bandwidth, the sheer number of consumer electronic devices is poised for explosive growth over the next few years. By 2016, it is estimated that 71 percent of all mobile traffic will be used for watching videos.
As well, a recent survey from Honeywell Aerospace revealed that 86 percent of air travelers expect Wi-Fi onboard their flights and almost nine in 10 fliers feel frustrated with the current level of access. Simply put, more people than ever before will use their data-hungry devices in all locations, including in the air—the current Ku-band satellite network cannot accommodate or support this exponential growth and demand for bandwidth from passengers.
How do we make certain airlines, OEMs and passengers have access to a network that is able to handle the increased demand for bandwidth? By creating a global Ka-band network that will be more than a 60 percent faster user experience than alternative systems in the Ku-band network today.
Honeywell Aerospace has spent the past year and a half working with partners, OEMs and others to make this Ka-band system a reality.
In 2012, Honeywell signed an exclusive agreement with satellite operator Inmarsat to provide global in-flight connectivity services to business and commercial aviation customers around the world via Inmarsat's high-speed GX Ka-band satellite. Under this agreement Honeywell will design, build and deliver the hardware needed to access Inmarsat's Ka-band constellation.
Honeywell moved quickly to establish a design baseline for the aircraft system that transmits and receives signals from Inmarsat's Ka-band satellites. In March of this year, Honeywell announced it had finished the preliminary design review of the terminal with Inmarsat—a crucial step to keeping the program on schedule.
In April, Honeywell and Boeing announced they had entered into a technical services agreement to research and develop technologies for the next generation of high-speed, in-flight wireless connectivity on Boeing platforms, including the 787, 777, 747-8 and 737NG. This agreement allows Boeing and Honeywell to jointly research, test and develop the hardware, software and potential services that will tap into Inmarsat's GX Ka-band satellites and begin the necessary activities to support Honeywell's new GX Ka-band equipment installation aboard new aircraft in 2015.

Honeywell will be the value-added reseller of airtime to the business aviation vertical for the high-speed GX Ka-band service. Since entering this strategic agreement with Inmarsat, Honeywell has signed distribution partner agreements with several key players in the aircraft connectivity space, including ARINC Direct, OnAir, Satcom Direct, Satcom1 and Aircell. These companies will sell and support the Ka-band service provided by Inmarsat and Honeywell to business aviation operators worldwide.
Inmarsat's first satellite will launch in late 2013. By early 2015, when the service is available worldwide, Honeywell and Inmarsat will be able to provide connectivity speeds of up to 49Mbps to the aircraft, giving passengers truly global, in-flight Wi-Fi service so they can shop, access email, connect with friends on social networking sites, enjoy live streaming for entertainment and more, and experience the same connectivity they have at home or at work.
As we close out 2013 and move into 2014, passenger demand for high-speed, in-flight Wi-Fi will continue to grow in demand. As airlines look for the best and most cost-effective solutions to enhance the passenger experience, Ka-band looms ever larger as the only solution that will provide consumers with the speed and reliability they expect while traveling.
In concert with this need, Honeywell is also developing products and services that can take advantages of Inmarsat's Ka-band infrastructure to revolutionize the way the crew, operations and maintenance users can access real-time data to increase safety and reliability while reducing costs. The birth of the "connected aircraft" is taking place in front of us and the possibilities have just started to unfold.
The in-cabin entertainment system encompasses Honeywell's leveraging nearly 40 years of cabin suite expertise and the latest digital technology to bring Ovation Select to the market. This technology delivers media content in crisp surround sound audio and vivid high definition (HD1080p) video. The system lets passengers receive and respond to email, access the Internet, host video conferences and make telephone calls. The result? Every seat becomes its own office or theater in the sky.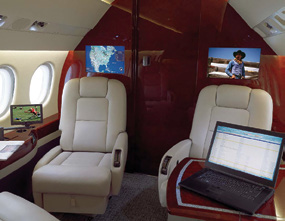 The key benefits include:
– Hi-future—Ovation Select is easy to install and highly scalable. When today's state of the art becomes yesterday's technology, Ovation Select is ready. It will adapt. And remain a streamlined springboard to whatever the next big thing is for business productivity and ultimate entertainment.
– Hi-def—1080p resolution will surround you for the highest definition in video for multi-player gaming, 3-D moving maps as well as the latest news, weather and sports. The all-digital surround-sound audio completes your highly immersive sight and sound experience.
– Hi-speed—Honeywell's Satellite Communications and Cabin Gateway System delivers unprecedented connectivity. High-speed data, crystal clear voice connections and in-flight BlackBerry messaging complete your office in the sky.
– Hi-touch—The intuitive, icon-based touchscreen interface offers you complete navigation of the entire cabin system.
There are two control units for use by cabin passengers and crew. The first one allows passengers to easily control the entire Ovation Select system with the Select 200 Personal Control Unit (PCU). This touchscreen device can control all environmental, entertainment and business components from a single, intuitive interface. The 4.3-inch diagonal display with a 4x2-inch active display area is typically located at the VIP seat(s) but can also be used as the master galley controller in smaller cabins. The second unit is the Select 100 Personal Control Unit (PCU) that provides all of the same control functions as the Select 200 PCU, in a form factor that is approximately one-third the size.
The Honeywell Ovation Select Cabin Management System (CMS) seamlessly brings news, sports, movies, gaming and music take to the skies with the latest digital technology, Ovation. As technology evolves, Ovation Select easily accommodates tomorrow's devices.
Passengers control their environment, from lighting, seats, temperature, galley and window shades, all via the use of easy-to-identify icons. Ovation Select can be customized with unique backgrounds and languages, including a 3D model of their aircraft rendered inside the JetMap™ HD moving map.
Ovation Select is reliable. The system design, diagnostic tools and global support network keeps the cabin system available. Play Ovation Select allows passengers to play with the following entertainment features:
– Blu-ray Movies—passengers will be able to watch the highest definition movies available with Blu-ray ™ players, which also are backward-compatible with DVD and CD standards, allowing one standard to be used for all three types of disk media. The HD widescreen monitors are the latest in LCD technology and each one can be connected to any of the cabin video sources.
– HD Audio Video On Demand—Ovation Select's new single-box HD AVOD allows for the storage of up to 1.5TB of audio and video entertainment content and includes a subscription service that offers access to "early window" and classic motion pictures as well as TV shows. Best of all, everything can be either wirelessly streamed to a passenger's iPad or via the digital backbone to any, or every, monitor in the cabin.
– Music—passengers will be able to access more than 170 audio channels with XM Radio® ,with up-to- the-minute headlines, business news, sports and weather, as well as at least 70 quality music channels throughout North America.
– iPod® , video game consoles and more—passengers can enjoy music and video from their iPod®, play their favorite gaming system, or enjoy other carry-on electronics such as video cameras. With the Media Dock and Auxiliary Panel, content can be accessed from any PCU or Touchscreen and shared throughout the cabin.
– Surround Sound—passengers will experience the highest quality sound with a wide dispersion characteristic, reducing localization and creating an unsurpassed acoustic balance throughout the cabin. The amplifier can drive the PA, mid/high, full-spectrum, and surround speakers and subwoofers. In addition, with Ovation Select, laptops or smart phones can be used to send and receive email, call friends and family, surf favorite websites, keep current with social media and watch TV.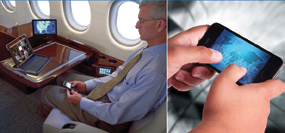 The system's modular architecture uses a robust and open Ethernet backbone, which allows the latest, and even future, technology innovations to be easily and rapidly integrated. Ovation Select hosts an IP-based network, where audio and video distribution, command and control, as well as 28 VDC power are all distributed via a single Ethernet cable.
The system features fully integrated 1080p HD widescreen displays, nVelop™ surround sound and a real-time 3-D HD moving map. The system accommodates anything from USB drives and laptops to HD gaming systems, and shares the content throughout the cabin.
Available with Honeywell Global Support, Ovation Select is designed to minimize single-point failures. This means a single failed component won't affect the other components within the network. An advanced onboard diagnostics tool continuously monitors the entire system, end-to-end.
Real-time status to the crew is provided in a manner that they can easily understand. Recommended actions to resolve the issues are even presented. As new equipment is introduced, or a failed component is replaced, the system updates the new unit's configuration automatically. The Honeywell global support network—including the SPEX® exchange and rental program and Honeywell Cabin Protection Plan (HCPP)—backs up the components—replacements are provided immediately. The system's auto-loadable software feature combined with this comprehensive support allows an aircraft to return to service quickly.
Ovation Select is much easier to design and install than legacy Honeywell systems. In addition, the architecture requires less wiring and fewer hardware components. It's also easily configurable via the web-based Master Configuration Tool. All of this results in set-up time and labor cost savings. The scalable system design reduces hardware lead times through common components that fit all aircraft platform sizes. This second- generation, all-digital architecture provides the highest degree of flexibility and scalability
The current platforms for Ovation Select include Falcon 900s, Boeing Business Jets, and the Embraer Legacy 650
See more at: http://aerospace.honeywell.com/products/cabin-entertainment/integrated-cabin-systems/ovation-select#sthash.l7NdyMh8.dpuf
About the author
Jack Jacobs is Vice President and General Manager of Product Management, with responsibility for for the Safety and Information Management product lines across commercial, business aviation, and defense portfolios at Honeywell Aerospace. In this role, he leads a multi-site $1B portfolio of products and services. Jack is also leading the growth initiative for the "Connected Aircraft" of the future. http://aerospace.honeywell.com/