There has been recorded activity on the sites of Arqiva's Teleports at Crawley Court in Hampshire and Chalfont Grove in Buckinghamshire for more than 1000 years – with both sites mentioned in the Domesday Book. But while the historic nature of the sites makes for good stories, it is what has happened over the past few years – and what will happen in the years to come – that will determine how the sites leave their mark in the history books.
Tucked away in the leafy landscapes of Hampshire and Buckinghamshire are two of the highest-technology teleport facilities the European broadcast industry has to offer. The two sites host more than 70 satellite dishes used by some of the world's highest-profile broadcasters to distribute content to a range of digital and analogue TV platforms around the world.
Medieval Beginnings
Crawley
derives its name from the Saxon and means '
meadow of the crows
'. There has been a settlement on the site since the Bronze Age and in 643 land was granted to the See of Winchester. The last century has seen constant change on the site of
Crawley Court
– since the early 1970s, following complete redevelopment of the site, it has been the engineering headquarters of the
Independent Broadcasting Authority
, the UK home of the broadcast division of cable group
NTL
and, since 2005, the headquarters of
Arqiva
, which was formed when a consortium led by
Macquarie (MCIG)
acquired NTL Broadcast and rebranded it Arqiva. Within the 32 acre site,
Arqiva Satellite & Media
has offices and a 35-dish teleport with access to more than 40 satellites:
Eurobird 1, Astra 2A, Astra 2B, Astra 1M, Eutelsat W2A
, and
Astra 4A
. In the late 1970s, IBA engineers installed the very first satellite dish at Crawley Court to investigate techniques for satellite broadcasting. Using the
Orbital Test Satellite
, detailed propagation and performance data were obtained which paved the way for operational services.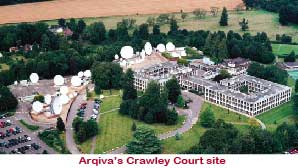 Changing Consumer Demands
The Crawley Court facility has grown in recent years, largely driven by advances in consumer demand for broadcast services to deliver an increasing volume of programming to a broader range of platforms across a wider geographical region and the prospect of an all digital broadcast future. Crawley Court currently manages around 350, largely broadcast, services out of a total of more than 1,200 spread across all of Arqiva Satellite & Media's sites around the world, including
Bedford
and
London
in the UK,
Paris
in France, and
Washington
and
Los Angeles
in the United States, with customers including a broad range of local, regional and global broadcasters. There are two on-site MCRs, one dedicated to broadcast services and the other to
Occasional Use
(
OU
). Each MCR is also backed up by a bookings team to process a customer's requirements – including 24x7 bookings – and to handle customer requests, even at short notice. Crawley Court also manages a second remote teleport some 10 miles away, on the other side of Winchester, which is managed remotely. The purpose-built facility has been developed over the last ten years to provide additional flexibility and scalability.
Quality of Service
Managing this growth has been a constant challenge, both technologically and in terms of ensuring that the quality of service delivered for customers has been consistent as the company has grown. This has meant a constant review of the technology located on the site, and keeping abreast of what the equipment and services that the broadcast market will be demanding in the coming months and years. One of the major evolutions at Crawley Court has been to implement new ways to deliver customer service and fine-tune systems and processes to ensure that services are maintained. As equipment vendors — particularly compression and multiplexer manufacturers — have been developing new products on an almost continual basis, Arqiva evaluates each piece of technology to ensure a future-proofed broadcast infrastructure that meets customers' needs and provides process and cost benefits. This is likely to be an ongoing challenge as broadcasters look to launch new 3D channels and increase their HD offerings.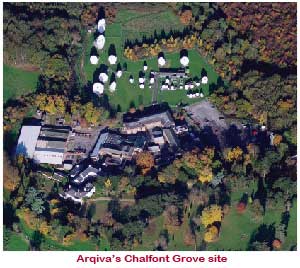 Events Driven
Crawley Court has also seen significant growth in its OU business in the last couple of years, including the first ever transatlantic 3D live broadcast — an interview with
Dream Works Animation SKG
CEO
Jeffrey Katzenberg
, which was transmitted between Los Angeles and the
International Broadcasting Convention
in Amsterdam in September of 2008. Much of the growth in OU has been driven by an increasingly active events market as broadcasters have looked to add live event content to their programme bouquets and consumers' appetites for live sports content, including soccer and tennis, and events such as live performances from
The Metropolitan Opera
in New York. Arqiva has also played a critical role in the broadcast of some of the first 3D live events to cinemas across the UK and Europe.
Another key area under continual development is a focus on service. The broadcast industry expects availabilities in excess of 99.99 percent, and by giving direct access to the engineers who manage the Arqiva services, ensures communications are accurate and timely. This is best described as a philosophy of excellence. Based on the rate of growth [through new customer acquisition and organic] over the last few years, this strategy is successful.
Diversity
The site at
Chalfont Grove
has developed a wider range of core competencies that include broadcast television, enterprise data, and digital cinema. Activities at Chalfont Grove are focussed on helping rights owners, programme makers, and broadcasters to create and capture content, manage and deliver high quality TV around the world, as well as providing state-of-the-art communications infrastructure for enterprises, governments, the military, and public services.
Chalfont Grove derives its name from the Saxon "
Celfunte
" and is reputed to mean "
Chalk Fountain
", describing the many springs in the area and has seen life as a country residence, the home of a close friend of
Elizabeth I
, and the headquarters of a World War II Anti Aircraft Battery. In 1953 the site was purchased by the
Army Kinema Corporation
, a large organisation based in Croydon, responsible for providing the British Army with film entertainment. The site retains its military links to this day as home to both SSVC [
Services Sound and Vision Corporation
] and its broadcasting arm, BFBS [
British Forces Broadcasting Services
]. Arqiva Satellite & Media started using the site in 2005 after the acquisition of
Inmedia
. Chalfont Grove is currently home to a 36-dish teleport that beams content to the
Astra 2B, Astra 4A
and
NSS806
satellites in addition to feeding content to other Arqiva teleports for uplinking. The site provides more than 400 services, 19 major uplinks, and three studios. The facility has also recently added a new playout suite to its existing
Playout Centre
which currently transmits 46 playout services for national and international distribution. This combination of resources, all just 40 minutes from central London, has made Chalfont Grove an increasingly attractive proposition for both channels and major international broadcasters alike.
Chalfont Grove also provides a wide range of datacomms services to the oil, telecoms, and maritime industries, as well as UK and international government agencies. Service management is provided by a dedicated MCR plus a
Customer Care Centre
for the management of business TV and radio networks in the UK and Europe. A recent addition to the products delivered from Chalfont Grove is the fully managed distribution of films to UK and European cinemas via Arqiva's
Digital Cinema
distribution network. The films are presented as electronic files to Arqiva by film distributors and are beamed simultaneously to multiple cinemas, via Arqiva supplied and managed equipment at each cinema, to be viewed by the public.
Crawley Court
and
Chalfont Grove
are just two examples of Arqiva sites around the world where class-leading service, innovation and connectivity are held in high esteem. A recent project to link all Arqiva Satellite & Media sites with fibre will provide even greater flexibility for the delivery of customer content.