Newtec
By Serge Van Herck, Chief Executive Officer

In a year wherein Newtec celebrated the company's 30th anniversary and the induction of one of our founders, Dirk Breynaert, into the Satellite Hall of Fame, 2015 has been filled with innovation and exciting breakthroughs for Newtec—this has always been our mission, ever since the company's founding in 1985.
With the introduction of technologies such as wideband DVB-S2X, Newtec's Mx-DMA™, and the predistortion Equalink® 3, the company is once again pushing the frontiers of spectral efficiency. The primary objective is to help customers keep up with the insatiable demand for more bandwidth at lower costs, while such innovations also help to reduce terminal size requirements, opening up new markets and applications. While transmission efficiency is important, reliability is essential. The company's roots in mission critical services, such as TV broadcast and high-speed trunking, means equipment must be built to last. Our light-hearted #AliveSince85 social media campaign demonstrated our products' reliability by encouraging customers to showcase their oldest Newtec equipment, still in use decades after being installed. The winner received the weight of their equipment in Belgian chocolates. Nevertheless, while we are proud of our heritage and past accomplishments, our primary focus is always on the future.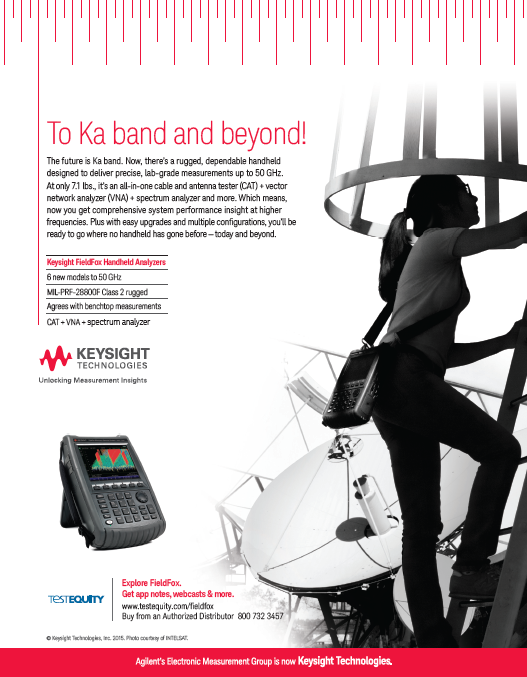 The Rise Of HTS
The continued growth of High Throughput Satellite (HTS) has been a key driver in Newtec's product development strategy, bringing enormous challenges and opportunities for operators and service providers alike. However, in order to ensure that all levels of the value chain get the most out of HTS, choosing the correct ground segment technology partner is essential. When looking at the HTS evolution, a clear trend toward multiservice networks is seen across the industry. Although the majority of VSAT terminals are deployed for consumer broadband, most of the service revenue actually comes from high-end applications, like mobility, oil & gas, cellular backhaul, government and defence. By combining all these applications on a single platform, network operators can maximize economies of scale while diversifying their business.
With a diverse modem portfolio and three complementary return technologies, the Newtec Dialog® multiservice platform is specifically designed to address a wide range of applications. Since the product's release in March 2014, Newtec Dialog has already been selected by many customers as a way of streamlining, expanding and future-proofing their businesses. In March 2015, Newtec was presented with the World Teleport Association (WTA) 'Teleport Technology of the Year' award for the Newtec Dialog multiservice platform with the Mx-DMA technology.
Global Successes
Satellite services provider Yahsat chose Newtec Dialog to prepare for the launch of their new satellite Al Yah 3, which is scheduled for service launch in early 2017. This satellite will extend the company's commercial Ka-band coverage to an additional 19 countries and 600 million users, covering more than 95 percent of Brazil's population.
Nortis recently selected the Newtec Dialog platform to provide Internet access to students in 4,000 schools in Morocco, enabling more than a one million children access. Nortis' parent company, Quantis, is also able to leverage this same platform to expand into the high-value maritime market. Here, Quantis partnered with OpenSea and, by connecting everything to this single hub, they are able to handle video, voice and data traffic in an extremely efficient way and ensure reliable two-way IP connectivity.
Network Innovations developed MAVERICK VSAT, a forward-thinking architecture that incorporates Newtec's Mx-DMA technology with their own, proprietary technology. With Newtec Dialog, the Network Innovations team built a robust and intuitive service that supports customer growth, solves budget constraints and adapts to existing infrastructure, as well as handling modulation and power changes in real-time without packet loss.
Multiservice networks also have a key role in the broadcast sector. Both EBU/Eurovision and Intelsat recently launched a next-generation MultiService BroadCast (MSBC) based on Newtec Dialog for their solution called IntelsatOne® Prism. EBU/Eurovision's next generation Network for News Exchange is addressing the increasing pressure on media companies to meet the demands of a "television everywhere" society, as well as the challenges posed by the growing complexity of workflow management.
In addition to efficiency, scalability and flexibility, Newtec Dialog enables the automation of broadcast workflows and effective usage of available hardware and bandwidth resources. A sophisticated resource scheduling and workflow automation engine reduces costs, saves time and allow broadcasters to rapidly enable new services as the market evolves.
Breaking Barriers
Alongside reliability, speed and efficiency have long been the cornerstones of our products and we are proud to have previously broken several speed barriers and demonstrated our industry-leading spectral efficiency. This year, Newtec achieved a world first by smashing the 10 bits per second per Hz barrier by demonstrating 20 Mbps into 2 MHz. This important achievement demonstrates the full utilization of the capabilities of next-generation satellites by using the Newtec technology that is available today.
Looking Ahead To 2016
When Dirk Breynaert and Jean-Marie Maes started Newtec in 1985, they aimed to create a pioneering satellite communication equipment company, with a strong focus on innovation. For me, Newtec's successes during 2015 were the perfect way to celebrate our 30th anniversary. With a team of more than 300 colleagues around the world, the company is committed to continuing the drive for innovation to ensure we remain a technology leader for many years to come.
We believe that social media interactions can build stronger, more successful business relationships. Check out Newtec's social media platforms and find take part in global conversations that relate to the work we are accomplishing and the projects we care about. Twitter: @Newtec_Satcom
newtec.eu
---
NorthTelecom
By Mahdi Nazari Mehrabi, Chief Technology Officer, Managing Director of APAC, Singapore

2015 was deemed a great success for the NorthTelecom, which exceeded all of the desired goals—the company also had the chance to study new initiatives in the satellite markets, all of which will bring greater value to the company as well as the industry in the very near future.
NorthTelecom achieved the goal of introducing a game changing concept in media broadcasting throughout the Middle East, North Africa (MENA) and central Asia via the firm's platform over Yahlive. This brought into play the concept of a community hotspot as well as cost and quality factors to bring greater values to other legacy platforms and model across the region.
Now, both community and broadcaster are enjoying a much better quality as well as more flexibility, all due to the NorthTelecom platform managing to drive a far more realistic cost factor for consumers within this low income area of the globe.
The trend in the MENA and central Asian market is for high quality content and viewers demands—the majority of the customers them are youth and are well versed in technology and NorthTelecom leads all of the broadcaster and investors in the area in response to users' needs.
Moving forward, as part of the growth plan, HD platforms as well as payTV will emerge from the company to complement the current Free-To-Air (FTA) platforms as well as in direct response to viewer demands for these technologies. Additionally, such support will engage international broadcasters who wish to target this part of the world with their programming.
In November of 2015, NorthTelecom was named, in partnership with Yahlive, as the best service provider of the year for their outstanding achievement to delivering 170+ channels over their platform at 52.5 degree East which targets the Farsi market. The award was delivered through the ASBU summit, which occurred at the Habtoor Hotel in Dubai.
The second milestone for NorthTelecom was a new office in the Asia-Pacific and Australian (APAC) regions, based in Singapore. This new office was integral with the firm's midterm goals and the ongoing corporate strategy to expand the firm's global reach.
Through the APAC office, NorthTelecom now has more access to valued clients and partners in that region of the world and will work more closely with them to enhance satellite technology for the emerging markets.
2015 certainly presented a number of satellite industry challenges. There was ongoing investment in communications, especially with new fiber optic infrastructure as well as the need to engage in the trend to enhance domestic and terrestrial networks and connect them to more and more rural areas.
Countering GSM networks is certainly of concern, as such seems to be threating the satellite market as those product are seen as a substitute to satellite connectivity with more cost effective price points.
The plunge in crude oil prices had impact on the global economy—there was some direct brunt on SATCOM demand, as such is one of the main tools for oil & gas project connectivity. Many programs have been delayed or canceled within this vertical market and that has a direct impact on the supply and demand chain for satellite communication providers.
That being said, the satellite market is also highly concentrated on selling a broad range of products and services, thanks to high demand and short supply, as well delivering and improving customer relationships and new services. Noted is the increase in collaboration between companies and with projects that demand mutual co-operation between all stakeholders.
NorthTelecom is witnessing a significant change in the market as well as with business model as all need to match up with the rapid changes rather that to resist such modifications. This is very straightforward message that needs to be heard by all stakeholders—change must occur.
Success in the future will certainly be determined by collaboration between all SATCOM stakeholders using all of the technologies they posses. Innovation is also required, as well as reconsidering various economic elements to drive the market forward.
All must think out of the box and leave the legacy model behind and embrace new initiatives—collaboration is the key.
northtelecom.com/
---
ORBCOMM
By Sue Rutherford, Vice President, Marketing

In 2015, the Internet of Things (IoT) industry continued to evolve from simple connectivity and tracking applications to more sophisticated end-to-end solutions capable of gathering and processing large amounts of data. This data is used to identify valuable information that can be seamlessly shared in real-time, across multiple platforms.
As a leader in the global M2M market, ORBCOMM provides the industry's most comprehensive offering that covers every touchpoint in the M2M ecosystem. From global satellite and cellular network services to hardware to web applications to device management, the company is unique in the ability to provide the most complete set of products, applications, professional services and capabilities for core vertical markets that connect all things M2M. During 2015, ORBCOMM continued to focus on growing the company through multiple initiatives, which include three strategic acquisitions, technological innovation, exciting new customer wins, international expansion and the enhancement of our core satellite services. ORBCOMM experienced unprecedented growth in both hardware and service revenue, nearly doubling the size of the company, and we now have more than 1.5M subscribers and growing.
Three strategic acquisitions were completed this year – SkyWave Mobile Communications, InSync Software and WAM Technologies. These acquisitions have opened up new markets that allow ORBCOMM to leverage potential synergies, increase scale and expand our solutions portfolio across incremental vertical and geographic markets.
This year, the company developed several new products and services that are making it easier than ever before for customers to stay connected to their remote and mobile assets. ORBCOMM now has nearly 300 engineers and technical resources around the world focused on the development of ORBCOMM's M2M and IoT solutions. The focus has also been on building a responsive M2M Customer Care team that consists of 40 members that is larger than the total number of employees at most companies in the M2M space, providing 24x7 expertise and support throughout the entire product lifecycle. Then, in October 2015, three new wireless solutions were launched.
• ORBCOMMconnect is a multi-network subscriber management portal designed to give our customers complete control over their wireless services and connected devices, while reducing the complexity of managing and integrating multiple connectivity offerings. Our customers can now access three satellite and seven Tier One cellular networks in one comprehensive platform.
• ORBCOMMmobile offers mobile apps for our state-of-the-art M2M and IoT applications as well as the ORBCOMMconnect portal. ORBCOMM's mobile apps run on both iOS and Android devices to facilitate ubiquitous, easy access to ORBCOMM solutions and technology.
• ORBCOMM Enterprise Connect is focused on wireless devices and applications that require uninterrupted, high-bandwidth connectivity. The solution leverages 4G LTE to provide reliable wireless WAN connectivity that can be used as a back-up to existing broadband connections for distributed enterprise, financial, hospitality and etail locations.
Earlier this year, the dual-mode SkyWave IDP-782 hardware solution was launched, providing fleetmanagers with a single device for cellular and satellite network coverage—they can now remain connected to assets, sensors and people in the most cost-effective way possible. A significant milestone was achievedwith Inmarsat in collaboration to develop interchangeable OG2 and OG-ISAT satellite modems.These versatile modems feature an identical footprint, connectors, power input, programming environment, communication interface and protocols for unrivaled ease of use and flexibilit, while adding scale so the satellite industry can hit the necessary price points to be successful in the market.
The company's success in technology, innovation and telecommunications leadership was recognized this year through several industry awards. We were honored by the American Business Awards with four Silver Stevie Awards for Most Innovative Company of the Year, Communications Team of the Year, Telecommunications Company of the Year as well as Most Innovative Tech Company of the Year. We were also selected, once again, as one of Connected World magazine's select 2016 CW 100, moving up to 23 on this year's list. On the product side, we won Connected World magazine's IoT Innovations Award for our GT 1100 and SkyWave IDP-782 devices and the IoT Evolution Product of the Year Award for our GT 1000 and SkyWave IDP-782 devices. We also received the Mobile Satellite Users Association Innovation Award for our IDP service.
2015 marked some significantcustomer wins. ORBCOMM added several new industry leaders to our customer portfolio, including CIMC, Cisco, Werner, Terex, Havi Logistics, and Iron Mountain. The company also made great strides on the international front. ORBCOMM signed an agreement with Morsviazsputnik, the licensed operator of Inmarsat's mobile satellite services in Russia, to provide IDP satellite service in Russia. This agreement opens Russia for the heavy equipment OEMs as well as other key industries such as transportation, oil & gas and maritime.
As we approach the end of 2015, we are targeting the finallaunch of our next generation OG2 satellite constellation. We are planning to launch 11 satellites as part of our second OG2 mission in mid-December aboard a dedicated SpaceX Falcon 9 rocket from Cape Canaveral Air Force Station, FL. With the launch of these satellites, we will complete our OG2 constellation, offering our customers an enhanced, more efficientcommunications network and significantlyincreasing network capacity, coverage and performance. We have also included an Automatic IdentificationSystem (AIS) payload on every spacecraft, which will continue to bring AIS ship visibility down from hours to minutes. We look forward to providing our customers with the only fully funded, fully operational, second generation satellite network purpose-built for the global M2M industry.
Looking ahead to 2016, ORBCOMM will continue to be focused on driving growth and technology innovation and responding to the demands of the IoT markets with the most complete set of products, applications, and capabilities that enable enterprises to stay connected to their assets in every corner of the world.
orbcomm.com/
---
SES Techcom Services
By Gerhard Bethscheider, Managing Director at SES Techcom Services

In the competitive world of satellite communications, SES Techcom Services contributes to important projects and develops innovative and sustainable solutions.
As this industry continues to evolve and develop at a rapid pace, 2015 has been a year where the company has continued to extend the limits of what is possible and to offer services and solutions that have a global impact. Some of the key projects in this included quick restoration of communications in the aftermath of humanitarian disasters, Internet connectivity to hard-to-reach communities, e-health services for remote hospitals, and laying the ground infrastructure for the Galileo global positioning system.
Disaster Response Communications
When disaster strikes, an effective communications network is often one of the firstthings needed to help synchronize the emergency response and allow those affected to inform worried loved ones they are safe. Providing connectivity via dedicated SES satellite capacity, emergency.lu enables communications networks to be set up quickly in disaster response situations. The platform is a public-private partnership between the Luxembourg government and three Luxembourg-based companies—SES Techcom Services, HITEC Luxembourg and Luxembourg Air Ambulance—with the firsttwo companies also responsible for designing and operating the solution. emergency.lu was deployed to both Vanuatu and Nepal in the firsthalf of 2015, providing essential communication services to the former when hit by Cyclone Pam in early March, and to the latter when suffering a 7.9 magnitude earthquake in late April.
Improving Services For Governments + Institutions In Burkina Faso, SES Techcom Services helped enable transparent and fluiddata collection during the general election. Using Astra Connect terminals, electoral district officesacross the country were connected to the central electoral commission's officein Ouagadougou, serving as a hub for 368 polling stations across the country. This also allowed video conferencing and biometric identification to be used to enhance the electoral pocess.
Building on this work in West Africa is the company's e-health platform SATMED, which uses satellite Internet connectivity and cloud technology to provide medical professionals with vital applications and tools. During 2015, the solution was successfully deployed in Benin. Here, SATMED was able to provide a link between the Maternité Hospital in Ahozonnoude and a hospital unit in Allada, connecting two hospitals in remote areas where there is little terrestrial connectivity to a facility in the capital of Cotonou. Consequently, essential medical services are no longer hindered by geographical and climate restrictions and the medical staff can share advice and knowledge on procedures and, perhaps even more importantly, disease prevention throughout the region.
Bridging The Digital Divide According to a 2014 European Commission report, while at least one broadband access mechanism was available to nearly 98 percent of households in European rural areas, high-speed broadband services are still accessible to only a small percentage of those households. With so many people living in rural Europe still unable to access high-quality services, satellite Internet is the most cost-effective and viable solution to ensure better communications in these hard-to-reach locations. In one such area in the UK, partner and Internet Service Provider (ISP) Satellite Internet was awarded funding from the Department for Culture, Media and Sport's Broadband Delivery UK (BDUK) project. Pilot projects were carried out in Simonsbath and Luxborough, in Exmoor National Park, and Somerset. These projects proved to be a huge success, confiming the suitability of satellite for connecting the UK's fivepercent of people without broadband.
This project followed the deployment of broadband in Germany's Mecklenburg-Vorpommern and Baden-Wurttemberg states in late 2014, using the same sub-distribution method which is able to provide connectivity to a whole community using one, single satellite dish. Since then, the company has connected more than 30 further networks in Rhineland-Palatinate.
Enabling Services For Galileo SES Techcom is providing end-to-end satellite communications services for the Galileo Data Distribution Network (GDDN), including the procurement and delivery of satellite equipment to 15 locations around the world, the provision of satellite capacity and 24/7 maintenance and operations of the VSAT-based service throughout the lifetime of the contract.
The Galileo program is Europe's Global Navigation Satellite System (GNSS). Galileo will provide highly accurate, guaranteed global positioning services under civilian control and will be inter-operable with GPS and Glonass, the US and Russian global satellite navigation systems.
The number of installations for the Galileo Data Distribution Network (GDDN) totals 14 VSAT ground stations to date, and they are spread across the globe from Scandinavia to Antarctica. With these and our four hubs—two in Europe, two in North America—this extensive network of stations provides the connectivity to the Galileo satellite network and a plethora of applications.
Future View
For 2016 and beyond, satellite will continue to push the boundaries. At SES Techcom Services, a commitment to innovation will ensure such occurs. New projects and technologies, such as space-based ADS-B aircraft tracking and transferring data for broadcasting and broadband via laser beams, are currently being worked on and will continue to be developed over the coming years, keeping the company at the forefront of emerging technologies.
ses.com/techcom
---