The maritime market is a pervasive global force, consisting of six major segments—shipping, offshore oil and gas, commercial fishing, passenger vessels, government and military vessels, and yachts. There are more than 250,000 vessels in the maritime market that are good future prospects for broadband communications and they are enjoying an increasing range of options (and prices) for bringing this critical benefit onboard.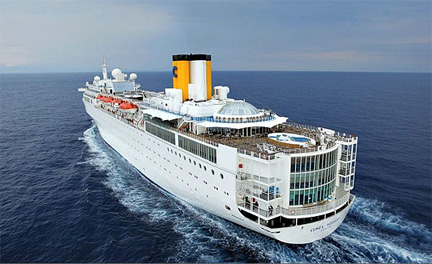 The demand for broadband at sea is really no different than the demand for broadband on shore. The difficulty has always been that the cost of data communication at sea has been prohibitively expensive, causing mariners to avoid purchasing systems or to minimize their use. However, modern communication technologies like VSAT are now providing affordable broadband connections at sea, and ship owners and ship management companies are seizing the opportunity to harness the productivity of onboard networks to improve efficiency and drive profitability.
The maritime applications for broadband network connectivity are many and include critical concerns like reducing fuel consumption and greenhouse gas emissions through better weather and route planning data, remotely monitoring onboard systems and providing access to shore-based experts to assist with repairs, improving crew morale by providing VoIP calling and internet café services, and other programs to increase collaboration between ships and shore-based offices. Nearly all operations conducted on the water can be managed more efficiently when they are connected to a company's business network.
For example, real-time navigation information and weather reports can help a vessel captain select more efficient routes, resulting in shorter voyages and significantly less fuel consumption. Administrative tasks can be handled from centralized locations as opposed to being performed by personnel on board the vessel. Maintenance and support services for onboard equipment or IT systems can be provided remotely from centralized groups of specialized staff working with onboard technicians. If there is a breakdown, video conferencing can be used to enable the onboard technician to show the problem to an onshore expert, offering the possibility of remote diagnostics and assuring that the appropriate repair parts are available when the ship reaches port. Hundreds of different aspects of a vessel's performance can be monitored remotely and optimized for improved performance, again resulting in greater fuel efficiency and reduced emissions.
Security managers can monitor the real-time positions of the vessels in their fleets, communicate with government forces deployed to protect commercial ships in volatile regions, and review planned routes to provide input on hazardous areas with recent reports of pirate or terrorist activity. Finally, requirements of maritime labor conventions for improving the communications and entertainment services offered to crew members can be delivered over broadband networks for a fraction of the cost of older solutions.
Applications of particular importance are those that support regulatory compliance (electronic filing of paperwork for programs like ECDIS), remote monitoring of engines and other systems, as well as IT systems, and affordable, always-on connectivity to support business efficiency, including sending and receiving large files. Maritime broadband solutions such as
KVH
's
mini-VSAT Broadband
(sm) service can be easily integrated with a ship operator's corporate IT structure to support these functions. Many mariners also utilize a broadband connection to support recruiting and crew retention efforts, because offering a connection to home is crucial for attracting and maintaining the best crew members. This kind of connection can be provided easily and at a very low cost with a compact antenna, so this essential benefit can be provided without risk to the ship's bottom line.
Historically, the satellite communication solutions available have been impractical, due to hardware size, airtime cost, or both, for a large number of commercial mariners. The popular Inmarsat service was globally available and offered small, affordable hardware, but the service was limited to 432 Kbps, and it was very expensive. Maritime VSAT (Very Small Aperture Terminal) responded with a service designed for use on land to provide fast, low-cost broadband connectivity at sea. Unfortunately, the equipment needed to deliver the VSAT service was very large and prohibitively expensive.
In addition, the maritime VSAT market is highly fragmented, with more than 75 providers offering service via a variety of hardware solutions. With low barriers for entry for "virtual network operators", many of these service providers migrate between the lowest-cost services available, with little to no incentive to invest in network infrastructure or commercial-grade hardware development.
Companies like KVH Industries are working to make their solutions even more valuable to mariners. For example, in the past year, KVH has added satellite coverage, upgraded the mini-VSAT Broadband network infrastructure to facilitate better management of available bandwidth, and introduced versatile new products at both the entry level and the high end of the maritime communications market. This kind of constant innovation by hardware and service providers ensures continuing value for maritime broadband users.
When you look at the maritime communications market, the differentiating advantages are the size and cost of the hardware, the reliability, speed, and cost of the airtime, and whether or not the service covers the regions were vessels travel.
While relatively compact hardware is becoming more readily available, the challenge of choosing a service that covers all the areas where a ship may travel remains for many mariners. Dual-antenna solutions, combining a VSAT system with an older Inmarsat system and connecting them via a middleware solution, are one way to ensure coverage. The combination system can utilize the less expensive VSAT service throughout its coverage area, switching automatically to the more expensive Inmarsat system only when travelling in remote areas where a VSAT signal is unavailable. Sophisticated software can help control costs by blocking access to non-essential functions (like crew e-mail, for example) while using the more expensive service.
A unique alternate choice recently became available, with an innovative update to KVH's mini-VSAT Broadband network and the introduction of its 1m
TracPhone® V11
antenna. KVH was able to add a C-band overlay to the existing Ku-band network, which gives the TracPhone V11 near-global coverage (75 degrees North to 70 degrees South latitude) in one dome, and on one airtime rate plan. This service, available now, offers coverage similar to that of Ka-band networks that are expected to come online in the next few years.
In the coming months and years, the maritime satellite communications industry will have access to great innovation, just as it has in preceding years. We can expect to see live service from Ka-band satellites currently being launched sometime in 2012. While capacity on these satellites is very high, most early solutions will offer a combination of new Ka-band services and established Ku-band services, ensuring reliability as the new services are adopted and put into use in real-world applications.
We will also see development of value-added services for existing solutions. Least-cost routing, roaming crew accounts, additional security features and integration with critical onboard applications are all in development with the major service providers. These benefits are designed to help mariners get even more out of the solutions they already have, and will support the increasing demand for maritime broadband. The world is getting smaller, and as it does, connectivity will only become more important, especially for the maritime industry.

About the author
Jim Dodez has served as KVH's vice president of marketing and strategic planning since March 2007. He joined KVH in 1986, and over the past 20+ years has held the positions of marketing director, vice president of marketing and reseller sales, and vice president of marketing. Prior to joining the company, Mr. Dodez was the marketing director at Magratten Wooley, Inc., where he managed KVH's account from 1983 to 1986. Mr. Dodez received a bachelor's degree in business with an emphasis in marketing from Miami University.