Lars Persson has served as the President and CEO of SSC since 2007 and has been instrumental in leading SSC from a Swedish based company to a global one with presence in 12 countries. SSC is a world-leading facilitator of space programs that enables governmental agencies, companies and other commercial or research institutes to make better use of space. Through the SSC group of companies, SSC provides specialised competence in space systems, space and satellite operations, rocket and balloon systems, launch services, flight test services as well as maritime surveillance systems. More than 40 years of experience and local presence on all continents, make SSC one of the most experienced and established businesses in the field. Persson has been active in developing the global marketplace throughout his 31-year career, having served as Board of Director and/or CEO for a number of IT, telecom and space industry companies. He has been influential in the deregulation and commercialization of the European telecom carrier market, as well as the cellular market including mobile applications. In addition, he has also been working with international Venture Capital and has been an advisor to U.S. funds investing in Europe.
SatMagazine (SM)
Would you please provide a brief company history, and how SSC has performed over the years?
Lars Persson
The SSC was founded in 1972. After taking over the European Space Research Organization's (ESRO) activities in northern Sweden, we started doing business all over the world. In 2003, we acquired LSE Space in Germany, and since then, have grown to include several specialized companies with 18 facilities in 12 countries around the world. We are a corporation with a single shareholder, the Swedish government. Our current annual revenue stands at approximately $160 million. Over the last 40 years, SSC has evolved into a conglomerate. The global space community relies upon us for space operations management services and a broad range of mission-critical solutions that propel them to the forefront of the space enterprise. One of our greatest accomplishments is PrioraNet, the world's largest commercial network for ground station services. In addition, we lead the market in proven, flight-demonstrated green propulsion technology, greatly reducing hazards to people and our planet. We have the skills, dedication, experience and support that enables development of novel technology leading to new types of missions to be performed in space. The last four decades have been extremely successful and the future looks even brighter.
SM
Can you offer an overview of SSC's acquisition of subsidiary companies and how it increases the Company's capabilities?
Lars Persson
SSC began by offering design, test, launch and operations capabilities. However, our goal was to become a global organization that helped people make better use of space. We knew this meant looking beyond our walls and aligning with other leading aerospace companies that work in other sectors of the industry.
We initiated that process by acquiring companies, including ECAPS, NanoSpace, LSE Space, LSE Space Middle East, Universal Space Network, SSC Chile and Aurora Technology. Collectively, SSC now offers satellite management services, sounding rocket and balloon launch services, microgravity experiment equipment, airborne maritime surveillance systems and propulsion systems. Our global network of ground stations offers a responsive, secure and cost-effective alternative to high, lifecycle costs associated with ground station ownership. We offer the world's largest commercial network for ground station services, assuring greater than 99 percent reliable global comprehensive satellite access. Our dynamic team of software and spacecraft engineers, applied physicists and scientists provide expert customer counsel.
SM
What does the merging of technologies and talents bring to SSC?
Lars Persson
It brings a level of expertise and global reach unmatched in the industry. Because all of the subsidiaries operate as one company, the integration of new technologies and talents enables us to act as a true partner, allowing our customers to focus on their core business. We are able to share infrastructure and maintenance costs between multiple customers. We combine our strengths to deliver proven, reliable, responsive and cost-effective solutions that customers can trust.
SM
What do SSC technologies and capabilities contribute to the business of your subsidiaries?
Lars Persson
SSC is the parent company, providing our customers with complete, integrated solutions supported by the broad scope of capabilities that our diverse team has to offer. SSC, itself, offers design, test, launch and operations capabilities. ECAPS focuses on green propulsion-based products for space application, while NanoSpace produces Micro Electro Mechanical Systems (MEMS)-based products for space application. LSE Space is a space consultancy that supports satellite and manned missions with a wide offering of spacecraft operations and ground systems engineering services. LSE Space Middle East provides on-site project management in the rapidly developing markets of the Middle East, Asia and Africa. Universal Space Network provides highly responsive, operationally robust and cost-effective solutions to satellite operators via PrioraNet, a global network of satellite ground antennas, network management centers and high bandwidth terrestrial communications. The SSC Chile Station in Santiago is the most reputable TT&C tracking facility in South America. Aurora Technology is a consultancy featuring a team of software and spacecraft systems engineers, applied physicists and scientists. Together, we operate under the SSC brand as one unified team.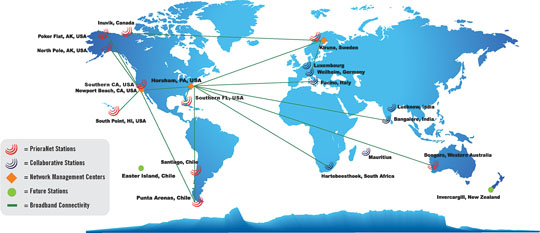 SM
What makes SSC unique?
Lars Persson
Our global presence and ground station network sets us apart. Most of the world's space agencies and satellite owners are customers in some sort of fashion. We can provide all sorts of services … from hosting to full outsourcing. Second, our investment in green propulsion is going to be a game-changer in launch ranges. This further emphasizes our commitment to caring for and preserving the planet. Finally, because we are committed to being the dominant provider of sat com services in the world, we are willing to invest and make key purchases in strategic locations to build a truly global business.
SM
Where do you see your main growth opportunities in the short term? Long term? What is your business strategy for growing the business?
Lars Persson
Our three biggest growth areas are in PrioraNet, NanoSpace and the ECAPS product line. These are our immediate priorities. Down the road, we see tremendous opportunities to capitalize upon the number of satellites and capacity for information download, both of which are growing rapidly. In addition, more of our customers are moving toward outsourcing. The space industry demands global access. Therefore, our strategy for business growth is to continue building our organization by selecting companies in key geographic regions around the world that allow us to better serve local customers in a global way. We will continue to strive to as an extension of our customers' missions; to be a part of a basic infrastructure that they rely upon every day.
SM
How does SSC's ability to share resources and upgrade space operations assets offer customers greater value?
Lars Persson
It allows them to effectively reduce infrastructure costs by as much as 65 percent. SSC offers tailored service provisions. Instead of building infrastructure for peak needs, we help customers reduce it down to something below peak, and then, tap into us only during peak times, without having to carry the additional capacity. Customers only pay a fraction of the cost, while obtaining access to more technology than ever before.
SM
How can SSC help customers meet changing infrastructure needs in a dynamic geopolitical environment?
Lars Persson
With SSC as their partner, customers don't need to build new infrastructure or maintain existing ones. We can provide services ranging from hosting to full outsourcing, including ground communication around the globe.
SM
With 31 years of IT, telecom and space industry experience, how different is the market place today than when you started your career? Where do you see the industry heading over the next year or two? In five years?
Lars Persson
Today, the use of satellites for research, security, navigation, etc. is rapidly growing. The average person connects to space more than 50 times per day via television, GPS and more. Furthermore, the number of countries with their own satellite capacity is growing. All of these factors were not in play three decades ago. As we look ahead, the need and benefit of space will continue increasing, as access to space becomes more commercialized and achievable for more countries, organizations and people. Many countries are developing their own national space policies and promoting their own space agencies, a sign of a growing technical workforce and a source of inspiration for students to study math and science. New countries are entering the arena with their own satellites. As time progresses, satellite usage and communication increasingly mirrors the telecom industry … you don't need to own the infrastructure as long as you control the information. Therefore, increased outsourcing, along with international cooperation between countries and companies, arises when the parties realize there are commercial alternatives such as SSC with its global network. Furthermore, we are enabling better, more economical use of future satellites. By measuring propellant levels for satellite owners — through technology such as SSC's MEMS — we can extend the lifetime of satellites. We are also making satellites more environmentally friendly through green propellants like SSC's ECAPS.
SM
What is your most significant accomplishment during your tenure with SSC?
Lars Persson
I am most proud that we are now a true global player and can accommodate most customer needs for satellite management services, covering ground station and engineering services. We have evolved into a focused commercial company with a couple of signature products — namely NanoSpace and ECAPS technologies — that are commercially available.