Bridge Technologies
By Simen K. Frostad, Chairman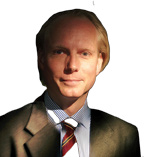 Looking back as we reach the end of 2013, it feels as if the sun really came out this year. Not just during a long spell of unusually fine summer weather, but also in the sense of a resurgence in business confidence after the long drawn-out economic chill since 2008.
It won't seem that way in some of the hardest-hit regions, and I don't imagine that too many financial experts consider the global economy to be in great condition even now, but in our industry it feels as if 'cautious optimism' is prevailing over the wait-and-see attitude everyone feared during the past five years.
This has been reflected in a surge of activity for Bridge Technologies and an incredibly busy year fulfilling big new contracts, accelerating the R&D effort, extending our existing solutions, and launching new product ranges. Even during the 'recession' we managed to achieve record growth increases year-on-year, so now that the climate is more positive there's been an additional impetus to that trend. 2013 has been quite a ride.
However, the industry's reaction to recent straitened times has had some long-term effects: Buyers want more elegant solutions that provide tighter integration and lower costs. Aside from looking for a competitive deal on initial investment, buyers are more sensitive than ever to the small gains in operating cost savings that add up to large gains when rolled out across a sizeable infrastructure. These are now such a large part of the ownership cost that they can easily outweigh the importance of the initial investment in a buying decision. So a robust multi-talented, highly integrated solution that offers great value, low maintenance costs and big energy savings over a useful life extended by frequent upgrades (preferably at no extra charge) is the holy grail for today's buyers.

Fortunately, we provide all of the above, and these requirements have always driven our product design. Based as we are in Norway, it's natural for us to consider eco-friendliness in everything we do. Our high-performance hardware probes consume just 35W, compared to the hundreds of watts required to run a server-based product and keep it cooled. When you roll that out over the hundreds of installations our larger network customers deploy, it adds up to some big savings.
An operator can achieve big savings, too, from the infrastructure streamlining made possibly by more efficient and accurate technology. Protecting against the possibility of failure is expensive: it means operators have to replicate systems to provide secure backup capability. Anything that can minimize the reliance on backup infrastructure offers potential gains.
One of the most exciting Bridgetech product launches this year is our VB273 Intelligent Satellite Redundancy Switch (see product photo below): A smarter, more sophisticated way of automating redundancy switching that goes far beyond the relatively crude capability of previously available solutions.
Accuracy in monitoring systems saves the customer money. It provides tighter control and greater reassurance—all of which adds up to a sounder basis for planning and infrastructure design, as well as quicker resolution of operational faults.
Much of our R&D effort focuses on raising the level of accuracy customers can expect from a monitoring system, and one innovation we've introduced this year as part of our rolling program of free software upgrades is the capability to trap microbursting, which most monitoring solutions miss because it can occur between sampling intervals.
Accuracy of data to support decision-making has been the design goal for another Bridgetech launch this year. QoE (Quality of Experience) monitoring aims to provide validation of the quality of service as perceived by the viewer. But for many years QoE systems have been based on an algorithmic simulation of the 'average viewer' and statistical weighting techniques similar to those employed in market research. These techniques are derived from the telecoms industry where panels of listening experts were quizzed on their impressions of sound quality over phone lines. It is a somewhat inappropriate way of assessing QoE in a broadcast/media context, with the methodology providing built-in statistical fuzziness rather than empirical precision.
A more rational approach would be to use the objective criteria commonly used in the broadcast/media industry (jitter, frame dropouts, buffering, etc.) to collate a real – not simulated – picture of the service quality reaching subscribers.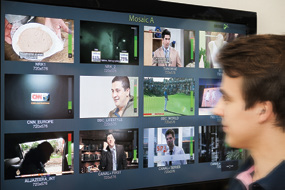 So that is what we are introducing with the Bridge Technologies Objective QoE solution. The first product in this new product line is the VB288 content extraction system (product photo below). The VB288 delivers visual content extraction, status displays and alerts to a virtual videowall display that can be viewed through any browser in any location, giving engineers—at the operations center or on the move—instant feedback on service quality. The Objective QoE solution means media providers can now look forward to exact and detailed data on the viewer experience, and better business as a result.
We are fortunate in being able to work very closely with our customers, and there's a constant stream of product development ideas that comes from this dialog. When the customers we work with are pioneering new industry developments it means we stay ahead of the wave too, and we've been pleased to be first in the industry with integral support for MPEG-DASH in our monitoring systems, and with a solution for the first DVB-C2 rollout.
These up-and-coming industry changes are inevitably accompanied by some 'retirements' as technologies become outmoded or rejected by the market. The waning interest in 3D is evidenced by the number of operators dropping it from their offering, with Netflix among the latest. But one door opens as another shuts, and looming on the horizon for 2014 and beyond is UltraHD – which will keep the industry busy for some time to come.
To learn more about Bridge Technology products, access their website at: http://www.bridgetech.tv/
About the author
Simen K. Frostad is the Chairman of Bridge Technologies.
* * * * * * * * *
Cobham SATCOM
By Casper Jensen, Vice President, Maritime
With the official establishment of Cobham SATCOM in October 2012, the focus in 2013 has, amongst others, been on bringing together two of the biggest maritime communication brands—SAILOR and Sea Tel—into a single organization.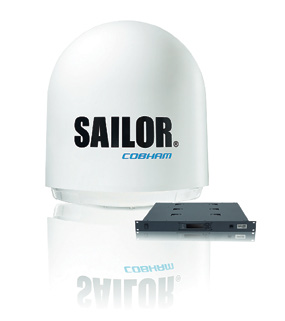 Progress is good—we now have a fully aligned global sales force capable of supporting customers across both portfolios. A new integrated R&D function consisting of the combined expertise of SAILOR and Sea Tel engineers is already paying dividends in terms of faster and more efficient development of new antenna technology.
In fact, using the established SAILOR 900 VSAT platform as a starting point, our new sub 1m antenna, SAILOR 800 VSAT (pictured below), took just six months to go from concept to market, so we are satisfied with our engineering progress to date. This new 83cm antenna has been well received in the market, as it offers the same RF performance as competing 1m Ku-band antennas in the market. This is important in the maritime world where on many vessels, real-estate is at a minimum, but with SAILOR 800 VSAT, we are offering an antenna that can function on more reliable and stable Ku-band services, at a much smaller size than antennas usually required for this level of performance.
In addition to technology development in 2013, we have also worked hard to integrate the global service function of SAILOR and Sea Tel. In maritime SATCOMs, service capability is vital, as it is a truly global industry. Having cross-trained and up-skilled our network, and increased the number of service centers throughout the year, we feel that Cobham SATCOM is in a strong position in terms of supporting our customers and end-users.
Potential Transition
The maritime communications market itself is on the cusp of a potential transition. With Inmarsat Global Xpress (GX) scheduled to go live during 2014, and with global coverage by end 2014 (according to Inmarsat), some fleet and vessel operators considering a communications upgrade may take a 'wait and see' stance.
Cobham SATCOM is a GX launch partner. The new constellation will enable a next generation of maritime communication services, so it's understandable that some shipping companies might delay their decision. The need for more bandwidth continues to be a growing demand need across the industry; there is considerably greater demand today for IP data than there was even two years ago, driven by the desire to cut costs and provide crew welfare facilities.
Fuel is the largest single cost for shipping companies and by using applications designed for vessel and fleet optimization, significant savings can be made. Even a few percentage points off the cost of fuel is enough to persuade the industry that new technology designed for, in example, engine monitoring and route planning, is a wise investment.
Collaboration is key here and a core aspect of these systems is that they share vessel and fleet data with the organization on land, which, of course, is where the SATCOMs aspect comes in. With the profile of optimization growing in the market, it may not be efficient that owners and operators delay when it comes to upgrading their SATCOMs to enable the use of such technology.
Our engineering answer to this is simple; during 2013, we have designed our newest and most popular antennas to be field upgradeable to GX, which gives end-users the freedom of choice. It's now possible to select a Ku-band service, with fixed monthly costs and more bandwidth than legacy L-band services (of which we have supplied over 500,000 terminals for) and still consider moving to Ka-band when services are available, without the cost or inconvenience of replacing your antenna or electronics on board. With this capability, there is no need to 'wait and see,' as it's possible to upgrade now and still switch to GX later.

Continued Development
2013 has, again, been an interesting year for our FleetBroadband products, as we have actively developed specific market sectors where smaller vessels are the norm, such as commercial fishing and workboats. These industry sectors have similar demands as the shipping sector, but with fewer crew and smaller vessels . We have found that SAILOR 150 and 250 FleetBroadband are ideal products for this market.
FleetBroadband has been a highly successful product since 2007, not the least of which has been within the merchant market. However, the shift in usage of SATCOMs at sea and the demand for more data means that Ku-and Ka-band VSAT are now seen as serious options when considering coverage, bandwidth and costs.
Thousands of vessels use FleetBroadband (we have shipped more than 30,000 terminals) and will continue to do so, which is why we are still very much involved in development for one of our best performing products ever produced. In addition to enabling Multi-Voice on our entire SAILOR FleetBroadband range in 2013, we also introduced new solutions, including the SAILOR FleetBroadband Dual Antenna solution, which we launched at the Nor-Shipping exhibition in June.
Consisting of two SAILOR 500 FleetBroadband solutions and a Dual Antenna Control Unit (DACU), which can automatically switch between antennas without loss of connectivity, the system overcomes challenges experienced when a single antenna may become obstructed by superstructure, masts, rigging and other equipment on board. This makes it ideal for specialist vessels that use critical IP applications over FleetBroadband, where loss of connectivity could significantly affect the outcome of a costly or hazardous operation.
Regardless of future services, the status quo in 2013 was mostly unaffected. Ku-band is growing as ship-owners understand the benefits of more bandwidth and fixed communication costs whilst novel uses or new markets support a very active FleetBroadband user-base. How much of the market, in terms of antennas, GX will attract is of interest of course, but with our most advanced SAILOR and Sea Tel Ku-band antennas based on the latest generation of satcom technology already Ka-band ready, ship-owners and operators can be prepared for the transition when it comes.
Additional details at: http://www.cobham.com/
About the author
Casper Jensen holds overall responsibility for developing and implementing strategies for Cobham SATCOM's maritime satcoms and radio product range. After earning an Engineering Masters degree, in 1999, he joined Thrane & Thrane. He now leads the maritime activity at Cobham SATCOM, an organization that was formed following the acquisition of Thrane & Thrane by Cobham plc.
* * * * * * * * *
European Communication Services
By Eran Avni, Chief Executive Officer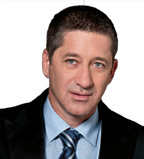 European Communication Services (ECS) enjoyed solid growth in 2013. Our chief markets in Europe, Africa, the Middle East and Central Asia all showed promise and our business continued to expand this past year.
ECS provides End-to-End TV and radio distribution services through premium satellite packages and leading cable operators. We work with broadcasters seeking to augment their market footprints and enlarge their businesses—primarily to specific audiences. Specializing in broadcast solutions for DTH, DTT and IPTV, we offer TV Channels and broadcasters secure access to satellites, cable operators and terrestrial packages throughout Europe, Africa, the Middle East, North and South America, Asia, and Australia.
The most important part of business today is finding the best method to marry traditional broadcast together with New Media solutions. This combination is proving to be an excellent business area for ECS and being able to provide technology packages fitting both sides of the equation make us a one-stop shop. With markets facing finance challenges, including those in Europe, we excel in bringing cost effective solutions together with reliable technologies and services.
As a nimble player, we create solution tailored for our clients. Working together as partners, we bring them new ideas based upon our vast market knowledge, extensive market research, deep understanding of technology, and exciting business relationships. Giving our customers the technologies that provide the most effective penetration to reach their target audiences is our greatest advantage.
To reach every corner of the globe, our turnkey media delivery solutions meet our clients' varied needs and provide solutions in numerous formats due to our unique business model that brings consultancy and market analysis as well as the full set of technical know how required to establish and deploy the best solutions for our customers.
For instance, this past year we expanded operations in Asia. For a number of broadcasters, we provide full solutions from playout to signal backhaul to content distribution. Our 24/7 monitoring teams ensure that their channels reach their audiences. In another case, we are using OTT technology to bring a broadcaster's content to all of its customers—where ever and whenever they choose to view content. All together, the blend of technology and content makes the future exciting.
I would have to say that this year we really saw a growing interconnection and integration of traditional broadcast and New Media. As we specialize in developing markets, we put together exciting solutions.
For some customers, due to the paucity of fiber networks and stable Internet connections, we used backhaul satellites. Infrastructure in their local markets was not developed enough for uploading their content files to our FTP server for playout. However, as technology is pushing forward quickly, we supplied a solution, at their request, that included OTT solutions and brought the channel out as a mobile application. In their market, broadcast may not possess the infrastructure, yet our client is not waiting around and is already moving into the mobile arena.

During the past year, and we believe that this will continue into the future, Africa and the Middle East have been a strong focus of our work. We have identified two intertwined trends for the international broadcast industry…
– Local or regional channels seeking access to a world-wide diaspora market
– European-based channels seeking broader access to what we call their 'home markets"
This is true in diasporas in South America as well as in the Middle East, Asia, and Africa. This has led to business development for ECS around the globe on projects that reach audiences 'back home' and all around the world. Integrating various models through multi-platform broadcast solutions is key to future development of African and joint European-African markets. ECS is excited by these markets and is developing business practices to serve these needs.
ECS also helps open up the growing OTT universe for a client's viewers via our IPTV Platform Services, our Over-The-Top (OTT) Solution, and Cloud services. With immediate access to hundreds of channels, our IPTV platform provides options and innovative services such as Video-on-Demand (VoD) and Catch Up TV for viewers who want to watch a program, post-broadcast. This service is part of ECS' growing OTT universe.
The comprehensive Over-the-Top solution offers multi-screen OTT video distribution for telcos, broadcasters and content owners. On multiple devices, from tablets to smartphones, laptops to PCs, online TVs to IPTV, viewers can browse, chat and interact simultaneously, with a superior viewing experience, which lengthens customer capture penetration time.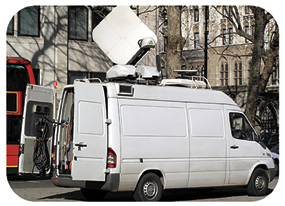 The solution produces an exceptional, seamless, interactive HD viewing experience by leveraging TV broadcasting and the Internet. Enabling live and On Demand content streaming over any type of network, from Wi-Fi, 3G, 4G / LTE to Fixed and Satellite, this solution delivers fast channel switching in under a second to ensure a high level and enjoyable experience for viewers.
The ECS Cloud OTT Solution features:
– Highest Quality—nparalleled Interactive HD viewing experience
– Multi-device—TV, PC, Smartphone, Tablet, IPTV, plus more
– Full Featured – Multi Screen, Catch-up, DVR, Live Record and full interactive EPG Listing
– Fast channel switching
– 24/7 Help Desk— Comprehensive Monitoring and Support service
– Total Management—Billing, Analytics, Monitoring and Reports
– Simple to use—Shortens product time to market
– Cost Effective— Reduces resource costs
– Scalable for growth
Another growth area for the company is our Transportable Flyaway systems, which go where the news happens. Working with our broadcast partners, we can rapidly deploy our systems to extremely remote locations so that your feeds reach their destinations. We offer state-of-the-art mobile production units as well as complete fly-away resources. Our vehicles are fully equipped with SD & HD cameras, sound mixing consoles, monitors and technical staff, to ensure your needs are met. We also provide a complete range of audio, lighting and other equipment necessary for coverage of your events. We work with GPS equipped systems with high quality digital capabilities (we have analogue, if required). By connecting to our UK-ground station, we provide playout services, as needed.
Further information at: http://www.ecs-tv.com/
* * * * * * * * *
ETL Systems
By Susan Saadat, Vice President, Sales
This has been another successful year for ETL Systems, and this is shown by the company's recent international growth. Former Intelsat and Harris Caprock SATCOM executive Susan Saadat, who was appointed as Vice President to lead the new venture, takes us through ETL's year.
The year 2013 has been one of advancement and change for the satellite industry. A live sports game was broadcast in 4k for the first time, July saw WBU-ISOG pass a resolution to make Carrier ID compulsory, and the impact of High Throughput Satellites has opened new opportunities for many companies, while others have yet to find their place in the market.

For ETL Systems, a global designer and manufacturer of RF distribution equipment based in the UK, 2013 has been defined by growth. The British brand opened a regional headquarters in Washington DC in February to take advantage of ongoing and rapid expansion on the continent. The expansion will support ETL Systems' already strong presence in the US market, which accounts for more than 60 percent of its total annualized broadcast, satellite communication, system integration and government orders.
ETL is now aiming to grow its presence in North America by providing faster sales support and making more face to face visits possible, alongside extra on-the-ground hardware and software technical support.
To help drive the international focus from the new US office, Bill Pryle was appointed as International Sales Manager after joining ETL from ATCi. Bill spent more than 25 years with ATCi, where he was responsible for sales to the Eastern US region and specialized in government and commercial SATCOM projects. Alongside sales, he has strong engineering experience in the design and installation of satellite teleports. He has already worked closely with ETL's RF distribution products and brings a sound knowledge of the US and International satellite markets with him.
ETL experienced an increase in sales during 2013, partly due to the advancement of specialist RF products, including the launch of a new switch matrix / router—the 16x32 Valiant RF Matrix, which is the newest addition to the V-series range. The family, designed and built at ETL's base in the UK, includes the 128x128 Vulcan Matrix Router, the 64x64 Vortex Matrix Router, the NEW 16x32 Valiant Matrix Router and the 16x16 Victor Matrix Router. All are capable of remote control via serial or Ethernet port with SNMP and web browser interface. The Valiant Switch Matrix was launched for the first time at SATELLITE 2013.
Early take up of the V-series products included ETL's VTX-10 matrix being used by a major international sports broadcaster in Singapore to upgrade its downlink system. ETL's NGM-21 has also been used by a tier one telecoms service provider for the upgrade of downlink stations in the Asia region and ETL's Modular system chassis has been installed by one of Asia's fastest growing satellite operators with a mixture of splitter and combiner modules for receive and transmit paths.
ETL has worked with global satellite operators for many years, and these SATCOM users form the backbone of our customer base. The whole range of standard and custom build products has been used by satellite operators, in both TT & C, monitoring and traffic management roles.

When satellite operators wanted to transition from IF to L-band for a lot of their signal routing, ETL was there—our hot swap matrices are in use all over the USA and Europe in leading Earth stations. When satellite operators needed to add high resilience line amplifiers, we were again able to develop products to provide solutions.
In example, a leading European satellite operator wanted to upgrade their approximately 120 RX and TX signals. They used ETL's modular system. On the RX chain, each signal firstly hits a variable gain, variable slope compensation amplifier—this is designed to compensate for cross site cable losses as well as to balance levels as they come into the main equipment room across the RX feeds.
Each feed then hits a custom-build 4-way active splitter, again with variable gain, but independently settable for each OUTPUT of the splitter. This means that one (or more) weak channel can be boosted as required to again give a balance and optimise RX signal performance. The TX chain is similar with combiners and amplifiers again balancing feeds and cable losses.
A second example encompasses a new Middle Eastern satellite operator who is using ETL's NiGMa L-band switch matrix for its fan-out or distributive RX signal distribution and for its fan-in or combining TX signal routing. They selected ETL NiGMa due to its very good RF performance and the strong requirement for resilience—NiGMa's 2-stage architecture means one RF card for each input and output, de-risking the whole ground station considerably.
ETL is also advancing in the military sector, playing an important role in the development of a new military radio product which provides tactical satellite communications to aid soldiers on the move in hostile environments. This crucial technology uses a new antenna with the ETL custom build mode which can then be fixed to a vehicle or soldiers backpack to enable ultra high-definition radios to be used for L-band satellite communications. ETL's specialist engineering team worked together with its client in developing a design concept through to delivering product ready units which have recently been successfully implemented and deployed.
The ETL NiGMa L-band switch matrix, in RX and TX formats, is being used by at least six NATO governments for intelligence gathering duties, as well as general traffic and data management, and TVRO applications. In general the NiGMa matrix / router is selected in this sector for its exemplary RF performance. ETL has rapidly established an important niche in the government and military sector, particularly for some high performance and often custom build products.
As well as L-band we have also provided a substantial number and size of IF switch matrices, based on NiGMa, TiTan and other technologies to this sector - again for use in down and uplink applications.
ETL has a wider offering of products for tactical HQ's as well as main Satellite Ground Station sites, such as Automatic Gain Control Amplifiers and Hybrid Splitter / Combiner shelves connecting multiple modems to remote VSAT terminals and often providing 10 MHz referencing, LNB and BUC powering.
ETL is going through an exciting period of growth and the brand is synonymous with quality, reliability and great customer service. This is emphasized in everything from the new products being designed, through the manufacture process and to ensuring customer service and aftercare is to the highest possible standard. In 2014 ETL is looking forward to the completion of a new international headquarters in the UK and many other exciting developments.
The company's success was also rewarded in 2013 when it received its third Queen's Award for Enterprise: International Trade, the highest honor which can be given to a UK company. It recognized the company's growing international trade and the fact its resilient RF distribution products are well known for quality & reliability. This success even led to a Royal visitor—HRH the Duke of Gloucester KG GCVO. The company has also experienced sales in new markets including Australia, South Korea, Japan, South Africa and Indonesia.
For further information, access: http://www.etlsystems.com/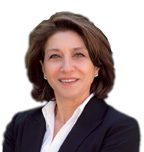 About the author
With 25 years of sales, management and engineering experience in satellite communications, Susan joined ETL in 2013 to lead the company's recently launched North American headquarters in Washington D.C. She combines her strong engineering foundation and solid track record of achieving high level growth and top line revenue to expand ETL's presence in the Americas.
Susan is recognized for her skills in growth strategies, business operations, process improvement and ROI projects and initiatives. Prior to ETL, Susan held positions at Thrane & Thrane, Caprock, and Intelsat. She was also co-founder of Paragea Communications, a spin off of Comsat that designed and manufactured Very Small Aperture Terminals (VSATs). Susan was recently elected to serve for a two year term on the Board of Directors of Women In Aerospace. Susan graduated with a Bachelors degree in Electrical Engineering from Syracuse University, NY, a Masters degree in Electrical Engineering from the University of California, Berkeley, and an MBA from George Washington University.