SSL (Space Systems Loral)
By Rich Currier, Senior Vice President, Business Development
2016 was a record year for SSL as the company completed and delivered more spacecraft in a single year than ever before, experienced the successful launch of the first four Low Earth Orbit (LEO) satellites that were manufactured in the company's new dedicated smallsat manufacturing facility, initiated production on the firm's first all-electric satellite, and participated in an ever-increasing variety of space exploration and robotics missions.

2016 was also a year of recognition for John Celli, the President of SSL, who received three prestigious awards and, once again, one of our young engineers was honored as a future industry leader.
Launches
SSL's greatest challenge this year was also one of the firm's greatest successes. There have been eight, SSL-built geostationary (GEO) satellites launched as of this writing and five more are scheduled to launch by the end of the year. This outstanding achievement represents the most commercial GEO satellites launched by any satellite manufacturer this year and this may well be an all-time record for the industry.
Meeting this rigorous schedule while maintaining SSL's uncompromising quality standards required strong team work as well as close collaboration with customers and suppliers. This schedule also demonstrated the success of SSL's program to streamline processes and improve factory flow. These satellites provide a great variety of services for many regions of
the world.
In 2016, SSL delivered more satellites for the Asia Pacific in one year than ever before, with three GEO launches for the region; two for Japanese satellite operator and multi-channel payTV broadcaster SKY Perfect JSAT (SJC), JCSAT-14 and JCSAT-16, and one for Indonesian Bank BRI (BRIsat), the world's first bank to own and operate a communications satellite. Additionally, a third SSL-built satellite for SJC has already been delivered to the Arianespace launch base in Kourou, where the satellite is scheduled for launch before the end of the year.
While all of the satellites SSL deliver serve an important purpose, Sky Muster™ II, which was launched in October for nbn, Australia's National Broadband Network, may have the most noticeable positive impact on people's lives.

Working together with Sky Muster™ I, which was also built by SSL and launched in 2015, the satellite provides essential services, such as telemedicine, video-conferencing, and distance education to Australia's most difficult to reach citizens, including those in remote areas and offshore islands. Between the two satellites, the service is planned to connect more than 400,000 users to high speed Internet.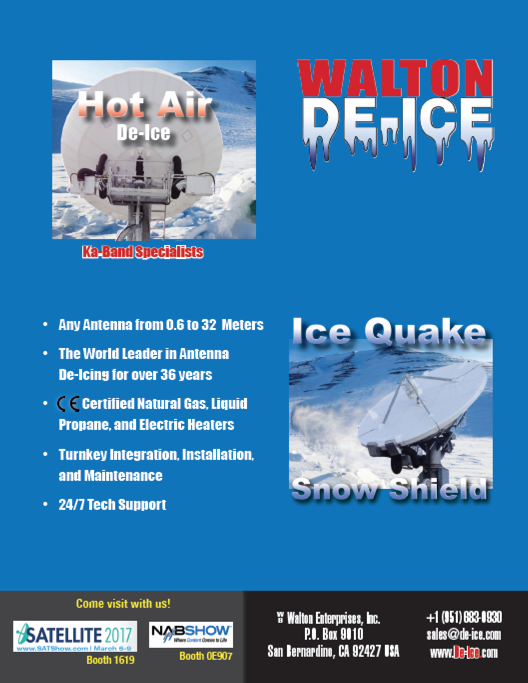 Satellites launched as of November included...
Sky Muster™ II
• Launched in October: High Throughput Satellite (HTS) for Australia
4 Terra Bella SkySats
• Launched in September: Four LEO Earth Observation satellites
Intelsat 36
• Launched in August: Media and content distribution services for Africa
JCSAT-16
• Launched in August: Video distribution and data transfer communications for Japan BRIsat
• Launched in June: Dedicated banking connection services for Bank BRI in Indonesia
EchoStar XVIII
• Launched in June: Broadcast service for North America
Intelsat 31
• Launched in June: Broadcast services in Latin America
JCSAT-14
• Launched in May: Communication services for the Asia Pacific
EUTELSAT 65 West A
• Launched in March: Video, data, and broadband services in Brazil and Latin America
Contract Awards
In 2016 SSL also began production on a number of new spacecraft, including six LEOs that will be used for Earth Observation (EO), a smallsat LEO for an undisclosed customer and a prototype Ka-band LEO satellite for Telesat.
In terms of geostationary satellites, the company announced a contract for EUTELSAT 7C, which is an all-electric satellite, and a contract with Intelsat for Intelsat 39, which is a high power satellite that will provide broadband networking and video distribution services.
SSL was also selected by SiriusXM to provide two very powerful satellites for its fleet, SXM-7 and SXM-8, which will help ensure continuous and reliable delivery of SiriusXM's audio entertainment and data services to more than 30.6 million subscribers across North America.
Partnering For Innovation
2016 was also a year of innovation at SSL. The company teamed with customer Eutelsat to demonstrate Q/V-band on orbit. Use of these Extremely High Frequencies is expected to enhance the performance of the nexgen of High Throughput Satellites (HTS) by increasing the throughput of the gateways to the satellite. This will enable significantly more bandwidth to be available for users and it allows the number of gateways to be reduced, helping drive down cost per bit per second.
SSL also teamed with Eutelsat on the first all-electric satellite, EUTELSAT 7C. SSL was one of the first satellite manufacturers to successfully integrate electric propulsion into the firm's satellite designs with the first electric thruster launching in 2004. There are currently 26 SSL-built satellites with electric propulsion on orbit, and more than half of the satellites in the company's manufacturing queue are designed to use electric propulsion. EUTELSAT 7C leverages this heritage in an all-electric design.
Space Exploration & Nexgen Missions
In 2016, SSL also announced contracts for a number of US government missions. These include the Dragonfly mission to develop on orbit robotic satellite assembly, the Asteroid Redirect Robotic Mission (ARRM) to conduct first phase design studies for a spacecraft that can travel to an asteroid, remove a boulder, and redirect that boulder into a lunar orbit to prepare it for a visit by astronauts in the 2020's, and the Ixion Initiative to evaluate conversion of rocket upper stages into human space habitats for the NASA NextSTEP-2 mission.
SSL is also providing two complete robotic arm systems to the Defense Advanced Research Projects Agency (DARPA) for that agency's Robotic Servicing of Geosynchronous Satellites (RSGS) program, and is the industrial partner with NASA's Jet Propulsion Laboratory (JPL) for a proposed NASA Discovery Mission to explore the metal asteroid called Psyche.
Honors & Awards
This was a special year for SSL's president, John Celli, who was honored by several industry organizations. He was inducted into the Society of Satellite Professionals International (SSPI) Satellite Hall of Fame as well as the Silicon Valley Engineering Council (SVEC) Hall of Fame, where he takes his place among many legendary Silicon Valley engineering leaders. In November, after delivering a keynote address at the World Space Risk Forum conference in Dubai, he was presented with that organization's Outstanding Service to Industry Award.
SSL is known for the firm's supportive environment for young engineers and has a record of seven exceptional young professionals receiving the SSPI's Promise Award at the Future Leaders Dinner in New York. This year the SSPI recognized Jennifer Dawson, director of marketing and sales at SSL, as a young professional destined to be an industry leader in the future.
Looking Forward
To maintain the company's position as a leading provider of innovative satellites and spacecraft systems, SSL is focused on advances that shorten design cycles and increase the value of its products and services.
The company brings Silicon Valley innovation to systems that enable the firm to better explore the universe and to help satellite operators grow their businesses. SSL is continually developing new technologies with a focus on flexibility and standardization for commercial operators and the company brings powerful solar electric propulsion systems, advanced robotics and new rideshare opportunities to the greater space community.
2016 was a bright year for SSL and the company looks forward to continued growth in 2017 and beyond.
sslmda.com
Mr. Richard Currier is Senior Vice President of Business Development at SSL, a leading provider of innovative satellites and spacecraft systems. Mr. Currier is responsible for the strategic marketing of SSL's products and services in its pursuit of growth and global market leadership worldwide. He is a seasoned satellite and telecommunications executive with more than 23 years' experience in leadership and 34 years' experience in satellite and wireless communications, technology, and information systems.
---
Swedish Space Corporation — SSC
By Stefan Gardefjord
SSC was founded during a time where space operations was still characterized by pioneering individuals and a spirit of discovery—space was basically unknown and unexplored territory.

When SSC was founded in 1972, the development within space was largely run by states and governments who wanted to move the boundaries of what mankind could accomplish and make new scientific discoveries. Europe's entry into the space age and SSC's heritage emerged from scientific missions and peaceful purposes. Sweden's geographic location was part of the foundation of SSC and Esrange Space Center, in Kiruna, Sweden, and early on became a vital actor within the European space infrastructure.
SSC is a unique company with corporate objectives that extend beyond the typical metrics of increased market share and profit margins. As a wholly owned company of the Swedish State, SSC has two distinct assignments from the owner with clear inter-dependencies; one that is purely commercially oriented and another that is science and research focused.
1) SSC's commercial assignment is a traditional business model where advanced space services are delivered across the globe to customers in the commercial, government and defense sectors with set financial goals. The commercial assignment is carried out by Satellite Management Services and Engineering Services. The company's vision is to become the leading global provider of advanced space services.
2) SSC also has a perhaps lesser known, yet vitally important, public assignment. In this role, SSC delivers services to mainly the global science and research community, including the operation and further development of the Esrange Space Center. There are clear targets on quality and capacity utilization. Quality is measured by a quality index as perceived by the customers and users and the firm's target is to reach at least a very good/excellent customer satisfaction.
SSC's target for capacity utilization is set to at least 70 percent of full capacity, also providing capacity to continuously develop and enhance our capabilities at the Esrange Space Center. This public assignment is carried out by the Science Services' teams at Esrange Space Center and in Solna, Sweden.

These two assignments provide valuable services to customers and the business operation is based on shared skills, competencies, technology and capabilities as well as capitalization of common infrastructure and critical group functions that form a mutual inter-dependency between the two assignments.
Global Reach, Global Presence
In 2016, SSC's global footprint spanned the globe, with infrastructure in 22 locations in 12 countries, a team consisting of more than 500 employees from more than 25 nationalities.
This year, SSC adjusted to the market and made increases in some service offerings while offloading others. The result is an extensive portfolio that includes launching sounding rockets and high altitude balloons, providing engineering services to leading European and global space organizations and providing satellite ground network services using the company's Universal Space Network.
From Celebrations To Appointments
In 2016, SSC celebrated its 44th year in business with several noteworthy highlights while also addressing challenges to ensure the firm is well positioned for another 44 years.
Fifty years ago the first sounding rocket was launched from the Esrange Space Center. Back then, Esrange was actually a part of ESRO (European Space Research Organization), the predecessor of ESA. Hence, Esrange Space Center celebrated the firm's 50th Anniversary this year (see anniversary article earlier in this issue of SatMagazine).
During the course of the year, SSC announced three key senior executive changes. First, our Board of Directors announced that Mrs. Monica Lingegård was elected chairman of SSC's Board of Directors. SSC is entering a new phase, where the demand for delivery of advanced space services on a new global commercial market is increasing. Having Monica as the Chairman will create opportunities for SSC to meet these emerging needs. She has more than 20 years of experience in senior management positions, including multiple CEO positions. She also has a consultant background in IT and management consulting. In 2015, Monica received the Swedish award as "CEO of the Year."
Mrs. Maria Palm from L.E.K. Consulting LLP in London was elected as a new member of the Board. Mr. John Stuart, who has been an external member of SSC's Board of Directors since 2013, has stepped down from the board and taken on the role as SVP Sales & Marketing and member of SSC's Executive Committee. John's career in the space industry spans more than 30 years and he most recently served as Vice President for Business Development for COM DEV International. The operational highlights and challenges of SSC's public and commercial assignments were also noteworthy during 2016.
Highlights and Challenges
In October 2016, space leaders from around the world attended the 50th Anniversary festivities that included briefings, tours, an executive roundtable, and a gala dinner. While all applauded Esrange's past, time was also taken to examine the challenges of the future.
Esrange will continue to be modernized, especially the infrastructure and technology that supports sounding rockets and balloon operations. In addition, SSC has made great strides this year toward creating Europe's first dedicated smallsat launch capability at Esrange Space Center. This initiative is called SmallSat Express and the first launch is projected for 2021.
The launch capability is designed for sun synchronous orbits and with smallsat payloads of 1 to 200 kg. In October, 2016, the Swedish Government's lead Investigator, former Vice Prime Minister Mr. Jan Nygren, recommended that the Swedish Government supports this important new capability for access to space.
In April of 2016, SSC unveiled SSC Infinity, a new ground operations service that offers customers full flexibility for small satellites and constellations. The new endeavor aims to lower costs while providing reliability to the smallsat and CubeSat market.
SSC has begun installing new, small aperture antennas as part of the firm's Universal Space Network expansion. Recent growth in new, smallsat and constellation-based space applications throughout the world has driven the need for a new approach to ground segment operations. The new SSC Infinity Service, coupled with the future SmallSat Express launch capability, will provide the smallsat market with cost effective and innovative solutions to meeting their on orbit and ground needs.
This year, SSC invested a lot of time and effort in streamlining the operational business model and organizational structure. The company also worked hard to determine ways of better working together with higher market and customer orientation with an emphasis on increased efforts on sales and marketing.
To enable these goals, SSC's Satellite Management Services (SaMS) division globally integrated their operations and business practices. To ensure the focus remained on customer needs and stayed abreast of global markets, the company's SaMS division was organized into three regions (Americas, EMEA, APAC).
Furthermore, in the US, the company's legal entity was renamed from Universal Space Network to SSC Space US. In concert with this, SSC wanted to show respect to Astronaut Pete Conrad, the third man on the moon and also the founder of the US business, by renaming the global infrastructure of satellite ground stations—"Universal Space Network."
SSC's Engineering Services has built a strong position with key expertise closely engaged in Europe's leading space programs. The company has supported a number of ESA and DLR missions. In September, 2016, SSC celebrated, along with the world, the great work performed by ESA's Rosetta Mission. SSC participated on this program and when that program came to the expected end in September, that was a bitter sweet day for those at SSC.
In conclusion, 2016 has been highlighted by significant accomplishments, the introduction of new services for an emerging space market, and the culmination of support for historic missions. This year has also been defined by new leadership and refined organizational structures and business practices.
The sum of all of this is a global team of professionals that are excited every day to help SSC achieve its one ultimate mission—helping Earth and all citizens to benefit from space.
sscspace.com
---
TeamCast
For TeamCast's satellite activities, the year 2016 has been extremely fruitful as a result of the company's strong and continuous investment in product development and the firm's unique expertise in digital modulation and analog RF processing that was inherited from TeamCast's multi-carrier modem activities over the past 20 years.

First, introduced was TeamCast's end-to-end DVB-CID solution on the market: this technology garnered an award at NAB 2016. DVB-CID is the standardized key feature that helps satellite users and operators to quickly solve satellite interference problems that is also called Carrier_ID.
TeamCast's DVB-CID full solution is based on VYPER, a state of the art and up-to-date satellite modulator which includes the DVB-CID feature for the transmitter side and on CID Receiver, an advanced and top performances satellite demodulator which embeds a CID decoder for the reception side.
VYPER has been available on the market for several years and is now recognized for quality and the wide range of features by many broadcast truck operators as the best choice for establishing 4K live feeds—VYPER is installed in many such trucks that are used for sport and cultural events.

The company's CID Receiver is becoming the receiver reference to validate DVB-CID and has already been adopted by key satellite operators such as Eutelsat to check and validate the feature.

Thanks to TeamCast's high quality range of products, satellite users can manage and prove that they are compliant with this new requirement that is now becoming mandatory by regulation. The firm's DVB-CID solution works well, is cost effective and is meeting with great success in the USA contribution market.
Secondly, TeamCast has developed and introduced a new satellite modulator called TYGER—the first High Throughput Satellite (HTS) modulator—the company may even say a Very High Throughput Satellite modulator.
TYGER offers rates of up to 480 Mbaud over a 500 MHz transponder. This means up to several Gigabits/s, in full compliance with the latest DVB-S2 and DVB-S2X standards.
As TYGER also meets the requirements of the DVB "Annex M," the unit is also capable of mixing services (broadcast and broadband) over the same satellite carrier.
Furthermore, to maximize capacity and spectrum efficiency, TYGER natively includes two additional features: the use of the latest encapsulation algorithm called GSE to enable a more efficient IP transport for demanding IP based services, and an up-to-date ESP technology (for Enhanced Satellite Pre-correction), which contributes to maximize the useful payload over a given transponder bandwidth.
Another key achievement in 2016 is the company's selection for being part of the Magellan Project. The Magellan project is conducted by the French Space Agency (CNES) and involves several international leaders of the satellite industry, namely Thales Alenia Space. The focus of the project is the building and testing of the ground segment for an advanced, broadband and broadcast access network.
Using HTS, the project is investigating and testing very high-speed Internet access and broadcast services to areas where no high speed ADSL or fiber is currently available for technical or cost reasons.
TeamCast is going to provide the HTS modulation—based on the firm's latest TYGER wideband modulator—as well as the digital pre-corrector of the linear and non-linear elements of the complete transmission chain.
TeamCast's CID receiver set-up at Eutelsat.
Specifically, the 500 Mbaud capability and the DVB-S2X / Annex M / GSE features of TYGER will be at the heart of the direct link modulation section of the broadband access network.
2016 has been a year of strong growth for TeamCast's satellite business unit and the company foresees many excellent opportunities for business growth in 2017, with many opportunities opened through the firm's recent product introductions, which are most definitely responding to market expectations.
teamcast.com
Christophe Trolet is managing the TeamCast Solutions Business Unit which is in charge of the Satellite and Wireless Markets for TeamCast. He graduated in 1995 from PolyTech Nantes (France) where he achieved an engineering degree in electronics and computer science.
He started his career in 1996 for Harris Broadcast Division as R&D engineer and quickly moved to a project manager position where he conducted several DAB and DVB-T development programs until 2000. Then, Christophe took a Harris marketing position in 2000 to lead the marketing of digital terrestrial TV products for the European and Asia markets. He joined the TeamCast startup company in 2003 as the sales manager and in 2010, he set up the TeamCast Solutions Business Unit and established worldwide recognition for TeamCast for innovative satellite transmission products in only a few years.
---
Teledyne Paradise Datacom
By Tony Radford, Vice President, Sales and Marketing
A personal view regarding the events of 2016... just like any manager in the industry whose title contains 'marketing, I start each day perusing an inbox that's overflowing with 'SATCOM news nuggets'—tidbits of trivia designed to keep me abreast of what's going on in the industry (or what isn't going on). And like every year that has preceded this one, there's a regnant technology or trend that sparks debate.

Last year, the topic de jour was Ku-band versus Ka-band HTS satellites and the benefits of one over the other. This was a passionate debate, though I'm not exactly sure how it ended.
This year, all the hype seems to be directed towards LEO/MEO and the 'mega-constellations' that threaten to shroud our planet with little disposable satellites spewing Internet or watching us from above with high-resolution sensors.
It used to be that our only real fear from space was the depletion of the ozone layer or an encroaching asteroid. Now we'll have to be worried about being hit by falling satellite parts when these spinning gizmos start colliding with each other.

I'm told that these thousands of little LEO birds, swarming the planet like mosquitoes at a Louisiana picnic, will launch the 'renaissance of SATCOM' by flooding the market with dirt-cheap spectrum.
This is the first time I've heard 'SATCOM' and 'cheap' used in the same sentence, but I guess there's a first time for everything.
I suppose I should be encouraged by these predictions, being that I make my living selling components necessary to access satellites—regardless of how close they are to the ground.
I must say that 30-plus years' worth of experience causes me to pause before jumping on the bandwagon of any 'direction-altering' technology. This wouldn't be the first time that a new platform was badged a 'game-changer,' but ultimately failed to meet expectations.
Personally, I think that these visions of grandeur perhaps prelude what the industry will eventually become, and such visions tend to confuse operators vying to adopt the best technology—and that results in delayed purchase-decisions for the here and now.
Add to that the fact that the global economy as a whole hasn't thawed much in 2016, and why should it? Many of the ills that plagued measurable growth last year simply refuse to go away.
Money is still scarce, oil is still cheap, many foreign currencies are still deflated and ruinous assaults in the Middle East show no signs of abatement. With so much turmoil, it's getting harder to see the forest for the trees.
In an attempt to enhance my own situational awareness, I chose to consult the 'research professionals' and purchased one of those high-dollar industry reports on the SATCOM ground station market—a segment that's dear to my heart.
Sure, the report was expensive, but I figured my ROI would come in the form of some new statistical data I could use in my internal market reports, data that I could footnote as 'certified'. The MBAs back at Corporate love that!
I was anxiously braced for enlightenment when I opened it, but unfortunately, the information contained therein was essentially useless.
It's not so much that it was written on a 3rd grade level (even I write on a 5th grade level), but it was clear that most of their published data was derived from the smoke that was blown up their keisters by some of my esteemed industry peers.
After reading it, I thought that maybe I should write my own industry report. It would probably be equally useless, but it would certainly have flair and my growth projections might be a bit more believable.
During a year when most industries' news was squelched by our focus on US national politics, SpaceX and Blue Origin were grabbing headlines with videos of successful post-launch landings that looked like clips from a Buck Rogers movie.
Okay, some of the failures were pretty spectacular too, but there's nothing like seeing a returning rocket still standing after the smoke clears.
One thing that makes our industry great is the fact that it's profoundly diverse with respects to applications—or markets. When one segment is down, another is likely experiencing a growth spurt.
For example, procurements of products that support the Oil & Gas telecoms market are a bit tepid for now, but those for mobile Internet access, Earth Observation and Satellite Gateways—not so much. There are always lucrative targets for product manufacturers to exploit if that company's portfolio is broad enough.
At Teledyne Paradise Datacom, I think we've done a reasonably good job of aligning our wares with prevalent trends.
On the RF side, our Engineering team has developed design tools that allow us to model products for unique applications in short order. By incorporating our own combining networks, we're able to tailor amps to specific pass-bands while managing losses to achieve thousands of watts of output power. A combination of GaN and GaAs architectures allows us to address virtually any requirement.
Our modem engineers are also constantly raising the bar, particularly in terms of IP throughput and spectral efficiency. The company's miniaturized Q-Lite, with its cutting edge performance, extreme-environment packaging and low power consumption has allowed us to push into the high-data rate mobile market and is now being incorporated in airborne, man-pack and flyaway terminals.
With respects to the industry's needs for SSPAs and modems, Teledyne Paradise Datacom is about as prepared as can be for what awaits us in 2017.
The usual smoke that clouds visibility into what we should expect in the new year is now thicker than ever, with a new Trump presidency and a presumably cooperative House and Senate poised to take charge.
For the first time in the last several years, I've got a feeling that things are about to get extremely interesting!
paradisedata.com/
---