M2M is a growing segment for the satellite industry, although satellite still has only a small share of the machine-to-machine market which is largely dominated by cellular systems: around 2 percent in terms of volume and 6 percent of revenue in 2011, according to IDATE's findings.


For most operators, M2M is still very much a niche market, but everything points to real growth potential for these applications.

While it is sectors such as fleet management and maritime security that have driven the sector's development up to now, new markets have been emerging over the past several years, especially in the area of energy, but also in the homeland security/military arena.

Satellite M2M: A Fast-Growing Market
There are several factors driving the growth of satellite M2M applications, starting with:

Clear assets in terms of coverage: once classic and low-cost wireless solutions (chiefly GSM and 3G) are no longer available—satellite becomes the only possible solution for M2M applications. This is especially true of vast desert areas, and of oceans where demand for M2M solutions is high: for tracking fishing vessels, dangerous cargo, monitoring offshore wind farms, etc.

Tremendous increase in applications requiring M2M. Examples here include smarts grids in the area of energy, tracking shipments—whether on land, sea or in the air—and for the military which are heavy users of M2M applications for tracking combat assets (Blue Force Tracking), in addition to having the means to pay for very high-end and so very expensive products.

Complementary nature of terrestrial and satellite networks to deliver M2M links end-to-end. Manufacturers have been innovating over the past several years by rolling out hybrid equipment which is being used more and more by operators. Orbcomm was a pioneer in this field, and was then followed by players such as Iridium and Inmarsat.

Stricter regulation. Recent developments in maritime regulation, notably the adoption of stricter regulations over monitoring commercial vessels, have been beneficial to satellite which is the only possible solution for this type of application outside of coastal areas.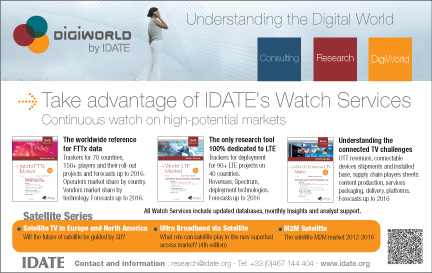 As a result, according to IDATE, the global satellite M2M market is expected to grow to 2.3 billion EUR by 2016. The region with the highest rate of progress will be Asia-Pacific thanks to developments in countries such as China, Indonesia, Vietnam and India.

Core Markets Are Niche Markets
Fleet management, industrial security and maritime security are sectors that operators have been targeting for some time, and ones where they are starting to earn a solid return on their investments.

Other sectors that will sustain the satellite M2M market in future have begun taking shape over the past several years. Examples include the energy sector, through the deployment of installations both offshore (chiefly wind farms) and in the desert (solar plants), which will be a major source of growth. This is also true of the homeland security/military sector which has initiated a number of projects, including container tracking, battlefield assets tracking, and so on—for which a satellite solution is crucial.
Users may also have very specific needs depending on the application being considered, such as the need for miniaturised modules for fleet management. But certain technical criteria have by now become commonplace for any type of solution:

High enough bitrates (in the several Kbps) to support the transmission of a more or less large volume of data due to the use of a growing number of sensors.

Two-way transmission capabilities, especially to be able to receive confirmation that data has been received.

Lowest possible latency and the ability to have virtually real-time transmissions (currently, 15 ms for the most powerful systems).

Lowest possible energy consumption.


Satellite Operators Adopting Various Positions
When positioning themselves in the M2M market with respect to terrestrial technologies, and especially cellular, satellite operators have several strengths they can capitalise on, but certain weaknesses as well.

It is by focusing on these strengths that satellite companies can distinguish themselves, from both a technical and marketing perspective, and adopt specific positions in each target market.

Thanks to the scheduled launch of a significant number of "new generation" satellite systems, these players will be able to keep up with the need for increased bandwidth in the M2M market, and the development of new applications, including the ability to deliver photo and video M2M content.

For the most high-end solutions, bitrates will soon be in the neighborhood of 100 Kbps, which is ten times what they are today.

Editor's Note
This article is an extract from the latest market report from IDATE « Satellite M2M, the satellite M2M market 2012-2016 » published in February 2012. For more information, please contact Maxime Baudry at m.baudry@idate.fr


About the author
Maxime joined IDATE as a senior consultant in April of 2006. His main area of endeavour is monitoring the satellite industry, the telecommunications services market and operator strategies. Before coming to IDATE, Maxime worked for two years for a major strategy consulting firm specialised in the space industry, where his work focused primarily on industrial analysis of satellite telecommunications for space agencies and the sector's equipment providers. Mr. Baudry holds a Masters degree in Technology & Management (Ecole Centrale de Paris), and is a graduate of the Ecole Multinationale des Affaires/Bordeaux Business School (E.S.C Bordeaux & Fachhochschule Münster's ERASMUS program).