Satellite communication (SATCOM) systems have made it possible to deliver information into areas where no connectivity exists. This is particularly true in the case of rural and remote areas. SATCOM makes cooperation between countries and within regions possible and allows for linking people with technologies that go far beyond boundaries, be such a nation's borders or technical competence. While developing countries continue to struggle to equip schools in rural areas with computers and the Internet, the developed world is highly desirous of providing high-speed Internet access into every school and learning center. Satellite technology plays a crucial role in making this goal possible.
A World Wide Initiative
One of the areas wherein satellite communications makes a most important contribution is in the broadcast of educational resources to schools and colleges. A world wide effort is being made by various organizations and bodies, formed to foster and facilitate the use of satellite technology and information broadcasting into the field of education.
An essential pre-requisite to such opportunities is building the infrastructure and indigenous capabilities for the development and use of SATCOM. The international community has recognized this pre-requisite because, if the application of satellite technology is to succeed in the education sector, devoted efforts must be made at the local level, especially in the developing countries. For example, many African schools are extremely remote. Some children travel many miles every day to attend school. Internet access through a terrestrial network is not a viable ooption. SATCOM can deliver e-learning resources directly to the schools and to the teachers and pupils that need them.
NEPAD
(
New Partnership for Africa's Development
) has identified the access to communications technology as one of the most important stepa to improving and increasing the educational programs across Africa. ESOA (European Satellite Operators Association) members are at the center of a number of projects that also aim to achieve this goal. The organization strongly believes the benefits of e-learning can extend beyond schools to provide training and to improve the skill development of African employees, as well.
In addition, the
European Space Agency
's (ESA) directorate of
Telecommunications and Integrated Applications
(
TIA
) states there has been a growing consensus importance of satellite technology applications for sustainable educational development across Europe and Canada.
At a very advanced level for research students, corporations such as
AMSAT
(T
he Radio Amateur Satellite Corporation
) provide facilities and infrastructure to bring the youth of the world in live contact with the astronauts of many countries through the
ARISS
(
Amateur Radio on the International Space Station
) program. AMSAT North America continues to be the largest non-government funding source for the ARISS program. Students in elementary through high school, on every continent, have the opportunity to talk with the astronauts aboard the International Space Station as it orbits the Earth.
At the ground level, as per the Information and
Communications Technologies in School Survey
(
ICTSS
), substantial investments have been made over the past several years to connect schools and classrooms to the Internet in Canada — nine out of 10 computers are connected to the Internet and available to students, ranging from a low of 88 percent in Nunavut, to a high of 96 percent in New Brunswick, Nova Scotia, the Northwest Territories and the Yukon. Among the most popular methods to access the Internet was "ISDN/DSL" and the least explored method was the satellite connection.
The table above illustrates the methods used by Canadian schools for Internet access.
The reason for an overwhelming majority (86 percent) of schools using broadband technologies is the increasing demand for applications like video conferencing (for distance education, professional development, sharing Internet pages, library catalogues, documents or software) that require a high data transmission rate. Broadband can help reduce the barriers of distance and isolation, enabling schools particularly in remote areas to access educational applications previously beyond their reach. There is a large potential market for satellite technology in the education sector that is yet to be explored.
The
Saskatchewan Indian Institute of Technologies
' (
SIIT
)
Mobile Career Coaching Units
function as the '
Life Coaching Office
,' based in the school's main campus in Saskatoon. The Life Coaching Office is designed to provide integrated, wrap-around support for SIIT learners in the area of career assessment, career path building, leadership development, wellness, experiential learning, and mentorship. Life Coaching Office staff support both campus learners as well as clients that access services on the Mobile Career Coaching Units.
These units are intended to travel throughout the province visiting residents of
Saskatchewan First Nations
and providing them with on-board career assessment and career path building personnel capable of providing first-step community-based career planning expertise. SIIT has two units in operation, as of June 2009. Each of the trucks are equipped with an
iNetVu
1.2m antenna,
7000 Controller
,
4 Watt Block-Up-Converter
and an
iDirect 3100
modem, delivering Internet and VoIP services wherever the vehicle goes. This vehicle is operated by two counselors who conduct the assessments using as many as eight laptops and one VoIP phone per vehicle.
C-COM
has provided the equipment and airtime for the initial 24 months of this project.
"We are very pleased to have been able to provide a state-of-the-art technology solution to SIIT. The services delivered through these iNetVu equipped vehicles will make it possible for First Nation residents to get important carrier building advice from highly trained personal, who can travel to virtually any location in the province. The iNetVu mobile is delivering solutions to many educational institutions around world and is assisting students and educators by delivering to them the ability to communicate over the Internet. C-COM is pleased to be an enabler of this technology to the educational segment of the market, thus assisting through education to improve the lives of many people around the world." says Dr.
Leslie Klein
, President and CEO of
C-COM Satellite Systems Inc.
The iNetVu mobile systems can assist educational facilities by adapting satellite technology to suit local infrastructure. This makes it now possible to mitigate the effects of inadequate school resources and foster professional development of young people in remote villages and locations.
C-COM has been delivering high-speed Internet services for such environments all across the globe. The mobile education market opened up for the company in 2003 when the
Charleston County Public Library
equipped its first bookmobile vehicle with the iNetVu antenna. This mobile library traveled to a number of remote fishing villages in South Carolina and made it possible for the residents to check out books, use the Internet, as well as check their emails on a daily basis. The library was also a learning resource for the students and residents. This concept started in the U.S., but Europe, Australia, and other regions of the world have been early adopters of this technology.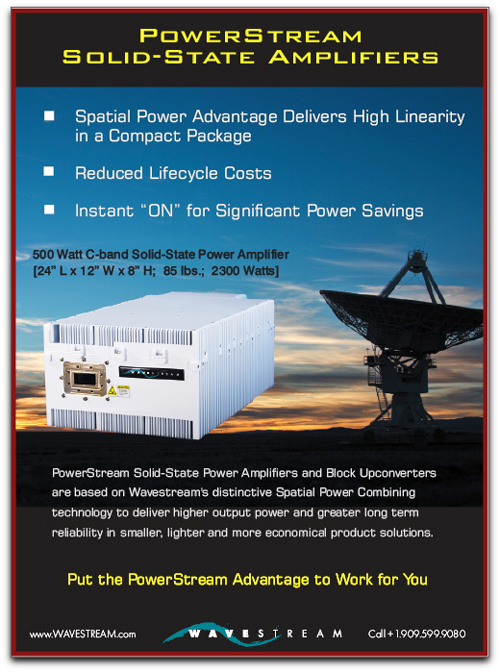 Excelerate
, one of C-COM's first and most established resellers of SATCOM equipment in the U.K., purchased a number of iNetVu systems for educational institutions such as
Hunslow Creative and Media Consortium
.
One of the key requirements for the innovative learning facility of Hunslow Creative and Media Consortium was the ability to stream 'live' video images for viewing over the Internet. The only way to reliably achieve this would be by equipping the mobile unit with satellite technology that supported access to high-speed broadband wherever the vehicle was located. Excelerate Technology supplied and installed a roof-mounted iNetVu 1.2m transportable satellite antenna that could be made operational within four minutes of parking the vehicle. The unit also features a fully operational professional TV and radio broadcast studio with a digital editing suite, as well as a comprehensive range of industry-standard broadcast equipment including high definition cameras, Apple iMac and MacBook computers, and wireless networking. The new unit provides learning experiences for as many as 20 students at a time. The vehicle can travel between schools and colleges and eliminates the numerous problems that could otherwise occur when attempting to ferry staff and students between different sites.
"This outside broadcast vehicle will not only help increase the learning opportunities for students involved in the Creative and Media diploma, but will also become a shared resource for other collaborative projects within the borough, and ultimately further afield. It has the power to engage the imagination and unleash creativity whilst fostering a team spirit to work on real projects that relate to work situations both locally and further afield." says
John Hurley
, Operations Manager,
Lampton School
, U.K. Other users of the iNetVu systems in the U.K. are
Powys County Council
,
Tresham College
,
Northern Ireland Libraries
, and many more.
Another project,
Invernet
, was developed for the purpose of taking Internet, on-line gaming and counseling facilities into under privileged areas of the local community, as these facilities typically would be unavailable to youngsters who reside in the remote locations of Western Scotland. C-COM's dealer
Primetech
proposed the use if iNetVu¨ systems for the project to meet the customer's strict systems and tech support requirements. According to Primetech, the systems have been constantly in use since their installation and have proven to be highly reliable.

"Primetech (UK) Ltd. in England has provided us with an outstanding level of customer support and equipment knowledge from concept through to delivery of the finished vehicles. The satellite systems have performed in all weather conditions and are providing an invaluable service to youngsters in the Western Scotland region. We have, and will continue, to recommend Primetech to any organization who approaches us for references," said
Hugh Scott
, Invernet Project Manager.
The mobile auto-pointing iNetVu¨ antenna system allows the delivery of high-speed satellite based Internet services into mobile environments, while stationary; virtually anywhere one can drive. With the use of iNetVu¨ antenna systems, numerous educational organizations across the globe are delivering services that are essential for education and career counseling of today's youth, particularly in remote and hard to reach areas.
About the author
As the Marketing Specialist, Bhumika Bakshi has been managing corporate marketing programs for C-COM Satellite Systems in the main corporate office in Ottawa, Ontario.  Prior to joining C-COM, she worked with Indian newspapers and magazines.