Satellite holds its own against other broadcasting networks...
Over and above the problems of cost and geographical coverage, which are very specific to each network, the comparative penetration of TV broadcast technologies is a reflection of how the TV market has developed historically within the various countries. While very uniform in North America, Western Europe comprises many nations with very diverse profiles (high penetration of the terrestrial network in southern Europe, predominance of cable in the north). As a general rule, the traditional broadcasting networks, mostly cable and terrestrial, are tending to lose market share as IPTV gains in strength. This new service, now the growth driver in the pay-TV market and particularly in Western Europe where IPTV is developing rapidly, had attracted some 13 percent of subscriber homes by end-2010.
Meanwhile, satellite's share of the market has remained relatively stable. Almost fully digitized now for a number of years (the main exception being Germany where around thirty analog TV channels are still broadcasting, possibly until 2012), satellite has established itself as a major network for broadcasting premium TV. At end-2010, it had around a third of the pay-TV market (29 percent of subscriber TV homes in Western Europe and 34 percent in North America). However, as pressure from competitors continues to mount, the deployment of optical fiber networks, after ADSL, will prove a serious threat for satellite operators.
Satellite still the undisputed market leader for high-quality TV broadcasting (HD and 3D)...
There is no doubt that all broadcasting networks are evolving, preparing for the mass expansion of HD and emergence of 3D over the next few years. DTT networks will migrate en mass to the
DVB-T2
standard, cable networks will switch to
DOCSIS 3.0
(migration has already been under way for the past two years), and telecom operators are rolling out optical fiber to make up for the limitations of
xDSL
.
However, we see no real threat to satellite, at least in the short to medium term. Firstly, even with the impact of the digital dividend, DTT networks will have insufficient capacity to broadcast a substantial number of HD channels. Cable is penalized by its limited geographical coverage (around 50 percent of the population in Europe), and the colossal investment required by operators to deploy DOSCIS 3.0 has forced them to forego extending their infrastructure coverage. Lastly, while picture quality is improving on web networks, with encoding levels of 1.5 Mbps, it is still highly inferior to performances in broadcast mode. The only technology that might pose a threat to satellite is FTTx, combining capacity with interactivity, although no mass deployment is anticipated for at least another 10 years, either in North America or Western Europe. Satellite's positioning in high-quality premium TV (HD and 3D) therefore seems quite solid from 2010-2015.

The factors that differentiate the various networks thus seem to depend on the quality of content received on the TV set and, hence, the choice of encoding. While this is certainly true for HD, the difference will be even more manifest with 3D. The main grievance with poor encoding will be the quality of premium content, particularly live sports events. With 3D relief based on depth, average encoding will only have average rendering (visual) and detail will be harder to make out (
e.g.
, a soccer ball on a large screen). Given the current market-entry phase of 3D, such a strategy could prove disastrous.
As with early developments in HDTV, satellite operators immediately positioned themselves as pioneers in 3DTV broadcasting, mainly by allocating test channels for this new technology. In view of their high broadcasting capacity, they are now best placed to provide the most extensive 3D content solution coupled with the best picture quality. Fiber networks (and in the longer term, cable networks) have enough capacity to furnish an equivalent solution, but over a much smaller geographical area for a number of years still to come, giving satellite a head start in capturing market share by winning over the earliest adopters of this new service. The investment needed to acquire a 3D-compatible widescreen leads us to conclude that households will be sensitive to picture quality, especially if 3D content is included in the premium pay-TV package. Satellite operators are also well positioned to capitalize on this growing market driven by 3D, either in supplying the storage systems of movie theaters or in repatriating images and feeding third-party network head-ends.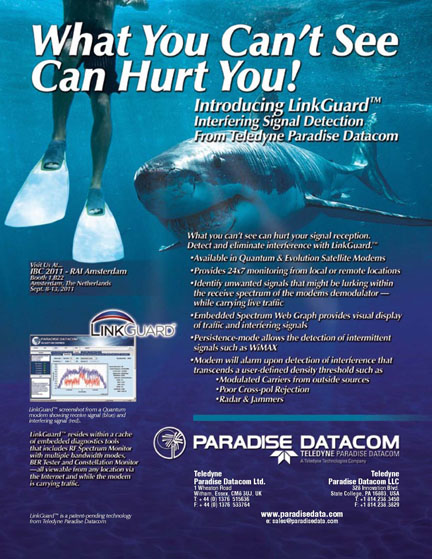 What positioning should satellite operators adopt, faced with the potential long-term threat of web content migration?
While linear TV viewing is still predominant, it now coexists with the rapid spread of personalized video and VoD practices, which combine broadcast, personal and Web content. This shift follows the long-term trend for the convergence of traditional television and Internet, a trend that has gained momentum and intensified considerably in recent years.
While DTH is still a flourishing market for satellite operators, who may decide to dig in to their current TV broadcasting foothold by maintaining a broadcasting configuration that responds to the mass consumption of TV programs, they still have to consider what would be the most appropriate positioning for them as content moves increasingly to the Web.
By offering a premium solution, DTH platforms investing substantial amounts to acquire exclusive rights for popular programs that draw sizable audiences (TV series, major sports events, etc.) should, at least over the next few years, be able to hold their own against competition from Web content. Newcomers seeking out a niche in this OTT applications market, looking to distribute their own content themselves (like Google and Apple), should not, in principle, become rivals by purchasing these premium rights, although some are starting to invest in non-premium content (the catalogue collections of major American studios, in particular, should soon be available on web platforms).
In an effort to set themselves apart from these new competitors, DTH platform operators must focus on the quality of their TV service. To maintain their profit levels, they would be wise to offer premium solutions based mainly on exclusive programming, a wide range of HD channels and high-performance set-top boxes with a built-in hard drive (HD-PVR), encouraging subscribers to consume more services (push VoD in particular, plus optional channels and 3D, etc.), and thus help boost their ARPU.
In this first, long-term outlook for the TV market, DTH platforms would continue to lead the race in the pay-TV market, carving out a niche in ultra-premium content, adding more services and broadcasting more channels with optimum picture quality (HD and 3D), while paid content would focus on premium programs.
However, as more and more content is likely to move to the web, the number of connected TVs capable of accessing OTT applications will rise, bringing all the inherent risks of a destabilized TV market. While interactive services have yet to become a "must have" and a key factor for the success of players in the TV market, the risk of a massive expansion of OTT applications for players in traditional media is very real. With this new configuration, the set-top boxes of pay-TV platform operators will no longer be essential for consumers wishing to access more content. There is the risk that in the longer term, TV viewers will prefer to watch premium content exclusively on demand via the many content providers present on the web, rather than via an exclusive operator.
In the United States, the pay-TV market has already started to lose subscribers: 1.4 percent of customers signed up to a pay-TV service cancelled their subscriptions in the past two years, and seven percent of existing subscribers are considering doing so. Faced with the threat of an explosion in free TV and video solutions that may cause a decline in the pay-TV market, satellite operators have every interest in not abandoning their business of broadcasting free TV channels. A second much longer-term outlook of how the TV market will evolve, compared with the previous scenario, suggests that satellite may confine itself to broadcasting the entire supply of FTA TV in an aim to reach the whole territory, while premium TV will be watched on demand and, therefore, exclusively via the triple play solutions of ISPs, or perhaps more likely directly via the Internet.
If satellite is to fully perform its role in the FTA TV market, it must focus on how it can provide a complement to terrestrial networks and evolve from an approach based on geographical hybridization, which is where it is today, to one based on technological hybridization, an approach outlined in the HbbTV project. The satellite network will thus offer a much more elaborate package of free satellite channels than DTT, with interactive applications based on a hybrid system that will establish it as a serious and competitive alternative for free TV broadcasting.
Will the future of satellite be guided by its complementarity with other TV/video distribution networks?
The main benefits of satellite are its universal service coverage and rapid availability, coupled with its relatively high capacity for broadcasting premium HD content. Recent developments, however, risk eroding the impact of these benefits in the medium term, as satellite has to contend with increasing competition from other broadcasting networks. Optical fiber seems a serious contender and a particular threat to satellite in the long term (2020-2030). While FTTx networks still cover less than two percent of the population, most of the recent government stimulus packages introduced in the United States and Western Europe to help kick-start the economy aim to reach 100 percent of the population before 2020. Optical fiber also has an undisputed advantage in terms of interactivity, which is now gaining importance with today's usages, and its approach of offering a quadruple play solution at an unbeatable price is a strong selling point for new subscribers.
Should the above objectives be met, satellite might quickly find itself in a niche position in which it would mainly serve as a complement to FTTx networks, distributing TV services in the few rural areas that remain unreachable.
Satellite already provides a complement to DSL networks and is used by some operators to offer triple play solutions to subscribers not eligible for IPTV since they live too far from the distribution frame. Orange in France was the first to take the initiative in July 2008 by sealing a partnership with Eutelsat and SES Astra to extend its triple play solution and cover more than 98 percent of France's population (compatible satellites are Astra at 19.2 degrees East, Eutelsat's Hot Bird at 13 degrees East and Eutelsat's Atlantic Bird 3 at 5 degrees West).
Orange's satellite TV solution, therefore, has to be bundled with an ADSL rate plan. In February 2011, SFR followed suit by officially launching its satellite TV service for subscribers not eligible for the ADSL TV service, via a partnership with Canal+. Another example, in Germany, was SES' announcement in February 2011 that it would team up with Deutsche Telekom to combine its extensive FTA TV solution, including HD+ (a platform for accessing eight FTA TV channels in HD), with the operator's Entertain IPTV. The new Entertain Sat package can be accessed by all German homes with a DSL connection of at least 3 Mbps.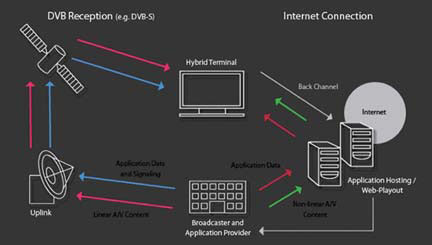 From the satellite operator's perspective, "the combination of the broad and high-quality DTH offer from Astra and HD+ with the additional interactive services from Deutsche Telekom creates an attractive media proposition". Lastly, in the United States, operators such as AT&T and Verizon decided to commercialize their IPTV solutions (called U-Verse and FiOS TV respectively) only to subscribers with optical fiber. Their ADSL subscribers are offered, via their intermediaries, a satellite TV package delivered by DirecTV, but this is only available to Internet subscribers.
Digital encoding technologies, together with image broadcasting and the super fast progress of Internet access networks, have helped speed up VoIP distribution and bustle in a new wave of equipment, connected TV solutions and associated interactive services, all of which might seriously disrupt the TV industry. Faced with this new challenge of interactivity, and considering their now frequent positioning as a complement to terrestrial networks, satellite operators are turning their attention to IP, embracing the idea of hybridization with terrestrial technologies.
This type of architecture makes best use of each type of network: Satellite for TV broadcasting and the terrestrial link for interactive services and Internet access. One example is the HbbTV project which is probably the most integrated and advanced hybrid satellite/terrestrial solution around today.
The HbbTV consortium's objective is to converge traditional modes of broadcasting (terrestrial and satellite) with broadband Internet to enhance the TV programs on offer. The intention is to give users a more complete entertainment experience, combining the simplicity of broadcast technology with the vast potential offered by an IP network connection. Such a configuration allows satellite to continue its traditional broadcasting role and yet not be fully involved in the IP architecture. Once the hybrid solutions stage is over, satellite players will then have to consider whether they should continue integrating satellite and IP systems.

About the authors
Stéphanie VILLARET, Co-Head, Satellite Practice — Stéphanie joined IDATE's Marketing & Strategies Department in 1998. After several years in the Media Economic Division as a Senior Consultant, she is currently Co-Head of the Satellite Practice. She works primarily on reports concerning the satellite industry, but also deals with the analysis of consumer ICT usages and services. Stéphanie is a graduate of the Institut National des Télécommunications, with a major in Information and Communication Technologies Applied Marketing (1998), and holds a Masters Degree in Management Science (1997). She may be reached at
s.villaret@idate.org
Maxime BAUDRY, Co-Head, Satellite Practice — Maxime joined IDATE as a senior consultant in April 2006. His main area of endeavor is monitoring the satellite industry, the telecommunications services market and operator strategies. Before coming to IDATE, Maxime worked for two years for Aon Explorer, a major strategy consulting firm specialized in the space industry, where his work primarily focused on industrial analysis of satellite telecommunications for space agencies and the sector's equipment providers. Maxime holds a Master's degree in Technology & Management (Ecole Centrale de Paris), and is a graduate of the Ecole Multinationale des Affaires/Bordeaux Business School (E.S.C. Bordeaux & Fachhochschule Münster's ERASMUS program). He may be reached at
m.baudry@idate.org