In The State of Broadband Report 2019 issued by the International Telecommunications Unit (ITU) of the United Nations (UN), it was announced that by the end of 2018 more than half the world (51 percent) had begun to participate online in the global digital economy, with humanity crossing a major threshold in worldwide internet adoption.
At the same time, ITU warned that the internet is at a critical junction. With nearly half the global population offline, the digital divide separating developed and developing nations is in danger of becoming a chasm if we fail to consider existing barriers such as access, cost and connection speed. In Sub-Saharan Africa, for example, the cost of 1 GB of data for the poorest 20 percent of the population is almost 40 percent of monthly income.
---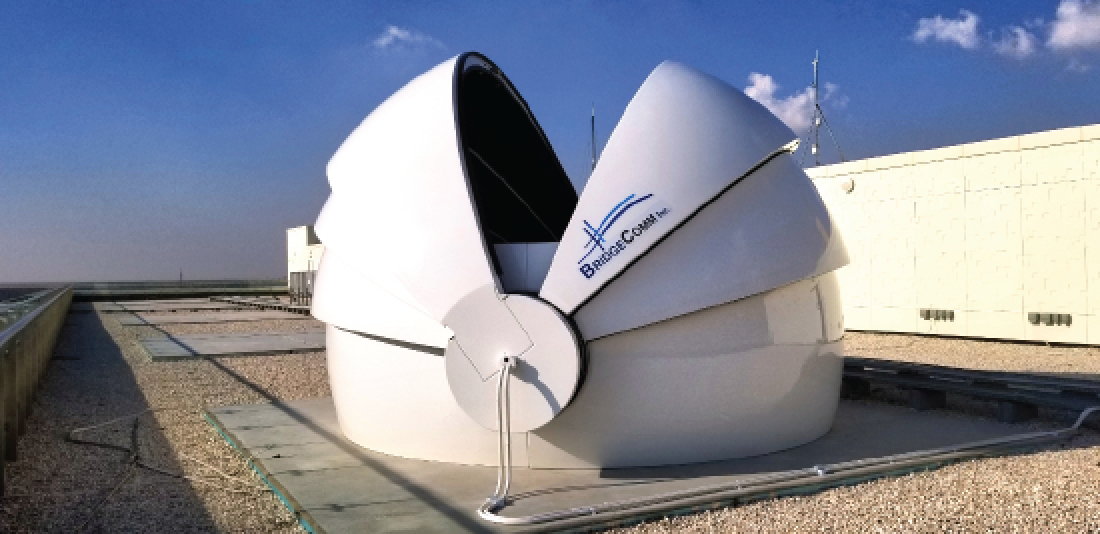 ---
According to the World Bank , for every 10 percent increase in broadband connectivity in developing nations, GDP rises by 1.35 percent. It certainly has been the case in Singapore, one of the wealthiest nations where internet speeds rank the highest along with income; half the adult population is among the world's richest 10 percent.
Foundational in transforming human potential, the UN has long underscored the role of broadband connectivity in helping nations develop knowledge economies, expand opportunities for enterprises and provide greater value for citizens and consumers. In the U.S., we need not look far (our own homes) for evidence that the internet, cloud, smart phones and other devices have become an essential part of life for many of us, with advancing technologies creating growth and new opportunities. However, if there ever was a time that punctuated our dependence, the first few months of 2020 proved nothing short of illuminating.
As the coronavirus pandemic unfolded, school closures were widespread by April 5, with unprecedented disruption at every level, from pre-kindergarten to graduate, affecting approximately 76 million students. Add to that, millions of people forced to work from home. With a solution to take learning and businesses online, the digital divide in America was quickly revealed.
While the fear of deepening inequality had previously been viewed as a rich nation vs poor nation proposition, we woke up to the stark reality that millions of our citizens had been left behind—in some of our most developed cities. Despite progress in ushering in the fifth generation of connectivity, many Americans are waiting to experience the first—at least in regard to in-home internet. While numbers vary between 21 million (FCC) and 126 million (Microsoft), estimates from a recent BroadbandNow study indicate that about 42 million residents have no access to fixed or wireless broadband.
For the millions who do have access, they are testing internet networks with one of the biggest mass-behavior changes that the nation has ever experienced. With increased video conferencing, online class instruction, streaming video for entertainment, connection is tenuous. A report comparing download speeds in 200 cities before and during the crisis shows significant drops, as much as 40 percent in Austin, Texas, Winston Salem, North Carolina, and Oxnard, California.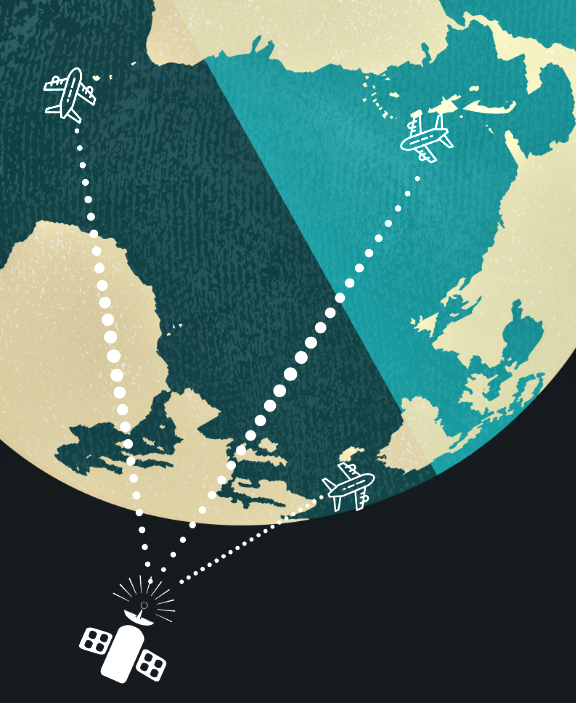 Air-Ground-Space mesh network for aeroconnectivity.
Image is courtesy of BridgeComm.
The consistent theme of last mile broadband access and RF spectrum scarcity has been playing out on the global stage for years, but today it is more tangible than ever in the commercial sector, particularly for the average citizen. Inarguably, technologies such as satellite broadband will continue to advance in ways that enable more efficient RF reuse and greater ability to work around interference. But it can only go so far with data increasing exponentially. To get an idea of just how much is being generated, Internet Live Stats tracks everything from internet users to videos viewed, photos uploaded, emails and tweets sent, as well as Google searches, on a daily basis. It's astonishing to see in real time.
Given the economic downturn, with a recession upon us, there is tremendous disruption across every industry, with an increasing shift to digital inevitable for many. Consider the weaknesses in the U.S. healthcare system laid bare by the pandemic — and the potential of telemedicine and connected devices to not only keep infectious
diseases from spreading rapidly but also enable the elderly to age in place, expedite patient diagnoses, and so much more.
Even the retail sector, which has been hit hard with store closures resulting in tremendous financial fallout, has over time seen a decline in brick-and-mortar foot traffic as consumers prefer the convenience and crowd-free option of online purchasing. Industry leaders are fast forging ahead with innovative and touch-free technology — from delivery drones to robotics — to realize the potential of current and future innovation. These two industries alone will add considerable weight to the data world, not to mention advances in aviation, smart cities, smart homes and connected vehicles.
In the past, one could view a recession as the great equalizer, presenting as much opportunity to the commoner as to the king. Yet, in an era where technology is the enabler of innovation, this may no longer be the case. The complexity of today's battle for broadband access and bandwidth is multi-faceted given current circumstances coupled with the continued rollout of 5G to accommodate more devices, more streaming, more data and more demand for speed.
While complementary solutions such as Massive MIMO, millimeter wave and ROF each offer unique benefits, they still require RF spectrum, which is finite in availability. What is needed is a solution that can augment existing technology without RF dependence, while still having the ability to scale beyond current demand to meet unknown future needs.
While relatively new in the commercial sector, but more widely accepted by the space and defense industry, optical wireless communication (OWC) provides that critical augmentation which can propel us into a new era of connectivity. OWC leverages the maturation of the terrestrial fiber optic communications market as well as the commercialization of much of the components that are used in common with OWC. Hence, commercially competitive solutions can be made for satellite communications as well. In addition, the state of the art has advanced rapidly in the past few years, led by developments in amplifiers, lasers and acquisition tracking technologies.
For example, the pioneering development of applications of One-to-Many (OTM) technology have ushered in a breakthrough in OWC that provides bi-directional, ultra-high-speed mesh connectivity for terrestrial, airborne and space systems.
Building on the basic connectivity that traditional point-to-point optical terminals provide, OTM enables a much broader set of telecommunication applications. This technology enables OWC systems to create bi-directional mesh connectivity similar to and complementary with radio frequency systems.
OTM is capable of supporting terrestrial, airborne and space systems that require 10-100+ Gbps throughput, as well as the high reliability and redundancy inherent in mesh architecture, while maintaining the security features in OWC. Finally, OTM is designed to provide a much-needed new option for high-speed connectivity in environments where RF spectrum is limited or congested, with potential for long-term growth.
Thanks to investments that have been made by governments and agencies such as NASA, JAXA (Japan) and the European Space Agency, which have helped mature OWC capabilities, the commercial industry can now take advantage of these technologies.
www.bridgecomminc.com

Michael Abad-Santos is Senior Vice President of Business Development and Strategy at BridgeComm, bringing more than 20 years of experience in the telecommunications and satellite industries with a focus on the government market sectors, both domestic and international. Prior to BridgeComm, Michael served as chief commercial officer at satellite communications solutions provider Trustcomm, Inc. before joining LeoSat Enterprises as senior vice president, Americas, overseeing commercial activities, strategy development and execution in the Americas region as well as government activities worldwide. In addition to helping secure pre-series A investments for LeoSat, he helped secure two strategic investment partners and more than $2B million in pre-launch memorandums of understanding (MOUs) for commercial services.
Michael also held various leadership roles at Inmarsat over a 10-year period, including serving as senior vice president of its global government division. A sought-after subject matter expert and speaker, he has presented at industry-leading events including SpaceCom, ITEXPO and MILCOM among others and is a consultant at the Software Engineering Institute at Carnegie Mellon University working with Department of Defense leadership on the intersection of software engineering and space and weapons systems development.
BridgeComm is a global leader in optical wireless communications solutions and services. Through a global network of ground stations designed to support complementary fixed and mobile terminals, the company provides fast, secure, enterprise-grade broadband services for a variety of markets, including space exploration, terrestrial networks for 5G connectivity and applications, and airborne lasercom for prominent applications including intelligence, surveillance, reconnaissance, in-flight entertainment and backhaul.
---