Earth station antenna covers are designed to prevent snow and ice buildup that can degrade satellite signals.
Antenna cover products range from consumer-grade "passive" covers that repel snow from residential antennas and Direct-to-Home (DTH) dishes, to professional-grade systems designed to assure continuous CATV head-end, broadcast, teleports, and enterprise class satellite signal uptime and revenue streams. This article discusses considerations for selecting effective systems for commercial facilities.
When snow or ice accumulates on a satellite dish and antenna feedhorn, signal loss can be caused. One way to prevent such an occurrence is to install a de-icing system.
However, so-called anti-icing, or de-icing solutions, can range in performance and features from passive antenna covers (least costly but with de-icing limitations), to fully automated, professional, de-icing systems (highest reliability and uptime assurance).
Cable Head-End Efficiency
For sites such as cable head ends, TV stations and teleports, where signal uptime is essential, a professional grade de-icing system, with automated sensing and de-icing, superior RF performance, and energy-efficient operation will provide advantages in terms of reliability, as well as operational ease-of-use.
A case in point is the Plainfield, New Jersey, media center of Comcast Cable, the largest cable TV provider in the U.S., which employs Walton De-Ice's Snow Shield Covers with Ice Quake Systems (See Figure 1). The Snow Shield Cover is designed for antennas that range in size from 0.6 to 6.3-meters in diameter.
The Snow Shield consists of coated material, which is virtually invisible to RF, stretched over the satellite antenna. Snow Shield covers can be used as a passive, or actively heated solution using electric or gas heaters. Walton De-Ice's Ice Quake enhances the performance of the Snow Shield antenna cover by vibrating the fabric cover—this action prevents snow and ice accumulation that degrade signals.
According to Allen Pillar, Head-End Manager at the company's Media Center, "The Snow Shield and Ice Quake systems are working great. I am saving lots of over time and have peace of mind that I don't have guys out working in the middle of the night." The facility houses 12 antennas, ranging in size from 3.8 to 5.0 meters, which are protected by the Snow Shield antenna covers made from Tedlar® material.
RF Signal Transparency
In recent years, the deployment of MPEG-4/DVB-S2 format signals to U.S. cable systems makes for tighter satellite link margins above required signal thresholds, or less "headroom" before a weakly received signal goes off air. In this environment, grimy and poor quality antenna covers can degrade MPEG-4/DVB-S2 signals more severely than traditional modulation and signal formats. Antenna covers made of poorer quality material can accumulate dirt, grime, and mildew affecting a cable head-end, or broadcast signal (For example, See Figure 2).
Requirements + Considerations
Some issues to consider in selecting the right antenna cover solution for satellite facilities include:
What revenue and 24/7 services run on the antenna?
What type, size, and model of antenna will be protected?
Can you afford to take the antenna out of service in warm weather months for maintenance?
Can you afford to loose signal every time it rains?
Can you afford to take the antenna out of service every 3-5 years to replace a worn out, grimy and tattered cover? For professional facilities, managers should compare the costs and downtime of having to replace your antenna cover several times over a 10-year period with the price and performance advantages of a system that offers longer services life.
Will you be able to sweep snow off your antennas during a midnight snowstorm? Or would you rather have an automated system perform that task for you?
Passive Versus Active Covers:
Hot Air De-Icing vs. Pad Heating
Passive antenna covers can be combined with heating systems to ensure effective de-icing, making them "Active." The "Electric Pad De-Icing Systems" used by the major antenna manufacturer's during the 1970s C-band era became all but obsolete with the advent of Ku-band antennas during the early 80s.
The pad technology would only heat the antenna reflector and not the reflector's back structure. This caused movement in the alignment of the reflective surface which, in turn, causes attenuation in the signal and a loss of gain. This loss in performance was not acceptable for the antenna manufacturers or their customers, thus the Hot-Air De-Icing system became the accepted solution for evenly heating both the antenna reflector and reflector's back structure.
Issues to consider in selecting a heating system with an antenna cover include:
Does the system comply with local safety, electrical and environmental standards, e.g., CE standards, etc.
Is it made of metal or fiber? (Some heaters only work on metal dishes)
Do you have an adequate power source at or near the dish location?
Gas heating: some hot-air heating products can use either natural gas or liquid propane. Which is most cost-effective for you?
Do you want one that you turn on when needed or one with an automatic control?
Can you afford to lose your signals in a snow or ice storm?
Do major antenna manufacturers resell the product as an option with their own systems? For example, Walton Hot-Air De-Icing Systems, Snow Shield antenna covers, both passive and heated, Ice Quake Systems are the only such systems resold and installed by the major satellite Earth station antenna manufacturers.
Comparing Features
Cover Fabric Properties
Some manufacturer's antenna covers can accumulate dirt and grime, which degrade RF performance. They can also absorb moisture, further degrading signals. As a result, these products need to be replaced every few years.
Another issue is some products need to be removed during warmer weather to increase their useful life, according to manufacturers suggestions. Walton De-Ice's Snow Shield architectural fabric with either a Kynar® or Tedlar® coating provides the advantage of many years of service without the need to remove the Snow Shield Covers during warmer months.
Another problem with consumer grade and poor quality covers is, even when they are brand new, they do not quickly shed rain. This can cause a water sheeting effect, and the result is, again, loss of signal. A hydrophobic antenna cover solution, such as the Walton Snow Shield, sheds water quickly, avoiding the kind of signal attenuation that a non-hydrophobic material can create.
Less well-designed systems may also need to be removed in order to add active heating to de-ice an antenna. In contrast, it is possible to upgrade the passive Snow Shield antenna covers by adding an electric heater or gas heater or Ice Quake System, either at the time of initial installation, or at a later date without having to remove the Snow Shield from an antenna. (See Figure 3.)
Upgrade Issues
Walton De Ice has a patent on the company's unique offering of a combined antenna cover and active heating, due to a number of technology patents in this technology area. Walton's Snow Shield can be upgraded to add an electric heater, gas heater or Ice Quake System, either at the time of purchase, or at a later date without having to remove the antenna cover and causing downtime.
Antenna Cover Innovations
Walton De-Ice has also developed a successful new solution called the Ice Quake system, which shakes and vibrates snow off the antenna cover to prevent snow and ice buildup. By eliminating the need for high power conduit, trenching, and electrical switch gears, costs are saved when compared to conventional electrically heated, anti-ice systems.
With dramatic (e.g., up to 100-fold energy savings versus competing anti-ice systems), Walton covers have been successfully deployed around the world in a variety of Earth stations, cable TV head-ends, and broadcast facilities—these include such companies as Comcast Cable, Fox TV and satellite and broadcast facilities, as well as the U.S., French, Canadian and Belgium Department of Defense.
Installation—Mounting
Most residential satellite dish covers slip over the front of the satellite dish face and are secured at the back of the dish by a variety of methods, typically strings, cords, or straps. Commercial-grade solutions, capable of working on antennas, for example up to 6.2 meters or larger, can employ other methods, such as stainless steel mounting.
A disadvantage with the use of cords or rope to secure the cover to an antenna is they can tear and create bare and uneven edges, subject to tearing (See Figure 4 on the next page).
A professional system with Trim Lok stainless steel mounting hardware can prevent tearing (See Figure 5).
Heat Tape
Antenna cover products from some manufacturers attempt to use heat tape to transfer heating from a heat cable to the antenna reflector and to also hold the heat cable in place in order to defeat snow and ice. This kind of anti-icing systems can be quite cumbersome to install during cold or wet days, due to the lack of adhesion by the tape to the back of the reflector. (See Figure 6 in the next column). Adhering tape to older antenna reflectors that have become "chalky" can also be a difficult task to complete.
There are some claims in the antenna cover business arena of the low-end products being 95 percent effective at eliminating snow and ice related problems on satellite antennas, and at a cost of about 10 percent of a full de-icing system. However, commercial site experiences tell quite a different story. For example, some anti-icing systems are designed for installation on only one-third to one-half of the antenna reflector. Therefore, they tend to only melt the snow or ice on that portion (one-third or one-half) of the reflector.
Figure 7 reflects an example of such a 1.2 meter antenna with a half-reflector Ant-Icing system's performance during a snowstorm. In this example, only 35 watts per square foot of power are used for heating. In this case, the VSAT antenna is off the air due to the wet snow accumulation.
After the snowstorm was over, the antenna's half reflector Ant-Icing system was only able to melt the snow and ice off of the lower half of the dish. In this example, (See Figure 8), the antenna is still off the air, even after the snowstorm ended.
Earth station managers using these kinds of pad systems have also found that the lack of insulation behind the heat cable can allow most of the heat intended for the reflector to be lost due to just a slight breeze.
In contrast to this example of one manufacturer's 35-Watt heater failing to de-ice a 1.2-meter antenna, a Walton Ice Quake can de-ice a 4.5 meter antenna with only 150 watts of power and a 2.4 meter antenna with only 50 watts of power.
Don Smith, Sales Manager of Capella Telecommunications, an antenna de-icing system distributor, and leading Canadian integrator and stocking distributor of quality professional satellite equipment, knows the effects of snow and ice on unprotected satellite Earth station antennas.
"We have many systems installed here in Canada that have been in service for a number of years with no outages," he said of the Walton De-Ice products.
Insulation Kits
Some manufacturer's insulation kits can be cumbersome to install during inclement weather conditions. Many pieces are required on some antennas for installation using required adhesives and metal clips to hold the individual pieces in place (See example in Figure 9 – Metal Clip Installation)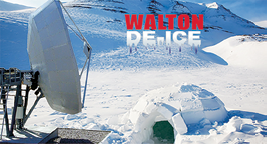 Protecting Your Signals
Several specialized manufacturers of antenna snow and ice-protection systems advertise their products around the world. Advertising pitches often imply these are simple "commodity" items, in an attempt to attract first-time buyers.
However, for a professional operation, selecting the correct or "wrong" antenna cover solution can have a significant positive or negative impact on an antenna's operation. The old saying, "you get what you pay for," applies to de-icing systems. Protecting satellite signals and services, and ensuring maximum uptime at the lowest cost-of-ownership, is certainly the understandable goal for most professional facilities.
de-ice.com/
David Walton is in charge of Product Development, and Director of Snow Shield Operations at W. B. Walton Enterprise, Inc. With over 30 years of industry experience, he has been integral to the successful development and expansion of Walton De-Ice products and innovative technologies. Walton De-ice (www.de-ice.com) designs and manufactures the broadest line of De-Ice equipment available for satellite Earth station antennas. From its original hot air (Plenum) design which mounts behind antennas from 3.2 to 32 meters, to its Snow Shield, Rain Quake, and Ice Quake, Walton De-Ice systems for 0.6 to 6.3 meter antennas, Walton De-Ice delivers the most innovative and effective solutions to help protect critical satellite networks from degradation and outages due to weather.
---