Transponders + Revenues
NSR (Northern Sky Research) recently released the industry's first systematic assessment of key financial metrics for FSS satellite operators.
This new study, "Satellite Operator Financial Analysis," analyzed a wide range of metrics including overall revenues, cash flows, capital expenditure requirements, debt levels, and return on satellite investments.
Beyond a detailed assessment of the top publicly reporting FSS operators, this study also ranked operator's by each metric based on their 2010 score as well as undertook a statistical analysis of the main qualitative financial metrics in order to establish benchmarks for the industry in terms of general, average values for these metrics as well as the typical distribution of the metric values.
One particularly pertinent metric for FSS operators is average annual revenues per leased transponder, which was determined by dividing an operator's total annual revenues by its number of leased transponders as of the end of its fiscal year.
While this should not be treated literally as transponder pricing because FSS operators often obtain revenues from other sources besides capacity leasing, the average annual revenues per leased transponder still provides considerable insight into trends among operators and by region.
As a whole, the FSS industry tends to average US$2.1 million per year in revenues per leased transponder. More telling, though, was that there was a very large standard deviation associated with average annual revenues per leased transponder of about US$1.5 million. This was primarily driven by a small number of operators who could generate well in excess of this mean value, in terms of average revenues per leased transponder. Conversely, the median value for average annual revenues per leased transponder actually fell under the average at US$1.7 million. This indicates that the majority of operators actually earned less than the average.
This last point is best illustrated by assessing this metric based on where each FSS operator obtains the majority of its revenues.
For FSS operators dominant in Western Europe, they typically averaged nearly US$2.8 million per year from each leased transponder, while those with most revenues coming from the Americas actually averaged the least per leased transponder at just under US$1.8 million.
For FSS operators seeing most of their revenues coming from Asia, they actually came in just above the Americas averaging just over US$1.8 million per year from each leased transponder. However, the variability in average revenues per leased transponder in Asia was more than twice that of the Americas indicating that parts of Asia were much more lucrative than the Americas (e.g., Japan), while other parts of Asia were much less so. This trend is illustrated by the fact that the median value of annual revenues per leased transponder in the Americas was higher than in Asia.
For FSS operators deriving most of their revenues from Central and Eastern Europe, the Middle East and Africa, these players averaged nearly US$2.2 million per year from each leased transponder, but, again, the range of values was nearly as large as Asia indicating substantial variability in pricing in this region.
Average annual revenues per leased transponder, even if not exactly corresponding to average transponder prices, is nonetheless a very useful industry benchmark for the FSS sector. On one side, it allows easy comparison to be drawn between individual operators as well as illustrating different regional trends.
From the other point of view, this benchmark, which is statistically derived from more than 150 data points, allows for quick revenue estimates for business planning either on a per satellite basis or for estimating revenue generation potential for individual operators.
Analysis by Patrick French, Strategic Analyst, Satellite Communications Group
* * * * * * * * *
The Terminal-ator—A 2K Expansion
Hughes Network Systems has announced that its long-time customer, Skyband of Saudi Arabia, is expanding its broadband satellite services business with an order for more than 2,000 additional HX satellite terminals.
In 2009, Skyband purchased a multi-satellite HX Gateway, which is designed to unlock the maximum value from high-quality, IP broadband networking, including specialized applications such as mobility. It makes it easy for operators to expand broadband services across virtually all multi-satellite coverage situations, while maintaining the powerful network management, extensive diagnostics and scalability of the proven HX System.
Efficiency and flexibility in using satellite bandwidth is at the core of the HX System design. Based on the industry-leading Internet Protocol over Satellite (IPoS) standard, approved by ETSI, ITU, and TIA, the HX System can be readily configured to provide a specified Quality of Service (QoS) for each link to a particular terminal, enabling operators to provide services tailored to a customer's specific requirements. An optimized bandwidth allocation scheme is employed which mitigates cost of space segment, whereby idle terminals release their bandwidth assignments to a shared pool. HX remote terminals use FDMA/TDMA channels to communicate with the HX Gateway in star mode, or simultaneously to other terminals in mesh mode, with each channel supporting high-speed data rates.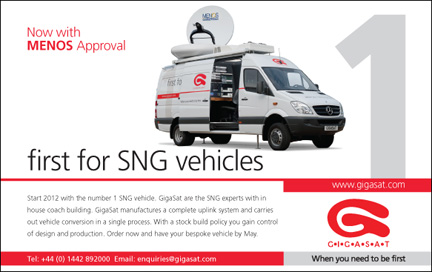 Skyband is one of the first VSAT (very small aperture terminal) service providers in the Kingdom of Saudi Arabia. Skyband offers a wide range of communications solutions including managed network services, ATM and banking connectivity, GSM networks and backhaul, video conferencing, and broadband IP applications to a variety of enterprise and government sectors. The HX System is ideal for these and other specialty markets such as Virtual Network Operator (VNO) hosting and Communication-On-The-Move (COTM) for airborne/maritime/land, including defense and Intelligence, Surveillance, and Reconnaissance (ISR) solutions.
* * * * * * * * *
An Atmospheric Amazement
Five sounding rockets streaked into the pre-dawn sky on March 27, 2012, leaving trails of milky white clouds in a little understood part of the atmosphere.
The first rocket was launched to the cusp of space at 4:58 a.m. Eastern Daylight Time and the subsequent launches occurred at 80 second intervals. The goal of the Anomalous Transport Rocket Experiment (ATREX) was to improve understanding of the process that drives fast-moving winds high in the thermosphere.
Fiery trails from four of the five sounding rockets are clearly visible in this time-lapse photograph (top) of the launch. The second image shows two of the clouds left in the wake of the experiment; the rockets released trimethyl aluminum, a substance that burns spontaneously in the presence of oxygen.
The harmless by-products of this glowing reaction were visible to the naked eye as far south as Wilmington, North Carolina; west to Charlestown, West Virginia; and north to Buffalo, New York. Both photographs were taken near the launch site at NASA's Wallops Flight Facility in Virginia.
Throughout the experiment, researchers used specialized cameras in North Carolina, Virginia, and New Jersey—as well as temperature and pressure instruments on two of the rockets—to monitor the clouds. By measuring how quickly the clouds move away from each other and integrating that information into atmospheric models, they hope to improve their understanding of the 320 to 480 kilometer (200 to 300 mile) winds in the thermosphere.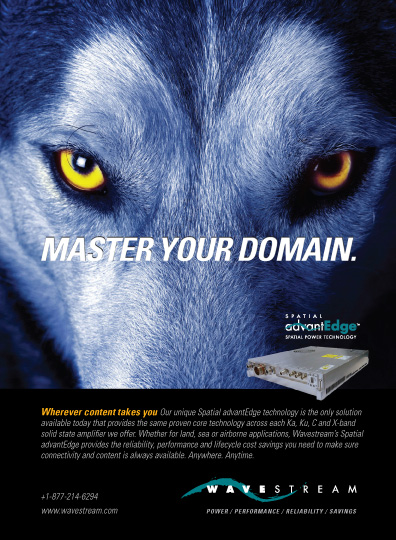 First noticed by scientists in the 1960s, the winds are thought to be part of a high-altitude jet stream that's distinct from the one lower in the troposphere, where commercial aircraft fly. Observing the turbulence produced by these winds should make it possible to determine what's driving them.
An improved understanding of the upper jet stream will make it easier to model the electromagnetic regions of space that can damage satellites and disrupt communications systems. The experiment will also help explain how the effects of atmospheric disturbances in one part of the globe can be transported to other parts of the globe in a mere day or two.
The launches are part of a broader sounding rocket program at NASA that conducts approximately 20 flights a year from launch sites around the world.
* * * * * * * * *
Speaking Of Those Sounding Rockets...
Kratos Defense & Security Solutions, Inc. was totally involved with the successful launch by NASA of the sounding rockets as indicated in the previous news story.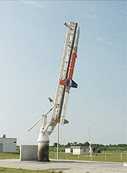 The Oriole rocket system in that launch was produced by Kratos' Rocket Support Services (RSS) business unit located in Glen Burnie, Maryland. This was the first Oriole rocket launched by NASA and was one of five rockets launched from the NASA Wallops Flight Facility in Wallops Island, Virginia, over a six minute period as part of a study of the upper level jet stream. The rockets carried payloads which released chemical tracers that created milky, white clouds at the edge of space that were visible throughout the U.S. Mid-Atlantic region.
As noted by NASA, the mission, dubbed the Anomalous Transport Rocket Experiment (ATREX), was performed to gather information needed to better understand the process responsible for the high-altitude jet stream located 60 to 65 miles above the Earth's surface. NASA has initially purchased six Oriole rocket systems from Kratos to support the program.
Dave Carter, President of Kratos' Defense Engineering Solutions division, said, "We are very pleased with the successful inaugural Oriole launch by NASA and look forward to a long and fruitful relationship providing Oriole rocket systems to support the NASA Sounding Rocket Program. The Oriole rocket system is very versatile and was developed to support technology research and missile defense target programs, in addition to scientific research."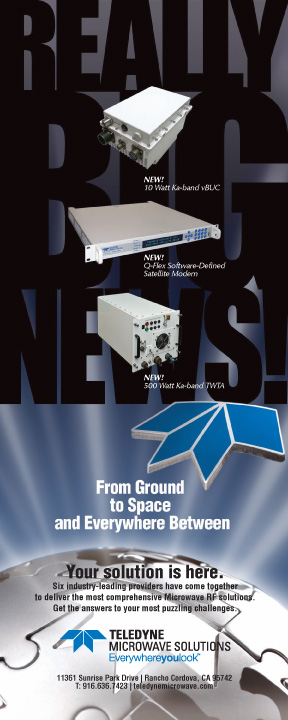 Eric DeMarco, Kratos' President and Chief Executive Officer, said, "The NASA Sounding Rocket Program has a long and enviable history supporting upper atmospheric and other suborbital scientific research. Kratos is proud to provide the Oriole to augment NASA's family of suborbital rocket systems."
* * * * * * * * *
An 'Enabler' For The U.S.A.F.
T
he ultimate compliment is to do to something so well that folk keep coming back for more...even rockets!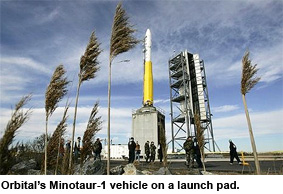 Orbital Sciences Corporation has announced that the U.S. Air Force has exercised an option order for a Minotaur I space launch vehicle to support the ORS-3 "Enabler" mission for the Operationally Responsive Space (ORS) Office of the Department of Defense.
This most recent Minotaur I space launch vehicle ordered by the Air Force will be launched from the Mid-Atlantic Regional Spaceport (MARS) facility at NASA's Wallops Flight Facility at Wallops Island, Virginia in 2013.
"We are very pleased to continue to provide cost-effective military space missions for the U.S. Air Force," said Mr. Ron Grabe, Orbital's Executive Vice President and General Manager of its Launch Systems Group. "For the past 15 years, the Minotaur program has provided highly reliable and affordable launchers that combine government-owned propulsion systems with commercial rocket technology to support Department of Defense and other U.S. government space missions."
The Minotaur I is a four-stage solid fuel space launch vehicle utilizing Minuteman rocket motors for its first and second stages, reusing government-owned motors that have been decommissioned as a result of arms reduction treaties.
To date, Minotaur I has conducted 10 missions with a 100 percent success rate, delivering 32 satellites into orbit, while the entire Minotaur product line (see description below) has established a perfect 23-for-23 mission record.
The Enabler mission will be the fifth Minotaur I rocket to be launched from the MARS facility, following the TacSat-2, NFIRE, TacSat-3 and ORS-1 missions that were conducted from the Eastern Virginia launch site in 2006, 2007, 2009 and 2011, respectfully.
* * * * * * * * *
Weather Works
Following the safe arrival of the MetOp-B weather satellite in Kazakhstan, the sophisticated craft is now being carefully assembled and tested before launch on May 23rd.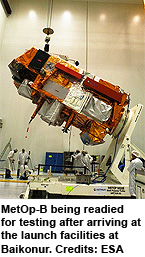 MetOp-B will provide essential data for weather forecasting and climate monitoring. Developed as a joint undertaking between ESA and Eumetsat, the MetOp program comprises a series of three identical satellites for continuous observations until year 2020.
The first in the series, MetOp-A, was launched in 2006 and marked a new era in operational meteorology—it was Europe's first weather satellite to orbit Earth from pole to pole.
The satellites carry a host of sensitive instruments to provide key information on a wide range of variables such as temperature and humidity, wind speed and direction over oceans, ozone and other atmospheric gases for numerical weather prediction and climate monitoring.
With MetOp-A still in service, the two satellites will orbit in tandem, increasing the wealth of data even further.
MetOp-B arrived at the Baikonur Cosmodrome on 6 March after being transported from Toulouse, France on an Antonov cargo aircraft.
Two separate flights carried the satellite's solar array and the supporting equipment that is being used to prepare the satellite for launch.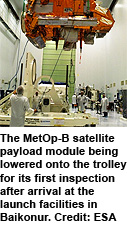 MetOp-B will be launched on a Soyuz rocket with a Fregat upper stage.
Now that the satellite and support equipment has been unpacked and inspected to make sure that it wasn't damaged in transit, it will spend the next weeks being thoroughly tested before being encapsulated in the rocket fairing.
"We are extremely pleased to see MetOp-B arrive safely at the launch facilities," said Luciano Di Napoli, ESA's project manager.
"The next weeks are extremely important to make sure this advanced satellite is in perfect condition for launch."
The MetOp satellites are built by a European consortium led by EADS Astrium.
The MetOp program is Europe's contribution to a cooperative venture with the U.S. National Oceanic and Atmospheric Administration (NOAA). The satellites are designed to work in conjunction with the NOAA satellite system, flying in complementary orbits to offer maximum coverage.