Thirty years ago, the state of the global teleport industry looked like this: Every teleport was owned and operated by either a government or large monopoly, providing basic telephony, video and data landing point services that linked major carriers from one continent to another. Profit margins were high and prices held steady, at easy-to-maintain levels.
In other words — life was good.
Today, life is still good, but you need to be nimble to make it so.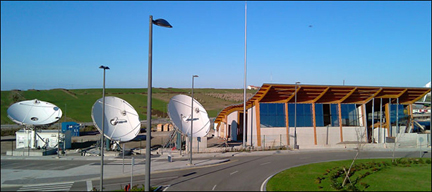 True, we're seeing annual compound growth rates of seven percent and the combined global teleport sector is now worth more than $19 billion in annual revenue. However, a sense of commoditization has set in. Every customer is asking for more and more bandwidth at requested prices that seemingly get lower with every conversation. How does a teleport operator prosper? By deriving new, value-added services and opportunities for customers that can be competitively priced to make up for the deficit. That means satisfying the ever evolving needs and wants of Internet Cafes, VoIP, VPN data, wireless applications for smartphones, streaming media services and other communications essentials that allow the user's device experience to present the same kind of access and seamless ease-of-use they experience at home.
This is all part of the evolutionary nature of our industry. Market trends and regulatory structures shift, and companies must anticipate them well in advance and respond accordingly to survive. Today, as
MTN Satellite Communications
celebrates its 30th anniversary, I wanted to take this moment to look back at the sweeping changes that have redefined our industry over the past three decades.
In the beginning, regulatory initiatives in the 1980s impacted the entire way teleport operators did business. Before deregulation, anytime I required additional global capacity for international traffic, I would have to deal with COMSAT and pay whatever the going rates were at the time. But then deregulation broke COMSAT up, and I could then buy capacity directly from other providers.
Deregulation opened up a great deal of flexibility. So much so that the face of industry transformed from larger monopolies and government players to smaller operators that could pop up seemingly anywhere and sell point-to-point business solutions.
This has presented hurdles. Today, many of the original teleport operators are having difficulty keeping their antennas and equipment running effectively, or updated, due to the high cost of equipment replacements and the lower margins demanded by clients and colocation resellers. Building a new teleport generally isn't feasible — not with the high cost of the equipment, and the intense level of competition here in the United States.
However, there appears to be a more positive picture in Europe. While nations there are struggling with the economy as well, their governments are eager for foreign investment, hoping to boost jobs and otherwise pump up the local state of business. As a result, teleport operators have new opportunities to invest in freshly created hybrid facilities that use both satellite and broadband fiber, creating international gateways to support the seamless flow of business data across the oceans. (
See the endpiece for a closer look at MTN's new teleport in Santander, Spain.
)
Is the current state of industry challenging? Of course it is. Given the downturn, the level of competition and the rapid pace of technology advancements and market changes today, this is to be expected. But we constantly seek to stay on top of these business realities and, so far, we've managed to do so.
We've faced harsher climates before. Remember when fiber optics were coming and they were going to put us out of business? That didn't happen. It initially threatened our presence in delivering capacity from one continent to another. But there was still a great need for point-to-multi-point satellite communications.
Today, satellite teleport companies must apply technologies to invigorate foreign investment in policy-making and regulatory liberalization to help evolve both old and new teleport businesses. This will allow us to take full advantage of rapidly shifting market demands and opportunities so that companies can continue to grow and prosper.
For example, today when we combine with broadband fiber optic networks to create hybrid fiber/satellite centers, we can offer so much more in data information and digital entertainment. That's the kind of service level/innovation that we expect to keep our industry strong for another 30 years — and counting.
About the author
Richard Hadsall has brought years of experience and accomplishments to his position as CTO at MTN Satellite Communications, and as CTO of MTN Government Services, a subsidiary of MTN. From his entrepreneurial beginnings in 1976 as founder and CEO of Crescomm, to his role as co-founder of MTN, Hadsall has played a pioneering role in the development of the maritime telecommunications industry. In 1984, Hadsall founded MTN's teleport facility in Holmdel, New Jersey. He also played an instrumental role in creating and overseeing the development of the company's Santander International Teleport located in northern Spain, which routes MTN's core business for C-and Ku-Band in the Middle East and IOR regions.
* * * * * * * * * * * *
MTN Satellite Communications
recently completed a project that serves as an outstanding example of the favorable business climate in Europe: The opening of a new teleport in Santander, Spain.
Partnering with ERZIA, a leading provider of VSAT maritime communications in Spain, the teleport serves as a centralized gateway for VSAT communications with coverage over the Americas, Europe and Asia. It is one of the first in the world to deliver C- and Ku-band commercial service as well as secure X-band for government customers at a single location. With the ability to see all of the satellites in the GEO orbit from 60W to 64E, the Santander teleport is now covering a region that stretches throughout Western Australia, North America, the Mediterranean Sea and the Indian and Atlantic oceans.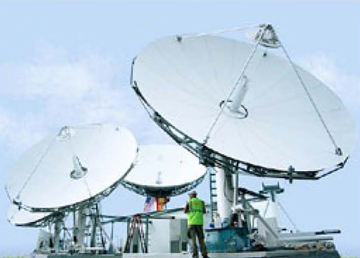 Much of the challenge in Europe stems from the fact that existing teleports are formerly government owned. It's up to companies such as ours to partner with local communications companies like ERZIA to introduce improvements in key areas such as network efficiency, reliability and customer service. Our Santander teleport, for example, boasts a fully manned 24/7 network operations center, with European time zone coverage and local language operators to ensure a positive user experience for our global customers.
The existing business structure in Europe is that of a highly supportive nature. Government officials there are eager for these kinds of opportunities to give a shot in the arm to the sagging economy and boost local employment. The Santander project demonstrates how the industry can work with government to achieve these goals, while opening up communications with a high degree of innovation.