In 2012, despite the negative impact of the United States and Europe's financial crises and China's economic slowdown, Latin America managed to sustain its dynamic pace and GDP increase. Growth rates of around 3.5 percent and 5.5 percent were experienced, fueled in part by the vast development of regional industries, such as mining, energy and oil activities
(*).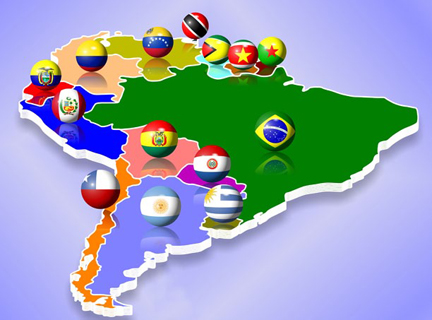 Latin America is positioned as an emergent and appealing market for the satellite communications industry. Exporting manufacturers call for communication systems that can overcome the lack of infrastructure in conventional networks. These companies demand just as much connectivity in the region's remotest zones as that enjoyed by their headquarters. Additionally, they need to have their corporate networks integrated with suitable bandwidths, sound communication services and responsive suppliers to provide 7x24 "on site" assistance in critical situations.
When Tesacom decided in 2004 that it was time to reinforce its presence in the region by adding offices in Peru and Brazil to those in Argentina, Chile and Paraguay, the expansion period that started in 2003 showed its first signs of growth, offsetting the years of stagnation that started in 1998.
The region's huge and practically unpopulated spans of land, where terrestrial or cellular telecommunication networks fail to meet the minimum demands of users in those areas, increasingly boost the requests for fixed or mobile satellite services. Oftentimes such services are integrated into the terrestrial or cellular networks. With the support of innovative projects and products, Tesacom has succeeded in those countries where the company operates.
Since the start-up of Tesacom's operations in 1997, the company has undergone remarkable development in response to the demands for increasingly more complex and customized solutions, which are tailor-made to each project in particular. These are all in line with the requirements for local technical support, regulatory compliance and local currency billing. Such has paved the way for year-to-year growth of the company's operations in Argentina, Brazil, Chile, Panama, Paraguay, Peru and Uruguay.
Tesacom's groundbreaking projects implemented across several countries of the region have sparked a high degree of acceptance for satellite technology innovations. In all of these undertakings, it was necessary to integrate various satellite networks to derive the best solutions for vertical markets for that particular region's satellite industry.

Some examples include the use of Inmarsat's BGAN technology since 2008 for the transmission of electoral outcomes in Brazil; the use of this same technology for testing purposes in several Argentine election processes during 2010 and 2011; and the implementation of the 911 system through SOS poles in various routes of Argentina and Peru via Inmarsat's and Iridium's networks.

Another example of success is the installation in more than 600 vehicles of the Brazilian electric power company, Elektro. These hybrid communication solutions integrate cellular technology with Inmarsat's BGAN network and Push To Talk technology. In Argentina, Tesacom also designed the configuration and installation of more than 1,000 satellite and GPRS communication devices for the transmission of energy meter readings for the Cammesa Company; in Peru, we worked in the development and maintenance of the control system for the Peru LNG client, using the Satamatics service.

Other interesting examples are the development and installation of a solution for the Bradesco Bank ships that navigate across the Amazon River area. These ships incorporate a bank branch as well as an ATM that is connected to an Inmarsat's FleetBroadband service.

Additionally, Hispasat-linked VSAT antennas are deployed in Paraguay to connect rural zones with management centers. KVH's miniVSAT equipment has been installed onto several Argentinian, Chilean and Peruvian fishing ships.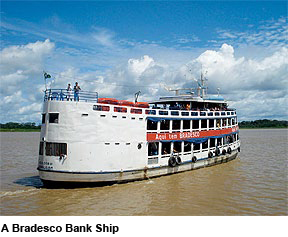 When, in 2010, Chile was hit by a devastating earthquake that devastated vast areas of the country, leaving thousands isolated, more than 200 Iridium and BGAN satellite equipment devices were immediately deployed from the company's location in Chile to provide support. Another clear example of the importance of SATCOM was the emergency communications assistance provided to Rio do Janeiro, Brazil, during the floods of January 2011.

SATCOM is well on its way to positively transform Latin America into a more communications integrated and safer area. Such explains why the company strives to launch, year after year, varying satellite products and services to deliver the best communication solutions throughout the region—"right" where our clients request these crucial services.

(*) Data extracted from "Estudio económico de América Latina y el Caribe, edición 2012" of the Economic Development Division - Economic Commission for Latin America and the Caribbean ECLAC (known as CEPAL in Spanish)


About the author
Since November 2003, José A. Sánchez Elía has applied his business experience and a deep understanding of the emerging communications challenges in the region and the opportunities into Tesacom. He reorganized the company and successfully managed the growth of the enterprise and introduced new business units. Today, the company operates in Argentina, Brazil, Paraguay, Chile, Peru, Uruguay and Panama. Prior to joining TESACOM, José founded a law firm, was part of the management of the family construction business, and participated as vice president of the government-CNT (National Telecommunications Commission) as Chief Adviser of the Secretary's Office of Communications. He was President of the Commission study dealing with the regulation of satellite systems at low altitude as well as President of the Commission and Director of the Argentine satellite System Tender, Nahuel. In international areas, he represented Argentina, Chile and Paraguay at INTELSAT.