The Royal Caribbean's Oasis of the Seas, the world's largest cruise ship, has been equipped with MTN Satellite Communications' (MTN) state-of-the-art VSAT satellite communications system. The 1,184-foot (360.9-meter), 225,282-gross ton Oasis of the Seas carries up to 5,400 passengers and a crew of more than 2,000. The satellite communication requirements for such a massive ship presented special challenges.
"The communications suite is a critical component for operating the ship and its passenger services," said
Max Schmidt
, vice president of information technology,
Royal Caribbean Cruises Ltd
. "We worked closely with MTN's engineering teams to develop a system that would be capable of supporting the unprecedented requirements of a ship this large and complex, with more than 2,700 passenger staterooms, dozens of dining and entertainment facilities and seven distinctly designed themed neighborhoods."
There has never been a ship as grand, innovative and imaginative as the Oasis of the Seas. The seven themed neighborhoods include...
Central Park features boutiques, restaurants and bars including access to the Rising Tide bar, which can be raised or lowered to three separate levels. It is the first living park at sea with over 12,000 plants and 56 trees
The Pool and Sports Zone features a sloped-entry beach pool and two surf simulators
Vitality at Sea Spa and Fitness Center
Boardwalk features a handcrafted carousel, restaurants, bars, shops, two rock-climbing walls, and a tattoo parlor
Its outdoor 750-seat AquaTheatre amphitheater hosts the ship's largest freshwater pool
Royal Promenade features restaurants and shops and is viewable from a mezzanine
Youth Zone features a science lab and computer gaming Entertainment Place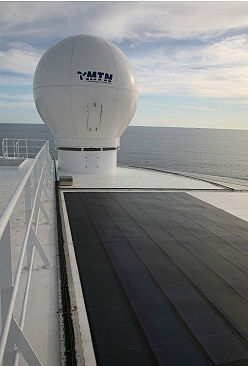 "For the inaugural voyage of Oasis of the Seas, we supplied the highest bandwidth ever used on a single ship in the history of the cruise industry," said
Brent Horwitz
, senior vice president of
MTN
. "The total bandwidth exceeded 26.6 Mbps, including 10 Mbps for Internet, 3 Mbps for voice and corporate data, 9 Mbps for an ABC live TV broadcast, 2 Mbps for video streaming, 1.5 Mbps for cellular phone service, and 1 Mbps for radio broadcasts and phones.
"A communications system was installed that uses two separate 2.4-meter stabilized C-band satellite antennas, which can simultaneously track two different satellites on MTN's global C-band network, with automatic beam switching to eliminate outages from satellite blockage," according to
Horwitz
.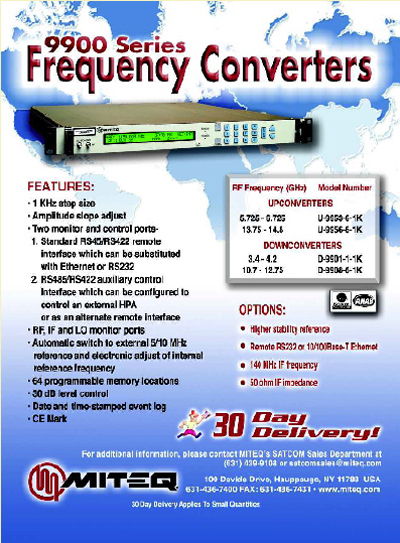 "When crossing the Atlantic to its home port in Fort Lauderdale, the ship's dual antennas with automatic beam switching technology, supported by our global shore network infrastructure, enabled the ship to transition seamlessly from one satellite footprint to another with no disruption of service," he said.
"The system on Oasis of the Seas provides an extensive range of voice and data services. The system is designed to support over 40 simultaneous satellite phone calls through state-of-the-art
Cisco
Voice-over-Internet-Protocol (VoIP) gateways, allowing guests and crew to make calls directly from their cabin phones.
"For mobile phone users, full cellular coverageis provided onboard Oasis of the Seas via
Wireless Maritime Services
(WMS), a joint venture between
MTN
and
AT&T Mobility
. The WMS service enables cell phones,
BlackBerrys
and
iPhones
to continue to operate while the ship is at sea, by relaying the voice and data traffic though the satellite network. In addition to all the telephony systems, also provided is broadband Internet connectivity for the WiFi networks and Internet Cafés onboard, along with a private, secure data channel for the ship's business.
"A number of industry firsts for the cruise industry are delivered that include at-sea cellular service, Internet Cafés and WiFi. In March 2010, Another industry breakthrough,
MTN Worldwide TV
(premium TV programming from six major U.S. and international television networks) was also announced for cruise ship passengers located anywhere on the high seas.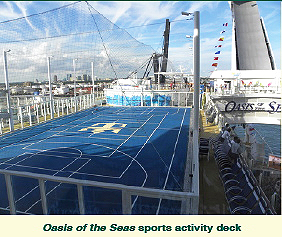 "Passengers are able to enjoy programming from BBC World News, CNBC, Fox News, MSNBC, Sky News, and Sky Sports News in their cabins while at sea or in port, with no interruption. Additional programming packages, including entertainment and sports channels, are to be added in the near future.
"The MTN Worldwide TV service has been thoroughly field tested and more than 40 ships with a total of more than 32,000 cabins are already under contract for the unique broadcast service," added
Horwitz
.
About MTN Satellite Communications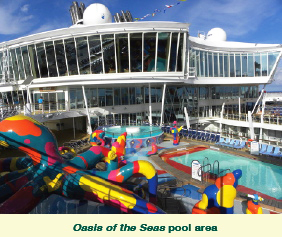 MTN Satellite Communications (MTN) is the global service provider of communications, connectivity and content services to remote locations around the world. MTN's maritime VSAT solutions and global satellite communications network offers the reliability that only "Always On — Always Available" systems can provide. More than 500 vessels and land-based terminals worldwide, including cruise ships, government and military vessels, private yachts, ferries, offshore drilling and production sites, and commercial ships depend on MTN's voice and data networks to allow them to "be in the middle of nowhere and at the center of everything." Premium services include remote access for Internet, fixed and mobile phones, fax, television, onboard newspapers, banking services, direct payroll deposit for crew and other enterprise solutions. MTN is based in Miramar, Florida. For more information, visit ...
http://www.mtnsat.com
About Royal Caribbean
Royal Caribbean International is a global cruise brand with 21 ships currently in service and one under construction. The line also offers unique cruise tour land packages in Alaska, Canada, Dubai, Europe, Australia, and New Zealand. For additional information or to make reservations, call your travel agent, visit...
http://www.royalcaribbean.com