Mike is responsible for serving the high-performance, rich-media, video-based needs of the world's major broadcasters, programmers, producers and aggregators of the world's global television and media business. He was named managing director in November 2010, when the company acquired Genesis Networks, where he had previously served as the company's president and chief executive officer.

Mr. Antonovich brings more than 30 years of broadcast and satellite industry sales, marketing, operations and executive experience to his position. Prior to joining Genesis Networks, he was president and chief executive officer of The SPACECONNECTION Inc., a wholly owned subsidiary of Telesat Canada, and the industry's largest bandwidth reseller of satellite capacity. Before that, he was executive vice president, Global Sales and Marketing, and corporate officer of PanAmSat, the world's first privately-owned satellite system and leader in the development of global television contribution and distribution solutions via satellite. He also served ten years in a variety of broadcast operations and satellite engineering positions with the ESPN sports network and with Group W Satellite Communications.
SatMagazine (SM)
Would you please explain to our readers what your Company's presence is within the Asia-Pacific satellite communications and ancillary markets?
Mike Antonovich
Genesis Networks serves a few critical functions within the Asia-Pacific region. One, we provide dedicated connectivity from programmers around the world into a number of DTH, Cable and Broadband platforms. Roughly 70 percent of what we do is deliver full-time channels from programmers to their distribution partners around the world. While we do compete quite effectively and win a significant amount of live sports origination that is "takeaway" business from satellite, when it comes to full-time transport to the region, we are very "satellite friendly!"
SM
Why did your Company enter this market?
Mike Antonovich
For nearly 10 years now, Genesis Networks has been keenly focused on the international video transport business complemented by a presence in Asia for roughly the past five years. Our video network extends into a dozen key cities across the Asia-Pacific, and we're growing rapidly in both the number of points on the network and in the aggregate bandwidth consumed across the region.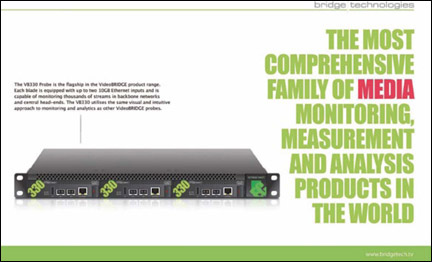 SM
What market segments do you believe are the most promising and what have been your most successful for this market?
Mike Antonovich
We cater specifically to media and broadcast clients around the globe for the movement of live news, sport and full-time video services. It a very "high touch" market, with broadcasters and programmers entrusting us with the world's most valuable video content. And, yes, it's also a very high-growth market. We have become a leading supplier of marquee sporting events, everything from delivering programming to millions of rugby enthusiasts across Asia to Grand Slam tennis, major golf events, motorcar racing, soccer and a host of other events. What has differentiated us from other suppliers is the creativity and flexibility of our service offerings, our on-site support, and the backup of a truly global network.
SM
The challenges are numerous for entry into and for business sustainment within this area of the world. What do you see as among the most formidable challenges to surmount?
Mike Antonovich
Well, from our perspective, Asia doesn't pose any more specific challenges to us other than the extended time zones and distances between destinations. But we've cultivated a great team in Asia that knows how to get things done.
SM
Given the state of the global economy, how do you rate the Asia-Pacific market as far as its viability for income generation and growth over the next year or two?
Mike Antonovich
The Asia-Pacific marketplace is probably the highest growth market for us as both an "exporter" of content to the Rest of World and as an "importer" of high-value sports broadcasts back into the region. There are still tremendous growth prospects for us as we continue to extend our reach across the entire Asia-Pacific region.
Globally, in fact, the market for these services is growing. For instance, industry research firm Infonetics Research forecasts that worldwide revenue for video services, including IPTV, cable video and satellite video services, will top $250 billion in 2014. And, according to the Visual Networking Index (VNI), an industry benchmark report produced by Cisco, 3D and HD Internet video will comprise 46 percent of consumer Internet video traffic by 2014.
SM
How do you believe the Asia-Pacific market will impact global, as well as your Company's, business opportunities?
Mike Antonovich
The Asia-Pacific market has very high growth prospects, both from the growing number of international channels coming to market and from the continuing transitions from Standard Definition to High Definition broadcasting. Content distribution for a wide variety of ethnic and cultural channels gets more global every day, and Genesis Networks is there to help our clients move content around the world.