Playing A Big Role With Small Satellites
Following three years of design, fabrication, and test, Aerospace delivered two CubeSats to a national security space agency, and one CubeSat to the Space and Missile Systems Center in January.
CubeSats, which are a specific type of small satellite, measure 10 centimeters on a side and usually weigh less than 1.3 kg. Aerospace is one of the creators of small satellite technology, and has been designing, building, and operating nanosatellites (1 to 10 kg) and even smaller picosatellites (0.1 to 1 kg) since 1999.
"We designed, fabricated, tested, and operated the 250-gram mass PicoSat 1.0 spacecraft over a decade ago, and they are still the lightest active satellites ever flown," said Siegfried Janson, a senior scientist in the Physical Sciences Laboratories. Since then, the PicoSat group at Aerospace has built six picosatellites, as well as 10 nanosatellites during the past 13 years.
The group also developed a miniature propulsion system, which was licensed last summer to a company called Austin Satellite Design. Austin Satellite Design plans to fly this system on University of Texas CubeSats in the next few years.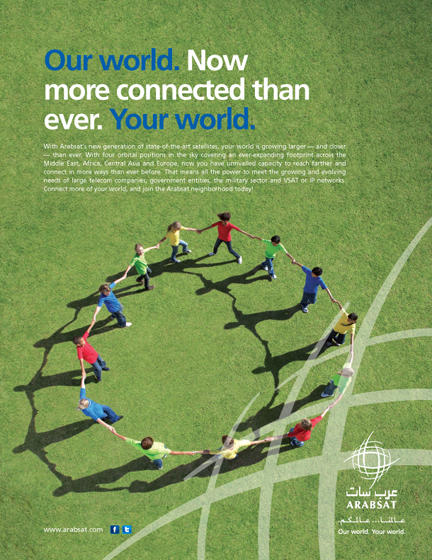 In general, small satellites provide a number of advantages compared with their larger counterparts, namely, they are inexpensive, they require less time to build, and they are small enough to simply "hitch a ride" on a launch vehicle.
"Small satellites can be designed, fabricated, and tested within a year, and flight opportunities, at least for CubeSats, are becoming available every few months," Janson said. In fact, sometimes it doesn't even take a year. An example of how quickly Aerospace created one of these diminutive satellites occurred last year.
"Our PicoSat group, led by David Hinkley, went from concept to flight hardware delivery within six months on the PicoSatellite Solar Cell Testbed-2 (PSSCT-2) spacecraft when a ride on the last U.S. space shuttle suddenly became available," Janson said. This small satellite measured 5"; x 5"; x 10"; and weighed 3.6 kg. It was launched by the space shuttle Atlantis (STS-135) on July 21, 2011, and operated until its re-entry in early December. As they can be built so quickly, small satellites can be used to test new technologies and discover and fix problems earlier.
"The design, build, test, get flight data, and redesign cycle can now be as short as six months, thus accelerating space system evolution by five to ten times compared to traditional development cycles," Janson said. "This enables risk reduction on major flight programs by identifying and correcting issues with new component or subsystem technologies earlier in the development cycle."
A number of the small satellites Aerospace has built have been CubeSats because there are many opportunities to launch CubeSats. CubeSats are placed in box-like ejection tubes called Picosatellite Orbital Deployers (PODS), which are flight-qualified for different launch vehicles and can hold a variety of CubeSats.
"This is analogous to the ubiquitous overseas shipping container; shippers don't care what's inside as long the container is within the weight limit and no hazardous materials are present," Janson said.
PODS have flown on a variety of launch vehicles, including the U.S. space shuttle, Minotaur-1, Minotaur-IV, Taurus-XL, Falcon-1, Japanese M-V, Russian Dnepr, Russian Kosmos-3M, Russian/German Eurockot, Indian PSLV, and the European Vega launch vehicles.
Aerospace has developed two versions of its own POD, the Aerospace Picosatellite Orbital Deployer, or A-POD, which was used on multiple shuttle flights. The three CubeSats Aerospace delivered in January—one AeroCube 4.0 and two AeroCube 4.5s—fit in a single POD and will be launched from VAFB in August on an Atlas V launch vehicle as part of a 12-picosatellite deployment.
The team from Aerospace is not stopping with AeroCube 4.5. Plans are already underway to build and launch two AeroCube 5.0s.
"We plan on upgrading future AeroCubes with on-orbit propulsion, improved attitude determination accuracy, and higher communications data rates," Janson said.
To read about Aerospace's role with small sats,
check out their website
.
Story by Laura Johnson, originally appeared in the Aerospace Orbiter publication.
* * * * * * * * *
A Controlling Presence
GMV has announced a contract with THAICOM Plc. to provide the satellite control center for the Thaicom 6 communications satellite.
The project builds on GMV's satellite control center experience. Thaicom 6 is a Star 2 platform geostationary
telecommunications spacecraft built by Orbital Sciences. Over the years, GMV has established a strong history with Orbital Sciences and supports numerous Star 2 platform spacecraft.

Theresa Beech, president of GMV USA, said, "We are pleased to bring our experience in successful communications satellite control center installation and operation around the globe to Thaicom 6 and to build our relationship with Thaicom an important spacecraft operator in Southeast Asia."
Thaicom 6 satellite's payload will offer C- and Ku-band services to the South and Southeast Asia and Southern Africa regions. The satellite will generate approximately 3.7 kilowatts of payload power and will be located at 78.5 degrees East.
GMV will develop and implement the satellite control center for Thaicom 6, including the satellite telemetry and telecommand system based upon GMV's product hifly®, the flight dynamics system based upon GMV's product focusSuite, as well as the ground equipment monitoring and control. Thaicom 6 is expected to launch into orbit in mid 2013.
* * * * * * * * *
Wise-Up With This New Wiki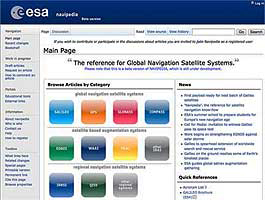 Satellite navigation is progressing at such a breakneck speed nowadays that technical books are often already behind the times when they are published.
There is also a lot of incorrect information scattered around the Internet. To guarantee access to trustworthy and up-to-date information on this technology, the European Space Agency (ESA) has launched Navipedia, its own wiki knowledge base covering everything to do with satellite navigation. This is ESA's first ever technical wiki opened to the public.
The initial version of Navipedia was produced with contributions from GNSS experts from GMV, contracted for the production and revision of articles, as well as from several European universities and an internal team of ESA navigation specialists. Due to its key roles in the development of the European navigation systems, EGNOS and Galileo, GMV has cultivated a highly skilled team of experts in the most varied areas of satellite navigation. Written and reviewed by experts, the wiki now has more than 400 articles covering the fundamental principles of satellite navigation, how receivers operate, current and future operational systems around the globe and GNSS-related services and applications.
This new wiki is intended to serve a wide range of users from institutions and industry, to academia and the general public interested in knowing more about GNSS systems. Navipedia articles have therefore been classified into three categories: basic, medium and advanced, to satisfy target audiences ranging from highly knowledgeable GNSS specialists to the public at large. ESA is convinced Navipedia will be an excellent tool for promoting and supporting GNSS education in Europe.
This website's launch comes at just the right time, with ESA preparing to launch its next Galileo satellites, ground-based augmentation systems proliferating, all other Global Navigation Satellite Systems (GNSS) in full evolution and new applications emerging every day incorporating satellite navigation.
* * * * * * * * *
Counterfeit Regs Could Well Impact Global Suppliers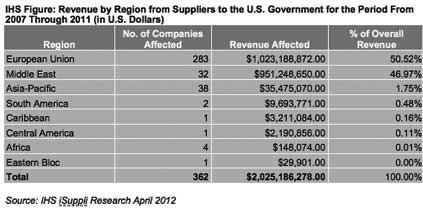 Stringent new counterfeit-part regulations contained in the 2012 U.S. National Defense Authorization Act (NDAA) may have broad international implications, impacting hundreds of overseas companies that have supplied billions of dollars' worth of items to the American government.
Non-U.S.-based suppliers accounted for more than $2 billion during the five-year period from 2007 to 2011, with the European Union (EU) and Middle Eastern companies accounting for the bulk of the American government's procurement spending.
This is according to the IHS Haystack Gold™ service from information and analytics provider IHS (NYSE: IHS).
The figure below presents a ranking of foreign countries' revenue from sales to the U.S. government. Data in the figure was derived from the IHS Haystack system that provides information on more than 100 million items in the U.S. Federal Supply Catalog and more than 40 U.S. Army, Navy, Air Force and related databases. "There's a perception that U.S. regulations such as 2012 NDAA, Section. 818. Detection and Avoidance of Counterfeit Electronic Parts, is only an issue for American companies, and that they don't impact firms in Europe, the Mideast and elsewhere," said Greg Jaknunas, senior product manager, supply chain solutions, at IHS. "However, the impact is beginning to be felt worldwide, as many international companies and global manufacturing facilities can directly participate in the defense supply chain and begin to see customer requests for counterfeit detection and avoidance measures that are flowed down through the supply chain."
Even though the regulations in 2012 NDAA are from the United States, they will become an international issue as defense contractors place requirements on their suppliers, who then place similar demands on their suppliers, and so on, Jaknunas added "The 2012 NDAA requirements will get pulled through the global supply chain," Jaknunas observed. "Owing to the complex nature of the supply chain, it will become an international concern. In a way, this is similar to the EU's restriction of hazardous substances (RoHS) environmental directive, which called for the elimination of six hazardous materials in electronic components and systems, most notably lead. While RoHS requirements appeared to be European in nature, they had a ripple effect worldwide as suppliers all over the world changed their products in order to continue to do business in the key EU markets."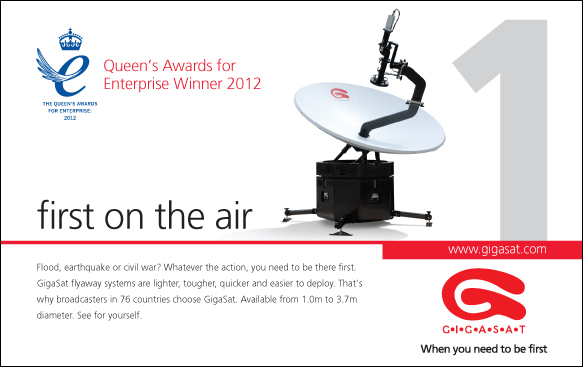 IHS estimates that 362 non-U.S. companies worldwide that are supplying the U.S. government could be directly impacted by the NDAA counterfeit regulations, with many more that could be indirectly affected.
Reports of counterfeit parts have soared dramatically in the last two years, presenting huge challenges for electronics manufacturing and especially the military and aerospace industry. Supply chain participants in 2011 reported 1,363 separate verified counterfeit-part incidents worldwide, a fourfold increase from 324 in 2009, according to IHS.
The bulk of these incidents were for commercial electronic components that have wide use across every major technology end market. Counterfeit parts often are often cheap substitutes or salvaged waste components that fail to meet strict military and aerospace specifications, leading to potential failures.
On December 31, 2011 the fiscal year 2012 NDAA was initiated, which adds regulations for counterfeit part detection and avoidance. Members at all tiers of the defense supply chain must put counterfeit risk mitigation procedures in place, and certain steps must be completed within 270 days of the president's signature.
Companies based in the European Union represent the largest group of foreign suppliers to the U.S. government. During the five-year period from 2007 through 2011, the region accounted for $1 billion in sales, or 51 percent of the total. The area, by a large margin, also had the most number of companies—283 firms.Next was the Middle East with $951.2 million, representing 47 percent of the global total during the past five years. This revenue was generated by just 32 companies. The region, particularly Israel, is involved in extensive defense spending, to the United States. A major purchaser and user of U.S. military equipment, Israel is also involved in the joint development of military technology and regularly engages in joint military exercises involving United States.
Other regions trailed far behind, including Asia-Pacific, with the region's 38 companies accounting for just two percent of global revenue. To manage the wrenching changes wrought by the NDAA regulations, companies throughout the world must have tools that allow them to identify components at risk of counterfeits.
IHS Haystack provides critical, integrated and interpretable logistics information to the government and contractors so that processes can be automated, labor and research costs saved, and new levels of efficiency as well as return on investment realized.
IHS Haystack allows users to locate a part number, determine its manufacturer, research past award histories, conduct competitive analyses, identify alternative sources, and find parts and manufacturers qualified against military specifications. Companies can use IHS Haystack's Qualified Products Dataset to locate the most current information on certified government manufacturer and supplier sources of qualified products, in order to stay within a trusted supply chain of authorized suppliers.
Contact
Jonathan Cassell @ IHS
for more information.
* * * * * * * * *
CASBAA Rallies And Resists... India's Retroactive Satellite Tax Laws
Imagine the thought of having to pay taxes retroactive to 1976!
A host of international business associations from a wide range of India's major trading partner and investment partner countries have urged the Indian government to abandon to impose sweeping retroactive taxation affecting a large number of industries. CASBAA has taken up advocacy on behalf of the international satellite industry.
Both satellite operators and their Indian customers and consumers would suffer from the planned imposition of new tax rules. In its letter to the Indian Finance Ministry, CASBAA noted, "...as far as the satellite industry is concerned—retroactivity could not be justified on the basis that the government was merely "clarifying" existing tax law.
Said CASBAA, "...certain concepts that are fundamental to satellite services (i.e., satellite, up-linking, amplification, conversion for down-linking of any signal)…were not prevalent in India in 1976 and thus, it is inconceivable to think that a concept that did not exist in 1976 was intended to have been present in the legislation."
Additional important issues may be read at this link...
* * * * * * * * *
The Freeze Is On
Weather has been discontinued—well, not exactly... however, the U.S. Air Force has terminated all Defense WeatherSatellite System contractual activities with Northrop Grumman Aerospace Systems, all in accordance with the FY2012 National Defense Authorization Act and FY12 Consolidated Appropriations Act.
Northrop Grumman Aerospace Systems activities in support of the Suomi National Polar-orbiting Operational Environmental Satellite System Preparatory Project Satellite, however, are not subject to the termination notice.
The Defense Weather Satellite System was created out of the Executive Office of the President and was the restructure of the National Polar-orbiting Operational Environmental Satellite System program in February of 2010.
Northrop Grumman Aerospace Systems was the prime contractor for the military DWSS program and was responsible for developing the satellite, including the Visible/Infrared Imager Radiometer Suite, provided by a subcontract with Raytheon Space and Airborne Systems.
The DWSS was intended to satisfy military requirements for timely, reliable and high-quality space-based remote sensing capability for global and regional environmental observations of atmospheric, terrestrial, oceanographic, solar-geophysical and other phenomena.
Today, the Air Force Defense Meteorological Satellite Program constellation of satellites continues to provide high-quality and timely weather data to forecasters with two more satellites yet to be launched.
* * * * * * * * *
Working The Circuits
Agilent Technologies Inc. has announced that Comtech EF Data has selected Advanced Design System software for use in developing RF and microwave circuits for high-performance satellite communications systems.
Comtech EF Data, a subsidiary of Comtech Telecommunications Corp., designs and manufactures an assortment of satellite communications equipment that is deployed in commercial and government applications around the world. Satellite communications systems require leading-edge performance and high reliability.
ADS is a broad-ranging circuit and system design platform. It provides a comprehensive suite of simulation and analysis tools for the high-frequency designer, including parametric tuning and optimization, and a full set of yield and sensitivity analysis tools. Comtech will leverage these extensive capabilities to ensure its designs meet the performance and reliability criteria demanded by its customers.
"One of the key reasons we chose ADS was its capacity to accurately co-simulate across the DSP/RF boundary—a clear-cut advantage compared to other tools we had evaluated," said Tibi Artzi, unit manager with Comtech EF Data. "ADS's ability to handle linearization design of power amplifiers that are used in proprietary and next-generation systems will substantially increase our competitive advantage in the satellite communications marketplace. This capability, along with the other best-in-class analysis offerings (like EM analysis) that ADS integrates into one platform, made ADS the obvious choice for our needs."
"Comtech's engineers have a uniquely challenging set of tasks due to the often-proprietary nature of high-performance satellite communications systems and the high reliability that is needed for hardware design," said Joe Civello, ADS product manager for Agilent EEsof EDA. "We are delighted that Comtech trusts the capabilities of ADS and has decided to use it for design work in this particularly demanding market."
* * * * * * * * *
Meteosat Membership
Thales Alenia Space Deutschland GmbH, has signed a contract with Thales Alenia Space-France in the frame of the Meteosat Third Generation (MTG) weather satellites.
This contract includes the development and the validation of the operations Satellite Simulator (SATSIM), as well as the Payload Data Generator for all the satellites.
It was signed in Berlin at a ceremony attended by Klaus-Dieter Scheurle, the State secretary in the German Federal Ministry of Traffic, Construction and Urban Development. The contract is worth up to 4 million euros.
* * * * * * * * *
"Unconventional" Equals Oil & Gas Growth Opportunity
With virtually the entire Oil & Gas industry focused on North American Shale Gas, it is easy to forget the unconventional resource movement spans the entire globe.

Shale Gas, an unconventional resource, should be read by the satellite industry as— "Long to extract, and requires sophisticated technology which means making more money"—and can be found from the South China Sea to under the Arctic Oceans.
Furthermore, the satellite industry will experience the biggest growth from unconventional resources not from North America, but from Asian and Latin American deposits.

As
NSR
projects in its
Oil and Gas via Satellite, 2nd Edition
study, North American Exploration and Production VSAT In-service Unit growth from 2011 - 2021 will be less than 5 percent, well behind the 13 or 14 percent growth of Latin America or Asia, respectively. This lack-luster long-term growth in North America stems from a robust terrestrial infrastructure that will be installed as the Shale Gas industry transitions from the "exploration" to "production" stage.
Pennsylvania—a hotbed of Shale Gas activity—recently proposed legislation that would require real-time monitoring and communications at over 5,000 current and planned natural gas sites within the state. In addition, O&G industry representatives state that less than 5 percent of well-sites are covered by terrestrial infrastructure… a sure sign that satellite will play a critical role in well-site communications.
Yet, Pennsylvania has one of the most aggressive rural broadband deployment plans with every town, village and city having access to broadband connectivity by 2015, and the legislation was announced at the facilities of a terrestrial network provider. Combine the two, and satellite growth becomes murky in the long-run for North America.
Instead, service providers should primarily focus on opportunities outside North America. Not only are these deposits (and therefore activity) larger, but the deposits are found both on- and offshore, and in remote environments where terrestrial networks are unlikely to have high penetration.
Overall, satellite service providers will enjoy stronger growth from unconventional resources in Asian and Latin American markets, rather than well established markets in North America or Europe.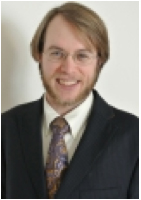 The Shale Gas exploration "Boom" throughout North America will transition to a production "fizzle" as existing O&G well-sites throughout the region move to long-term assets, which brings terrestrial network infrastructure. The remote On- and Offshore unconventional resources of the rest of the world will provide strong growth prospects for satellite service providers, and account for 34% of a $1.1 Billion dollar industry by 2021.
Analysis by Brad Grady, Analyst, USA, NSR. Mr. Grady joined NSR in 2010 and provides assistance to the Senior Analyst team on multi-client research reports and single-client consulting projects throughout NSR's coverage areas.