Polar Bears International (PBI) (www.polarbearsinternational.com) is a non-profit organization dedicated to polar bear conservation and educating people on the effects of climate change on the Arctic ecosystem.

For the past six years, we have worked with a team of scientists and educators to produce a unique program called Tundra Connections. Targeted at schools, universities and community organizations, the main objective is to give people experience with polar bears in their natural habitat while learning from climate and animal experts.
The ultimate goal is to get the audience engaged and motivated to take action on behalf of polar bears. Every year, in the late fall, there is a seasonal migration of sorts when polar bears congregate on the shore of Hudson Bay and wait for it to freeze. Once it freezes, they will venture off on the ice to hunt for their primary food source, ringed seals. While they are waiting, our crew has an excellent opportunity to get up close and personal with the bears.
Location Challenges
The challenge of streaming a live show to thousands of classrooms from this remote location next to the bears themselves is a big one, but thanks to state-of-the-art equipment, another successful season has just concluded. The operation centers on the remote town of Churchill, Manitoba, 1,000 miles north of Minneapolis on the shores of Hudson Bay. It's a community of around 900 people and in the late fall there are as many polar bears as there are people roaming around, usually in separate areas, but many of the locals purposefully keep their cars unlocked in case someone needs a quick shelter from a surprise bear encounter!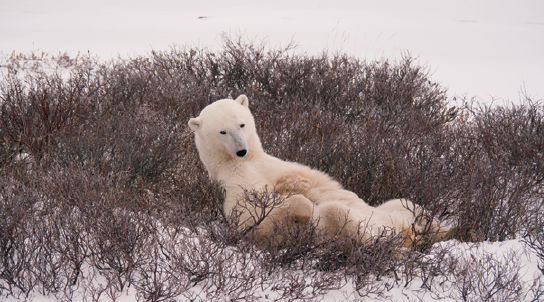 The town of Churchill is only accessible by plane or rail, and only a few years ago finally received cellular phone service. We make use of a custom designed "Tundra Buggy®," supplied by Frontiers North Adventures, the polar bear tourist vehicle of choice. This vehicle resembles a bus-sized monster truck and, for four weeks at the end of October, we turn it into a high-tech mobile broadcast studio and classroom.
The Tundra Buggy + A New Definition Of Roaming
The Tundra Buggy ventures out each day along the shore of Hudson Bay. Since infrastructure for live streaming is practically non-existent, we have created our own bandwidth to serve our needs. We have a 20Mbit circuit we purchased from the local ISP.
The bandwidth starts and ends in Churchill itself, directly across from the most popular restaurant in town. From there, we maintain 51 miles of wireless Internet that blasts this 20Mbits of bandwidth out to the Tundra and then to our Tundra Buggy. Essentially, we've created our own cell network that delivers very high quality and high speed Internet to just a couple of targets.
We have deployed a full microwave backhaul network with around 15 nodes to cover the 51-mile area. There are antennas all over the area, including some unusual places, such as a 300 foot tower at an old research facility that at one time launched rockets for Northern Lights study. These multiple links allow seamless coverage, enabling the buggy to select the best signal to obtain the full 20Mb.
Some of the nodes are in the Wapusk (Cree Indian word for white bear) National Park, about a four hour drive from town by tundra buggy. There's no power, so we use methanol fuel cells and solar power to keep the wireless nodes active and transmitting. In a way, our operation itself is a model for green energy. We're talking about polar bears and climate change with the greatest threat being greenhouse gas emissions—we're at the cutting edge, using some of the identical technology that could potentially help polar bears.

Beyond the challenges of connectivity, power is another concern for our mobile broadcast studio. There is a 1000 amp-hour battery bank stashed under the floor, similar to what one might see in a small camp or an off-the-grid home. A large, high quality invertor is used to convert the 12volt power into clean 120v. The operation needs to stay as quiet as possible, not only for the bears, but for the studio broadcast as well.
Live From The Tundra
Inside the buggy, we have created a sophisticated, but power conscious, broadcast studio. At the center of all this cutting-edge gear is Telestream's Wirecast live streaming production software running on a Mac workstation. Wirecast captures camera feeds, audio, displays and graphics, and creates the finished program stream feed that populates the Tundra Connections web page as well as Explore.org and other sponsors.
There are various video capture devices that grab streams from both internal cameras as well as external cameras on the buggy. All cameras have PTZ (pan, tilt, zoom) with joystick control. Each program lasts about 35 to 45 minutes and includes a panel discussion that is interspersed with live shots of the polar bears outside. For the viewers, there is a chat window in the web interface where participants can send questions, or they can submit their inquiries via email.
We have six people typically rolling around in the buggy, so we don't have a lot of extra room for production personnel. This is, pretty much, a one-man band—I drive the cameras, mix the show, dress the set, do the lighting and the audio.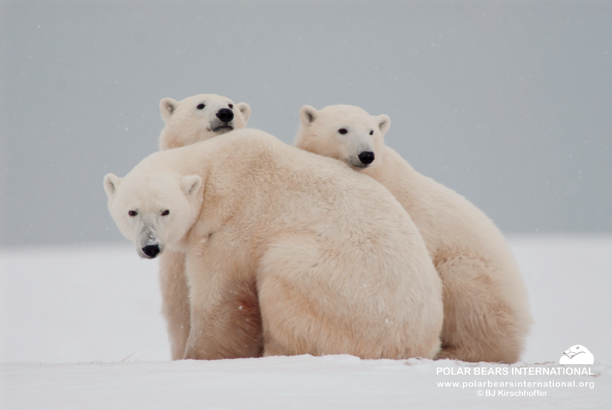 Last year, the show was still broadcasting in SD with older SD cameras and Firewire connections. We're experimenting with newer Sony PTZ HD cameras and capturing video as IP streams via RTSP directly into Wirecast. Wirecast then re-encodes at 720p HD for the resultant output stream. With shared bandwidth and power restrictions, they try to stay around
2 to 2.5 Mbits for their output streaming bandwidth. One of the discoveries made this year is that using RTSP streams seemed to require a lot of processing cycles on the computer and the audio can lag the video. Next year, we may switch to external HD encoders to try and lighten the load on the computer and re-balance the power consumption.
The Tundra Connections program lasts four weeks in the fall, with a couple broadcasts in the spring as well. Each one of the weeks has a different headline sponsor/partner that helps PBI reach a greater audience. Each organization sends a moderator to participate with panels of scientists, polar bear biologists, climatologists, educators, and so on.
On the day of the broadcast, it's 'go time.' We set up a table in the buggy, fire up the LED light panels, and then the moderator introduces our location, how viewers can ask questions, and then we start rolling our content. The on-air personnel include 'the four panelists and me, with—hopefully—polar bears outside the buggy window.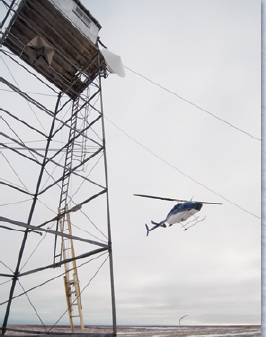 Depending on the age group they're talking to, different topics are covered such as "What do polar bears do?" and "Why do they act they way they do?" At any time, I can switch to the outside cameras using the PIP (picture in picture) feature within Wirecast, or switch to full frame and have the specialists talk about what's happening outside right now with the polar bears, what they are doing, and why. Easily inserting graphics, pictures and footage supplied by the panel on the fly is important to convey information about where the polar bears are, how the ice is changing, and all resultant polar bear behavior.
Some of my favorite features in Wirecast are the ability to grab streams from Teradek devices that let them wander around with a camera if we want to. The "external display out" function is really useful and allows an external monitor to be plugged in for a 'confidence view' so that the panelists can see their graphics and know what the viewers are seeing. The "external display out" feature is also used for video conferencing—this allows Wirecast to mix and send the stream directly into the video conferencing system when they do one-on-one programs with classrooms.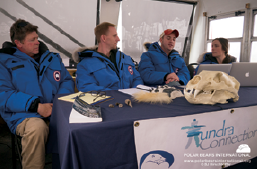 As content delivery networks are expensive for a non-profit, we have experimented with the "virtual camera out and virtual microphone out" feature in Wirecast as we continue to look for ways to get signals out without having to pay content delivery networks extra fees. Using the virtual camera and virtual microphone, streams can be sent to Google Hangout, for instance, or have the streams sent to YouTube. In this manner, a two-way conversation is possible, similar to a video conferencing system with classrooms, but with the world tuning in to the broadcast in through YouTube.
The evolution over the past six years from what started out as a purely point-to-point video conferencing event to these sophisticated webcasts using Telestream Wirecast has exponentially grown viewership. We had a day this year where we almost 17,000 computers were connected to our broadcast. If most of those were classrooms, we estimated one-quarter to one-half million students were watching our program.
Taking this programming project from basic videoconferencing to where were now has been truly exciting. As the polar ice patterns continue to change and impact these amazing animals, building awareness of the cause and the effects of climate change has never been more important for us.
---