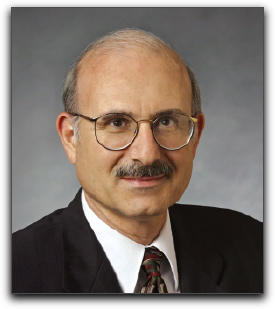 Robert (Bob) M. Sorbello, Ph.D., a pioneer and leader of the satellite industry, passed away unexpectedly on July 15, 2009. He was a loving husband and father, an extremely talented engineer, a well-respected colleague, a trusted friend and admired mentor. He was 61 years old and lived in Potomac, Maryland.
Dr. Sorbello leaves behind an extraordinary body of work, including significant contributions to the development of ground-breaking satellite programs over the past four decades, including work that spanned the satellite programs of Hughes, Comsat Labs, Loral Cyberstar and Orion, AirTV to TerreStar and, most recently, at SkyTerra.
Few attained his level of intellectual originality, professional importance, and peer-group recognition. Dr. Sorbello was both a great theorist, with many inventions and patents to his name, and also a great practitioner, having managed multi-million dollar satellite programs with not only enormous skill but also with understated personal grace. Dr. Sorbello's satellite programs will continue as his living legacy, but equally so will his legacy continue in the hearts and minds of his friends and colleagues.
Dr. Sorbello earned two advanced degrees from Harvard, including his Doctorate in Applied Physics and Mathematics and he had the privilege to study under the late and renowned Dr. Ronold King. He had a unique balance of intellectual competence and business acumen that would result in him being recognized as an industry leader and top performer in the satellite arena.
"He quickly impressed all who came to know him at COMSAT with his intelligence, willingness to tackle new challenges, and his intensity to get the job done," says Dan DiFonzo, a longtime friend and colleague who hired Dr. Sorbello at COMSAT. His colleagues observed that he was one of those rare engineers who understood both the big picture as well as the extremely detailed aspects of his work. His breadth and knowledge extended from the technical, to regulatory matters, to the business aspects of the entire range of satellite development programs.
Dr. Sorbello spent 14 years at COMSAT where his influence and prestige throughout the industry flourished. He enjoyed numerous successes, including development of the world's first commercially viable flat plate antenna for direct broadcast satellite TV reception and management of numerous multi-year multi-million dollar contracts. He then moved to Orion Satellite, where his leadership and immense talents allowed him to play a critical role in the development of Orion's three satellites and management of their major teleports servicing the Americas, Europe and Asia. "Bob's contributions to the design and development of these satellites were integral to the success at Orion," noted Denis Curtin, Dr. Sorbello's supervisor at Orion.
Dr. Sorbello's exceptional leadership qualities as mentor, supervisor and technical expert enabled him to achieve a record of success envied throughout the satellite communications industry. Over the span of his impressive career, he was the recipient of numerous industry patents related to satellite communications and published author in several dozen international technical and conference journals.
When Mobile Satellite Ventures (now SkyTerra Communications) and its subsidiary, TerreStar, was seeking to build a team of satellite engineers, they were privileged to select Dr. Sorbello to lead the effort. "We were elated that we could attract someone of Bob's background. Bob came extraordinarily recommended and had the caliber and capabilities to build and lead and direct our satellite engineering team," said Alexander Good, chairman, CEO, and president of SkyTerra.
When Dr. Sorbello joined MSV and its then subsidiary, TerreStar, a concept of next generation satellites existed, but little had been done on how best to achieve such a result with a satellite based network. Upon his arrival, he took firm grip of the reins to do the detailed technical design work together with the manufacturers and systems partners to turn the vision into a reality. His background and capabilities were perfectly suited for the task.
He eagerly began work and led the contract award process on first the TerreStar satellites and secondly the SkyTerra satellites. At one point, he was simultaneously developing a detailed bid process for the SkyTerra satellites while program managing the early build stages for the TerreStar satellites.
Although Dr. Sorbello did not live to see the launch of the new SkyTerra satellites, he did see the successful launch of the TerreStar satellite. He took a very special joy in watching the success of the TerreStar satellite program as the team recently launched the largest mobile communications satellite ever manufactured. He was so pleased not only with the successful launch but when that satellite successfully deployed its enormous antenna. He had the opportunity to witness the culmination of his early work on this satellite and, would have been gratified, but certainly not surprised, to know that TerreStar has now completed a call from this satellite to a cell phone sized device. The early vision has become a reality.
Dr. Sorbello was passionate about his work, becoming a satellite industry visionary. However, he loved his family even more and that was his first priority. He worked to achieve the right balance between personal and professional pursuits after marrying his beautiful wife Eleanor and raising and spending quality time with his two wonderful children, Natalie and Robert. While generally reserved about matters of family, there is no question of his devotion to his family.
His family recollected that he never missed Robert's soccer games or Natalie's singing/dancing performances. "He was a stellar father, making sure to teach his children the importance of integrity and the value of hard work." Eleanor, Natalie, and Robert noted that he was sometimes regarded as a human encyclopedia, as he always had a robust knowledge in many different subject areas. "Bob had many passions including travel, which entailed taking many family vacations, with his favorite being the family trip to the Grand Canyon. He was always willing to provide help and direction to Robert and Natalie regardless of the particular subject, and was always supportive of their future goals."
Not unlike their father, both of his children are pursuing challenging careers of their own. Natalie is now in dental school and Robert holds a B.S. in Electrical Engineering from Villanova University and plans to enter graduate school at Penn State this fall. Dr. Sorbello was extremely proud of both of them for their academic achievements and for the people they have become.
At the time of his death, Dr. Sorbello was overseeing the development of SkyTerra 1, one of the largest commercial satellites to ever be constructed. The satellite is scheduled to launch in the Fall of 2010. When it does, the mission will be dedicated to Dr. Sorbello and his name will be emblazoned on the rocket carrying Skyterra 1 into orbit. "It is only fitting that we do this, given Bob's leadership, commitment and dedication to ensure that the concept of this satellite system and of integrated networks became a reality," said Good.
While this remembrance is but a small tribute to a man who made such an impact on his family, his colleagues, the satellite industry and to his profession, as in all that Dr. Sorbello did, it is an acknowledgement that has been deservedly earned. He was a wonderful individual who will be deeply and dearly missed by his friends and family.