iDATE examines the threats and opportunities that face the satellite industry, from 2013 through 2017 and offer to assist readers in understanding the digital world that surrounds us. Key findings include:
– TV viewing times are continuing to increase worldwide. Viewers' appetites for services that enable them to personalize video consumption is also growing. Consumers in developed market regions now own multiple devices and want ATAWADAC (Any Time Any Where Any Device Any Content) for their video consumption. The use of a growing number of devices for watching TV/video content is also an apparent trend in emerging markets.
– With the growth of OTT services, Internet on the TV, multi-screen consumption, multitasking and the ability to use the TV and another screen simultaneously, the television sector is experiencing fundamental changes. These changes will mainly affect developed markets between now and 2017, and appear to be bringing about profound changes all along the value chain. But there are still many questions and the number of different players now descending on the television landscape (film producers, channel producers, commercial distributors, technical broadcasters, ISPs, equipment manufacturers, Internet and IT players) means that predicting the outcome of the battle is not an easy one.
– Globally, demand for satellite capacity for transmitting TV/video services is expected to grow between now and 2017, at an average annual growth rate of 4 percent. This market is valued at more than 5 billion EUR by 2017. Growth in demand for satellite capacity for TV/video broadcast is slowing in developed areas. But satellite operators have growth in the TV market to fall back on in emerging markets, which show an increasing number of TV channels being broadcast (SD and HD) and new pay-TV service providers being launched, especially national DTH service providers.
– In the long term, significant uncertainties are likely to raise questions over the way the TV/video distribution market and the overall ecosystem are organized. Satellite operators have several potential growth drivers:
• optimizing satellite capacity to serve emerging market regions, or even acquiring local operators
• lobbying to promote the premium quality of satellite network distribution
• successfully integrating into hybrid architectures and becoming a mainstay of the digital home in developed market regions.
DTH Accounts For The Bulk Of Satellite Industry Revenues
The TV programs and video market is, by far, the most important for the satellite industry. Its market share in the overall satellite services market has remained fairly stable between 2007 and 2011, rising from 76 to 78 percent.
The DTH market has experienced huge growth in emerging market regions, having grown nearly 45 billion USD in just six years. DTH was worth 84.4 billion USD in 2011, worldwide.
Satellite is putting up a decent fight against competing terrestrial TV broadcast networks worldwide. At the end of 2012, its market share was close to 27 percent, showing steady growth on the FTA and payTV distribution market.
However, the situation varies according to the geographical regions studied. The DTH market, and especially that of payTV, showed tremendous growth in many emerging market countries. Thus, satellite is positioned as an essential TV distribution network, having driven growth of payTV in Eastern Europe, in Latin America and Africa-Middle East.
TV Consumption Patterns Are Changing
Average TV viewing times are continuing to increase around the globe. However, TV consumption is no longer just about linear television.
In advanced market regions, characterized by a mature TV market, TV and video consumption patterns are heavily influenced by consumers who have multiple connected devices that allow them to access TV programs and video content.
With such universal levels of equipment, consumers want access to content anywhere and with any device. Mobile and portable devices can be used for both on-demand viewing or in combination with TV consumption as a "companion device"
Rather than physical ownership of content, the important thing for consumers now lies with their access to this content, whether it's linear content, stored on a hard drive or available on the Internet.
In emerging market regions, including the poorest of countries, television is considered an essential piece of equipment. The number of households subscribing to a payTV package is steadily increasing. This is particularly true in Latin America, where the average annual growth rate was close to 20 percent over the 2009-2012 period, while it was more than 10 percent in the Asia-Pacific and Africa-Middle East regions of the world.
The use of a growing number of devices for watching TV/video, especially computers, but also tablets, smartphones and MP3 players, is another consumption trend being observed in these emerging market zones.
With nearly half of all households having only a single TV set, these new patterns allow a basic level of consumption personalization for each of the individuals living in the household.
Media Players Are Adjusting Their TV + Video Strategies
Media players, particularly television networks and content packagers (TV channel packages), are adapting their content and services offerings to better respond to the changing habits of consumers.
In mature markets, OTT SVOD (Over-The-Top Subscription Video on Demand) platforms are being created and should further increase in the coming years, by betting on an improvement in content quality. Substantial investment will be put into exclusive content production, as well as into acquiring exclusive content rights.
To compete against these offerings, traditional media players are betting on on-demand video services (mainly catch-up TV, but also VOD). In addition, their aim is to make their offerings as flexible, interactive and customizable as possible. Multi-screen services, especially aimed at companion devices, as well as interactive applications and personal TV should grow significantly.
TV channels and TV packages are implementing differentiated strategies and have assets that will undoubtedly add value to ensure their positioning on the market.
Television stations with a strong brand image and large audience should maintain, and even strengthen, their positioning on the market. They certainly have the necessary financial resources for creating a wide range of premium content (investment in exclusive rights [especially sports] and film production) and exclusive programs produced in-house (dramas and events): linear TV channels, catch-up TV, VOD and SVOD, interactive services, video streaming, etc.
Quality should be central to payTV players' strategies now more than ever (quality of content offered, image and sound quality, quality of service), helping them to retain existing customers and to attract new ones, thus maintaining their revenues. In the long term, payTV service providers could be persuaded to focus on a narrower range of exclusive premium channels with increased image quality, 4K UHD or even 8K in the future (their own channels as well as international premium channels), and to offer a range of services integrating linear TV channels, on-demand services (catch-up TV, VOD and SVOD) and interactive applications.
Demand For Satellite Capacity For Broadcasting Is Continuing To Grow
Worldwide demand for satellite capacity for broadcasting TV/video services is expected to grow between now and 2017, at an average annual growth rate of 4 percent. The market is estimated to be worth more than 5 billion EUR in 2017 (an annual average growth of about 3 percent of market revenue over the period).
Growth in demand for satellite capacity for distributing TV/video is mainly driven by:
– Growth in the TV market in emerging markets, which show an increasing number of TV channels being broadcast (SD and HD) and new payTV service providers being launched, especially national DTH service providers.
– Growth in high definition TV channels, free and paid, in all geographical regions (accounting for more than 20 percent of channels broadcast worldwide by the year 2017), assuming that SD/HD simulcast should continue over the 2013-2017 period: in total, more than 7,000 HD channels should be available worldwide in 2017 (compared to just under 5,000 in 2013), 40 percent of which in North America.
– Increasing availability of ultra HD from 2015 onward, with the launch of the first test channels, then marketing of the first UHD channels, mainly in developed regions but also in the most advanced countries of emerging market regions. The impact in terms of additional demand for satellite capacity for broadcasting these channels is still speculative for the 2013-2017 period (20 UHD channels worldwide by 2017), but these new services will be a significant growth driver in the long term.
Satellite Operators Have Solid Growth Drivers In The Long Term
In the long term, there are significant uncertainties that are likely to raise questions over the manner the TV/video distribution market and the overall ecosystem are organized.
However, satellite operators have several growth drivers to fall back on that should allow them to maintain their positioning on the market and preserve their TV/video business.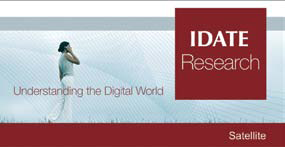 To optimize available satellite capacity in emerging market regions and to cater to growing needs, satellite operators are planning to launch new satellites and are also reallocating satellite capacity. Acquiring satellite operators already positioned on these emerging markets is also an immediate way for a satellite operator to expand quickly through external growth.
In developed markets, faced with the technical limitations of terrestrial networks to provide enough bandwidth to deliver very high resolution images (apart from satellite, only FTTx networks are able to provide true ultra-high definition video), satellite operators have the chance to promote the strengths of their networks, including coverage and quality of service.
As with the launch of HD television, and more recently 3D channels, satellite operators will be the first to experiment with UHD TV channels.
Moreover, the major challenge for satellite operators will be to successfully integrate into hybrid architectures and to reflect on the most effective solutions to meet the needs of the digital home. In effect, the challenge is to successfully transition from a linear TV world, in which satellite excelled, to a world of on-demand and interactivity, in which it will have to offer value-added solutions for both the media players and the viewers.
To acquire additional information regarding IDATE research, please visit http://www.idate-research.com/

About the authors
Stéphanie Villaret joined IDATE's Marketing and Strategies Department in 1998. After several years in the Media Economics Division as a Senior Consultant, then as a Director of Studies, she is currently Co-Head of the Satellite Practice in the Telecom business unit. Stephanie works primarily on reports concerning the satellite industry, but also deals with the analysis of consumer ICT usages and services. Ms. Villaret is a graduate of the Institut National des Télécommunications, with a major in Information and Communication Technologies Applied Marketing, and holds a Masters Degree in Management Sciences (1997).
She may be reached via her email address: s.villaret@idate.org

Maxime joined IDATE as a senior consultant in April 2006. His main area of endeavour is monitoring the satellite industry, the telecommunications services market and operator strategies. Before coming to IDATE, Maxime worked for two years for Aon Explorer, a strategic consulting firm specialized in the space industry, where his work focused primarily on industrial analysis of satellite telecommunications for space agencies and the sector's equipment providers. Mr. Baudry holds a Masters degree in Technology & Management (Ecole Centrale de Paris), and is a graduate of the Ecole Multinationale des Affaires/Multinational Business school (E.S.C Bordeaux & Fachhochschule Münster's ERASMUS program).
He may reached at his email address: m.baudry@idate.org