As the satellite industry continues to be marked by uncertainty, service providers are looking for solutions which deliver increased efficiency and performance in order to maximize their businesses' potential.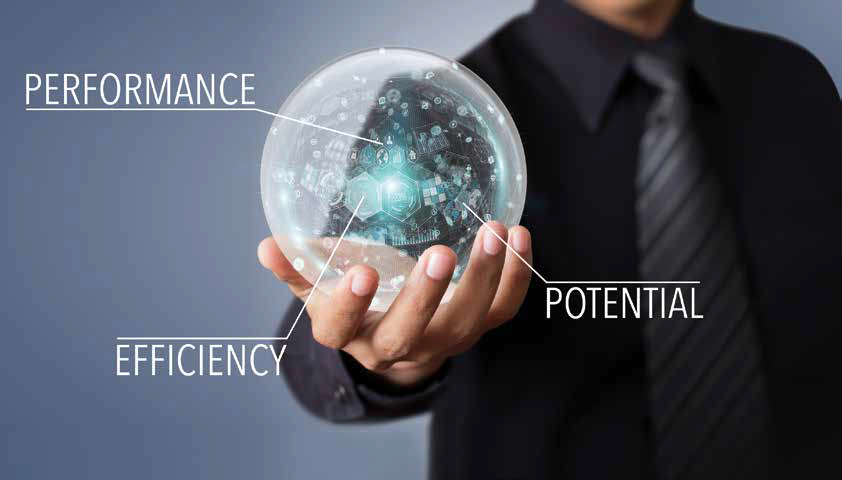 This applies during every phase of satellite network implementation — even before it begins, service providers have many difficult decisions to make. During this planning phase, there are so many unknowns which must be addressed, with every single one having a possible impact on the business potential.
Fast-forward to when the satellite network is up and running, and there are still options to consider as the network grows, new technologies emerge, and the business and market conditions change. While the best solution to this challenge might be a crystal ball, a more realistic option is to choose technologies which deliver the highest efficiency and performance, and enable the business potential of the network to be analyzed for maximum return.
Maximizing Potential
When launching a new service, early insight is perhaps one of the most important elements to ensure operators are aware of the return on investment through potential areas of growth will bring and how this insight can be maximized.
Targeting new markets comes with many unknowns; what technologies should be used and how will they impact the service plan? Which satellite will be used? What will be the satellite's characteristics? What profiles will be offered to customers? And so on. To cope with these different levels of the unknown, Newtec has developed the innovative Satellite Network Calculator (see the infographic on the previous page) to give customers the power to analyze performance and evaluate potential gains to be made by their satellite network in any market.
If the satellite to be used is not known, this tool allows operators to see how different elements of the network would affect bandwidth consumption and, therefore, cost and capacity. If the satellite is already known, the calculator can make detailed analysis and indicate what types of terminals could be used for certain service profiles to give an idea of the overall cost. Providing unparalleled depth of analysis, the Satellite Network Calculator can be used from the planning stage of a new network, all the way up to optimizing and implementing an established network.
This is a particularly relevant tool for the industry in light of the new satellite transmission standard, DVB-S2X. The exact benefits this new standard can bring to specific applications is still unknown by many operators, despite the vast amount of communications on the subject. DVB-S2X uses finer granularity for MODCODs; that could mean service profiles can be provided with higher availability or it could mean the coverage area can be extended, but the exact impact on each individual network and any secondary benefits are not clear prior to installation. Now, with the Satellite Network Calculator, the outcome of a DVB-S2X implementation can be shown for specific customers and use cases.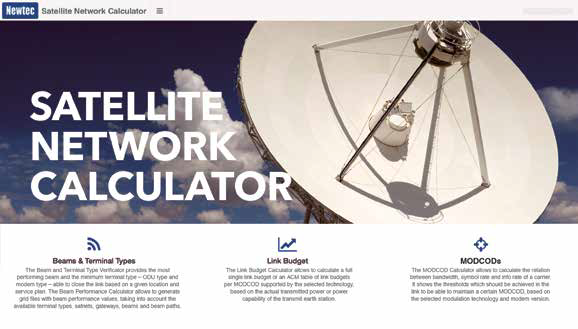 The application of Newtec's award-winning, dynamic Mx-DMA® bandwidth allocation technology can also be demonstrated through the Satellite Network Calculator, with one customer in the maritime sector seeing a 36 percent gain in capacity.
Due to the higher throughputs cellular backhaul now requires, mobile operators can now see how the application of this dynamic bandwidth allocation will impact the network and, therefore, optimize their businesses.
Effortless Efficiency
Optimum efficiency and performance are also key to success and new satellite solutions continue to emerge to address these areas. Here, the mobility market is a particular area of focus, as cruise ships and super yachts push the limits of existing satellite platforms. With thousands of users onboard, some of these vessels are like floating cities, consuming hundreds of megabits of bandwidth as they move around the world.
As customers' demands in this area shift from basic connectivity to always on, high-speed and capacity broadband, the advent of High Throughput Satellite (HTS) networks promises more bandwidth at lower costs for mobile VSAT operators. However, maximizing the benefits of these new satellites will require some important changes on the ground. To meet the demand for on-the-move communications, ground segment equipment must be able to switch seamlessly between different satellite beams. Previously, this process didn't take into account additional metrics, for example, route planning, but solutions have now evolved from doing basic switching to a more sophisticated switching logic.
The Newtec Dialog® Mobility Manager, for example, incorporates a rich set of APIs to provide unprecedented control over beam
switching logic, facilitating network load balance, low-cost routing and regulatory compliance.
Sharing capacity brings further efficiency gains, with the maritime world bringing various traffic dynamics to address. Ships in the harbor, for example, require different services to ships at sea, where there is a lot of dynamic traffic. Here, our dynamic Mx-DMA technology can share a certain amount of satellite capacity over different ships and provide the capacity needed at a certain moment in time. This results in high efficiency gains because there is no need to provide fixed, dedicated pipes for every ship.
Premier Performance
The need for shared capacity and higher speeds is also related to performance and with the increasing demand for high throughput from cruise ships, the performance of modems within the network is key. Operators should look for modems which fully support DVB-S2X and provide a choice of return technologies to ensure the best performance for all applications.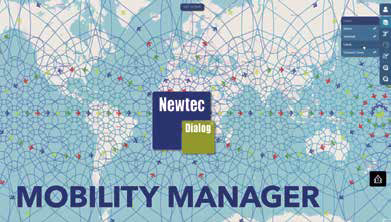 At Newtec, our DVB-S2X Wideband Modem portfolio fulfills these demands but also brings the added benefit of wideband. This implements more MODCODs, increasing the granularity and gain, but also enables 500 Mbaud capabilities for transmitting DVB-S2X. This is important as HTS introduces 500 MHz transponders. Using wideband to separate the transponder gives a 3dp gain, which equates to about 10 percent more throughput.
The need for shared capacity and higher speeds is related to performance and with the increasing demand for high throughput in mobility, the performance of modems within the network is key. Operators should look for modems which fully support DVB-S2X and provide a choice of return technologies to ensure the best performance for all applications.
Intricate Insight
As the satellite industry continues to evolve, these new tools will become more and more essential in order to help customers realize areas of growth and maximize the full potential of their businesses.
Those involved in the satellite industry are correct to be mindful of new standards; however, the unknown is scary and Newtec's tools help customers uncover the huge gains that can be achieved with these new standards and technologies. While it is true there is no crystal ball, intricate insight in the planning phase and throughout, the lifespan of satellite networks is improved, allowing various scenarios to be tested before implementation.
With tools which enable this, we will continue to encourage our customers to aim high and push the limits of both their businesses and the satellite industry as a whole.

Bart Van Poucke, VP Product Management, joined Newtec in 2010 as product manager for Sat3Play, a broadband access platform by Newtec for B2C and B2B connectivity. Later on, he was responsible for the Newtec Dialog multiservice platform. In 2016, Bart became VP Product Management.
Bart obtained his electrical engineering degree at the KIHO in Gent, Belgium, in 1996. After several years at Siemens Private Networks, he joined the imec in Leuven, Belgium, to work in wireless R&D. In 2006 he moved to business development at imec to drive, expand and coordinate business generation in the field of smart systems.
---