The events of the afternoon of March 11, 2011, will remain in the hearts and minds of people everywhere for a long time. The earthquake, which registered 9.1 on the Richter scale, set in motion a turn of events that resulted in a 10 meter tsunami hitting the shores of Sendai in the Myagi Prefecture of Japan which, in turn, caused a nuclear disaster at the Fukushima power plant. Currently, more than 27,000 people are dead or missing. Infrastructure in the northeastern part of Japan has been completely destroyed, and the road to recovery is set to be long and hard for the Japanese people.
Anver Anderson
, VP Asia of Newtec, and
Richard Walshe
, Business Development Manager of Newtec, were in Tokyo on that eventful day with
Makoto Ozawa
, Moubic's President, with
Tomohiro "Tommy" Asahina
, and
Masaru "Masi" Suzuki
, Moubic's Divisional Sales Managers — they had planned to conduct an ordinary series of business development meetings.
Shortly after the disaster occurred, it was clear from the outset the telecommunications networks were strained beyond their normal maximum limits. The emergency services secured most of the available telephone bandwidth for proper control and coordination purposes and, of course, the general populous used up what was left in their attempts to call or text their loved ones to give them — or to seek — reassurance.

It was not only the telecommunications infrastructure that was affected. Road, rail, and air services were drastically congested. This meant "just in time" deliveries of food, water, and supplies were greatly hampered. The telecommunication networks had to be restored to enable all of these "normal" daily activities to return to operational status. It was also essential to get the story out to the rest of the world to galvanize governments, aid agencies, and the populations of the world, to assist Japan to cope and recover from these disasters.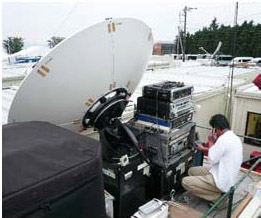 It was impossible to do anything for the first day or so. Many roads leading to the stricken area were damaged beyond immediate repair, so that we were unable to drive available SNG (satellite news gathering) equipment into the disaster zone. By March 16th, the Moubic SNG equipment was finally deployed on behalf of the European Broadcasting Union (EBU) in an office building parking area in Minato-Ku, Tokyo.
Moubic has several SNG rigs; two vehicle mounted Vislink Newswifts, and one Vislink (Advent) Mantis, each equipped with Newtec equipment. The vehicle, operated by Tommy Asahina, was positioned to allow reporting from the balcony of one of the surrounding buildings. Some technical and coordination difficulties were encountered due to the urgent nature of the deployment, and there were some delays in getting everything "up to speed".
However, as all good field operators manage to do, all of the necessary elements were finally pulled together for the crucial transmissions. Booking and coordinating a satellite space segment was no simple task, either. The installation of a multiplexer SD-SDIx3, however, worked mercifully swift.
Transmissions were generally scheduled between 1900 hours and 0300 hours, which made for a tiring and gruelling schedule of operation that continued for six days. One telling problem was the lack of food and water in the local stores, as well as a lack of fuel for the vehicle. All of this had to be brought in from some distance away and in bulk, so it lasted for the period of the deployment.
On the 24th, the SNG van was redeployed to Ishinomaki City, Miyagi. This site was much closer to the disaster area, but the vehicle was positioned in a location that had remained untouched by the tsunami. Live reporting and tape play outs continued from the site, but the journey to this new location was severely hampered as the highway to Tohoku provided extremely limited access and authorized vehicles (such as police, fire services and rescue coordination as well as food and water delivery) were given first priority.
Understanding the mandatory need to show the world what was happening, the police provided Moubic with a much-needed license to travel and operate.
Once again, without food, water or hotels, the crew had to ensure that sufficient provisions were taken with them — just as they had in Tokyo. EBU reporters were sleeping in tents, with Tommy sleeping in the SNG van as temperatures outside plummeted to -4C. "It felt like a winter camp," he said. "The operation was relatively straight forward, but the conditions were so harsh." Fortunately, there were toilet facilities in a refuge center, but that was some distance away.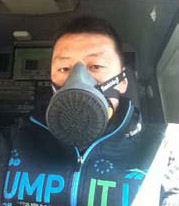 In addition to all of this, the erstwhile team of operators and reporters were required to wear special masks and to take kalium iodide to protect them against the threat of nuclear radiation.
"It's always a good thing when you have reliable equipment that you have been using for some time and are very familiar with operating," said Makoto Ozawa, "but there were some logistics which were beyond ours, or anyone's, control during the period.
These were terrible, the three (earthquake, tsunami and nuclear crisis) events we were covering for the EBU — such a multiple disaster had never been seen anywhere else in the world to date."
Moubic continues to provide SNG and telecommunications services to its direct customers all over Japan and its teams of operators and logistics coordinators remain at the disposal of broadcasters, telecommunications operators, government agencies and disaster relief workers. In particular, Moubic is providing a vital service to help ensure a swift recovery from the turmoil that Japan continues to suffer through, and will, for some time to come.