Smarter Utilities
VT iDirect, Inc. (iDirect) and Pike Research have released a new white paper on the role of satellite communications for smart meter backhaul in the utility industry.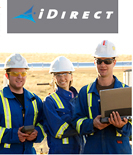 The report examines the growth of smart meter backhaul communications and how satellite has evolved to meet the challenges of this important segment of the emerging smart grid.
In the white paper, Bob Gohn, Chief Research Director, highlights multiple areas where IP-based satellite technology offers strong differentiation including: geographic reach, performance, reliability, and security. Additionally, the paper discusses how satellite has become more cost-effective with recent technology innovations that optimize the use of bandwidth and provide higher speed connectivity to meet the growing data demands of the energy and utility market.
Among the key items highlighted in the Pike Research paper were the following:
– Pike Research estimates that over 50 million smart meters will be deployed in North America by the end of 2012, with as many as four times this number installed across the rest of the world. By 2020, smart meters are expected to make up nearly 70 percent of North American electricity meters


– Satellite's geographic reach makes it suitable choice for AMI backhaul and Distribution Automation (DA) deployments, which represent the most ubiquitous smart grid applications across a utility's service territory

– With a roundtrip latency of 600 milliseconds, satellite connectivity offers a viable solution for the majority of AMI and DA applications and compares favorably with mesh technologies used within the smart grid

– Newer satellite technologies such as the Digital Video Broadcasting Standard (DVB-S2), adaptive coding and modulation (ACM), and advanced forward error correction schemes enable highly reliable communications in all kinds of weather

– Private satellite networks offer robust security benefits, including advanced encryption and authentication, alleviating concerns often associated with public cellular networks
"Thanks to advances in satellite technology, as well as reduced pricing for both the equipment as well as monthly service, satellite communications has emerged as a viable and attractive means of connectivity for many smart grid applications, particularly smart meter backhaul. This information will be especially helpful for utility network designers as they work to maintain coverage across the entirety of their service territory without sacrificing performance."
—Bob GOHN, Chief Research Director, Pike Research
"As they build out the Smart Grid, utilities are increasingly turning to satellite technology to meet a wide range of communications applications, from SCADA monitoring to smart meter backhaul. iDirect has taken a leading role in educating the utility industry about the benefits of today's satellite solutions, partnering with Pike Research and other leading institutions to investigate emerging smart grid trends."
—Toni Lee Rudnicki, Chief Marketing Officer, iDirect
* * * * * * * * *
Land Surface Exams
MacDonald, Dettwiler and Associates Ltd. (TSX: MDA) has announced that the U.S. National Geospatial-Intelligence Agency (NGA) has exercised a one year option valued at US$4 million to continue the provision of apparent changes in land-cover anywhere around the globe.

MDA will deliver changes for more than 100 million square kilometers of the Earth's land surface.
Overlaying satellite images from multiple dates, MDA's sophisticated software identifies changes in land-cover that persist regardless of seasonal changes or weather effects. Changes identified are typically caused by human activities.
Knowing where these changes occur allows the analyst to focus only on the areas of change when updating global map databases. This allows map updating to be done more frequently in rapidly changing areas and less frequently elsewhere, significantly improving the customer's efficiency.
* * * * * * * * *
Fear Not For C-Band
NSR's latest assessment for global C-band transponder demand trends, from its Global Assessment of Satellite Supply & Demand, 9th Edition study, predicts that total, worldwide C-band demand will drop by approximately 190 TPEs (36 MHz transponder equivalents) between 2011 and 2021

As the chart below shows, global C-band transponder demand is predicted to remain relatively stable/increase slightly between 2011 and 2016, and then demand will begin to drop off from 2017 onwards.
The immediate industry reaction to such a forecast is typically a mix of consternation, denial and concern. However, a closer examination of the individual C-band application trends illustrates that this forecast is no more or less a compilation of well known industry trends.
First, no one in the industry will deny that legacy services such as point-to-point telephony and carrier demand have long been ceding to expanding fiber and undersea cable.
The same applies to IP trunking as the arrival of new undersea cables to Africa began impacting IP trunking in that region in 2010 just as has occurred in other regions like Asia and Latin America in years past.
Further, new technologies such as Adaptive Coding and Modulation (ACM) are becoming more and more accepted even in many regions where rain fade is important.
This trend is leading to a migration of former C-band VSAT networking services to Ku-band and even Ka-band in some instances. A similar trend is also underway in the gov/mil market as well as SNG services as heritage C-band provisioning moves to newer Ku and Ka-band services.
In all of these examples, the entire industry realizes that this is not the death of C-band, just a gradual transition to Ku-band, widebeam Ka-band and HTS.
In NSR's view, the same realization will soon occur for the C-band backhaul market. Through 2016, NSR predicts steady C-band transponder demand gains for backhaul services as cellular networks continue to expand and other factors, such as government obligations on telcos, push mobile phone services into lower and lower density markets. C-band remains the global standard for cellular backhaul, but primarily for 2G, voice dominated services.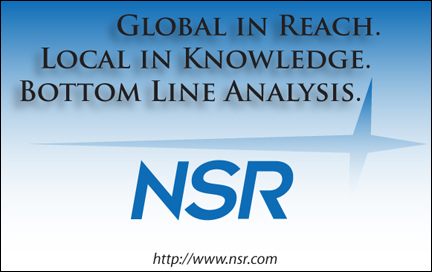 Once one attempts to apply classic SCPC C-band to more advanced mobile phone networks such as 3G and eventually 4G services, the value proposition for C-band begins to break down.
It is NSR's strong belief that as of 2015 there will be a significant migration in the industry to new satellite backhaul services primarily based on lower cost HTS capacity as well as new alternatives such as O3b.
Just as with legacy telephony & carrier, IP trunking and VSAT, a slow steady migration away from C-band will begin to occur.
Yet, all of the above trends are related mainly to fixed data and voice-type applications. The single biggest market for C-band is video distribution. Growth in channels of all flavors, be they SD, HD, Ultra HD or 3D, will continue in all markets around the world, and this will drive future C-band transponder demand gains.
In particular, the well established C-band video hotspots serving each regional market will tend to grow ever more in value.
Further, the C-band commercial maritime market, while relatively small in demand terms, will also see further demand gains as large global and regional C-band beams bring real value to this mobility segment.
Change in any market is inevitable. Just as the industry came to accept that legacy telephony & carrier, the dominant application in the 70s and 80s, ceded to fiber and undersea cable, so will the same realization that C-band backhaul will, too, eventually cede to more cost effective solutions.
The key is that overall the industry continues to be inventive and finding ways to maintain the backhaul revenues even if new types of capacity like HTS or O3b come to the fore. But fear not, the one unassailable C-band application remains video.
The large coverage areas and high-quality transmission characteristics of C-band continue to make satellite one of the single best and most cost effective transmission technologies for video.
As channel bandwidth gets larger as the broadcast industry moves to HD and eventually Ultra HD (plus whatever comes after), satellite's place in the market is even more secure because, outside dense urban cores, there will be no more cost effective way to transmit this content.
Analysis by Patrick French, Senior Analyst, NSR Singapore
* * * * * * * * *
South America Is Uplifting
In the central Andes mountains, satellites have detected ground deformation under way above a major subterranean magma body.
The Altiplano–Puna volcanic province is part of an active volcanic arc in South America's central Andes. Extending through Peru, southwestern Bolivia, Chile and northwestern Argentina, it is home to a number of large calderas formed following catastrophic eruptions.
Beneath the surface of Altiplano–Puna, about 17 to 19km deep, lies the largest known active magma body in Earth's continental crust. Satellites show that the ground in this area has been rising by about 10 mm per year over the past 20 years.
In a study published in Science, scientists used radar data from the ERS and Envisat missions to study an unusual uplift near the Uturuncu volcano, which had been dormant for 270,000 years.
The surrounding area, however, is sinking at a slower rate of about 2mm per year. With the wide-brimmed hat-like shape this creates, the study team has nicknamed this the 'sombrero uplift'. The deformation is attributed to a ballooning of a buoyant volume of molten rock at the top of the Altiplano–Puna magma body. The authors suggest that much of the melt is being withdrawn from the adjacent parts of the magma body, causing the peripheral subsidence.
The ground deformation was measured using Interferometric Synthetic Aperture Radar— or InSAR—a remote sensing technique where two or more radar images over the same area are combined to detect slight surface changes occurring between acquisitions. Changes on the ground cause changes in the radar signal and lead to rainbow-colored interference patterns in the combined image, known as a 'SAR interferogram'.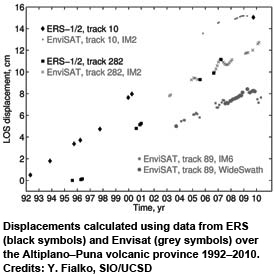 In 2006, the study team asked ESA to task the ERS-2 and Envisat satellites to acquire more data from the northbound and southbound orbits over Altiplano-Puna.
"It was really important to have good data from different lines-of-sight, as this allowed us to estimate contributions from vertical and horizontal motion of Earth's surface, and place crucial constraints on depth and mechanism of the inflation source," said Yuri Fialko, Professor of Geophysics at the University of California San Diego and lead author of the paper.
"Back in 2006, it looked like the satellites stopped acquiring data from the ascending orbits over the area of interest. Fortunately, ESA was very responsive to our requests, and generated an excellent dataset that made our study possible."
* * * * * * * * *
A Private Affair For Russia
The first Russian satellite, manufactured by a private company for private funds will be put into orbit in 2014, most probably onboard the "Progress" state-owned cargo vehicle—so believes "Sputniks" General Director Andrei Potapov.
"Sputniks" is the branch of ScanEx RDC that in November 2011 became a resident of the Skolkovo Center in Moscow. The company plans to create small-size space vehicles of 12 to 50 kilograms.
"Within two years we plan to build our own satellite which will be the technological demonstrator to test and fine-tune the systems. It will be used for solutions of applied tasks in limited mode, for example for Earth surface imaging at 50m resolution," said Andrei Potapov in his interview with RIA Novosti.
Creation of micro- and nano-satellites is not news. Such vehicles are created around the world by private companies and universities. For example, five CubeSat standard satellites are to be launched from the Japanese Kibo module of the ISS (one of them was manufactured by Vietnamese radio fans).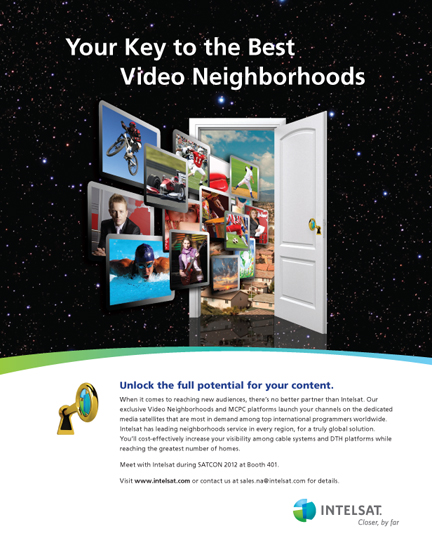 Universities such as Bauman MSTU and Lomonosov MSU have already been engaged in the manufacturing of micro-satellites in Russia. However, the micro-satellites that the "Sputniks" company plans to launch will truly become the first private Russian spacecrafts.
"Those are very small and cheap satellites, but they are capable of solving different applied tasks and will become a part of the space industry, a part of market economy," said Andrei Potapov.
"Sputniks" specialists are planning to design their own space platform, a unified module upon which a customer will be able to "put together" a customized space craft. One basic module—a hexagonal "tablet" named TableSat—can be connected with other similar modules.
"We have been designing our own original contraption, having no parallel in existing projects. Nowadays we have been developing service systems that can be later on assembled into our own platform," said Andrei Potapov. He believes that future "tablet" satellites will also operate for Earth observation purposes at medium resolutions of 10 to 50 meters. Such images are useful for studying crops' status, forests (e.g., in search of illegal loggings) and other needs.
"The idea is to launch a wide scanning camera onboard the microsatellite, which will ensure the imagery within the swath of around 600km at the medium resolution. This will allow taking images of large territories and then, in certain intervals, doing comparative analysis of images to assess changes and to receive updated information about the condition of territories in our country," added Potapov.
These vehicles will be similar to the UK-DMC2 small-size satellite, developed and produced by the British Surrey Satellite Technology Limited (SSTL) company.
"I think that in three to five years from now, large private space firms may appear in Russia—in some industry sectors, they will be able to even compete with leading Roscosmos enterprises," concluded Potapov.
* * * * * * * * *
Satellite Detection Service Testing OK'd In Kuwait
Canadian Oil Recovery and Remediation Enterprises Ltd. has been successful in securing a pilot contract through Ecotecnos with Kuwait Oil Company ("KOC") to test its satellite detection service.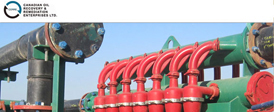 As announced previously, CORRE has secured the exclusive right to market a satellite detection service which generates accurate visual definition, assessment and measurement of oil lakes, sludge pits or specific oil leaks up to 150 feet underground in order to allow an indepth analysis of clean-up project costs and to better understand the scope of the environmental damage.
The main objectives of the pilot project are proving the effectiveness of the technology to KOC as well as demonstrating how the technology produces an enhanced understanding of the environmental contamination before tendering projects.
A 2D image produced by Ecotecnos will allow KOC to better understand the scope and cost of tenders by better defining the work needing to be done to remediate the entire area up for bid.
Tenderer and bidding parties will both know the depth and density of the contamination, whether there are foreign objects within the contamination such as land mines and the biological makeup of the ground, thus creating a more efficient tendering process for KOC.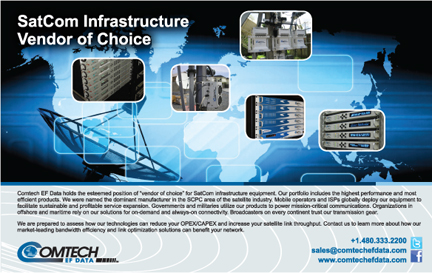 The signed agreement has KOC assuming all costs and will involve Ecotecnos validating the technology to a depth of 1.5m.
This is the first step in a process that, if successful, will allow CORRE and Ecotecnos to move forward with large scale contracts in the Middle East, North Africa, United States of America and Canada.
The satellite detection service will provide CORRE with an auxiliary revenue stream and an additional service which can be provided in unison with its oil remediation services or on a stand-alone basis.
"I believe this will be a successful technology which has the potential to be a game changer in how KOC and other similar companies will write future tenders. In Kuwait, Ecotecnos' technology can redefine the tender evaluation process for remediating the approximate 6,000 oil pits and Kuwait oil lakes which will be up for public bid over the next decade along with other remediation opportunities in areas of the Middle East and North Africa", said John Lorenzo, CORRE's CEO and Chairman.
* * * * * * * * *
Space Education A Key To The Future
Educators, who effectively use space themes to inspire students and strengthen lesson plans, have a great opportunity for additional support from the nation's premier space advocacy organization.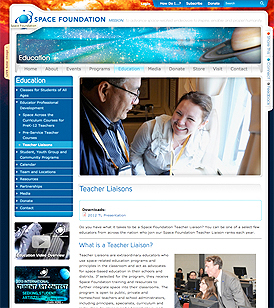 The Space Foundation is now accepting applications for its 2013 flight of Teacher Liaisons. This will be the 10th year of this prestigious, nationally recognized program that provides an honored few educators numerous benefits and privileges, helps strengthen their teaching skills, builds résumés and influences education at a national level.
Pre K-20 teachers and other professional or informal educators in the Pre K-20 arena are eligible to be Space Foundation Teacher Liaisons.
Teacher Liaisons tend to be Master Teachers who want to inspire the next generation of students to pursue and excel in the areas of science, technology, engineering and math (STEM).
Teacher Liaisons do not need to be science or math teachers; they need only to have a desire to integrate space education within their curriculum.
Space Foundation Teacher Liaisons serve as active links between the Space Foundation, NASA and their schools and school districts.
This influential role includes numerous benefits, privileges and activities such as special recognition during the 29th National Space Symposium, to be held at The Broadmoor Hotel in Colorado Springs, Colorado, April 8-11, 2013.
There is no fee to apply, or membership cost.
* * * * * * * * *
The Controller Factor
Antenna designer Winegard, has rolled out a new VSAT Integrated controller that neatly stores an iDirect Evolution® X5 or iDirect iNFINITI® 3000 modem inside the controller housing.
Other popular VSAT platforms also are compatible with the new controller, including HughesNet™, Spacenet
®
, Comtech
®
and Nera, minus the integrated feature of storing the modem inside the IDU casing.
The new Integrated Controller is completely universal and backward compatible with all other Winegard VSAT antenna systems. It comes equipped with built-in DVB (digital video broadcasting) receivers and GPS.
The Integrated controller holds CE certification for international use. Winegard VSAT antenna systems and controllers are operational worldwide, including the countries of United Arab Emirates, South Africa, Russia, Iraq, Pakistan, Saudi Arabia, Scotland and Columbia.
Winegard introduced the new controller at the OilComm Show held in Houston, Texas, that was held from November 6th through the 8th.
* * * * * * * * *
Taking To The Air
OnAir and Honeywell have signed an agreement making OnAir the distributor of Inmarsat's Global Xpress Ka-band aircraft connectivity services to the business and general aviation segment.

The five-year agreement gives passengers access to high-speed, in-flight wireless broadband. Geneva-based OnAir already distributes this technology to commercial airlines.
Ian Dawkins, OnAir CEO, said, "This contract reflects a revolutionary trend that the passengers are demanding—to use their devices in the sky just as they do on the ground. It is essential to be at the forefront of providing the passengers and crew with what they need: inflight connectivity."
OnAir's in-flight mobile phone and Wi-Fi products can be used across the world, over both land and water. OnAir has a unique network of regulatory authorizations from over 80 countries and more than 350 roaming agreements with mobile network operators.
Inmarsat Global Xpress Ka-band will be available to all business and general aviation aircraft types from early 2015.