CES in Las Vegas in January was, as usual, chock-full of the latest gadgets and gizmos. Most of the items on show will never see the light of day, but the world's electronics giants were all showing 8K TVs.

These TVs will be in the retail stores this spring and analysts from Strategy Analytics are forecasting that by 2023, some 600 million of us will own a 4K UHD display — by 2023, some 6 percent of the world's UHD-TVs will be able to handle 8K.
These 8K displays offer 16 times as many pixels as an 'ordinary' high-definition TV (7680 x 4320 = 33.2 megapixels). This new technology is cool and highly desirable — provided that 8K prices are manageable.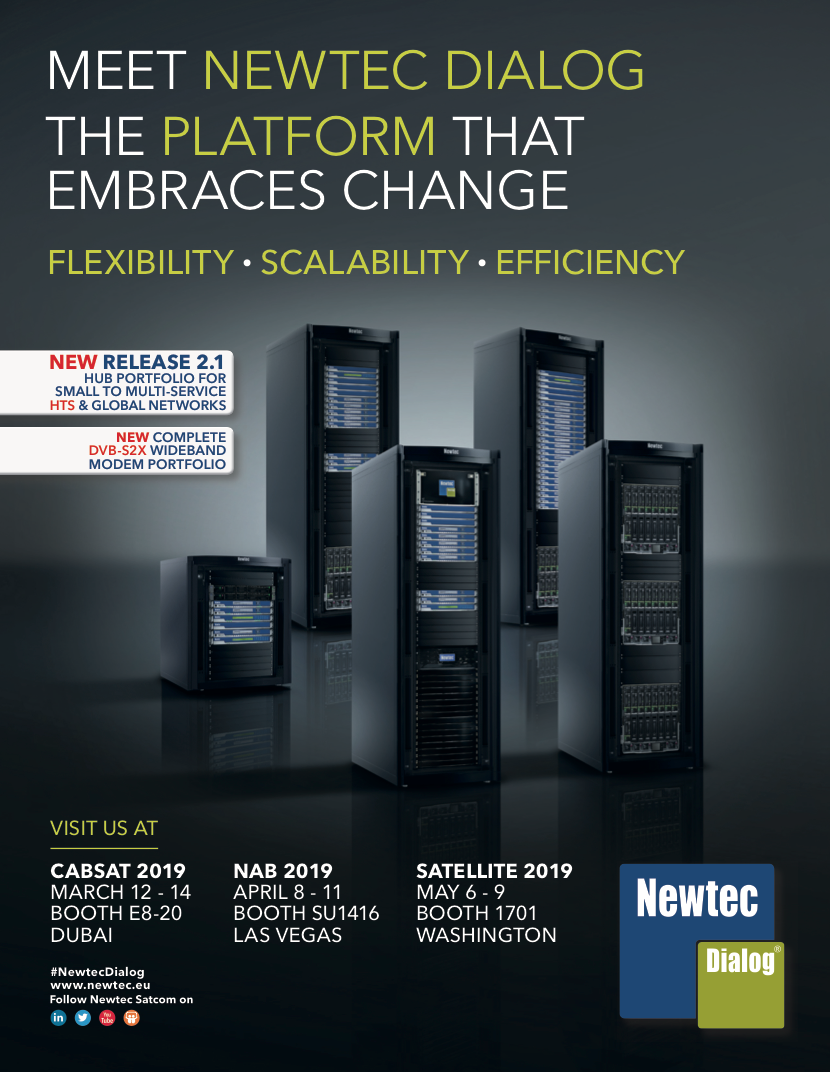 Those of us (like me) who purchased large panel HD Plasma sets when they were first launched (idiots!) paid small fortunes for the right to possess such units. Then, it was an identical maneuver with 3D TVs (idiot again), when high prices were charged by the manufacturers.
Undoubtedly, some will buy into 8K today (not quite idiots — yet) and will get their hands on super-sleek models that are capable of beautifully upscaling existing 4K material.
The adoption of 8K — other than in Japan and perhaps South Korea — is not currently expected to be more widespread. Even most Chinese buyers seem content to stick with 4K, although Statista states that China will be the largest market for 8K displays.
Most analysts expect some traction with 8K, if only in sports production where the extra pixels make it easier for program directors to zoom into an area of play, much as they did initially with 4K on and around the sports ground. This could represent valuable extra bandwidth demand for the world's major satellite operators.
Indeed, drill down into Strategy Analytics numbers and their 6 percent forecast represents about 400,000 8K units to be sold in 2019 and approximately 11 million units sold annually by 2023.
As far as North America is concerned the study reports that 3.9 percent of UHD homes will own an 8K set by 2023 and slightly more in Asia, where 4.1 percent is the expected rate, although only 1.7 percent in Western Europe.
"The success of Ultra HDTV has been driven by technology adoption rather than content and services," says David Mercer, Principal Analyst at Strategy Analytics and the report's author. "4K video and TV services are now becoming more widely available, meeting the expectations of 4K Ultra HDTV owners for the best quality TV experience. But our expectations for 8K services should be cautious: while Japan has now launched 8K TV in preparation for the 2020 Tokyo Olympics, the rest of the world will be slower to follow suit, given that the number of homes with 8K-ready TVs will remain low until the mid-2020s."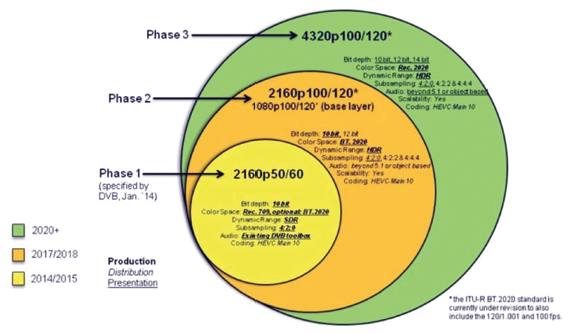 The 4K road-map, and beyond...
"Owners of 8K TVs will primarily be watching 4K and HD content, while the TV's image processors will do a good job of scaling most content to give impressive images," explained David Watkins, Director at Strategy Analytics. "Amidst the excitement surrounding 8K TVs, it is important to remember that image resolution, whether native or otherwise, is only one element in perceived video quality, and TV vendors and content players alike should not lose focus on other important drivers of consumer satisfaction, such as High Dynamic Range (HDR) and High Frame Rate (HFR)."
The data also confirms a dramatic trend in consumer buying habits — ever-larger screens are, indeed, being purchased. For example, although overall UHD TV shipments in Q3/2018 were flat compared to the previous year, the average TV unit-shipment screen size increased more than in any previous quarter in more than a year, according to critical information analysis firm IHS Markit.
While strong seasonality from promotions for the World Cup raised TV unit sales more than 7 percent in the first half of 2018, Western Europe, Latin America, and the MENA region all experienced double-digit TV shipment year-over-year (y-o-y) declines in the third quarter.
Global shipments of 60 inch and larger TV screen sizes increased more than 40 percent, y-o-y in Q3/2018, with even stronger growth in North America and emerging markets as prices fell to new lows for the 65 and 75 inch screen sizes. This growth rate is more than 10 percent higher than in recent quarters, said IHS.
"Each year during the holiday shopping season, brands and retailers try to push ever larger screen sizes to keep revenues growing and encourage adoption of value-added features like 4K and smart TV," said Paul Gagnon, research and analysis executive director, IHS Markit. "This year, there's higher interest in 65-inch 4K TVs for many of the key promotional deals, leading to less focus on smaller screen sizes under 50 inches."
Growth in larger size TVs leads to a rising share of 4K resolutions as larger sizes have already largely completed the transition from 1080p to 4K. In fact, the share of 4K TV shipments in the third quarter reached a record high of nearly 44 percent.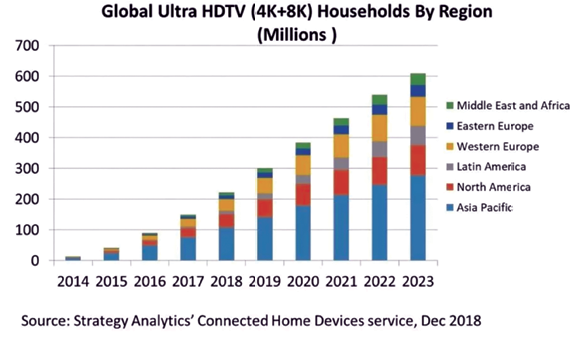 Due to sustained premiums and larger average size, 4K TVs comprised more than 71 percent of all TV revenues during the quarter. 8K TV shipments remain small, said IHS, adding that the company expects additional brands to start shipping 8K TVs by early 2019.
Prices of 65 inch 4K LCD TVs fell to an average of $1,110 in North America during the third quarter, from $1,256 in the previous quarter. In China, the average price of 65 inch TVs was even lower — just $928, after already falling below $1,000 in the second quarter.
Xiaomi and other brands have aggressively pushed prices lower as competition intensifies in China. In other regions of the world, prices were considerably higher for 65 inch 4K TVs, due to less intense retail competition and a smaller addressable market.
The Usual Suspects
All the major Japanese and South Korean electronics companies used CES to showcase their latest models, and some are arguing that yesterday's 60 and 65 inch versions are now considered "small" in size and definitely old fashioned. Indeed, some major names are now using 98 inch screens as their flagship models that are more than equal to the screen size of most home projector units.
Samsung's 98 inch class Q900 was one model, and LG and Panasonic joined Sharp with new models.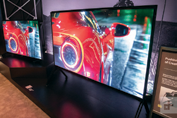 Sony's Z9G 98 inch LED TV at CES.
Sony's 98 inch Bravia Master units will also be bankrupting those of us who are not basketball or football stars, or Russian oligarchs or Arab sheiks Sony's Bravia (Z9G range) is among the first 8K displays on offer to consumers and features the
company's next-generation image processor X1 Ultimate equipped with 8K ultra-resolution algorithm custom database, enabling the 8K X-Reality PRO to up-convert any content to 8K resolution.
These Sony displays come with an automatic Netflix Mode, not simply for logging into Netflix output but which configure the receiver to the ideal parameters as specified by the creative team on the movie or program being screened.
Sony said, "These TVs are part of the IMAX Enhanced certification program that is the result of collaboration between Sony's engineers together with IMAX, DTS and content creators to faithfully deliver creators' vision and intent."
At CES, prices were not unveiled for these 8K models; however, be prepared to make an application for a second mortgage to fund one of these monster sets.
The Strategy Analytics numbers for set sales seem perfectly reasonable despite there being a shortage of 8K content available for viewing today. Indeed, you might justifiably grumble that there isn't a great deal of 4K content on TV screens.
---

---
Netflix and Amazon Studios do a good job of commissioning 4K UHD programming (Grace & Frankie, The Kominsky Method, The Marvelous Mrs Maisel, etc), and viewing this high-quality output in 4K is spectacular. Sport is produced in 4K by most major broadcasters, while Hollywood's movie output is easily transferred onto digital 4K for TV viewing.
However, 8K material does exist. As mentioned, Japan is already transmitting 12 hours a day of 8K material and is gearing up to the Tokyo Olympic Games in 2020 which will be fully captured in 8K.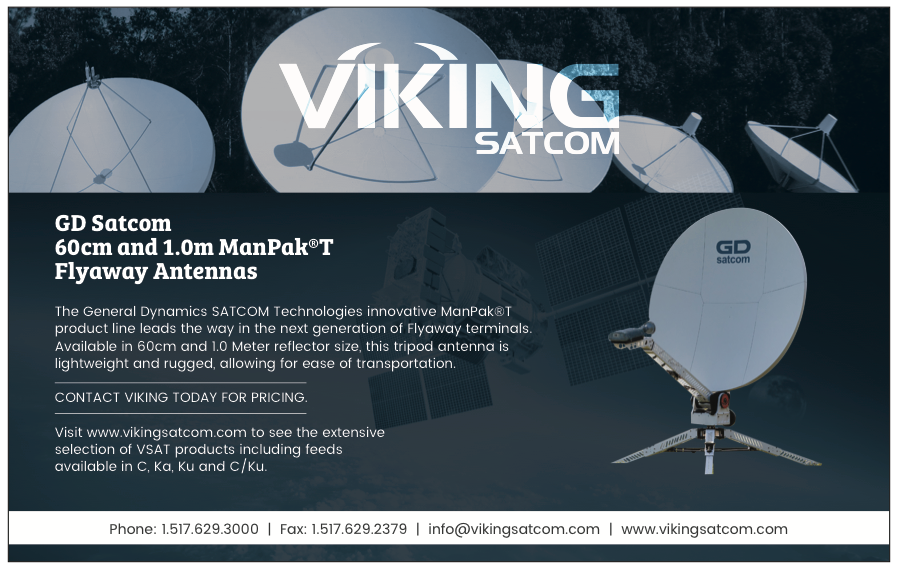 Japanese public broadcaster NHK started 8K broadcasts on December 1, 2018. Communications Minister Masatoshi Ishida said he hopes Japan will play a leading global role in 4K and 8K broadcasting.
NHK President Ryoichi Ueda said the broadcaster will aim to spread the service by delivering exciting experiences for viewers. NHK is broadcasting the new services domestically on the satellite channel BS8K.
The 8K 'Super Hi-Vision' channel kicked off with a newly scanned (in 8K) of Stanley Kubrick's 2001: A Space Odyssey and followed it up with 12 hours of 8K entertainment.
One of the highlights was a special Outside Broadcast (OB) from Rome. NHK has had a three truck 8K OB unit gathering material from most of Europe's key tourist spots.
As 8K televisions and receivers are highly priced (Samsung's smaller QLED- Q900R 85" 8K sets are on the market at about $8,000), NHK intends to showcase 8K equipment and broadcasts in venues around Japan, including public shopping centers and NHK retail outlets.
Paris-based Eutelsat helped NHK launch their 8K efforts with live 8K signals from Rome's Vatican City to Japan for NHK. The December 2 Vatican images were transmitted to Tokyo via Eutelsat 12 West B satellite with a mobile uplink provided by M-three SATCOM. "This momentous event by NHK has broken new ground for 8K contribution via satellite," said a joint statement.
To achieve the technologically challenging feat, NHK relied on DVB-S2X modulation, in 16APSK, and HEVC encoding. The images were shot at 60 fps in BT2020 color space, with 10 bits of color depth (1 billion colors) and high dynamic range HLG (Hybrid Log Gamma), combined with 22.2 channel audio.
In April, the giant MIPtv programming market in Cannes, on the sunny Cote d'Azur, will be showing 8K material.
Visitors to MIPtv will see some of NHK's latest 8K 'super hi-vision' material, as well as music content from France's Paramax Films, spectacular footage from Italy's Magnitudo Film, and the USA's K2 Communications.
Japanese broadcaster WOWOW (which will show a locally produced version of 'Cold Case' in 8K) and famed director and cinematographer Peter Chang (Golden Gate 3D) will showcase his latest ultra-high resolution output. French factual producer Saint Thomas Productions were aloft in a helicopter at the end of 2018m shooting 8K footage of the spectacular Anak Krakatoa volcano, in 8K.
The question as to how satellite might benefit from 8K is easily answered — "not just yet" is a reasonable response.
The Tokyo Olympics in 2020 will witness 8K carried around the world, if only for demonstration purposes. The one positive element in the equation is that 8K demands a ton of bandwidth.
Even with advanced compression in use, the signals are extremely fat and best suited for satellite content delivery. Time will tell how the global TV industry advances, beyond HDTV and into 4K and — hopefully — into 8K.
Senior Columnist Chris Forrester is a well-known broadcasting journalist and industry consultant. He reports on all aspects of broadcasting with special emphasis on content, the business of television and emerging applications. He founded Rapid TV News and has edited Interspace and its successor Inside Satellite TV since 1996. He also files for Advanced-Television.com. In November of 1998, he was appointed an Associate (professor) of the prestigious Adham Center for Television Journalism, part of the American University in Cairo (AUC), in recognition of his extensive coverage of the Arab media market.
---