Twenty years ago, as an outcome of the UNISPACE III event, the Third United Nations Conference on the Exploration and Peaceful uses of Outer Space in Vienna, Austria, was in session from July 19 to 30. 1999.
The attending States drafted the declaration The Space Millennium: Vienna Declaration on Space and Human Development, where it was stated the need...
"[t]o create, within the framework of the Committee on the Peaceful Uses of Outer Space, a consultative mechanism to facilitate the continued participation of young people from all over the world, especially young people from developing countries and young women, in cooperative space-related activities"
as a way to
"enhanc[e] education and training opportunities and ensur[e] public awareness of the importance of space activities."
---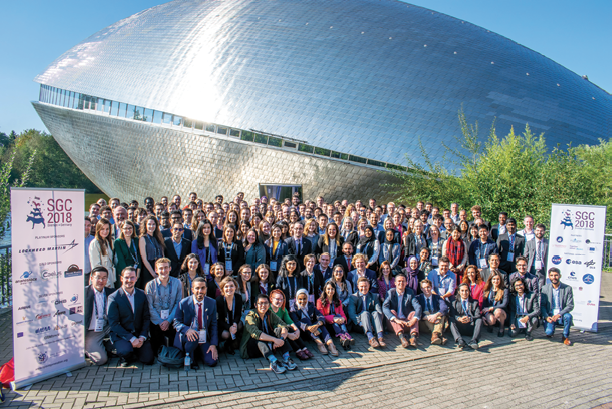 Participants at the Space Generation Congress 2018 in Bremen, Germany.
Photo is courtesy of SGAC.
---
With these statements, the Vienna Declaration was laying the foundations of the Space Generation Advisory Council (SGAC).
SGAC is now an international organization with a network of volunteers and alumni that has grown to more than 15,000 members representing over 150 countries.
Throughout 2018 alone, the Space Generation Advisory Council in Support of the United Nations Program on Space Applications has assigned more than 140 Scholarships and Awards, held 37 events in 27 countries, formalized 24 new partnerships, and has accounted for more than 30 papers, publications and presentations.
Acknowledged by the U.S. National Space Council User Advisory Group, SGAC is celebrating its 20th anniversary in 2019, having become a well-established, global, non-governmental, non-profit (US 501(c)3) organization and network.
Headquartered in Vienna, Austria, SGAC works to represent university students and young space professionals, aged 18to 35, to the United Nations, space agencies, industry, and academia.
With the vision to employ the creativity and vigor of youth in advancing humanity through the peaceful uses of outer space, SGAC bases its activities on five pillars:
The organization of global, regional and local events, with global events as the Space Generation Congress (currently planning its 18th edition, held in conjunction with the International Astronautical Congress), Space Generation Fusion Forum (2019 marks the event's 8th edition and accompanies the recently held Space Symposium) and SGx (organized alongside the SATELLITE 2019 event and celebrating its 4th edition this year).
The execution of projects and activities by various SGAC Project Groups (PG) has recently increased to ten, namely:
• Commercial Space
• Near-Earth Objects
• Space Exploration
• Space Law & Policy
• Space Safety and Sustainability
• Small Satellite
• Space Medicine and Life Sciences
• Space and Cyber-Security
• Space Ethics and Human Rights
• Space Technologies for Earth Development.
The conception, implementation and conferment of scholarships and awards, often via partnerships and sponsorships, aim to empower its members to attend SGAC and non-SGAC events worldwide, and to grow as the next leaders of the space community.
Furthermore, the organization provides various opportunities for members to develop leadership and skills. SGAC members are able to actively share, grow, and apply their expertise to the organization's activities and for its goals. This is a volunteer-run organization, with executive team members addressing everything from Treasury to Strategic Partnerships, Human Resources and Data Management.
Lastly, the engagement and representation of the SpaceGen within the United Nations is an integral component to the organization's activities. In particular, this is conducted within the UN Committee on the Peaceful Uses of Outer Space (UN COPUOS), in which SGAC holds the status of Permanent Observer, the UN Office for Outer Space Affairs (UN OOSA) (with which SGAC has recently signed a MoU), and with the UN Economic and Social Council, in which SGAC holds a consultative status.
---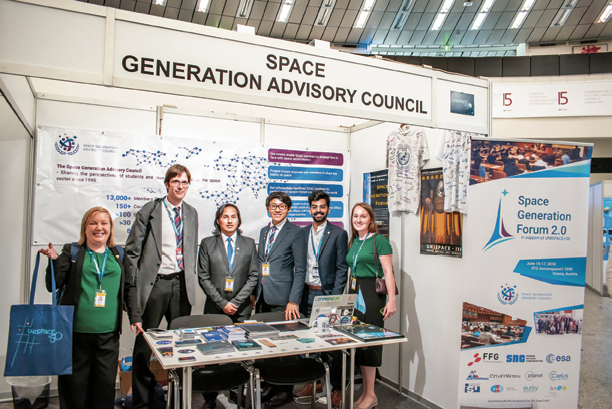 SGAC booth at the UNISPACE+50 at the United Nations HQ in Vienna, Austria.
---
During the last 20 years, SGAC's work has been made possible thanks to the contributions of its many volunteers and more than 100 sponsors and partners worldwide. These have ranged from National Space Agencies to multi-national corporation and international advocacy groups. Furthermore, SGAC events, in addition to providing a source of income for the organization, also actively push local and regional teams to develop event formats to sustain regional SGAC chapters.
One initiative of which SGAC is proud of is the Space for Youth competition, organized together with the UN OOSA, as part of the MoU signed in February 2019. Asking young people around the world to identify how Space can contribute to one or more Sustainable Development Goals, Space for Youth is currently undergoing its final phase and will allow the best ideas to be circulated and presented during the 62nd session of the UN COPUOS, this June. By giving a voice to the youth, with a relevant presence of participants from developing countries, and enabling their opinions to reach international decision-makers of the space sector, this competition is a significant example of what SGAC can accomplish.
SGAC is always on the lookout for talented members to join the #SpaceGen community!
Find out more about current vacancies, scholarships and opportunities—visit spacegeneration.org.
Additionally, learn about sponsorship and partnership opportunities at spacegeneration.org/about/sponsor-us.
info@40spacegeneration.org
SGAC is a global non-governmental, non-profit global non-governmental, non-profit (US 501(c)3) organisation and network which aims to represent university students and young space professionals to the United Nations, space agencies, industry, and academia.
---