The companies involved in the European satellite and related markets, as well as those companies providing services and product into the European segment, are amazingly productive and innovative. European companies are making significant strides in increasing their market share throughout the world, with new contracts and new products supplying various communication needs. Need proof? Digest the European-related activities in the BEAM jump, starting at page 75. Right now, let's impart information dealing with a variety of issues that are important to us all... industry analysis and trade exhibition info, for starters. From SATCON to GSTC-SATTECH 2010, Euroconsult to NSR, as well as the U.S. Geological Survey, glean on!
SATCON
The Major SatShow In New York
Another gathering of the industry that we consider to be extremely important is
SATCON
, a trade show that explores applications for satellite and content delivery over satellite, fiber and hybrid networks. Additionally, the conference addresses video, voice, data, broadband and mobile communications for categories, such as media and entertainment, telcos and ISPs, military and government, and enterprise firms. Given the increasing interest in satellite broadcasting, SATCON is definitely a "must attend" for professionals involved in any of the aforementioned market segments.
Marking its eighth annual show,
SATCON Conference & Expo
again opens its doors to the satellite industry's finest from
October 14-15, 2009
at the
Javits Convention Center
in New York. What is truly unique about SATCON is that this is actually three shows in one — SATCON is joined by the
HD World Conference & Exposition
and the
IP Media Expo to form Content & Communication World (CCW)
. Those in attendance will have access to exhibits and seminars for all three shows with a single conference pass.
Why is SATCON imporant? "In this rapidly changing market, SATCON's conference offerings remain a strong resource for industry professionals," explained
Michael Driscoll
, Vice President and Event Director for the event. "After eight years, attendees know they will take away the latest solutions, strategies and tactics needed to succeed in their business efforts." With the current economy placing added focus on how corporate dollars are spent, SATCON is offering qualified end-users the opportunity to obtain complimentary passes to all three shows where they can network with other industry professionals, listen to the keynotes and attend the sponsored sessions. "Organizations forced to cut expenses due to economic concerns now can access the resources our shows bring to the table without having to worry about the financial impact," Driscoll said.
Under the CCW banner, attendees will take part in the most in-depth presentations and more than 35 end-user sessions related to satellite communications and content delivery. Topics will include...
The fundamentals of satellite communications
Innovations in distance learning
New challenges in disaster response
Improving the integration of satellite communications with the Global Information Grid
Future planning solutions for satellite communications
A returning favorite at SATCON will be the
Satellite CEO Panel,
which features industry leaders who will discuss the opportunities and challenges they face in an economic downturn during the unscripted, round-table discussion. Industry leaders participating in the discussion include
Robert Bednarek
, President and CEO of S
ES Americom / SES New Skies
,
Daniel S. Goldberg
, President and CEO of
Telesat
,
Pradman P. Kaul
, President and CEO of
Hughes
, and
Dean Olmstead
, President of
EchoStar Satellite Services
.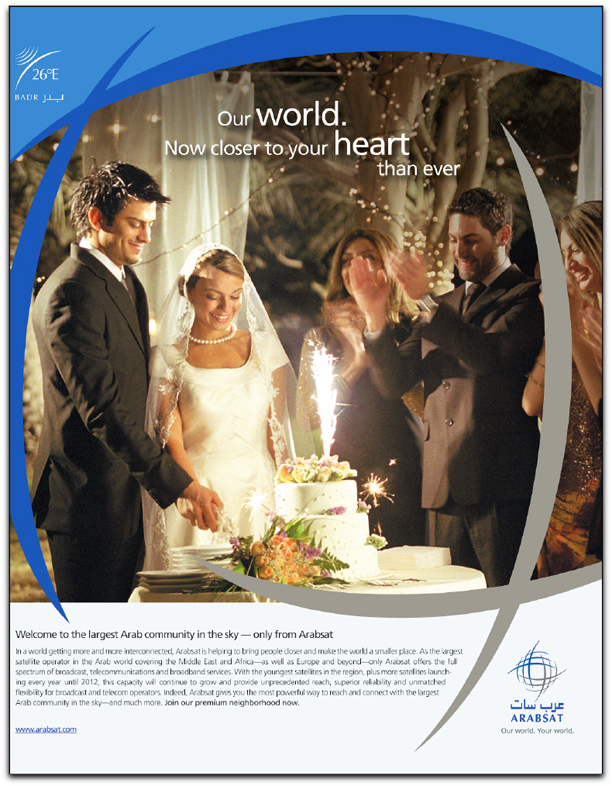 Additionally, conference attendees will also have access to an exhibit floor that features hundreds of leading solution providers, allowing business and technology executives to learn new strategies and see new technologies in action. "Under CCW, the SATCON, HD World and IP Media conference tracks will continue to promote the evolution of these industries," said Driscoll. "Our focus is to uphold our industry standard to provide attendees with knowledge and enable them to become leaders in their respective fields."
By the way, SATCON is the anchor event for "
Satellite Week
" — a week in New York City that will feature a series of events that bring the satellite industry and its customers in media, enterprise, and government together. Among the featured events is the
2009 Future Leaders Dinner
on October 13 at the
Princeton Club
, which honors young men and women who are making a difference to the satellite industry, as well as executives who have distinguished themselves as mentors.
A portion of the proceeds from the Future Leaders Dinner will go to
SSPI
's
Educational Fund
, which works to attract qualified young people from around the world into the industry. Also taking place during Satellite Week is a special panel discussion called the
2009 SkyREPORT Multiplatform Matrix
presented by
MediaBiz
. The two-hour seminar will focus on finance within the multiplatform marketplace with emphasis on the state of market data presentations, industry panelists and a keynote interview showcasing the multiplatform matrix from satellite operations to end use media companies.
GSTC-SATTECH 2010
Trade shows, exhibitions, conferences and the like play extremely important roles in the growth and maintenance of our industry. From "meet and greets" to contract brokerings, new product demos to personnel changes, a satellite conference is a terrific way to track the successes of our industries.

Futron Corporation
, a leading consultancy in the Space and Telecom industry, is a long time contributor to
SatMagazine
and
MilsatMagazine
, offering our readers highly valued insight into various market segments. Futron has worked for a diverse group of clients that spans the public and private, as well as non-profit, spheres, presenting thoughtful insights into risk management, delivering accurate market analysis, and delivering strategic communications. As Futron is constantly seeking new venues to assist companies across the globe in order to promote a healthy business environment, as well as building venues where executives can meet and trade insights, an upcoming satellite and space mega event in Singapore is particularly noteworthy.
GSTC-SATTECH 2010
is the venue and Futron is proud to play a role in this event's organization. Now in its third year, GSTC-SATTECH is a Satellite and Space conference that's conducted in the Republic of Singapore, organized with the full endorsement of Singapore's
Economic Development Board
(
EDB
), all with the aim of showcasing important Satellite and Space companies at the Singapore venue.
SATTECH 2009
occurred in February and was a great success. The new and improved
GSTC-SATTECH 2010
will be in session from
January 28th through January 30th, 2010
, directly preceding the
2010 Singapore Air Show
.
Futron has already secured a number of prominent participants, including
Arianespace
,
ST Satcom and Sensors
, and
Thales Alenia Space
, among others. Futron is seeking the participation of other leading Space & Telecom companies and is especially interested in soliciting American sponsorships and exhibitors for the show. Futron has prepared a list of the various attendance and display options that are available to companies desirous of GSTC-SATTECH 2010 participation. Please contact Ms.
Catherine de Peuter
at
cdepeuter@futron.com
or Mr. Mathew Abraham at
Mathewa@defencedirectory.com
with your inquiries.
LANDSAT
We would like to offer some interesting information from the
U.S. Geological Survey
, which is offering an invaluable resource to scientists who are studying global issues. The entire archive of
Landsat
satellite data is now available at no cost, via the Internet.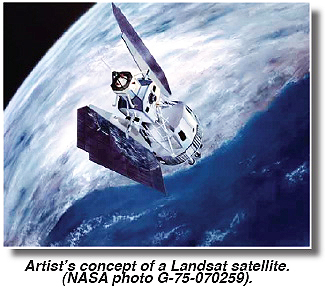 What does this represent to the global science community? Professor
Jose Achache
, Director of the International Group on Earth Observations Secretariat, said, "The basic story of land can best be told through the impartial eyes of Earth-observing satellites. The wide availability of images from Landsat and other Earth-observation satellites will be crucial for both developing and developed countries, especially as the world's increasing population deals with the effects of climate change and the limitations of water, petroleum and other vital resources."
Landsat 1
was launched in 1972 and
Landsats 5
and
7
continue to collect data of the land surfaces of the planet. The archive of some 2.4 million scenes are freely accessible under a recently developed distribution system that includes an open data policy. The nearly four decades of global observations represent a continuous record of moderate resolution imagery useful for studying natural and anthropomorphic changes. The data have been used to measure the effects of the Chernobyl incident, tsunamis, wildfires, urban growth, and drought.
Electronic access to the data has already been a tremendous success. Since the fall of 2008, when the first scenes were made available, over 800,000 individual scenes have been downloaded. Scenes can be previewed and downloaded through two U. S. Geological Survey tools:
http://GloVis.usgs.gov/
and
http://earthexplorer.usgs.gov/
More detailed information on the Landsat system and the processing formats can be unveiled at the following website:
http://landsat.usgs.gov/
The release of the Landsat archive is a precursor to the next generation of Landsat missions.
Landsat 8
, called the
Landsat Data Continuity Mission
, is scheduled to be launched in 2012. All data from that satellite, compatible with the archived Landsat data, will be collected, processed, and distributed through a high speed Internet system.
EUROCONSULT
Growth With FSS
There's a truly interesting study just published by
Euroconsult
, a leading international research and analyst firm that specializes in satellite applications, communications, and digital broadcasting. The Company announced that growth in the
fixed satellite market
(FSS)
has remained strong, despite the adverse economic environment. According to Euroconsult's soon-to-be-released report
Satellite Communications & Broadcasting Markets Survey, Forecasts to 2018
, the fixed satellite sector grew in terms of transponder demand (+9 percent) and overall revenues (+10.7 percent), representing a peak in the current decade. Digital entertainment and emerging digital markets remain the primary growth drivers, with corporate networks, military communications, and broadband access uptake also contributing to growth.
"Digital TV broadcasting remains the primary growth engine for the satellite sector. Last year, 18 new satellite pay-TV platforms were launched for a total of 109 platforms now in service. Over 24,000 TV channels are now broadcast by satellite, with more than 2,900 TV channels added last year," said
Pacôme Revillon
, CEO at
Euroconsult
. "Transponder demand also remained strong for communication services, particularly corporate networks, government communications and cellular backhaul. While a slowdown is expected as a consequence of the global economic downturn, growth should remain solid in 2009, potentially at approximately 7 percent and could still reach 5 percent in 2010, depending on the depth and length of the economic crisis. Compared to the telecom and pay-TV crisis of the early 2000s, core customers of satellite operators are relatively less impacted by the current crisis thus far."
Average fill rate for commercially available satellite capacity currently stands at nearly 74 percent and may even reach even higher in 2009, following a four-year upward trend. This high fill rate is an important factor as it limits competitive pressure between market players, prevents a drop in capacity prices, and protects revenue growth and profit margins. However, in the short term, some operators, particularly smaller operators, may find it difficult to obtain the financing required for replacement or expansion of their satellite fleets. Export-import banks in the U.S. and Europe have been increasingly proactive to partially relieve some of these issues. While most known projects are still expected to obtain financing, delays in the procurement of certain satellite systems would not come as a surprise. This, in turn, could limit the addition of new capacity to the leasing market, which may cushion the impact of a possible slowdown in transponder demand.
According to the Euroconsult report, which segments the world into 12 regions, growth in transponder demand remained particularly strong in emerging satellite markets, which include Latin America, Africa, Central Europe, and large parts of Asia. These regional markets represented 53 percent of capacity usage worldwide in 2008 and 71 percent of the net increase in capacity leased last year. Most of these are young, fast-growing digital television markets and still have heavy needs for telecom traffic carriage using satellites as a backbone for fixed and mobile traffic in areas not covered by terrestrial networks.
While the economic downturn could impact the development of satellite services in emerging markets, growth is expected to remain stronger in these regions than in the most established markets, such as North East Asia, North America, and Western Europe. As the result, emerging regions' share of total capacity demand could reach around 58 percent by 2013, up from 53 percent last year. In emerging satellite markets, competition between satellite operators and terrestrial solutions is expected to increase in the coming years. The future competitive environment and trends in capacity prices will largely be defined by the number of operators in service, local regulations limiting market access, procurement decisions for new satellites and the emergence of local leading operators in most regions.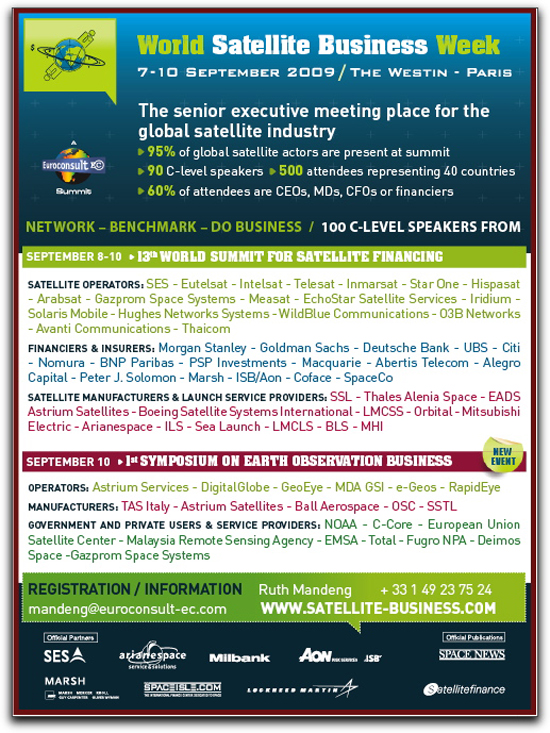 The consumer broadband-access-by-satellite market reached more than 1.2 million subscribers (+30 percent) last year. Growth was primarily in the U.S., followed by Asia, and was due to the availability of dedicated broadband service (BBS) satellites. In the U.S., two market players, WildBlue and Hughes, are locked in intense competition and driving market growth. In Asia, IPSTAR, traditionally based in Australia and Thailand, is pushing hard to penetrate new Asian countries. The shape of the broadband satellite market is expected to change significantly in the next three years. New BBS payload projects in Ka-band have begun to flourish, and new systems with much larger capacity are expected to be operational in North America, Europe, the Middle East and North Africa (MENA) by 2011. Beyond consumer access, those systems are expecting increased use to serve the enterprise as well as potentially other market segments. Prospects are strong for the broadband satellite market with up to 10.5 million subscribers worldwide by 2018. However, a number of challenges will need to be addressed. Beyond technical aspects and regulation, the ability to build strong distribution networks in fragmented markets such as Europe will be key to guaranteeing the success of satellite solutions.
Euroconsult expects the global market value of capacity used for the traditional FSS market to reach around $13.4 billion in 2018, or $16.8 billion, including wholesale revenues from emerging BBS systems dedicated to satellite consumer broadband access. Industry consolidation, which will continue, will be offset by the emergence of new regional satellite systems backed by either private or public investors. According to Euroconsult, growth is expected in all regions of the world in the next decade with a much stronger showing in emerging markets as the most established markets tend towards maturity for the leasing of classical satellite capacity.
In markets such as North America and Europe, capacity usage on BBS satellites could represent a new growth driver for operators though significant uncertainties persist regarding the potential size of this market. Average revenue growth for "regular" capacity leasing of approximately 5 percent is still expected in the next five years. This estimate is largely in line with the Company's previous forecasts, as a slowdown in the economic cycle of the satellite sector was already anticipated due to the end of analog broadcasting in certain markets, the adoption of improved compression techniques for satellite transmission, and a potential new consolidation phase in the burgeoning digital TV market.
The
World Satellite Communications & Broadcasting Markets Survey, 10 Year Outlook
is now in its 16th edition. This report is the definitive work and analyzes the current state, and future prospects of, the FSS industry, serving as an essential business planning tool for industry actors. The report includes analysis of all fixed satellite communications applications, an in-depth strategic review of satellite operators' business models and financial performance; and a 12-region breakdown of the world including transponder demand trends and 10-year forecasts by application and by region. The report also looks at transponder pricing trends, supply and demand match by region and frequency band, and operators' market share by region and by application.
NSR
Make Mine MSS
NSR
has released a new market survey and forecast report entitled
Mobile Satellite Services, 5th Edition
. This report is a comprehensive analysis of MSS demand trends and covers eight regions of the world for equipment and services as well as transponder demand for satellite handhelds, maritime, land-mobile and aeronautical platforms, and MSS-ATC/CGC for the period 2007-2018.
In total, NSR forecasts the global MSS market will grow from 1.8 million in-service units in 2008 to more than 15.5 million units and $18.6 billion in revenue by the end of 2018.
"With just fewer than 2 million in-service units in 2009, most of the MSS players are holding their own in the difficult economic environment," stated
Claude Rousseau
, Senior Analyst for NSR and author of the report. "Some parts of the market have taken a hit, but at much less strength than what was expected. With the MSS industry entering a high-risk phase that will either see it get a facelift or go through an extreme makeover, NSR is more cautious than ever about the short- to mid-term prospects."
Indeed, the industry may look very different in the next 12- to 18 months as some consolidation, consumer-play products, public offerings and bankruptcies or shutdowns could change its composition. The near term will tell if huge looming debt repayments will be handled easily and place the MSS market on more solid foundations and expectations. MSS operators, as a whole, experienced growth last year of almost 8 percent, even while some players were not so healthy.
What looks inevitable is that the MSS market is on track to offer more bandwidth than ever, which will stretch most operators who need new targets to surmount the economic uncertainty. The economic jitters of the past 12 months are influencing some MSS operators who are setting their revenue targets to single-digits in the near-term as they take into account delayed or lower communications budgets in key verticals.
However, one market that is seemingly unfazed is data. With one-way or two-way data communications proving to be the killer application of the MSS market, data is helping operators garner more revenues as the fastest growth area of the MSS business today and providing value across all platforms.
Near Earth LLC
Satellites In The Clouds
Kuni Takahashi
is a vice president with
Near Earth LLC.
His focus is on areas of corporate finance and advisory services. Recent assignments for Kuni have involved clients and investors in digital media, telecom, and wireless technologies. He is an MBA graduate from Georgetown University with significant satellite and telecommunication industry experience. While at Intelsat, he consulted Earth station managers on business operations and corporate strategy. Prior to attending business school, he was a design engineer for Space Systems / Loral. He was a member of the development teams that manufactured communication satellites for PanAmSat, Intelsat, CD Radio, Chinasat, and GOES. After Loral, Kuni helped start Yegwa Communications, a systems integrator focused on networking technologies. Other work has included marketing strategies for XM Satellite Radio, and working on the NASA Mars Pathfinder mission.
Cloud computing has the potential to transform the enterprise IT landscape by offering a variety of benefits such as reduced capital costs, data center efficiencies, on-demand computing resources, faster and cheaper software development capabilities, and even environmental benefits. IDC, a market research firm, estimates that global IT cloud services spending will increase from $16 billion in 2008 to $42 billion in 2012, representing a compound annual growth rate (CAGR) of 27 percent.
Cloud computing is at the convergence of many technologies and concepts by combining the operational benefits of virtualization, scalability benefits of grid computing, and system design benefits of service oriented architecture (SOA). As such, many companies view cloud computing as a useful technology as well as a potential market opportunity. Attracted by its growth prospects, web-based companies (Amazon, eBay, Salesforce.com), hardware vendors (HP, IBM, Cisco), telecom providers (AT&T, Verizon), co-location sites (SAVVIS, Rackspace), software firms (EMC/VMware, Oracle/Sun, Microsoft) and others are all jockeying for position in the cloud. Therefore, we must ask, "What role will satellite companies play?"
From a vendor's perspective, satellite based networks will be significantly impacted by cloud computing and its virtualized ecosystem. Satellite communications are sometimes the only wide area networking (WAN)
option for multi-national corporations with branch offices in remote or rural areas. As these corporations embrace virtualization and cloud computing as part of their IT strategy, they need to make sure their branch offices continue to have access to the same IT resources. Vendors such as Expand Networks have WAN optimization solutions that integrates with virtualization products and Space Communication Protocol Standards (SCPS) to improve the speed and performance of applications over satellite links to remote sites. Expand Networks recently worked with IPSTAR to optimize their broadband offering particularly for their banking and corporate customers, placing remote users in virtual proximity of critical business applications.
WAN optimization and application acceleration technologies are also being used by TeleCommunication Systems (TCS) for its World-Wide Satellite Systems (WWSS) contract with the U.S. Army. TCS partnered with Citrix to use their branch optimization solution to seamlessly deliver data and applications to troops on the ground. Therefore, we expect satellite vendors to continually adopt and develop new technologies to better integrate with cloud based applications.
From a user's perspective, GeoEye was one of the early adopters of cloud computing. GeoEye processes large amounts of raw image data through a series of proprietary, compute-intensive applications for image sharpening, geocorrection, and so on. According to GeoEye, traditional approaches to develop software applications at the scale required by the business was a growing challenge for their developers. Moreover, the company was concerned with the rising cost of building, operating, and maintaining expensive IT infrastructure. GeoEye partnered with Appistry, a cloud computing application platform, to help offload its infrastructure requirements to the cloud.

Now, GeoEye is able to quickly develop new imaging applications by leveraging the cloud infrastructure without being concerned about scalability and cost. The cloud solution allows GeoEye's developers to focus on algorithms rather than IT and reduces their hardware and software costs by an estimated 77 percent, versus the traditional approach.
The cloud computing industry is in the early stages of the technology adoption cycle, as many products are still "vaporware" that face major hurdles, particularly in the area of data security. However, Near Earth expects cloud computing in one form or another will eventually be part of most IT organizations due to its significant cost savings. The environmental benefits of cloud computing is also a key driver as many technology companies are going to great lengths to make eco-friendly data centers. As an extreme example, Google was recently awarded a patent for a floating data center that would be located 3 to 7 miles off shore that incorporates wave energy machines to create electricity from ocean waves to power its servers. Whether Google will actually build these floating data centers is debatable, but if Googlers can build a data center in the ocean, why can't the satellite industry build one in space?
This was Jim Grady's concept when he presented the idea of "Cloud Computing On Orbit", which uses on orbit satellites powered by solar energy as space
based server farms (see
http://satcom.nict.go.jp/English/e- 50/SJOpinion.Web2.E.pdf
). Whether these ideas are realistic or not is not really the point, the point being that IT infrastructure is rapidly evolving with cloud computing and the satellite industry uniquely positioned to be a part of some very innovative technology solutions in the future...