High-speed satellite broadband has become a constant, universal demand for vessels that must stay connected as they travel across commercial shipping lanes, through severe weather patterns, and in and out of ports scattered around the world.
While maritime service providers focus on building global VSAT networks to address end-user demand for seamless and guaranteed connectivity, they face several tough challenges — larger deployments, expanded geographic reach and more sophisticated network configurations.
MTN Satellite Communications
(
MTN
), one of the first service providers to bring VSAT into the maritime market, needed a way to address these issues in order to better manage its continued growth.
MTN turned to
iDirect
's
SatManage
solution, the industry's most sophisticated network management system. By integrating its iDirect network and customer web portal with SatManage, MTN has gained greater visibility into and control of its expanding global network.
Limited Visibility
MTN is a provider of communications, connectivity and content services to more than 600 vessels and land-based VSAT terminals around the globe. In 2003, the company implemented iDirect's VSAT platform to capitalize on the growing demand for broadband connectivity at sea, quickly becoming the market leader in the cruise line industry. Since then, MTN has leveraged the iDirect platform to expand its service to new markets including government and military installations, commercial ships, private yachts, offshore drilling and production sites, and commercial aviation.
As MTN's global presence and customer base increased, so did the challenges of managing a larger number of network deployments, each with numerous mobile assets to track, monitor and troubleshoot.
"We have several hundred vessels on our iDirect network, which are supported by 32 different C- and Ku-band satellite footprints and eight teleports worldwide, all interconnected by our private MPLS backbone," said Kevin McCarthy, MTN's senior vice president of network engineering. "As we have grown, the challenge of monitoring hundreds of ships moving from satellite to satellite and from teleport to teleport has become increasingly difficult."

In addition to requiring greater control over its expanding network operations, MTN also needed to provide customers with better visibility into their service patterns. As complexity and activity inside their Network Operations Centers (NOCs) intensified, MTN also began to see limitations in its ability to respond to customers. MTN's previous system, developed in-house, could only offer customers bandwidth usage information by major categories such as Internet, voice and corporate data, lacking granularity within each category.
"When a customer is faced with an expensive bandwidth purchasing decision, their first question is always, 'What specific applications, services and users are using my bandwidth?' It was a difficult question for us to answer, often requiring extensive analysis by a network engineer," McCarthy said.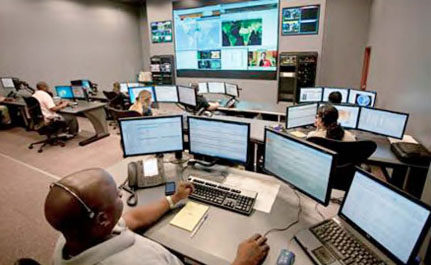 Seeing An Opportunity
For MTN, the solution was iDirect's SatManage, a sophisticated suite of operational support tools that allows service providers to integrate, monitor and automate network operations and NOC-based applications.
SatManage gave MTN's engineers a powerful dashboard that provides a simplified, single-page overview of all key issues across the network. The dashboard features intuitive visual correlation and reporting tools that display operational information including network performance data and traffic breakdowns to enhance MTN's network visibility.
"We had access to all of this data for a long time, but didn't have an efficient or effective way of visualizing it on a large scale, especially considering our growing customer base," McCarthy said. "When looking at trends for an entire region across multiple ships, it's difficult to identify data patterns using spreadsheets and reports. SatManage correlates and color codes the data in a logical way, easily allowing us to spot trends."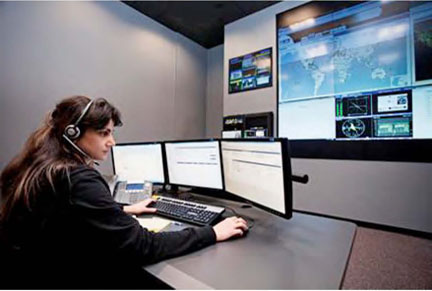 The Customer's View
SatManage also enabled MTN to provide customers with a better way to see, understand and monitor their network performance. MTN integrated a highly customized version of the SatManage Traffic Analyzer package into its customer web portal. The system helps MTN and its customers interpret data flows to better understand traffic patterns and bandwidth usage. With this information, MTN can make more informed decisions about the network that result in bandwidth efficiencies and cost savings. "Our customers, NOC personnel and sales teams all value the tool. It gives them insight into each ship's bandwidth demands and is easily accessible through our Web portal," McCarthy said. "The success of Traffic Analyzer led us to other SatManage functions such as the Network Correlator and Signal Analyzer.
"These tools allow our customers and engineers to look at detailed performance statistics of satellite links, including signal strength, errors, availability and other granular data that modems feed into network management systems."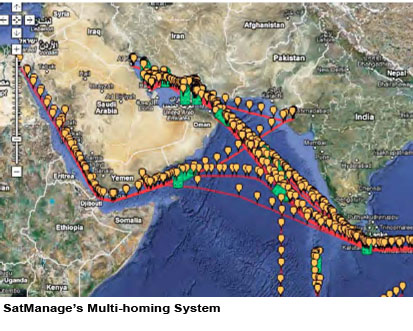 Spotting Issues
MTN also uses SatManage as a trouble-shooting tool, allowing it to proactively detect and prevent problems. NOC engineers can monitor the status and performance of each remote router in their network in a user-friendly graphical display.
"SatManage has given us more visibility over our network at a macro level, allowing us to quickly spot issues and drill down to very granular details when necessary," McCarthy said. "The software has been an important part of our scalability strategy, helping us maintain a high quality of service as we grow."
Rapid Problem Identification + Troubleshooting
MTN uses SatManage to help it proactively detect and prevent network issues. A recent example of an issue that would have been difficult to spot without SatManage involved the tracking system on one of MTN's large teleport antennas.
Previously, it was nearly impossible to detect a subtle teleport antenna tracking issue by looking at one ship's signal strength. However, by using SatManage to correlate the data from dozens of ships over a period of several days, MTN was able to detect similar fluctuations in signal strength throughout the data. This common fluctuation helped isolate that the problem was at the teleport.
Looking Forward
Since implementing SatManage, MTN has gained a single, consolidated view across its network, allowing it to simplify data analysis and improve customer support by generating detailed SLA reports. Customers now have complete visibility over their bandwidth utilization, broken down to extremely granular levels.
"We continually strive to provide unmatched network quality and user experience to our growing customer base around the world," McCarthy added. "As pioneers in the maritime VSAT industry, we fully understand the critical need for seamless communications at sea. Our goal has always been to invest in technology that maximizes the performance and reliability of our service while minimizing complexity for our customers. The sophistication of the SatManage solution to help us monitor our global maritime VSAT network, the largest in the world, puts us one step closer to that goal. SatManage has been an important part of our scalability strategy, helping us maintain a high quality of service as we grow."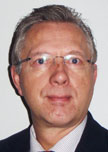 About the author
Christian Bergan is responsible for the maritime market strategy at iDirect, working closely with iDirect's global network of service providers to promote the value of VSAT technology throughout the maritime industry. With a background in both the satellite and maritime industries, Christian offers a unique blend of knowledge and experience to help educate the maritime market on the expanding capabilities of satellite communications. Prior to joining iDirect, Christian spent 20 years with IC Bergan, Inc., a family-owned business engaged in manufacturing of sensors and controls for liquid cargo handling for the global commercial shipping markets. He currently resides outside Oslo.