In 2015, this Russian federal satellite service provider celebrates its 10th anniversary of service.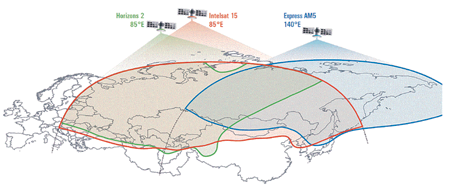 The company has numerous achievements that they are proud about, from developing and creating the largest and most unique satellite based TV service and media platform in Russia with more than 300 channels, to the fastest growing content provider in the market. During 2015, Orion Express attained fourth place in the Top-5 list of the pay-TV operators.
Orion Express' pay-TV package is notable for content balance and affordability. The company created six of the broadcast TV channels, with three of these channels reserved for important social projects. The company has been a notable presence within the Russian satellite television market since 2005. Two key business directions are currently in development. They are the provisioning of satellite television services to subscribers using the company's own brand name—Telekarta—with focus on B2C and B2B consumers.
B2C
The delivery of Direct-To-Home (DTH) services started in 2010, following the launch of the Telekarta satellite-television project. As of today, Orion Express is the only Russian operator that serves 100 percent of the Russian territory and CIS-states. Orion Express broadcasts via the following satellites: Intelsat 15 (85 degrees east), Horizons 2 (85 degrees east), and Express-AM5 (140 degrees east).
According to analyst reports, Orion Express has acquired approximately 7 percent of the pay-TV markets. Growth of the subscriber base continues on the increase. During the first half of 2015, the number of subscribers grew at 5 percent, while the common pay-TV market growth was estimated at 3 percent. At the close of the half-year period, the number of Orion Express subscribers was 2.7 million.
Effective marketing policies, attractive prices for both the content delivery to customers as well as the necessary on-premises equipment, and a finely tuned balance of the TV packages themselves ensure ongoing, successful, business growth for Orion Express.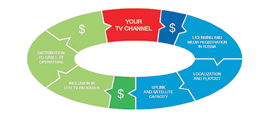 In the standard-packages offerings of Telekarta, customers may select from more than 200 TV-channels that represent the most popular content genres. These offerings include the products of leading Russian and foreign major suppliers, such as Viacom, Viasat, Stream, CTC Media and many others.
B2B
In the field of B2B solutions, Orion Express has long-term professional experience in this market segment and offers a unique, full-service platform for broadcasters and TV channels that include: licensing, content localization for Russia, uplink, satellite capacity services, cable operators' distribution, and playout.
Today, Orion Express is a leading media platform within Russia and CIS. Western and Russian programmers, such as Discovery, Eurosport, Sony, Viasat, Viacom, CTC Media and others have selected Orion Express as their media platform for this region of the world. These partnerships give broadcasters undeniable advantages. First, the platform is built on Horizons 2, Intelsat 15 and Express AM5 spacecrafts that provide unique coverage of Russia, including Siberia and the Far East, as well as CIS and East Europe. Secondly, a stable satellite signal with optimal technical support is a constant provision. Third, two satellites are always ready in case a hot backup system is required.
More than 350 cable TV and IPTV providers in Russia and CIS (including Rostelecom, MTS, ER-telecom, Ufanet, Vimpelcom, and so on) are receiving channels directly from the Orion Express satellite platform. More than 20 TV channels are provided for distribution to local cable providers, whose market penetration exceeds 10 million subscribers, collectively, within cable and IPTV networks in all regions of Russia and CIS. Orion Express is also a key media partner with Intelsat in Russia and CIS.

Kirill Makhnovskiy was the chief specialist within the regulation authority's work department with Moscow Cell Communications from 2004 to 2006. This was followed by a position as a chief Sky Link. From July 2007 to June 2008, Krill was the deputy general director in the company TelecomInfoProekt, which was then followed by a position as the deputy director for state and regulation authorities with Telecom Express. In 2011, Krill was named the director of Orion Express and, then, in October 2014, he was appointed the general director of LLC Orion Express.

---