Safe + Sound
Space Systems/Loral (SSL) has announced that the Amazonas 3 multi-mission satellite, designed and built for HISPASAT Group, has arrived at the European Spaceport in Kourou, French Guiana.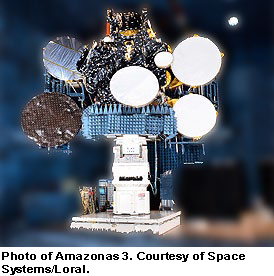 The satellite is scheduled to be launched aboard an Ariane 5 launch vehicle by Arianespace.
Amazonas 3, which was completed and delivered ahead of schedule, includes the first Ka-band payload for broadband service in Latin America.
Amazonas 3 is designed to provide a wide range of telecommunications services including DTH, corporate fixed and mobile telephone networks, and broadband in the Americas, Europe, and North Africa.
When launched, the satellite will be positioned at the orbital location of 61 degrees West longitude.
Amazonas 3 has 33 Ku- and 19 C-band transponders, and 9 Ka-band spot beams. The satellite is based on the highly reliable SSL 1300 space-proven platform, which provides the flexibility to support a broad range of applications and technology advances.
The spacecraft is designed to deliver service for 15 years or more.
* * * * * * * * *

Tons O' Terminals
Hughes Network Systems has now shipped more than 487,000 broadband satellite terminals in 2012.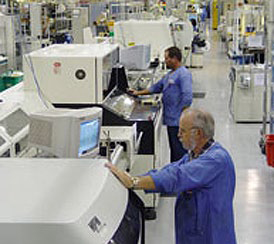 These are the most terminals shipped in a single year, bringing its cumulative number of satellite terminals shipped worldwide to more than 3.3 million.
Large and small enterprises across virtually all vertical sectors, along with government and multi-national organizations rely on Hughes for an ever-expanding range of broadband networking solutions.
Hughes' consumer high-speed satellite Internet service in North America is growing at an accelerated rate since the launch of HughesNet
®
Gen4 service in October of 2012, powered by the EchoStar XVII Ka-band satellite with JUPITER™ high throughput technology—with more than 200,000 HT terminals shipped in the last quarter of 2012.
"Every one of those 3.3 million terminals is a testament to the trust placed in Hughes by our customers for their communications solutions," said Pradman Kaul, president of Hughes. "It's what drives us to innovate and continually advance our satellite technology and services—ensuring they succeed, so we succeed. And that hasn't changed since we shipped the first VSAT terminal in 1986, nor has the pride in our people who make it happen."
* * * * * * * * *

Betterment Thru Backhaul
Gilat Satellite Networks Ltd. (NASDAQ: GILT) has signed an agreement with Huawei for the delivery of its SkyAbis cellular backhaul solution to a leading Southeast Asian Mobile Network Operator (MNO).

As part of the project, Gilat will supply and install a SkyEdge II hub, SkyEdge II Pro VSATs, and related services including remote site installation. The majority of the sites will replace older SCPC modems that are currently in use.
The SkyAbis network will support both 2G and 3G BTS/Node B sites as part of a major upgrade to the Mobile Network Operator's nationwide cellular infrastructure, and will provide improved bandwidth efficiency and higher throughputs.
The cellular backhaul solution enables the network operator to significantly save on satellite capacity through the use of the SkyAbis Dynamic Allocation Multiple Access (DAMA) capabilities, which allocate satellite capacity to the site, as and when required. This also enables the operator to expand the network to additional sites, where previously it was not economically feasible. #
* * * * * * * * *

JPSS-1 Passes CDR
Ball Aerospace & Technologies Corp. has successfully completed the delta Critical Design Review (CDR) for the Joint Polar Satellite System (JPSS-1) spacecraft.
The four-day review was held December 10-13, 2012, and included more than 100 representatives from NASA's Goddard Space Flight Center, NASA Headquarters, the National Oceanic and Atmospheric Administration (NOAA), and JPSS instrument providers.
The review team congratulated the JPSS-1 team for demonstrating that the spacecraft's development is progressing well and will be ready to provide the nation with critical environmental data when launched no later than the first quarter 2017.
The CDR delineated the design differences between JPSS-1 and its predecessor, the Ball-built Suomi National Polar-orbiting Partnership (S-NPP) satellite to allow for full-scale JPSS-1 spacecraft production. Early Production on JPSS-1 has been underway since mid-2012.
The JPSS operational weather system includes the satellites and sensors that support civil weather and climate measurements in the afternoon orbit, as well as a ground system.
These satellites deliver approximately 90 percent of the information collected for numerical forecasting models that generate critical weather forecasts and convey warnings to the public about climate and weather events.
In addition to the spacecraft, Ball Aerospace will manufacture, test and deliver the Ozone Mapping and Profiler Suite sensor for JPSS-1. Both the JPSS-1 satellite bus and the OMPS instrument are similar to those for Suomi NPP, which successfully launched in October 2011 and is returning images and data that provide critical weather and climate measurements of the complex Earth system.
Ball Aerospace & Technologies Corp. supports critical missions for national agencies such as the Department of Defense, NASA, NOAA and other U.S. government and commercial entities. The company develops and manufactures spacecraft, advanced instruments and sensors, components, data exploitation systems and RF solutions for strategic, tactical and scientific applications.
* * * * * * * * *

A Spatial Excursion Campaign
Commercial spaceflight is entering the main stream and looking (and smelling) quite good!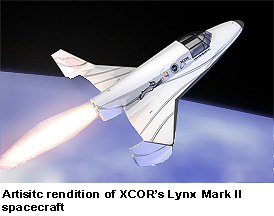 United Kingdom-based Unilever Group and Space Expedition Corporation (SXC) have announced a 22 flight purchase on XCOR Aerospace's Lynx® Mark II suborbital spacecraft for Unilever's space-themed AXEApollo™ campaign for the AXE® brand of men's cologne, body spray, shower gels and other personal care products.
Unilever will award the first flight to a lucky winner selected from a drawing just after the Super Bowl on February 3rd, and the 21 other winners are derived from a year long, 60 country, promotional campaign.
That larger campaign includes a 100+ person December 2013 space camp for early stage winners in Orlando called the AXE Apollo™ Space Academy (A.A.S.A.).
The campaign also includes legendary Apollo astronaut Buzz Aldrin and a 30 second Super Bowl advertisement.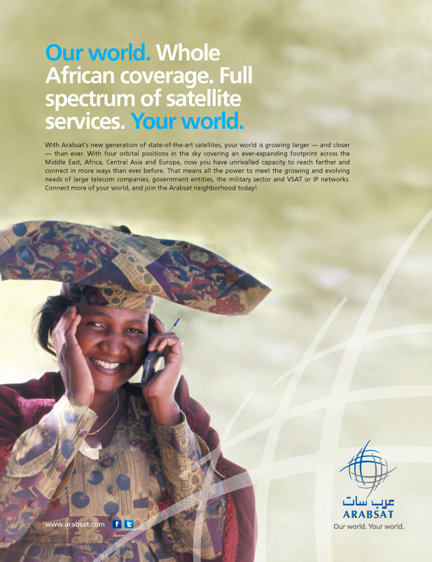 * * * * * * * * *

The Early Birds
Northrop Grumman Corporation has completed early delivery of two Global Hawk unmanned aircraft to the U.S. Air Force.
Global Hawk allows military commanders to receive high-resolution imagery, survey vast geographic regions and pinpoint targets on the ground. Both aircraft were delivered ahead of schedule.
In 2012, three new Global Hawks were delivered to the Air Force and five previously delivered aircraft completed installation of additional sensors that will allow them to gather multiple types of intelligence data during a single mission. A total of 37 Global Hawks have been delivered to the Air Force.
Global Hawk carries a variety of ISR sensor payloads that allow military commanders to gather imagery and use radar to detect moving or stationary targets on the ground. The system also provides airborne communications and information sharing capabilities to military units in harsh environments. Combined with Global Hawk's ability to fly for long periods, the aircraft's 12,300 nautical mile range makes the system ideally suited to take on many different ISR missions. Global Hawk has logged more than 80,000 flight hours and has been used over battlefields in Iraq, Afghanistan and Libya.
* * * * * * * * *

Secures Beams
NAGRA and HD PLUS GmbH, a subsidiary of satellite provider SES and operator of HD+ have launched HD PLUS' new, over-the-top (OTT) catch-up service of private channels (Mediathek), HD+ Replay, further extending the companies' content protection partnership from satellite to Internet TV.
HD+ Replay will use NAGRA's multi-device and multi-network DRM solution, NAGRA MediaAccess PRM (Persistent Rights Management), to secure high-value content delivered "over-the-top" to consumers equipped with an HD+ SmartTV set-top box (STB).
HD+ Replay is based on the HbbTV standard enabling a rich and intuitive user experience. The first HD+ Replay enabled STB Inverto VOLKSBOX Web Edition+ is already on the market, with further set-top box manufacturers expected to be available soon.
HD+ Replay initially includes content from RTL NOW and VOX NOW, with SUPER RTL NOW having been added in December.
The HD+ satellite service had been using NAGRA's MediaAccess content protection since its launch in 2009 and has grown ever since. As of September 30, 2012, it served more than 2.8 million households in Germany, a 45 percent growth over the same period in 2011.
* * * * * * * * *

Kits + Phones
Blue Sky Network and its reseller partner, S4A (Solutions For Aviation), have announced the issuance of a Supplemental Type Certificate (STC) for Blue Sky Network's voice system on C-212-200 Airbus military aircraft.
The certification was supplied by the European Aviation Safety Agency (EASA), and specifically certifies deployment of Blue Sky Network's value-added aviation satellite phone system, the Kit 2.
Blue Sky Network's aviation products are based on voice communication and tracking solutions over the Iridium
®
satellite network.
The Kit 2 provides an FAA certified integrated single channel antenna and cable that can be connected with either the Iridium 9555 or Iridium Extreme
®
satellite phone, both of which can be plugged into the antenna outlet for use in the aircraft.
The Iridium 9555 offers a voice, two-way SMS, and short email communication solution for users. The Iridium Extreme is specifically engineered to withstand the toughest environments and enables voice communication as well as GPS tracking services via Blue Sky Network's New SkyRouter.
Through the Iridium satellite network, Blue Sky Network provides pole-to-pole voice communication on Airbus Military C-212-200 aircraft.
* * * * * * * * *

No Folding Required
exactEarth's new Ship Maps site is designed to illustrate—in an interactive environment—the applications of S-AIS in solving real-world issues across the maritime industry.
At the heart of each story, there's a simple map with sample ship traffic information collected from satellites.
More information can be overlaid using the various map layers, building greater context into the ship map and demonstrating how a combination of situational information and empirical satellite data can be combined to gain insight and knowledge about key maritime issues.
Each of these web-based map applications combines data delivered using standard information formats. Interoperability can often be a bottleneck, hampering the integration of disparate data sources, such as S-AIS, particularly in the geospatial world. By developing and using delivery methods that comply with the Open Geospatial Consortium (OGC), such barriers are removed. Web-based delivery of S-AIS data enables it to be embedded within existing workflows. Different types of filtering allow for dynamic and ad-hoc customization of data based on geography, time, and AIS message attributes.
The customization and combination of data sources with simple narrative and multi-media delivers an interactive map-based platform to explore the worlds of S-AIS.
* * * * * * * * *

Turned On To Save Lives
Four Galileo In-Orbit Validation satellites in medium-Earth orbit, the minimum number needed to perform a navigation fix.
The first switch-on of a Galileo search and rescue package shows it to be working well.
Its activation begins a major expansion of the space-based Cospas–Sarsat network, which brings help to air and sea vessels in distress.
The second pair of Europe's Galileo navigation satellites—launched together on 12 October last year—are the first of the constellation to host SAR search and rescue repeaters.
These can pick up UHF signals from emergency beacons aboard ships and aircraft or carried by individuals, then pass them on to local authorities for rescue. Once the satellites reached their 23 222 km-altitude orbits, a rigorous test campaign began.
The turn of the SAR repeater aboard the third Galileo satellite came on January 17th.
"At this stage, our main objective is to check the repeater has not been damaged by launch," said ESA's Galileo SAR engineer Igor Stojkovic. "The first day was a matter of turning the repeater on and checking its temperature and power profiles were as predicted. The following day involved sending a signal to the repeater using the UHF antenna at ESA's Redu Centre in Belgium, then picking up the reply from our L-band antenna."
Redu's antenna is 20m in diameter, so the shape of the relayed signal was captured in great detail, out of all proportion to surrounding noise. "We can precisely measure its power, the time the relay took and so on," Igor added.
More detailed system testing will follow, to completely prove this new type of SAR payload in orbit. Galileo.
This international system has been taking the search out of search and rescue for more than three decades, saving some 31 000 lives along the way. Cospas is a Russian acronym for 'Space System for the Search of Vessels in Distress', with Sarsat standing for 'Search and Rescue Satellite-Aided Tracking'.
* * * * * * * * *

Uplinks, Satellites + Fly-Aways For Sports
SIS LIVE has signed a new contract with European Tour Productions to provide worldwide satellite services for their golf coverage until the end of 2018.

This coverage includes satellite services, uplink trucks and flyaway units for events in Europe and the Middle East, as well as co-ordination of local uplink providers and satellite services for events in South Africa, Asia and Australasia.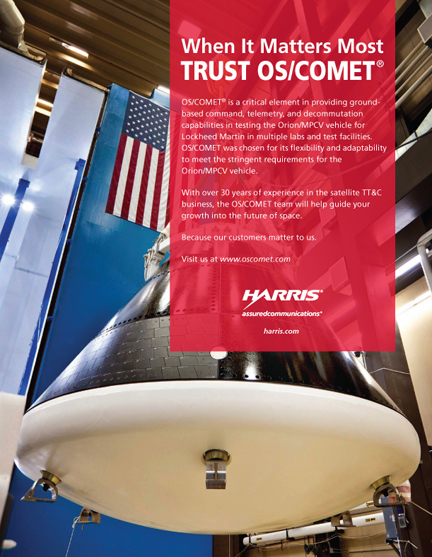 The agreement allows European Tour the flexibility to increase the coverage in Europe to five simultaneous HD feeds with redundancy; all from one of SIS LIVE's bespoke dual antenna uplink trucks.
Tony Coxon, Head of Production operations at European Tour Productions said "In conjunction with SIS LIVE we have moved our delivery from MPEG2 to MPEG4 over the last couple of years. This transition was made in practically seamless manner and we now deliver HD signals to Sky and the rest of the world. We, therefore, had all confidence in extending our contract with SIS LIVE to include our coverage up to the end of 2018. We will continue to use the excellent SIS LIVE team as well as the dual uplink truck, which underwent a refit as part of its MPEG4 upgrade, to help us deliver the forty or so live four day golf tournaments that we produce annually."
SIS LIVE has worked with European Tour Productions on all its golf coverage since January of 2004 and, since March 2008, SIS LIVE has also provided Internet access, ISDNs and telephone lines using its iDirect platforms on IS907 and IS905.
This move has given European Tour Productions and its clients a more consistent, flexible and cost effective solution.
The system uses satellites, therefore, the remoteness of each location has no impact on the service.
SIS LIVE provides European Tour Productions with its own dedicated telephone numbers so as soon as the uplink dish is deployed, phones and Internet are immediately available for everyone in the TV compound.
* * * * * * * * *

Moving MUOS
Lockheed Martin has successfully completed required system testing on the second satellite in the U.S. Navy's Mobile User Objective System (MUOS), designated MUOS-2.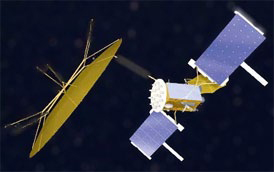 The satellite has been placed in storage to await its scheduled launch date in July 2013.
The MUOS constellation will provide significantly improved and secure communications for mobile warfighters, including simultaneous voice, video and data services—similar to the capabilities experienced today with smart phones.
The first MUOS satellite, launched February 24, and the associated ground system are currently providing legacy on orbit capability, followed by the launch of MUOS-2 in 2013.
The five-satellite, global constellation is expected to achieve full operational capability in 2015.
In the spring of 2013, Lockheed Martin will remove the satellite from storage, perform final spacecraft component installations and conduct a final factory confidence test in Sunnyvale, California, prior to shipping MUOS-2 to Cape Canaveral Air Force Station, Florida, for its launch aboard an Atlas V rocket.
MUOS satellites are equipped with a Wideband Code Division Multiple Access (WCDMA) payload that provides a 16-fold increase in transmission throughput over the current Ultra High Frequency (UHF) satellite system.
Each MUOS satellite includes a legacy UHF payload that is fully compatible with the current UHF Follow-on system and legacy terminals.
This dual-payload design ensures a smooth transition to the cutting-edge WCDMA technology while the UFO system is phased out.