A "CondoSat" Launched by Arianespace for Hellas Sat and Inmarsat
Arianespace's Flight VA238 took off after a brief delay of a few minutes on Wednesday, June 28, burning through five tons of fuel per second.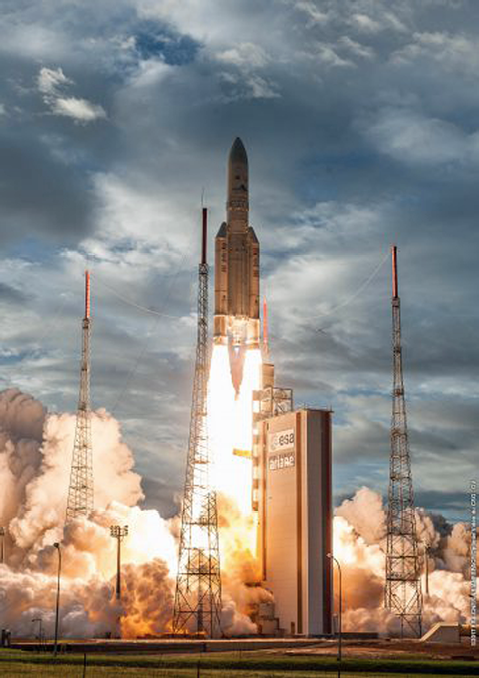 According to Arianespace, this 80th consecutive success for the company's heavy-lift Ariane 5 lofted two satellites, delivering new capacity for use in the distribution of TV and video content, telecommunications services, mobile satellite services, data relay, along with coverage of search and rescue missions.
Flight VA238 from the Spaceport in French Guiana was a so-called "condosat" because the launch was composed of two payloads for Hellas Sat and Inmarsat, as well as for the Indian Space Research Organisation (ISRO).
The Ariane 5 had a payload lift performance estimated at 10,136 kg. to GEO, maintaining the company's sustained launch pace in 2017.
Riding as the upper passenger on Flight VA238 was Hellas Sat 3-Inmarsat S EAN, which integrated two relay payloads.
The payload for Hellas Sat 3 will expand that company's business reach by providing DTH TV broadcast and telecommunications services, as well as the distribution of HD and UHD video content in Europe, the Middle East and sub-Saharan Africa.
These fixed satellite services (FSS) and broadcast satellite services (BSS) include a cross-strap service between Europe and South Africa.

Christodoulos Protopapas, the CEO of Hellas Sat, congratulated Arianespace on successfully orbiting the Hellas Sat 3-Inmarsat S EAN spacecraft and said he was looking forward to the launch of his company's next satellite — Hellas Sat 4 — which is scheduled for an Arianespace mission in 2018.
Also integrated on the Hellas Sat 3-Inmarsat S EAN satellite is a relay payload for a system developed by Inmarsat with Deutsche Telekom to offer high-speed, high-capacity Wi-Fi connections for airline passengers.
The first Inmarsat customer for this airborne connectivity is the International Airlines Group (AIG), which has started to equip their aircraft with this technology and aims to have 90 percent of their short-haul fleet installations complete by early 2019.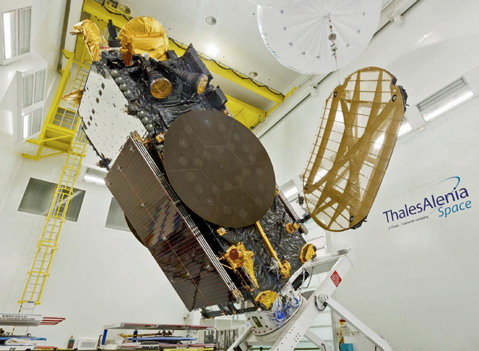 Inmarsat CTO Michele Franci thanked Arianespace as part of the European effort that will bring cabin connectivity to passengers across Europe. "This satellite was riding on one of Europe's best successes – Ariane," he added.
Weighing an estimated 5,780 kg. at liftoff, Hellas Sat 3-Inmarsat S EAN was produced by Thales Alenia Space using their Spacebus 4000C4 platform. With the satellite's successful launch, Arianespace has now orbited a total of 149 spacecraft built by Thales — continuing a long and successful partnership.
Bertrand Maureau, the EVP of Telecommunications at Thales Alenia Space, acknowledged Ariane 5's mission performance and noted that Hellas Sat 3-Inmarsat S EAN was the fourth satellite from his company launched by Arianespace so far this year.
Hellas Sat 3-Inmarsat S EAN also marks key milestones: this was the ninth satellite launched for Inmarsat.
This was also the first satellite launched for Hellas Sat, which will operate from the 39 degrees East orbital slot.
GSAT-17 was the 21st spacecraft orbited by Arianespace for the ISRO, extending a relationship with them that dates back to 1981 with the launch of the APPLE experimental satellite.
Built by ISRO/ISAC (the ISRO Satellite Centre) using the Standard I-3K satellite bus, GSAT-17 — with a mass at liftoff of 3,476 kg. — expands the Indian national space agency's current fleet of 17 telecommunications satellites and will provide continuity of FSS in Normal C- and Upper Extended C-bands, as well as MSS in S-band and Data Relay and Search & Rescue services in UHF band — operating from a final orbital position of 93.5 degrees East.
Dr. K. Sivan, Director of the ISRO's Vikram Sarabhai Space Center described Ariane 5's launch this evening as "glorious" and offered "congratulations, complements and thanks to Arianespace for a wonderful job."
Arianespace's next mission is set for August 1 using the lightweight vehicle Vega on a mission to Sun-synchronous orbit with two passengers: OPTsat-3000 for the Italian Ministry of Defense and VenµS for the French and Israeli space agencies.
www.arianespace.com
---
RUAG'S New Fairing Makes Debut on the Ariane 5 Launch
On June 28, Ariane 5 flight VA 238 started from the launch pad in Kourou — on the top of the rocket, protecting the satellite, was RUAG Space's payload fairing, the first of its kind that was manufactured out of autoclave. Going forward, this technique, designed for the future European launcher Ariane 6, will bring costs down by 40 percent.
With the new facility and required infrastructure up and running, RUAG is immediately able to run this new process. As a result, the first-of-its-kind payload fairing successfully performed on flight VA238.
Meanwhile, Arianespace has ordered from RUAG an additional 18 of these 17-meter long payload fairings for Ariane 5, manufactured out of autoclave. Airbus Safran Launchers is prime contractor and design authority for Ariane 6, an ESA program.
To run the new out-of-autoclave process, RUAG has invested in a state-of-the-art manufacturing hall in Emmen, Switzerland. Relying on tailor-made machinery and automated processes, the new composite center was inaugurated in 2016. The carbon-fiber based payload fairing consists of two half-shells, which separate in space.
These shells are newly cured in an industrial oven instead of an autoclave. This requires less energy, and — thanks to its size — the industrial oven can cure an entire half-shell in one piece.
The costly and time-consuming vertical integration of individual shell elements can be avoided. This reduces throughput time by 50 percent and enables RUAG to increase the delivery volume and sequence for its payload fairings.
Already ahead of VA238, Arianespace and RUAG Space signed the contract for an additional 18 payload fairings for Ariane 5 — which will be delivered from the Emmen facility between 2019 and 2022 with an annual cadence of 6. RUAG will also execute the integration and provide operational support in Kourou. With this contract, the transition towards the upcoming Ariane 6 can be smoothly prepared.
In another first, the next payload fairing manufactured out of autoclave is planned for launch on Vega flight VV10 on August 1, 2017.
In addition to the manufacturing facility in Emmen, Switzerland, RUAG also ramps up a site in Decatur, Alabama, to manufacture the Atlas payload fairing out-of-autoclave, as well as started work on the Interstage Adapter for NASA's Space Launch System — also an out-of-autoclave product.
The new payload fairing was not the only RUAG product on the Ariane 5 flight. RUAG also provided the on-board computer steering the rocket toward orbit, as well as the payload adapter connecting the satellites with the rocket.
Peter Guggenbach, the CEO of RUAG Space, indicated that this is a milestone step for the launcher industry in its efforts to make access to space more affordable. Meeting the needs of RUAG customers, the company has invested in new infrastructure, accelerated the process and reduced cost. Highest performance remains guaranteed — as the latest flight proves.
Stéphane Israël, CEO of Arianespace and Head of Civil Launchers of ArianeGroup, stated that this partnership dates back for several decades — with RUAG always proving its readiness to reinvent itself, invest and respond to market needs. Arianespace is proud that the first payload fairing manufactured out of autoclave was launched on an Ariane rocket. This outstanding achievement foreshadows the large gains in competitiveness that will benefit our future Ariane 6 launcher thanks to all partners involved in this program.
www.ruag.com/
---
Major Move into Satellite Servicing by SSL MDA and Finance Technology Leverage LLC — SES First Customer
SSL MDA Holdings Inc., a global communications and information company, has announced important milestones in the company's progress to bring transformational on orbit satellite servicing to market.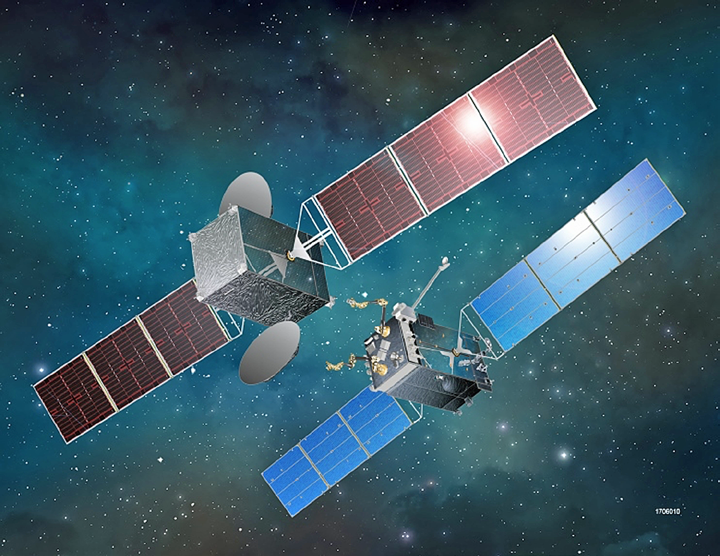 Space Infrastructure Services LLC (SIS), a new U.S. company, will commercialize sophisticated satellite servicing capabilities, including refueling.
SIS will be majority owned by Finance Technology Leverage LLC (FTL), a global investment company headquartered in Silicon Valley, along with other U.S. investors, with SSL MDA Holdings maintaining a minority ownership share.
Full financing for the venture is expected to be concluded over the coming weeks.
On orbit satellite servicing will provide operators with the ability to enhance the existing use of space assets through life extension, inspection, and repair.
In addition, satellite servicing provides a capability to perform partial assembly in orbit, either augmenting existing satellites, replacing elements from modular satellites or constructing larger satellites freed from the mass and size constraints of launch.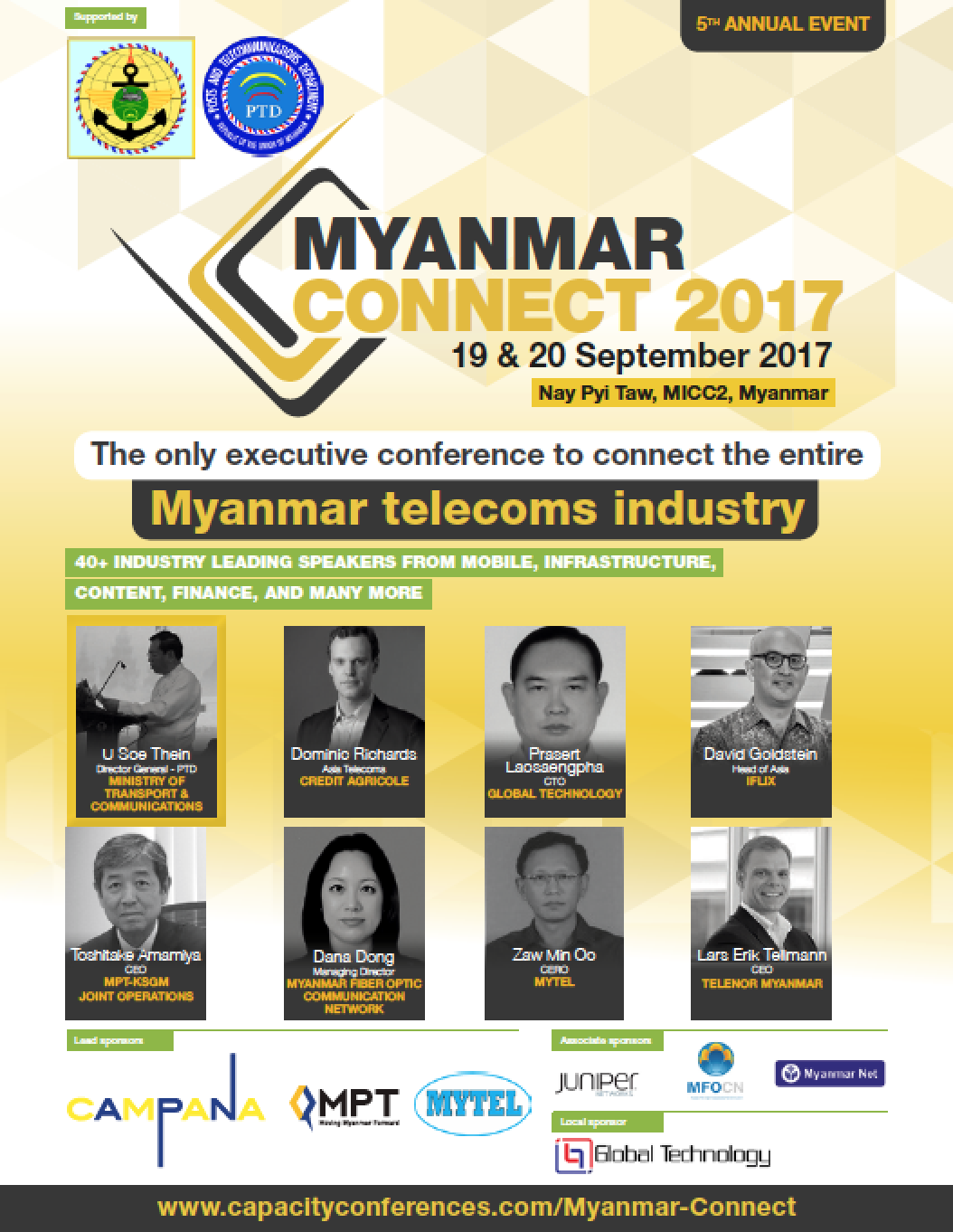 SIS has awarded a contract to SSL to design and build the highly capable satellite servicing spacecraft vehicle.
The vehicle will fully meet the specifications for the Defense Advanced Research Projects Agency (DARPA)'s Robotic Servicing of Geosynchronous Satellites (RSGS) program.
The DARPA specs are designed to inspect, repair, and augment geosynchronous satellites and plans to include a refueling payload to extend the life of satellites that are low on propellant.
The contract is valued at US$228 million (CA$305 million). SSL is working with the Naval Research Laboratory (NRL), The Charles Draper Laboratory and MDA robotics divisions in Brampton, Ontario and Pasadena, California. to develop the servicer.
The company also announced that SES has entered into an agreement for an initial life extension mission with options for further missions.
Under this agreement, SES will be the first commercial customer to benefit from satellite refueling that can be called up as needed with minimal disruption to spacecraft operation.
Once orbital demonstrations under the RSGS program are complete, SIS will receive the satellite servicing vehicle to operate throughout its lifetime. Steve Oldham, Senior Vice President Business Development with SSL MDA, is responsible for the SIS business.
Howard L. Lance, the President and CEO of SSL MDA Holdings, noted that this new venture is designed to provide satellite operators with more options in fleet management. Both commercial and government satellite operators are looking for flexibility in managing capital expenditures and better ways to incorporate resiliency into their fleets. He added that by combining the company's world-class capabilities in satellite manufacturing and robotics together, SSL MDA is uniquely positioned to enable this next-generation capability.
Ray Conley, Managing Partner of FTL, stated that his company is committed to advancing space-related industries by supporting key technologies and markets. On orbit refueling and the repairing of spacecraft is a critical step in humanity's march toward a vibrant and exciting frontier.
Martin Halliwell, the CTO at SES, indicated that satellite servicing on orbit will be essential to next-generation architectures for communications satellites. SES is pleased to be working on a refueling mission that may enable the firm to obtain more value fromf satellites already on orbit. Refueling will be relatively quick and control of SES spacecraft will be maintained at
all times.
At the SES infosite, Carlo Tommasini, the company's VP of Fleet Engineering, noted that MDA's refuelling approach is conceptually similar to a travelling space gas station that is capable of refuelling satellites through robotic arms.
MDA relocates the space gas station (robotic servicer) to the orbital location of the SES satellite where it docks to the aft end of the SES satellite for approximately nine days.
While the SES satellite continues providing customer services, automatic and tele-operated robotic servicing tools are used to survey the SES satellite, manipulate thermal blankets, valves and pump fuel.
After the fuel transfer is completed, the worksite is closed and the robotic servicer undocks from the SES satellite and moves away.
Thereafter, the SES satellite operates standalone and can continue to serve our customers beyond its usual 15 year-lifespan.
He explained that many satellites are healthy and in good operating condition on orbit and are able to operate beyond their 15 year design life. For these satellites, the limiting lifetime factor is the remaining fuel on board to maintain attitude control and orbital position station keeping.
For satellites low on propellant, satellite on orbit refuelling provides life extension maintaining revenue streams and/or provides time to determine the optimal fleet management strategy.
Currently, ne noted, the satellite life extension service is applicable to GEO fleet. He also stated that SES, being the first satellite operator to sign up for the MDA SSL services, is confident in the viability of this
new technology.
MDA is a leader in space robotics and automated systems enabling on orbit servicing missions. SSL is a leading supplier of commercial GEO satellites and is also designing the satellite servicing spacecraft vehicle for the U.S. Defense Advanced Research Projects Agency (DARPA) Robotic Servicing of Geosynchronous Satellites (RSGS) program.
SES has spent months working closely with MDA and SSL to jointly develop the refuelling services concept which meets SES's needs. As SSL embarks on building the servicer, SES will be closely involved in reviewing the design and performance and all are confident this service can be delivered in 2021. This service, when ready, will bring powerful options to our fleet management capabilities. Together with the MDA and SSL, SES is proud to be pioneering this technology.
www.sslmda.com
www.ses.com
---