As many of you may already know, last year we instigated the now infamous Carrier ID (CID) tour which takes visitors to various exhibitions around a trade exhibition's show floor to experience the process of CID, from transmission, through detection, to resolution.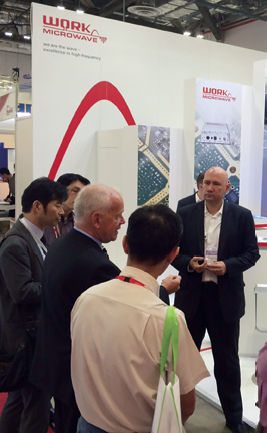 I, for one, have been extremely pleased with the results of these tours, as they generated a great deal of interest in interference reduction at every show we have visited and managed to really get the message across to a broader demographic.
Generally speaking, we attempt to conduct the tour in order, although sometimes the show floor didn't allow that to occur without taking a rather rambling route. On the tour, the first element we would talk about is transmission, followed by visits to encoder manufacturers, such as those exhibiting at IBC, including Comtech, Newtec, Harmonic, Work Microwave and others. We then discuss how CID is detected, with SAT Corporation and Siemens Convergence Creators as examples of this technology. The tour culminates with the satellite operators who describe how they use these tools to resolve interference when such occurs.
At CABSAT and CommunicAsia, these tours were particularly well-received, with fairly large tours winding their way around the show floor. However, IBC and the satellite-specific shows did not see anywhere near the same number of participants.
I'm certain this is in partially due to the culture here in Western Europe as well as in the U.S.—attendees at these shows don't like to follow a tour—they seem to appreciate knowing where we the IRG is going and then make their own way around the show. What is true is that at these shows, even if the tour wasn't that popular, the people who did respond to our invitation were highly receptive to what we, the IRG, and the companies had to offer on the tour and what all had to say about interference and the solutions available (as well as yet to come).
With this in mind, this year, we won't be touring IBC—what we will be doing is to bring our English cream tea to the show, but with a twist. There will be more information to follow regarding this surprise.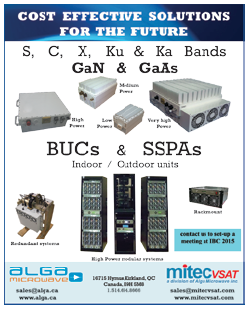 The message of the tour remains truly important, and this year's CommunicAsia saw an expansion beyond CID to demonstrate other technologies that are aimed at reducing interference. Therefore, here is my guide to who you should consider visiting at IBC2015 if you would like to understand how to reduce interference. Hopefully, we will see many of you making your own interference tour. However, if you would still like to have an IRG-led tour, or simply want to talk about these technologies, then please email press@satirg.org and we will make certain such happens for you.
CID—Transmission
Obtaining the correct CID information included at transmission is clearly an important part of the puzzle. Over the past couple of years, more and more modulators and encoders have been launched that possess CID capability—in fact, so much so that finding one without CID is rather difficult. This makes CID information transmission easier to implement for operators and users. If you are replacing equipment, Ensure your equipment replacement units have CID capability and make certain you and your colleagues know how to enable the technology, as it is often set as "off" by default. If you are heading to IBC, visit these stands to learn more:
Comtech EF Data — 1.F80
Harmonic — 1.B20
Newtec — 1.A49
Work Microwave — 4.A77
To review the full list of available products with CID, please visit the IRG website at satirg.org/resources/cid-ready-products/
CID—Detection
Once CID information has been transmitted, the operators need to be able to detect it. For users, being able to detect CID means they can also verify your CID is present and is displaying the correct information—something which could prove crucial for spotting errors. There are a number of companies exhibiting at IBC which can help you with that and help you understand the process of CID detection, such as:
SAT Corporation by Kratos—1.A01
Siemens Convergence Creators—4.A30
CID—Resolution
The resolution portion of this technology is handled directly by the satellite operators. If, as a satellite operator, you are not yet ready for this inclusion, or if you would like to understand how such is handled, visit one of the many satellite operator members who are exhibiting at IBC, such as:
ArabSat — 1.B38
Es'hailSat — 4.B74
Eutelsat — 1.A59
Hispasat — 1.A50
Inmarsat — 2.B19
Intelsat — 1.D59
SES — 1.B51
Telenor — 2.B19
Turksat — 1.C71
VSAT Tools
The other important area of discussion is that of VSAT interference. As we have previously cited many times, VSAT is the cause of the largest proportion of interference issues and is a real problem for the industry. This is, in part, due to unmanned systems that often operate in remote locations with the additional challenge that many times these systems are often operated by untrained personnel, whether such involvement is for the installation of the systems or their operation. Fortunately, innovation is responsible for numerous emerging systems right now and a number of significant tools are being launched. Please visit us at IBC2015 if you would like to solve your VSAT interference issues.
New Technology
Additionally, new, exciting and innovative technology solutions are now able to directly mitigate or even eliminate interference. These products are now available and are making a substantial difference. For more information on this technology, contact press@satirg.org to obtain the details as well as to receive invitations to visit manufacturers of these specific products who will be present at IBC2015.
Training
Of course, training is extremely important to stop interference. Our EUI advisory committee has helped to create a customized training and certification program for broadcasters. This program is offered through the Global VSAT Forum (GVF). For more information, please visit the GVF stand at 6.B05. In addition, visit the International Association of Broadcasting Manufacturers (IABM) at stand 8.F51a to find out about the training courses they have to offer, as well.
Finally, we at IRG (stand 4.A61) will be at IBC talking to Members and others about how we can continue to reduce interference. We have meeting facilities that may be booked as well as access to refreshments and the Internet for IRG Members. If you would like to book time with us at IBC2015, to learn more about interference, or to engage your own personalized tour, please get in touch with as via press@satirg.org.

Martin Coleman is Executive Director, the Satellite Interference Reduction Group (IRG). Martin is responsible for spearheading a number of significant initiatives and is committed to introducing new technology and processes to mitigate all types of satellite interference: VSAT TDMA Systems, BIG Data; a reference guide to Interference; sorting out those Difficult Cases including new standards and processes within the Geolocation industry; assisting the ITU in dealing with Harmful Interference; and implementing Carrier ID (CID). Martin regularly addresses the industry on the subject of satellite interference, at global industry events, on an individual basis, and at IRG-led conferences and webinars.
---