A Successful Antenna Unfurling
Two unfurlable mesh antenna reflectors developed by Harris Corporation (NYSE:HRS) were successfully deployed last month onboard the first Mobile User Objective System (MUOS) satellite built by Lockheed Martin Space Systems Company, Sunnyvale, California.

MUOS will provide military users with next-generation, narrowband tactical satellite communications with 16 times more capability than existing UHF satellites, including superior data rates and priority-based access to on-demand voice, video and data transfers. The announcement was made during the National Space Symposium that was held April 16-18 at the Broadmoor Resort in Colorado Springs, Colorado.
The MUOS satellite, developed for the U.S. Navy, leverages the latest commercial advances in cellular and satellite technology, while maintaining compatibility with legacy UHF systems. This is the first of five MUOS satellites scheduled for deployment. Each MUOS satellite will carry two Harris antenna reflectors—a 14m diameter unit for multiple-beam operation that significantly increases the number of users and traffic the system can support and a 5.4m diameter unit for legacy mission operations. The reflectors are secured to the satellite by precision booms that are also provided by Harris. A reflective gold mesh weave provides the reflective surface required for radio waves.
In total, Harris is building 10 units for the MUOS constellation, with the remaining eight units in varying stages of production. The antenna reflectors were manufactured at the company's reflector manufacturing facility in Palm Bay, Florida.
More information:
http://www.govcomm.harris.com/solutions/products/defense/muos.asp
* * * * * * * * *
SES' Hulk
SES S.A. has announced that the SES-4 satellite is now fully operational and ready for service at the orbital location of 338 degrees East.
SES-4 was successfully launched from the Baikonur Cosmodrome in Kazakhstan on board an ILS Proton Breeze M booster on February 15th, 2012. SES-4 replaces the NSS-7 satellite and provides replacement as well as incremental capacity at this well-established SES orbital slot over the Atlantic Ocean.
SES-4 is a 20-kilowatt satellite manufactured on the flight-proven Space Systems/Loral 1300 platform, with 52 C- and 72 Ku-band transponders. It has C-band beams serving the eastern hemisphere of Europe and Africa and providing full coverage of the Americas, plus a global C-band beam to support mobile and maritime customers. Four high-power, regional Ku-band beams provide service to Europe, the Middle East, and West Africa, as well as North and South America, with extensive channel switching capability between C- and Ku-band transponders for enhanced connectivity. The satellite is designed to deliver services for 15 years or more.
Martin Halliwell, Chief Technology Officer of SES, said, "We are delighted to see the 50th spacecraft in the global SES fleet go live and congratulate the technical teams involved for the successful bringing into operation of this important addition to our fleet. SES-4 offers state-of-the-art transmission capacity to SES customers across three continents and for a wide array of applications, including video distribution with DTH power-levels, VSAT, government and maritime services."
More information:
http://www.ses.com/4628467/ses-4
* * * * * * * * *
Dual Solutions With Multiple Spot Beams
Y1B, the second satellite of the United Arab Emirates' space communications program, is ready to be launched on a Proton launcher from Baikonur in Kazakhstan.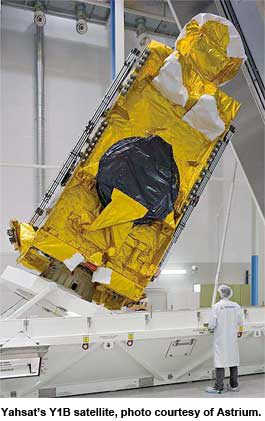 Comprising two satellites and a ground segment, the Yahsat project is a complete commercial and military satellite communications system built by Astrium and Thales Alenia Space (TAS) for the Al Yah Satellite Communications Company (Yahsat). The Yahsat system will offer innovative commercial solutions, including HDTV broadcasting, Internet trunking via satellite, corporate data networks, and Internet services for public and private users, as well as secure communications.
Astrium is responsible for the final integration of the two satellites and for delivery in orbit. Thales Alenia Space provided the payloads and is responsible for the space segment, including the launch of the satellites. Astrium Services, with its partner Thales Alenia Space, is responsible for the ground segment, which comprises a network of ground terminals, and for a management system which provides remote control of all system hardware. Astrium Services, in association with Thales Communication and Security, is also in charge of operating this system, providing ground segment maintenance and of training Emirati operators over a five-year period.
Y1B will deliver communications in Ka-band for commercial and governmental users. It will provide high- data rate Internet services for public and private users in the Middle East, Africa and South West Asia with state-of-the-art Ka-band multi spot-beam technology, achieving cost-effective bandwidth supply through 61 narrow spot beams. The governmental mission will bring a substantial increase in the total capacity available for the UAE secure communications over the Middle East, complementing the Y1A satellite.
With a launch mass of approximately 6,000 kg and a spacecraft power of 14 kW, Y1B has a design lifetime of more than 15 years. Like Y1A, Y1B was integrated by Astrium on a Eurostar E3000 platform and tested at its Toulouse site. More than 50 Eurostar satellites have now been launched and have accumulated over 400 years of successful in-orbit operation. Both commercial and military Ka-band payloads were built with state-of-the-art Ka-band multi spot-beam technology from Thales Alenia Space. Early orbit phase operations will be conducted by Astrium from its spacecraft control center in Toulouse.
* * * * * * * * *
Antenna Approvals
Following a series of Type Approvals from Inmarsat, Thrane & Thrane has announced the availability of several new antenna options for its AVIATOR SwiftBroadband portfolio.

This approval will enable the satellite communications equipment manufacturer to offer increased flexibility to its worldwide customer base. The antennas, now Type Approved for use with Thrane & Thrane's AVIATOR 700D, 350 and 300 systems are:
AMT-700 and HGA-6000 approved for use with the AVIATOR 700D

CMA-2102 and HGA-7000 approved for use with the AVIATOR 350

IGA-5001 approved for use with the AVIATOR 300

Thrane & Thrane offers a portfolio of SwiftBroadband solutions ranging from the AVIATOR 200, 300, 350 and 700, to the AVIATOR 700D, which is FANS 1/A and CPDLC compliant and also supports a range of advanced applications including cockpit voice dialling, in-flight calling and Internet browsing.
The newly approved antennas join a range of other antennas already Type Approved for use with Thrane & Thrane's SwiftBroadband solutions.
* * * * * * * * *
Joining Forces For Additional Flexibility

Astrium Services and Hisdesat, the Spanish government satellite service operator, have signed a framework agreement for a joint technology development project with the aim of establishing a constellation approach for the radar satellites TerraSAR-X and PAZ.
The German satellite TerraSAR-X, launched in 2007, reliably delivers high-resolution radar data for versatile applications to worldwide customers.
PAZ is the first Spanish radar satellite designed as a dual use (military and civilian) mission to meet operational requirements in the field of high resolution (up to 1 meter) observation. PAZ is scheduled for launch in 2013 into a polar orbit, which will be specifically optimised to improve the time to get images over key areas of interest when combining TerraSAR-X and PAZ into a constellation.
Operating these two virtually identical satellites in a constellation will afford Astrium and Hisdesat with a more flexible capacity management of their systems. The company's customers and partners will benefit from enhanced performance and service levels thanks to improved revisit time, service reliability and increased data acquisition capabilities. The constellation approach will also provide improved system redundancy and back-up for both satellites in case of maintenance phases. A wide range of time-critical and data-intensive applications will benefit from this constellation approach, such as precise monitoring and faster detection of surface movement activities:
Defence and security: reduced lead times and a reliable, faster coverage of critical areas of interest and hot spots will facilitate improved support to operational missions worldwide

Surface movement monitoring: engineering and mining companies will be able to efficiently monitor and manage their operations and reduce risks to workers on the ground. Maritime surveillance: applications such as ship detection, oil pollution monitoring and sea ice observation will benefit from improved revisit times and increased data acquisition capabilities
Humanitarian organisations and crisis intervention: faster and assured access to data over the affected areas supporting the efficient coordination and management of rescue and relief activities.
* * * * * * * * *
CAPEX Impact On FSS Operators
In its recently released Satellite Operator Financial Analysis (SOFA) study, NSR assessed two different metrics regarding typical CAPEX outlays for fixed satellite services (FSS) operators:
– The first metric was the Total CAPEX to Cash Flow from Operating Activities ratio that gives an indication of how much of a FSS satellite operator's capital expenditures can be financed by the annual cash flow coming out of its operations. The lower the ratio, the less cash is being absorbed by capital spending and more cash remains for other activities, be they payment of dividends, deleveraging, or possible merger and acquisition activities.

– The Total CAPEX to Annual Revenues ratio was the second CAPEX related metric assessed in this study. It performs a similar function to the prior metric and shows what fraction of an FSS operator's annual revenues are used for CAPEX functions.

NSR's statistical analysis of the Total CAPEX to Cash Flow from Operating Activities ratio from the SOFA study illustrates a clear distinction between large FSS operators and small- to mid-sized FSS operators. While the
industry average for this ratio stands at 0.79
, indicating that on average nearly 80 percent of cash flow coming from operating activities is funneled into CAPEX, the standard deviation shows that this can
easily vary as widely as under 10 percent on the low end and over 150 percent (sometimes well over) on the top end
.
This trend occurs because small- to mid-sized FSS operators will normally exhibit periods of very high capital spending when they need to plan for a replacement satellite in their fleet or look to expand their overall fleet size, but the small- to mid-sized FSS operators will then have very low CAPEX requirements in between these satellite programs.
The larger FSS operators typically have more consistent year-to-year capital expenditure requirements as they normally launch several satellite replacements or expansion programs per year; however, they, too, will see cycles in their capital spending profile with periods of lower or higher spending (just not quite as dramatic as the small- to mid-size operators).
The Total CAPEX to Annual Revenues ratio essentially illustrates the same trends as described above for the Total CAPEX to Cash Flow from Operating Activities ratio. Larger FSS operators tend to score more consistently, though with some variability, in the 0.3 to 0.5 range, while small- to mid-sized operators can spend anywhere from less than five percent of annual revenues on capital projects to more than 150 percent of annual revenues depending exactly where they are in their fleet replacements/expansion cycle.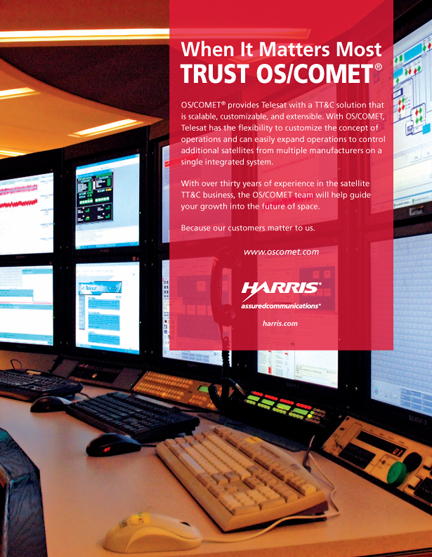 SKY Perfect JSAT appeared to be in the "trough" portion of its capital spending cycle in 2010, and this allowed it to score the lowest Total CAPEX to Annual Revenues ratio of all FSS operators for the year for which NSR had data. Assuming SKY Perfect JSAT does increase capital spending in the next several years, it will likely see a more typical score for an FSS operator of its size in this metric.
Telesat, AsiaSat, Intelsat, Eutelsat, SES and Satmex all came next in terms of the Total CAPEX to Annual Revenues ratio in 2010 indicating that from this perspective they were spending fairly typical levels of on CAPEX for an FSS satellite operator. All of these companies are in slightly different places in their capital spending cycle, so there will be considerable movement in these rankings in coming years.
For example, SES was heading into a peak of CAPEX spending in 2010 and therefore scored the highest of the large operators. Conversely, APT Satellite actually spent more on capital investments in 2010 than it had in total revenues. This was because APT Satellite was at the crest of its capital spending cycle for its Apstar-7 and -7B satellites and actually took on debt in this year in order to fund its CAPEX program. APT Satellite's capital spending will likely decline significantly in the coming year or two, and it should then score a more typical Total CAPEX to Annual Revenues ratio.
It is a well known fact that the FSS business is very capital intensive and the high costs of building, launching and insuring satellites are both a major barrier to entry into the sector as well as the core issue at the heart of every business plan in the industry. Over a longer period of time (about 5 years), NSR's analysis shows that the average FSS operator will spend about 35 percent to 45 percent of their annual revenues, or 50 percent to 70 percent of their operating cash, on CAPEX.
With statistically determined typical values for these ratios as well as understanding the different trends between large and small- to mid-size operators, it becomes a straight forward task to assess individual operator statements regarding their CAPEX spending projections and determine both how they stack up to their peers as well as if they are staying within industry norms.
Analysis by Patrick French, Senior Analyst, NSR Singapore. Mr. French joined NSR in September 2003 and is the lead author for NSR's annual studies Global Assessment of Satellite Demand and Broadband Satellite Markets.
* * * * * * * * *
An Awarding Day

Inmarsat has received a major industry leadership award, being named Satellite Services Provider of the Year for the second consecutive year.
The accolade was bestowed at a special ceremony at the Digital Studio Industry Leadership Awards in Dubai. The awards were attended by many of the Middle East's leading professionals from key industries, especially the media and TV and film production companies.
"It's a great honor to receive this award for the second time," said Helene Bazzi, Inmarsat head of regional development for Europe, the Middle East and Africa. "We see it as great recognition of our efforts towards offering the best services possible to professionals and organizations in the region. Inmarsat has gone to great lengths to develop our premium satellite services, which uses one of the most reliable satellite communications network in the world to provide global coverage for users to broadcast live news from wherever they may be."
Helene added that many organisations and individuals rely on our technology, especially in emergencies, so it needs to be the best it can be, delivering when and where it's required, which is something Inmarsat strives to achieve. In its eighth year, the Digital Studio Industry Leadership Awards recognize the efforts of individuals and companies that have contributed to the growth of the broadcast and production industry in the region.
Another Inmarsat story involves a news team from Sky News that provided compelling and award-winning coverage of the Libyan uprising has told how they relied on Inmarsat BGAN to report to audiences worldwide.

Alex Crawford, special correspondent for Sky News, her producer and two cameramen were reporting from the newly-liberated town of Zawiya when they spotted a convoy of opposition fighters heading for the capital Tripoli. Taking their BGAN unit with them, they decided to follow the group, and became the world's only news crew to capture the moment opposition forces entered Tripoli.
"We were live on air via satphone, telling the studio about the scenes of celebration we could see, but it was evident that nobody could quite believe what we were saying," said Ms. Crawford. "So we decided to rig up the BGAN and show them the pictures."
Producer Andy Marsh set up the BGAN from the back of a pickup truck, which was moving slowly through the gridlocked streets. "We had it attached to the cigarette lighter for power, connected to a laptop, and Andy synched it up with the Inmarsat satellite," said Ms. Crawford. "He was monitoring the connection, and as we crawled forward, he moved the unit ever so slightly to maintain the link. It was a genius move."
The connection was so reliable that the team were able to broadcast live and uninterrupted coverage for 40 minutes, as Ms Crawford answered questions from the studio in London. "As soon as they could see the pictures you could hear the penny dropping the other end quite dramatically," she said.
"The viewers of Sky News expect to see reports from the heart of the story, and so the news teams need to be ready to move at a moment's notice and follow the story wherever it leads," said Mike Seery, Head of Media Sector Development for Inmarsat. "Mobility and speed of set-up, as well as reliability, are all essential. BGAN has delivered all of these for the Sky News reports."
Ms. Crawford, three times winner of the Royal Television Society's Journalist of the Year, has been praised for her bravery and tenacity to be the first broadcast journalist to enter the city. Her live reporting from Libya has been described as "heroic journalism". Earlier this year Sky News' coverage of Libya won a Royal Television Society award, with judges praising the team's "brilliant achievements in just getting to the right places at the crucial moment."
Inmarsat distribution partner GMPCS has worked with the broadcaster for many years. "Sky News has built their 24-hour rolling news operation on some pioneering use of mobile satcoms, and have been enthusiastic adopters of BGAN," said John Stoltz, Director, GMPCS. "Their commitment to technology is one of the reasons they achieve the award-winning coverage."
"This is a fantastic example of the power and flexibility of BGAN," said Mike Seery. "It demonstrates just how quick and easy it is to set up a BGAN and get a reliable connection for live video reporting. If there is news breaking from a remote part of the world, and a news crew covering it, you'll most probably find a BGAN."