It has been the toughest of tough years for Dublin-based Solaris Mobile. CEO Steve Maine has had to struggle with a faulty S-band antenna on Eutelsat's otherwise perfect W2A craft, then negotiate an insurance claim while at the same time conducting rigorous tests as to what portion of the mission could be salvaged.
Meanwhile,
Solaris
is still having to pressure and cajole many European member states to grant the national operating licences for the
complementary ground component
(
CGC
) that gives the project its unique satellite + terrestrial offering.
W2A
was launched back in April 2009, and despite subsequently receiving a significant insurance payout for the Solaris 'anomaly' there has been no word — yet — on any sort of replacement for the payload. Indeed, in many respects, the primary mission for Solaris, that of supplying the gap-filling spectrum for European telcos and their
DVB-H
services, is no longer much talked about. DVB-H is, for most European nations, no longer an active proposition.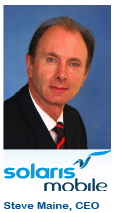 Asked whether he remained optimistic, given the challenges ahead,
Maine
carefully dissected and reviewed those very obstacles. He said any process that required getting individual national regulation in place was bound to be laborious. "I am almost surprised that everyone was able to get the first part of the legislation through, which gave us the original authorisation process, and now we are trying to make sense of the rest of it, and which is to gain the individual operation licences [in each country]. I am, I guess, disappointed by the time it is all taking. Here we are, some 12 months in, and we have yet to get the basic authorisations in place in all the countries, let alone some of the other hurdles.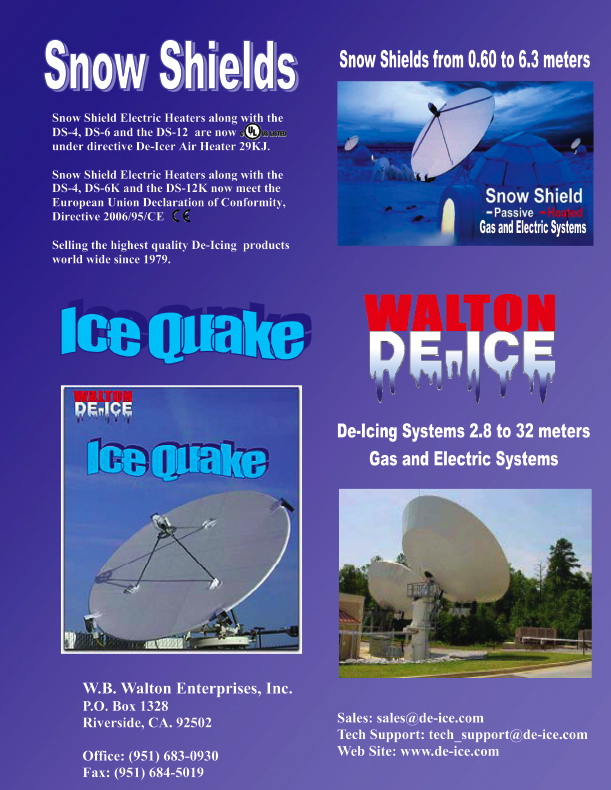 "But in the greater scheme of things, I certainly do not feel too downbeat because, even if the satellite had been working perfectly properly, then we would have still had to go through all this work. On a scale of 'jubilant' at one end, and 'morose' at the other, I would still feel closer to the jubilant end of the scale. This may have more to do with my own chemistry, but it is also founded on 35 years-worth of hard-bitten experience of trying to get new projects off the ground.
"In summary, it is disappointing, but it might be said that it is also a warning to the regulators and those who set the rules that in their caution they may be doing real harm to a fledgling business."
Nevertheless,
Maine
states he is very confident of the success of Solaris. However, asked whether his co-owners
Eutelsat
and
SES Astra
share that confidence, he pauses and admits, "No. I would have to say 'no', because the market dynamics are very different today compared with 2006 [when the payload was ordered], and they are still changing very quickly. Even in practical terms, the reality is that we have kicked off an RFP process, and we are still at the stage that we make sure that, when we have finalised the design of the next satellite, that it meet as closely as we can the apparent demands of the market. This is not as airy-fairy as it sounds, because we ARE at the stage where we have concrete market prospects, and we have signed a 'heads of agreement' with one customer.
"We are at the stage where, while we know that any satellite has to be designed to be as flexible as possible, we are also at the stage where we are talking to people who are more interested than you might imagine and saying to them that we can focus the design on this [new craft] to your actual requirements, which will result in better performance from it for your business than if we simply keep it flexible. We are at this stage at the moment, and while we are being careful during all these negotiations it is true to say that our shareholders are being 100 percent supportive it is also fair to say that they are being wary. They are wary because of the market dynamics. They are wary about the design and the specifics and known opportunities, and that we seize those opportunities. They are also wary that 12 months down the line we are still trying to make sense of the legal and regulatory aspects."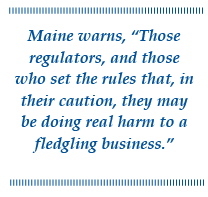 "This project has legs," argues
Maine
. "Ask yourself some fundamental questions. For example, if you are a business what might we offer more than that which you might have achieved with a terrestrial only or a satellite only component? Can we help expand that business plan you have? The answer is undoubtedly 'yes'. There is most definitely a place for this network of ours. But we have to recognise that for some of our potential customers thinking beyond their established box is also a challenge. We had a very valuable opportunity to place our payload onto the Eutelsat satellite, and this reduced our entry cost to market considerably.
"We are now looking at a wide range of follow on options, but the opportunity to hitch a ride again onto one or other of my shareholders planned satellites is not as extensive as we might wish, and so we are having to consider right at the top of our list of options funding our own satellite. This isn't just the question of us spending the insurance cash we received and getting on with the business, but it is very likely that the next satellite for us will be very much more expensive. Put all of these issues in a list; market dynamics, regulatory uncertainty which I still see a disappointing but not debilitating, and the step-up in terms of costs for the next phase of the business, and you have some questions to answer. Our shareholders are hugely supportive but they are anxious that we get the next stage of the business right!"
Maine
says bluntly that, despite these problems, Solaris Mobile has done a great deal. "We have achieved so very much. We were obliged to cover 60-70 percent of the European landmass by 2011 and to have launched services by then. Our 'heads of agreement' letter is but one which shows that we have made very real offers to a number of potential clients for services, and that the satellite is very stable with 15-years of life left out of it, and in other words it is our view that we are wholly compliant with the terms of the licence.
"While people are naturally interested in what we will do next, and when the next significant investment is going to come, we don't believe that (the investment) needs to be tied to any view about our ability to make commitments under the EU process. We are faced with purely a business judgment, and how quickly we can make that next stage of investment and which will enable us to achieve scale in our business. These decisions have nothing to do with meeting the EU requirements."
He explained that at a recent quarterly meeting with the EU's
Communications Group
(
Cocom/MMS
), they discussed the project and how progress was being made. "They look in particular at elements of subsidiarity and what must be done at the various levels within Europe as well as in individual countries. One has to tread quite carefully around this area and the meeting heard from all of the member states as to where they were in the licensing process and the issue of fees and what their policies were on an individual nation by nation basis, and the use of CGC because there are within Europe different views on how CGC might be used.
"And I cheekily asked, having heard all these statements and plans, whether the initial 18-year licence period would commence once all of the nations had issued their own individual licences for the system, and not from May 14th 2009 when the EU issued its licence, and whether this assumption was correct. That was blown away pretty quickly! But it made my point, that this process cannot and must not be allowed to go on forever. Our period is rapidly eroding, we have to make a sensible business while at the same time observing the rules and regulations of local regulators who seem to be quite relaxed [about time passing by]."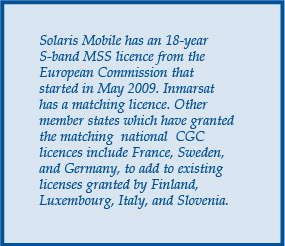 Solaris has conducted a number of city-specific multi-channel tests for both TV and radio and Paris, Barcelona, and elsewhere. There are now other plans afoot. "Our message over the past year has changed significantly, we are still demonstrating a platform in and around Paris and as a focal point for discussions for potential customers, we are proposing to build other demonstration platforms in other European cities but they will have a different focus to them.
"The next one we are going to build will be a radio distribution platform with a bunch of radio channels so although the network topology might look very similar to that we have demonstrated in Paris, the content itself will be very different and this will mean different terminal equipment going into cars.
"Our intention is for this to be a long term strategic investment, incorporating CGC as well. We'd hope to be demonstrating multiples of 10 radio channels and certainly in the 30-50 channel range," adds
Maine
.
However, if the European auto-trade is to make any move into S-band radio, then it will take some years for it to equip new vehicles with suitable radios.
Maine
says the car makers are holding back from making any sort of commitment. "It's much the same problem that I walked into when I started this job some two and a half years ago. They see a multitude of technology distribution options out there and are unsure as to which way to jump. They are already suffering, most of them, from the consequences of a quite savage recession where sales of new cars are being hit and their own development plans in this area have been affected.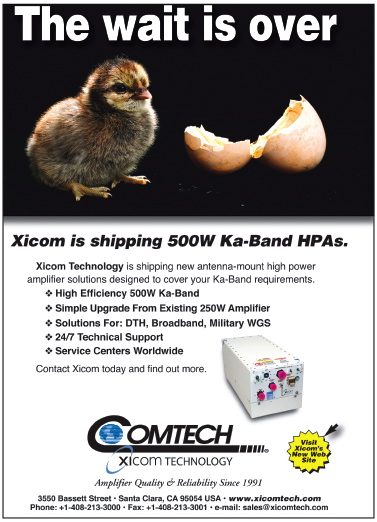 "That is not to say that those plans are on the back burner but they are definitely being pushed towards the back burner, in my view. While we have not yet seen hard commitments from the major auto players, and while those announcements are slow to happen, we are seeing very real announcements coming out of the USA about putting Internet into car radios and the game is changing so very quickly, helped by the growing availability of mobile Internet and its ability to support radio. You can understand why the manufacturing sector is pausing for breath to see what might happen. This means that we are initially concentrating on the after-market, as a first point of entry."
Maine
says that he hopes to be announcing very real services by year-end 2010. "I would hope to be offering a range of services in 2011. The satellite, even in its damaged state, covers well over 60 percent of the European land mass. Indeed, we reckon it covers more than 80 percent, but even with a satellite in place, we have to recognise the economics of an overall system that requires that the ground components also be in place, complete with their individual country licences and it is this element that is slowing us down today. However at the end of the day, we cannot force businesses to make commitments until they are ready so to do. If you listed the largest Western European countries by population, then you would see where we think market entry is going to take place."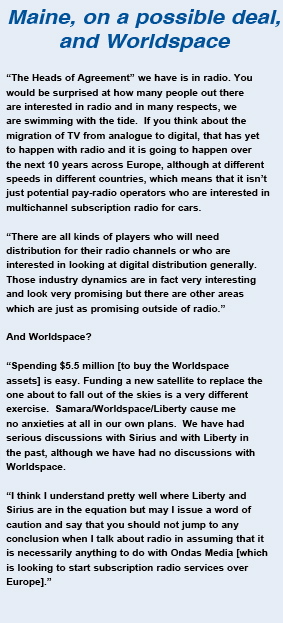 Maine
then agreed that Germany, Poland, France, the UK, Scandinavia as a block, Italy and Spain were all major markets being addressed. "The ability to deploy in large markets is obviously important. There is no homogeneous European market for these services. Consequently, individual territories have to be examined on a case by case basis. I am quietly confident we'll see launch of services before the end of 2010, or very early in 2011. It's what we are certainly aiming for and will represent the launch of a commercial service. I am very hopeful that if this can be achieved, then it will have a knock on catalytic effect on others in the market.
"Getting this first one right is important. I remember 25 years ago the decision by Sky to launch just a handful of channels was, itself, the catalyst for many others to come into the market. It seems to me you do not necessarily need a massive explosion of services across the whole of Europe. This is unlikely. What you need is one player to spot an opportunity and decide to go for it and this will prompt others to look over the hedge and see what might be done in their own individual markets.
"I certainly see light at the end of the tunnel. I have already said how determined I am and if I thought for an instant that there was no hope, then I'd be the first to say so, and we are nowhere near that stage with this project. There is a huge shaft of light that I can see in the distance. At the moment, that light is just reflecting off the walls, but it gives me immense confidence for our future. You need only look at all the market dynamics, look at the consumption of entertainment services, look at the explosive growth in products like the iPhone and the iPad and what that means to consumption of services on the move, look at how people are consuming music while on the move and look at the way applications are driving network usage forward.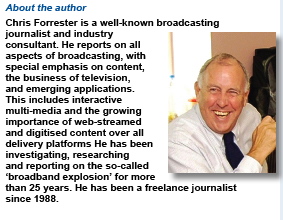 "This is the business we are in — we are network carriers for these kinds of entertainment services. Look at the public sector and what was once a pure voice network has developed a thousand fold into all the applications that we offer today. Then there's data. Why would terrestrial networks want to spend fortunes and another twenty years creating networks to deliver sophisticated data when we can do it for them overnight? Using satellite as part of a hybrid network is a good, sound, sensible solution for them, so I would say, just look at the market dynamics.
"We are not swimming against the tide, but with the tide. We know from the discussions we are having with potential users and with industrial players who are keen to work with us that they are like-minded people. I look at this business and I can confidently say it is looking good. I see it moving broadly in the right direction. I think it is looking good and it is well worth the effort and that is the way the shareholders still feel about it."