ILS + Sirius—Sounds Sent To Space
An International Launch Services Proton rocket sent the Sirius FM-6 into its orbital slot late on October 26th.
The ILS Proton Breeze M vehicle launched from Pad 39 at the Baikonur Cosmodrome at 00:09 local time (18:09 GMT and 14:09 EDT on October 25). The first three stages of the Proton used a standard ascent profile to place the orbital unit (Breeze M upper stage and the Sirius FM-6 satellite) into a sub-orbital trajectory. From this point in the mission, the Breeze M performed planned mission maneuvers to advance the orbital unit first to a circular parking orbit, then to an intermediate orbit, followed by a transfer orbit, and finally to a geostationary transfer orbit. Separation of the Sirius FM-6 satellite occurred approximately 9 hours and 11 minutes after liftoff.
The satellite, weighing more than 6 metric tons, was built on the flight-proven SSL 1300 platform. This was the 6th satellite launched by ILS Proton for SiriusXM and the 27th SSL 1300 satellite launched. Sirius FM-6 has an X-band uplink transponder and an S-band downlink transponder to deliver digital audio radio service. With approximately 20Kw end-of-life power and an anticipated service life of 15 years, the final orbital location for the satellite will be 116.15 degrees west longitude.
This was the 390th launch for Proton since its maiden flight in 1965 and the 83rd ILS Proton Launch, overall. The Proton Breeze M vehicle is developed and built by Khrunichev Research and Production Space Center of Moscow, Russia's premier space industry manufacturer and majority shareholder in ILS.
ILS has exclusive rights to market the Proton vehicle to commercial satellite operators worldwide and is a U.S. company headquartered in Reston, Virginia, near Washington, D.C.
For further insights into the company's operations: http://www.ilslaunch.com

Sirius FM-6 is a high-power geostationary satellite for SiriusXM, America's largest radio broadcaster measured by revenue and one of the world's largest pure-play audio entertainment companies. The satellite will help with the delivery of commercial-free music, and premier sports, news, talk, entertainment and Latin programming, traffic and weather to more than 25 million subscribers. Sirius FM-6 will also assist in the delivery of traffic and other data service information to markets across North America for vehicles with navigational systems.
Sirius FM-6 will ensure SiriusXM's array of audio and data services are received by vehicles, mobile devices and home receivers and will play an important role in bolstering the continuity of service for years to come.
The SiriusXM infosite is located at: http://www.siriusxm.com/
* * * * * * * * *
India Space Research Organization (ISRO)—India Heads To Mars, by Dr. Ajey Lele, Analyst, IDSA
Mars is, once again, in the news. During November of 2013 the world witnessed two successful mission launches towards planet Mars. The first was by India on November 5th and the second by United States on November 18th.
It would take approximately nine more months for these missions to reach Mars. Both of these are obiter missions and the satellites launched by these two nations will be engaged in various observations of the Martian surface and surrounding areas.
India's first mission to Mars, named Mars Obiter Mission (MOM), successfully started its travel toward the red planet on November 5, 2013. However, within a week after the launch, the India Space Research Organization (ISRO) had to suffer through a few anxious moments due to a glitch while performing the orbit raising maneuver. Eventually ISRO scientists were able to take remedial action and the mission was back on track.
Reaching Mars is an extremely complex task. Human attempts at sending satellites to study Mars began during the 1960s. Mars missions pose a great challenge to the scientific community and there have been more disappointments than successes.
Roughly two-thirds of all spacecraft destined for Mars have failed without completing their missions. One of the biggest challenges for all of these missions has been to cover the significant amount of distance from Earth to Mars. In fact, the distance between Earth to Moon is approximately 400,000 kilometers and, in the case of Mars, it's 200 times (approximately) more than this distance.
At its closest approach, Mars is about 50 million kilometers from Earth; at its furthest, almost 402 million kilometers (when Earth and Mars are on opposing sides of the Sun).
The best opportunity to engage in a Mars mission arises every 26 months when the planet is relatively close to Earth. The next opportunity to undertake Mars mission would be during 2016 and 2018.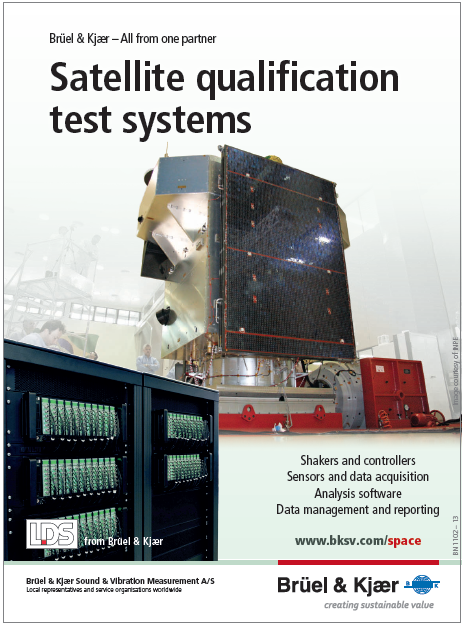 MOM is India's first interplanetary mission—operating in deep space is not a new project for India. During 2008, India successfully completed its first mission to the Moon called Chandrayaan-1. India understands that missions such as these could end up contributing to immeasurable technological breakthroughs in a number of areas. Missions to the Moon and Mars could add to the knowledge in spacecraft, propulsion and robotics systems, as well as communication and guidance technologies, and so on.
ISRO had two basic objectives for its Mars mission: The primary technology objective was to realize and bring to the launch pad a spacecraft that possessed the capability to reach Mars (Martian Transfer Trajectory) and to then orbit around the planet (Mars Orbit Insertion). The secondary scientific objective is to engage in various scientific studies during the spacecraft's orbit of Mars—five sensors have been included as a payload to accomplish this task.
Specific challenges in reaching Mars orbit relate to power, communication and propulsion systems. As the travel toward Mars requires approximately 300 days, the spacecraft had augmented the radiation shielding to protect from prolonged exposure to radiation.
On-board autonomy has to also be provided, as the Earth-Mars distance does not allow for real-time communications. This is important as the communication delay for MOM to Earth is approximately 40 minutes. And a robust and reliable propulsion system had to be developed that could work flawlessly after a journey of 300 days.
The real test for the mission would be to insert the spacecraft into a correct Martian orbit (Mars Orbit Capture maneuver) and then restart the propulsion system. Also important is to cater for a number of additional challenges, such as long shadows due to eclipses. This required the orbital plane to be targeted to avoid long shadows and to ensure good illumination conditions prevailed near periapsis (the low point in an orbit, when an orbiting object is closest to the target of its orbit).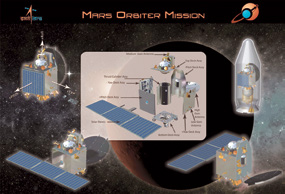 India's first mission to Mars could be viewed as a technological mission as it travels toward Mars and then, upon arrival, converts into more of a scientific mission. As a science mission, the five sensors on-board MOM will study Martian atmospheric studies, engage in Mars, its moons and, possibly, asteroids imaging activities, and to also carry out radio experiments.
One sensor will carry out high accuracy measurements of methane content in the Martian atmosphere in order to glean data about the planet's origin, whether it such is biogenic or volcanic. The next important objective is the investigation of the Martian upper atmosphere escape processes, especially as such relates to the process of water loss. Understanding this escape process for non-magnetic planets such as Mars is important to make inferences regarding the evolutionary history of the planetary atmosphere. Additionally, the mapping of the surface composition and mineralogy of Mars will be carried out, with photographs of the topographical features taken and additional measurements completed.
Over the years, ISRO has developed a significant infrastructure and has almost 16,000 people working on various projects. Private industry has also greatly contributed to help make ISRO projects successful. The organization has always encouraged the participation of public and private Indian industry to help achieve shorter turnaround times for ISRO missions. As per the chairman of the ISRO, "around 500 Indian industries are participating in realizing a variety of hardware, components, sub systems and systems, stage propellant tanks, fabrication activities etc.
More than 160 types of electronic components and 115 types of space grade materials have been developed and qualified for use in spacecraft, launch vehicles and ground systems. Industry consortium partners have continued supplying VIKAS engines for their launch vehicles. Industry participation is on the rise in the area of spacecraft power system, spacecraft building and related activities."
For the Mars Mission, the primary mechanical structure and the equipment panels were fabricated and delivered by Hindustan Aeronautics Ltd (HAL) as per ISRO's design. HAL is India's premier aerospace company and has been associated with the ISRO's various programs for many years. High Gain Antenna Reflector mold fabrication, power electronics systems fabrication and few of the spacecraft communication systems have also been realized through different industries.
India's Mars mission is not just a science and technology mission—there is national pride and the prospect of gaining international prestige, both obvious offshoots of a successful mission. There are also certain commonalities with the ISRO's Mars mission MOM and NASA's mission, MAVEN. It is expected that both agencies will share the data results of these missions and undertake joint analysis. Apart from the scientific benefits, this could increase interaction between these agencies, hopefully leading to additional cooperation in future.
The success with this Mars mission will allow ISRO to announce to the rest of the world that they run an extremely professional and cost-effective space program. India is keen to improve its stakes in the international satellite launch market and have already launched 35 satellites for non-Indian customers. A major accomplishment as MOM will likely attract more states and private agencies into seeking launch services from ISRO.
ISRO also offers consultancy services for the development of ground infrastructure, assists in satellite building as well as data collected from its constellation of remote sensing and Earth Observation (EO) satellite systems. However, it is important for ISRO, which is essentially a research organization, to diversify and involve more private industry involvement. There is a definite need to transfer relevant technologies to private industry and to also establish a public-private partnership (PPP) model, to allow ISRO concentrate on its basic role of research and development.
The euphoria generated around the Mars mission also needs to be translated into a business model for future operations.
About the author
Dr. Ajey Lele is a space analyst and works at an Indian think-tank, Institute for Defence Studies and Analyses (IDSA), New Delhi. Dr. Lele may be contacted at ajey.lele@gmail.com
* * * * * * * * *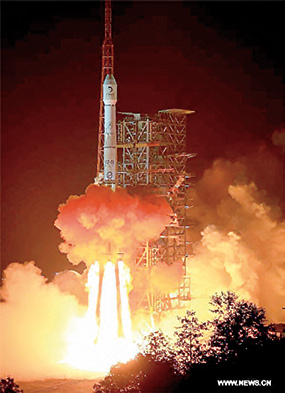 China's Chang'e-3 To The Moon
The Long March-3B carrier rocket carrying China's Chang'e-3 lunar probe blasted off from the launch pad at Xichang Satellite Launch Center, southwest China's Sichuan Province, on December 2, 2013.
This will be the first time has sent a spacecraft to soft land on the surface of an extraterrestrial body, where it will conduct surveys on the moon.
The Xinhua News Agency is reporting that this launch of China's lunar probe Chang'e-3 was "successful."The announcement of the launch success was made by the Xichang Satellite Launch Center.
Zhang Zhenzhong, director of the center, made the announcement after the lunar probe entered the Earth-Moon transfer orbit and unfolded its solar panels. The Chang'e-3 lunar probe, aboard a Long March-3B carrier rocket, blasted off from the Xichang Satellite Launch Center in southwest China at 1:30 a.m. on Monday, December 2nd, and is expected to soft-land on the moon in mid-December.
The 3.78 ton Chang'e-3 arrived at the orbit with a perigee of 200 kilometers and an apogee of 380,000 kilometers, as scheduled.
* * * * * * * * *
exactEarth—Constellation Beefed Up By One
exactEarth Ltd. has launched an advanced AIS satellite that will extend its exactAIS® constellation and increase the capacity of its global vessel monitoring service.
The spacecraft was built by SpaceQuest, Ltd., of Fairfax, Virginia, and was launched from the Yasny launch base in Russia on November 21st, 2013, at 07:10:10 UTC aboard a Dnepr rocket.
The addition of this spacecraft will increase the exactEarth constellation to five satellites and further improve exactEarth's world-leading AIS message detection performance from space.
"We are pleased to announce the successful launch of EV5, another important step in our growing constellation of dedicated AIS satellites." said Philip Miller, VP of Operations and Engineering at exactEarth. "The satellite is performing to expectations and we are confident of quickly bringing the asset into operational use. The addition of this satellite to our fleet is an important milestone as we continue to provide the world's leading space-based global maritime vessel monitoring service."
exactAIS® provides a global capability for monitoring all AIS-equipped vessels using our own satellite constellation and global network of ground stations. As we receive AIS messages at our data processing centre in Canada, we forward these messages instantly to our customers via a secure internet link. The messages are provided in one of several industry standard formats that are compatible with most existing AIS display systems. exactAIS streams the data securely, quickly and continuously, enabling you to monitor any area of the planet for vessel traffic like never before. We process and distribute all received AIS messages in your Area of Interest (AOI) providing you with Maritime Mobile Service Identity Number (MMSI), ship location, ship course and ship speed. All data is also time-stamped and provided with each message.
In addition to complete global coverage, exactAIS detects many times more vessels than any other system, capturing thousands of distinct vessels in a single pass. Utilizing our patented processing technology, we are able to provide our customers with better information allowing you to make better decisions for security, traffic management, environmental and safety applications.
exactAIS is available on an annual or multi-year subscription with pricing based on factors unique to your needs—primarily the square nautical miles in your Area of Interest (AOI).
exactAIS provides global coverage today with additional satellites and ground stations being deployed in the coming months and years to continuously improve the refresh rate for the global maritime picture.
Learn more at the company's infosite: http://www.exactearth.com/
* * * * * * * * *
Planet Labs—Doves Flocking To Space
Planet Labs has successfully launched its most recent satellites, Dove 3 and Dove 4, into orbit via a Russian Dnepr vehicle.
This launch will be closely followed by the launch of Planet Labs' "Flock 1" fleet of 28 satellites in December, which will be the largest constellation of Earth-imaging satellites ever launched.
"This is the third rocket launch for Planet Labs this year, and the Dove 3 and 4 satellites are the most advanced and agile satellites we have built to date" said Chris Boshuizen, co-founder and CTO of Planet Labs.
Planet Labs' Flock 1 satellites were delivered this month to NASA Wallops Flight Facility in Virginia for launch on board an Antares rocket in December. These satellites were built in production at the Planet Labs headquarter offices in San Francisco. Planet Labs is on track to launch 32 satellites on four different launches in 2013.
"The delivery of Flock 1 is an important milestone for both our team and the industry," said Will Marshall, co-founder and CEO of Planet Labs. "The latest generation of satellites will enable us to image the whole globe at high frequency, producing an unprecedented data set that will unlock huge commercial, environmental and humanitarian value."
Planet Labs Inc. is a purpose-driven space and data analytics company based in San Francisco, California, Earth. The company operates large fleets of Earth imaging satellites, to image the entire planet at an unprecedented frequency. Planet Labs aims to provide universal access to information about the changing planet to enable both commercial and humanitarian applications. Founded in 2010 by former NASA scientists, the team includes engineers, developers, and leading venture capital investors.
There's more information about Planet Labs at their infosite: http://www.planet-labs.com
* * * * * * * * *
Skybox Imaging—Off + Away To Improve Their Imagery
Skybox Imaging has launched SkySat-1, the company's first Earth Observation (EO) satellite.
The company is only the fifth organization that is licensed to provide high-resolution, space-based, panchromatic and multispectral imagery of Earth. The success of this launch on a Russian Dnepr vehicle led NSG Analysts to improve Skybox's ranking from #12 to #7 on the NSG 100 index.
The satellite will operate in a polar inclined, circular orbit at approximately 450km above the Earth. For future launches, Skybox reportedly has an agreement with Virgin Galactic to use the LauncherOne rocket.
The company's infosite is locate at: http://www.skyboximaging.com/