IBC is always full of surprises, and while visitors will always head for their favourite Halls to seek out the latest re-invention of this or that piece of kit, for me the two overwhelmingly fascinating exhibits concerned screens, and both represent good news for satellite broadcasters. On the one hand there was NHK's "milestone" screen in the shape of a Sharp 85-inch prototype LCD designed to handle 8K transmissions of its spectacular Super Hi-Vision/Ultra HDTV technology.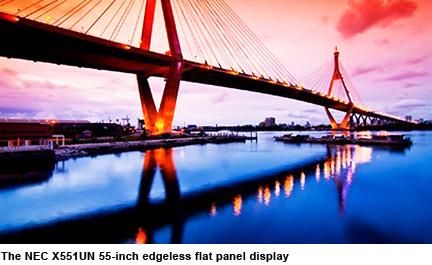 The other equally impressive 'screen' was NDS' magnificent video wall which stretched across a 3 x 2 mosaic of six
NEC X551UN
55-inch edgeless flat-panels (each delivering 1920 x 1080, and with just a 5.7mm content gap) — more on this video wall in a moment.
In many respects, NHK's spectacular demo wasn't simply the 85-inch LCD, or the even more impressive 275-inch projection screen, or even their never-less-than amazing test footage, which this year showed the final launch of the Space Shuttle Endeavour captured in May, which rumbled right into your body helped by the 22.2 channel surround sound system.
Their other key test footage was taken from the wildly colourful
Copa America
soccer finals in Argentina in July, which managed to totally capture the infectious enthusiasm of fans — and the on-pitch action. Live action came from the
BBC
's
Television Centre
and the most mundane of images, that of Wood Lane and London's red buses and tube trains trundling to and from the Wood Lane station! The image quality was like that of an open window, such was the depth of realism achieved.
All this was truly extraordinary. However, for me the even more important message was the progress made by the Japanese over the past year. Dr.
Keiichi Kubota
, head of NHK's science, technology and research laboratories, said significant technical progress has been made in the last year, especially in image displays. "Up until now, almost everything that we have done has been projected onto screens and in darkened theatres. For broadcasting, we need direct-view displays, such as Plasma or LCD units. We now have an LCD working at 85-inches, developed jointly by NHK and Sharp. Our goal now is to move onto a second-generation set, probably at 70-inches but with finer, reduced-size pixels."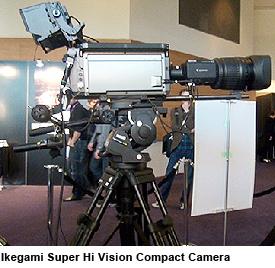 Dr.
Kubota
said the Super-HD camera's lens had also been dramatically reduced in weight, and size, from 80kgs in its first-generation to today's third-generation lens at "just" 20kgs. Images from London came into the theatre at 250 Mb/s having been compressed using H.264 algorithms. Dr.
Kubota
added that while development work continued on all of the key elements in the video chain, the next major thrust is further compression with a target of around 100 Mb/s using the emerging High Efficiency
Video Coding
, (
HEVC
) which is expecting to be an MPEG standard within the next year or so.
HEVC is truly a vital component in the NHK system. Although the BBC's
Dirac Professional
system was used in early work by NHK, they are now waiting for the joint
ISO/IEC Motion Picture Experts Group
and the
ITU
's
Video Coding Experts Group
to resolve and fix the standard, with a first draft scheduled for February 2012 and a Draft International Standard likely to emerge by about July 2012.
It is this work which, on the current timetable, should see a ratified standard in place by January 2013. In other words, the joint NHK and BBC efforts to capture images from next year's
2012 London Olympic Games
might be 'pre-standardisation' in terms of video compression. Dr.
Kubota
was enthusiastic about the opening and closing ceremonies being filmed, and that NHK's cameras (they have only two UHV cameras at the moment) would be working hard in and around the London Games, beaming their signals to crowds of viewers in some U.K. city centre locations via the BBC.
To date, NHK has been working to a very structured timetable which scheduled test transmissions to start in 2020. Dr.
Kubota
says the official target "has not been changed — yet. But our management is pushing very strongly to start the experiments in 2015. It is a possibility, but many elements have still to come together."
For broadcasters this is an incredibly short time-scale. There were plenty of senior broadcast engineers and studio equipment vendors at September's
IBC
who are already responding to RFP's that extend well beyond a four-year timescale. Even allowing for the 'experimental' aspect of NHK's commitment, and extending that by another four to six years this suggests that perhaps in 10 years we might see the first non-Japanese deployments of
Ultra High-Definition
, probably by the likes of
DIRECTV
or
BSkyB
. These broadcasters have always placed a very high value on image and programming quality, especially in sports, and natural history/documentary footage.
Of course, the satellite industry is going to love Super HDTV. All that fat 100 Mb/s content, soaking up fresh transponders, not to mention sports contribution feeds bouncing around the planet.
NDS: Surfaces
The other stunning display on show was the NDS 3.5m across 'video wall', officially called '
Surfaces
' (
See the opening graphic for this column.
) One commentator accurately said he was "blown away" by the demo, and others used "breathtaking' and ''amazing' in a similar vein. What truly was staggering was the amount of wholly contextual information that was drawn together by the NDS kit, and using existing metadata. In other words, everything they showed could be achieved today.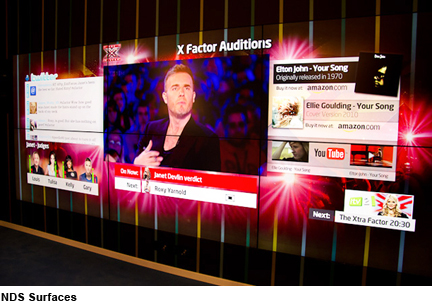 The NDS team, led by
Simon Parnell
(VP/Technology), has recognised the inevitable adoption of ever-larger screen sized, and as they grow they end up 'displaying' a huge acreage of black nothing when not in use. There's also the quite real prospect of almost wall-sized displays, as well as video-capable flexible screens and 'wallpaper' perhaps within the next five years or so. NDS, as always, have a solution standing by. First, in this particular version, they matched the room's wallpaper on the screens, making the display almost invisible! That was neat, but there was much more.
The real advantage of any giant screen is having real estate to play with. A Hollywood 4,000-line movie or HDTV drama might well fill all six screens, but for day-to-day use, the NDS team see different elements coming into play on the screen, with social media's speech 'bubbles' popping up, or news/weather reports and connected home applications each potentially playing their part.
Indeed, it is those existing Apps that make 'Surfaces' so intuitive and desirable. Using a lightweight wireless tablet as the control device, NDS has 'Mum' switching on the radio, but where the video wall then draws down the radio station's ID and playlist, a clock, and upcoming audio temptations as well as the latest news headlines. The on-screen data says that a celebrity is about to be interviewed on a breakfast TV show, and 'Mum' decides she wants to watch it. The 'radio' shrinks away to be replaced by the network's video feed. NDS have engineered what they describe as an Immersive Bar on the tablet, similar to a volume control, and this permits the viewer to decide how immersive they want the video experience to be. Slide it 'up' and the screen image gets bigger. Slide it 'down' and the screen can shrink back to any desired size. What's more, the whole concept takes about a nano-second to 'learn', it is completely intuitive.
With this demo, NDS have taken the TV experience well beyond video, exploiting the immense variety of Apps already out there, along with text and image-based news feeds and data, as well as supplementary media sources and programme-specific additional information. The assembled result depends on NDS'
Service Delivery Platform
for functionality, plus a bit of extra computing.
What is truly spectacular is that this treatment could be supplied today.
Nigel Smith
, NDS' VP/CMO, while admitting this might be a costly investment today, in a few years could easily cost less than today's higher-end displays. "Surfaces means there's no TV set filling up the lounge," he added.
My view is that whatever the cost of today's Surfaces concept, there are plenty of well-heeled buyers out there who would immediately buy into the technology. In my viewing group just about everyone said if they had the cash they'd write the check there and then! The fact is that there are plenty of home theatre owners or wealthy folk for whom writing the cheque is no hardship.
Five years from now Surfaces might be well past the early-adopter phase and be near mainstream —
yes, it's that good.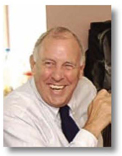 About the author
Chris Forrester is a well-known broadcasting journalist and industry consultant and has been reporting on the "broadband explosion" for more than 25 years. Since 1988, Chris has been a freelance journalist who specializes in content, the business of television, and emerging applications, on all delivery platforms.
* * * * * * * * * *
The NHK specification
85-inch LCD Ultra High-Res (7680x4320 pixels)
250Mb/s signal compressed using H.264
BBC-IBC Fibre links used NTT's Academic Network
8-channel video switcher/slow-motion unit
The NDS specification
Hardware
Quad core CPU PC
ATI Eyefinity 6 Graphics card
6 x NEC X551UN 55-inch panels
(1920 x 1080, 5.7mm content-content gap)
iPads
Software
Large Surface: HTML5 application running in Google Chrome Web Browser
Companion: HTML5 application running in Apple Safari Web Browser
Large Surface & Companion application synchronised using WebSockets
Contextual metadata from NDS SDP Web Service API