An ESA and ISRO Concordance
Cooperation is afoot between two major agencies, those being the European Space Agency (ESA) and the Indian Space Research Organization (ISRO)—Senior Scientific Advisor for the ESA, Mark McCaughrean, divulged this is the plan for additional collaborations by both agencies for upcoming space missions.
Certainly the ISRO's successful launch of 104 satellites has proven to be a highly positive event for the Indian space agency, with McCaughrean stating that the ISRO precision in placing satellites as well as cost reduction played an important role in furthering cooperation between the two bureaus.
With the ESA planning 15 space missions in the not-too-distant future, to include a 2018 launch of the Bepe Colombo to Mercury, and in 20022 JUICE heading to Jupiter, collaboration certainly seems to be in the cards for the agencies.
Let's not forget that ESA had previously collaborated with ISRO on the Chandrayaan-1 mission to Moon and has engaged in collaborative projects with 22 countries that have included the US, China, Russia, Japan and India.
ESA's Bepe Colombo mission will be the first probe to Mercury in 2018 and is a joint mission between ESA and the Japan Aerospace Exploration Agency (JAXA) and will be challenging for the spacecraft to remain in a stable orbit around Mercury, as the Sun's substantial gravity pull will pose a significant challenge in accomplishing such a monumental task.
Bepe Colombo will then be followed four years later with JUICE (Jupiter Icy moons Explorer), with the plan calling for this spacecraft to make detailed observations of the giant gas planet, with three years of examination being called for by ESA, to include the planet's three moons: Ganymede, Europa and Callisto.
Regarding ESA's Gaia mission, McCaughrean said that this is an ambitious space mission that will scan a six-dimensional map of the Milky Way Galaxy of about one billion stars—that's approximately one percent of the Galactic stellar population.
Also being prepared is the Euclid mission, which will observe billions of galaxies and will map out and measure dark matter and dark energy which constitutes roughly about 80 percent of the mass of the Universe.
Studies on dark matter reveal that the universe today is expanding faster than in the past and such expansion is possible only if the Universe contained enough energy to overcome gravity (the dark energy).
To assist in gravitational waves detection, the government of India is working on a proposal to establish a LIGO detector, all part of a plan to decipher the enigmas of black holes and the Universe.
According to McCaughrean, ESA also has a program to build their own gravitational wave detector by the year 2030—this is called the Laser Interferometer Space Antenna mission, hence the aforementioned acronym, and will be using laser technologies to observe and measure these waves.
esa.int/
isro.gov.in/
---
A Milestone for Rocket Lab
Rocket Lab, a smallsat launch services company, has surmounted their first milestone and has delivered their first Electron rocket to the Rocket Lab Launch Complex 1—this was accomplished late on Tuesday evening and marks the start of the all-important pre-flight checkouts.
The rocket was trucked to the Mahia Peninsula from Rocket Lab's Auckland facility. Over the coming weeks, a series of tests and checkouts will be conducted at the site before the rocket, named It's a Test, is signed-off to fly.
The launch, which will be the initial orbital launch attempt from New Zealand, is the first of three planned test launches before Rocket Lab begins providing customers with commercial satellite launches.
Rocket Lab will use Electron to launch satellites used to house imaging and communications technologies. Rocket Lab's customers use these satellites to provide services including optimized crop monitoring, improved weather reporting, Internet from space, natural disaster prediction, up-to-date maritime data and search and rescue services.
Electron is an entirely carbon-composite vehicle that uses Rocket Lab's 3D-printed Rutherford engines as the main propulsion system. Electron is capable of delivering payloads of up to 150 kg to a 500 km Sun-Synchronous Orbit (SSO)—the target range for the high growth constellation-satellite market. Customers that have already signed on to fly on Electron include NASA, Planet, Spire and Moon Express.
Rocket Lab's Launch Complex 1 is located on the tip of the Mahia Peninsula, New Zealand. The complex is the first orbital launch site in New Zealand and the first privately operated orbital launch site globally.
The remote location of Launch Complex 1 — particularly its low volume of air and marine traffic — is a key factor in enabling unprecedented access to space.
The geographic position of the site means it is possible to access a large range of orbital azimuths—satellites launch from Mahia can be delivered to a wide range of inclinations to provide services across many areas around the world.
Peter Beck, Rocket Lab's CEO, reported that this event is an important milestone for the team and for the space industry. In the past, it has been countries that go to space, not companies.
Through the innovative use of new technologies, the Rocket Lab team has created a launch vehicle designed for manufacture at an unprecedented scale—the ultimate goal is to change the ability to access space.
Since commencing this project three years ago, the team has accomplished an incredible amount—the vehicle has gone through rigorous qualification and acceptance testing, Rocket Lab Launch Complex 1 has been completed and major tracking infrastructure has been installed in remote locations.
rocketlabusa.com
---
NASA Image Library Consolidates 60 Collections for Public Access
NASA has officially launched a new resource to help the public search and download out-of-this-world images, videos and audio files by keyword and metadata searches from NASA.gov—the NASA Image and Video Library website consolidates imagery spread across more than 60 collections into one searchable location.
NASA Image and Video Library allows users to search, discover and download a treasure trove of more than 140,000 NASA images, videos and audio files from across the agency's many missions in aeronautics, astrophysics, Earth science, human spaceflight, and more.
Users now can embed content in their own sites and choose from multiple resolutions to download. The website also displays the metadata associated with images.
Users can browse the agency's most recently uploaded files, as well as discover historic and the most popularly searched images, audio files and videos. Other features include:
• Automatically scales the interface for mobile phones and tablets
• Displays the EXIF/camera data that includes exposure, lens used, and other information, when available from the original image
• Allows for easy public access to high resolution files
• All video includes a downloadable caption file
NASA Image and Video Library's Application Programmers Interface (API) allows automation of imagery uploads for NASA, and gives members of the public the ability to embed content in their own sites
and applications.
This public site runs on NASA's cloud native "infrastructure-as-a-code" technology enabling on-demand use in the cloud.
The library is not comprehensive, but rather provides the best of what NASA makes publicly available from a single point of presence on the web.
Additionally, this is a living website, where new and archival images, video and audio files will continually be added.
images.nasa.gov
---
Terraformation to Create a Lake for Martian Inhabitation
The Lake Matthew Team has just announced the Mars Terraformer Transfer (MATT), the first practical terraformation invention—with MATT in 2036, a commercial satellite is planned to terraform a region of Mars to create a persistent lake for use by mission crews... the invention is patent-pending and available for licensing.
Inhabitation of Mars is a goal shared by many national space agencies and aerospace firms. The physical and financial challenges are daunting; however, they can be ameliorated with terraformation, Martyn Fogg's notional "process of planetary engineering" in support of life. Terraformation need not engineer an entire planetary surface. A city-region is adequate for inhabitation. MATT hits this mark.
MATT details methods for a 2036 terraformation, which will be completed in good time to assist early mission crews. A commercial satellite executes the mission plan: a Shepherd, guiding a selected celestial small-body impactor to a selected target site. A DE-STARLITE-class fiber laser provides the shepherding impulse.
The laser and other commercial instruments deflect, analyze and restructure the small body, over some years, for optimized impact on Mars. The mission plan is straightforward, specific and feasible. Currently, at least six US firms have the demonstrated capability to build the required Shepherd spacecraft using off-the-shelf hardware.
The impactor injects heat into bedrock and produces meltwater for a lake that persists for thousands of years within the warmed impact site. The challenges of crewed missions are thereby ameliorated and the achievable scale of inhabitation is increased.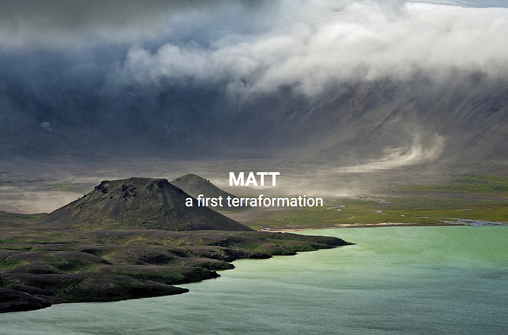 Prior designs of habitation structures (habs) were limited to thousands of cubic meters. MATT habs can scale to millions of cubic meters — stadium scale, or greater. The site's treated lake water is sufficient to cover and protect subaqueous domes. Such habs are not pressure vessels; therefore, the size-limiting scaling laws of pressure vessels do not apply and habs can scale to match ambitions.
With scaling, the first Mars habs transition quickly into settlements, with the capacity for self-sufficiency, even the provisioning of expeditions worldwide. This cuts the mass of Earth-shipped cargo as well as the expense of crewed missions.
Scaled habs can also house commercial offices for telerobotic open-pit mining of rare and rare Earth metals. High-grade ore deposits are likely abundant in the Martian near-surface, mainly in the preserved mass of protoplanetary-core asteroids such as 16 Psyche.
Such asteroids would enrich ancient Martian impact sites with metal ores, rendering Mars the greatest treasury of accessible rare and rare Earth metals in the solar system. MATT opens this treasury.
MATT is necessarily a strategic invention, designed to accelerate Mars exploration, settlement and commercial development.
All recovered resources are controlled by the licensee, pursuant to the US Commercial Space Launch Competitiveness Act.
LakeMatthew.com.
---
Cloud Constellaton's SpaceBelt™ Receives Patent
Cloud Constellation's SpaceBelt™ has been awarded a US patent from the United States Patent and Trademark Office for a technologically advanced global communications platform operating at Low-Earth-Orbit (LEO),.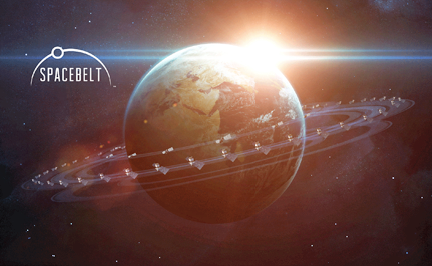 Their platform enables the transport and/or storage of large blocks of data quickly and securely without exposure to any terrestrial communications infrastructure.
A step into the future with SpaceBelt offers a unique and safe way to provide a secure platform for cloud storage and high speed transmission of sensitive data around the world without regulatory constraints.
The deployment of satellite-based secure storage will protect critical data from unauthorized access while supporting global communications at reduced latency of today's multi-hop networks.
• Provides data security in space: Organizations of all sizes are exposed to leaky Internet and leased lines, along with jurisdictional hazards. SpaceBelt provides an all-in-one space-based global cloud network that protects critical information to secure sensitive data from hijacking, theft, monitoring and sabotage.
• Ensures high throughput with major infrastructure savings: SpaceBelt avoids traditional terrestrial "hops" by transporting data across its high-speed communications platform in space.
• Avoids regulatory constraints: SpaceBelt utilizes existing and future satellite assets to reach customer origination and endpoints.
• Facilitates jurisdictional compliance: Hosting data on SpaceBelt has the potential to comply with international data sovereignty protection requirements.
• Solves a multitude of diverse storage security requirements: Circumventing today's major cybersecurity crisis, SpaceBelt protects critical and sensitive data for a diverse range of organizations, including cloud service providers, large telcos, network data security firms and systems integrators.
Cliff Beek, president of Cloud Constellation explained that over the past three years his team has achieved a significant design capability that enables them to leverage the industry's vast investments to further SpaceBelt's market position.
He added that being awarded this patent is an important milestone as Cloud Constellation continues to accelerate its strategic growth initiatives, and that this validation underscores their commitment to build a unique platform that will begin the next evolution in space-based communications.
SpaceBelt.com
---