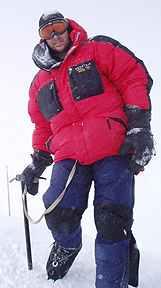 There are few greater rewards in life than working hard, attaining a measure of success, and then using those benefits to help others. One such individual is J. Armand Musey.... He may be used to the ups and downs of the stock market, but Wall Street's J. Armand Musey will soon be walking on new terrain—climbing Mt. Everest in an adventure that completes a personal goal as well as raises critically needed funds for the American Red Cross' International Response Fund (IRF). He was the lead industry analyst at Bank of America and later Solomon Smith Barney. In 2003, he partnered with a colleague to form the boutique investment banking firm Near Earth, LLC. Musey left the presidency of Near Earth in 2007 to train full-time for his attempt to scale Mt. Everest, the world's highest peak.
Musey has been an avid climber since 1991 and has scaled the highest peaks on six of the seven continents in the world. With his ascent of Mt. Everest this spring, he will complete the mountaineering challenge of the Seven Summits. Musey climbed Kilimanjaro in Tanzania in 2002 and has since climbed Mt. McKinley (AKA Denali) in Alaska, Mt. Elbrus in Russia, Aconagua in Argentina, Mt. Rainer in Washington, Mt. Vinson in Antarctica, and the Carstensz Pyramid in Indonesia. As part of his training for the cold weather of Mt. Everest, he went on a ski expedition to the South Pole in 2007, encountering -30 to -35 degree Centigrade weather almost the entire journey. The Mt. Everest expedition is scheduled to depart from Katmandu, Nepal, on March 29th, with the return scheduled for June 1st. Musey and his group will ascend the south side of Mt. Everest, up what is known as the South Column Route. This is the same route used by Sir Edmund Hillary and Tenzing Norgay on their first ascent in 1953.

Musey is paying the entire cost of the Mt. Everest expedition from his own funds; all money donated will go directly to the American Red Cross' International Response Fund. Sponsors and supporters can follow Musey's expedition and obtain information concerning the donation process to the Red Cross in support of his challenge at
his climb website
.
After a nearly two-week trek carrying supplies through the panoramic Khumbu region of Nepal, J. Armand Musey and eight fellow climbers have reached base camp at 17,500 feet to start final preparations for their ascent of Mt. Everest. Musey, a widely respected securities analyst in the telecommunications and satellite industries, is climbing Mt. Everest to achieve a personal goal as well as raising the funds for the American Red Cross. In reports via satellite telephone, Musey said about 20 different climbing groups are amassed at the base camp on the southern approach to Mt. Everest. This assemblage has created a small tent city of some 400 climbers and their Sherpa guides on the small, rock-strewn plateau.
"We're busying ourselves setting up camp and practicing walking across long ladders that we'll use to traverse the large crevasses en route to Camp 1 [the first stage of the ascent]," Musey said in a blog he dictated for posting online at
www.museyeverest.com
. "Tomorrow, we'll help rebuild the heliport at base camp. It's situated on a glacier that's continually shifting, so there's a lot of rock removal and clearing of the surface to enable emergency landings and takeoffs. On Thursday we will have our second Puja, a traditional Tibetan blessing. The first one last week was to bless our trip, while this one is specifically directed at blessing our climbing equipment."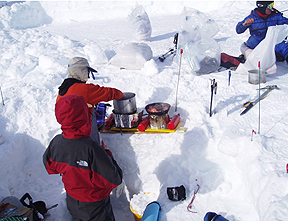 On April 25th, Musey and his team returned from a two-day visit to Camp 1. They did so well, in fact, they managed to save two hours of their time in climbing up 20,000 feet. Once they arrived at Camp 2, they began to get anxious as they awaited clearance in order to move beyond Camp 2 and higher up the mountain. As of this writing (in early May), Musey and his team are preparing to make the ascent to Camp 3 for the last time, an elevation of 23,000 feet. No one has experienced any altitude sickness, thanks to the acclimation all underwent when at the 13,000 feet altitude. In fact, they will return to that altitude once again for approximately three to five days before they attempt to reach the summit of Mt. Everest. Musey states it will require about five days to reach the summit from the Base Camp.
In his postings, Musey has talked about the logistics of the journey and the numerous stopping points, starting at 9,380 feet at the Lukla airport when they arrived by plane from Katmandu. His team consists of nine climbers, three guides and about 30 Sherpa staff to manage a small herd of yaks carrying much of their 1,700 pound of provisions, 70 tents, 2,000 liters of kerosene and other supplies.
To date, Musey has secured pledges to the Red Cross nearing $50,000 from a number of satellite industry firms in support of his climb. These include contributions of $15,000 each from SES and Intelsat, the two largest satellite operators in the world. Global satellite operators SES and Intelsat signed on as challenge sponsors at the "Summit" level. Dulles-based GeoEye, a satellite imaging company, is a "Katmandu" level sponsor. Iridium and Vizada, leading global satellite communications providers, are donating SIM cards respectively for phone and BGAN applications that will allow Armand to send reports, photos and maintain a blog of his summit attempt.
"SES applauds Armand for taking on this arduous challenge to support such a worthy goal," said SES chairman Romain Bausch, "His expedition will raise awareness of the role of satellites in global disaster response, and as such, we are pleased to make a challenge grant of $15,000 in hopes that other companies in the satellite community will match or exceed our contribution to this laudable organization."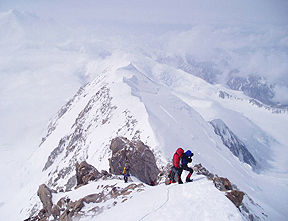 Intelsat CEO Dave McGlade said, "Intelsat is excited to be returning to Mt. Everest 10 years after our 1998 demonstration of the efficiency of satellites in connecting the world, even from the most remote locations on the planet. The satellite industry is always among the first to respond to disaster scenarios, because of our ability to provide rapidly deployable infrastructure. A long-time supporter of the Red Cross, Intelsat commends Armand's altruistic commitment to raise funds for the organization."
Sponsors and supporters can follow Musey's expedition and find information on how to make a donation to the Red Cross in support of his challenge at
his climb website
. All money donated will go directly to the American Red Cross' International Response Fund.