Even among the stingiest of prognosticators, Ultra HD is far ahead of schedule.
The Consumer Electronics Association (CEA) just upped its forecast of Ultra HD TV sales to surpass 4.4 million in 2015, a whopping 210 percent increase over last year1. Research firm Strategy Analytics sees a far speedier penetration rate than at first anticipated—their prediction is that nearly half of U.S. homes will own an Ultra HD TV by 2020. That is an unprecedented rise in ownership, considering just 1 percent had a 4K set in 20142.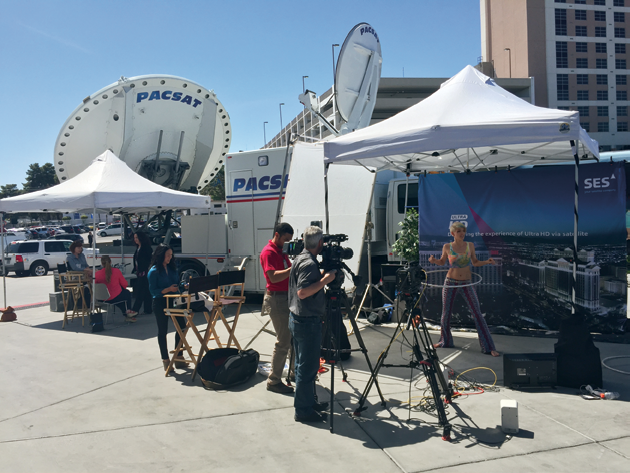 2015 has become the year of Ultra HD growth. Ultra HD TVs are big sellers. Programmers and content producers are creating increasingly more of the Ultra HD television episodes and feature films that consumers crave. Satellite is a pivotal element in the technology mix that has linear Ultra HD home delivery quickly approaching.
SES is keenly focused on the acceleration of Ultra HD content delivery to homes around the globe, all via a satellite fleet that continues to grow as well as unsurpassed video distribution expertise. Building on the existing carriage of 6,963 channels around the world—of which 2,100 are HD—SES has recently inked five deals to deliver Ultra HD channels across Europe that include Sky Deutschland and German shopping channel Pearl.tv.
Breakthrough Technology/Historic Trials
Also launched are SES' own Ultra HD demonstration channels that serve Europe and North America. These demo channels allow broadcasters and cable operators, respectively, to prepare and test their networks for Ultra HD.
One such company, Cable MSO (Multiple System Operator) Armstrong, is in the early stages of the first-ever linear live Ultra HD trial in a cable system, tapping SES' camera-to-screen Ultra HD platform at the Butler, Pennsylvania, headquarters lab.
SES' Ultra HD offering, first unveiled at the NAB and INTX conferences earlier this year, combines broadcast and IP technologies in a fully managed, scalable service. The breakthrough leverages satellite's inherent broadcast advantages and the multicasting capabilities of DOCSIS 3.0, the advanced transmission standard that is already in use by Armstrong and other leading cable systems across the U.S.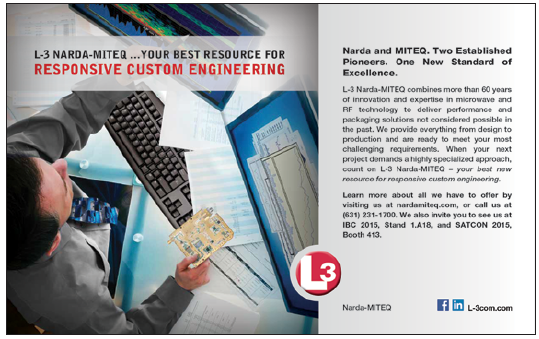 A far faster rollout across cable networks will certainly occur, as there is little to no cost required for Ultra HD upgrades. This is far faster than the redeployment of cable boxes to millions of subscribers and much better than OTT offerings that are susceptible to buffering and congestion, according to Steve Corda, the Vice President of business development in North America for SES.
Corda has spearheaded SES' development of the plug-and-play ecosystem that now has 4K on the verge of linear delivery to U.S. homes four times faster than was required for HD.
"We are about nine months into the development of our turnkey Ultra HD solution. And we're on target to deliver linear Ultra HD to cable homes in a quarter of the time it took linear HD to reach subscribers," Corda said, referring to the early days of HD when the only HD content in the home was on Blu-ray. Four years were required for linear live HD to enter consumer living rooms. Ultra HD is expected to arrive in subscriber homes this fall, delivered over the SES platform.
"We have a great long-term partnership with SES that enables us to innovate with satellite-delivered content solutions and provide exciting new potential offerings," said Mike Giobbi, Chief Technology Officer for Armstrong. "We look forward to testing Ultra HD on our cable system and working closely with SES on this exciting solution."
"There's always been this chicken-and-the-egg scenario with Ultra HD. When will there be enough Ultra HD TV sets in the home? When will there be enough content?" Corda said. "Well, SES has cracked the egg with an Ultra HD ecosystem that takes virtually no time or investment for cable operators to implement across their cable plant. This is the first step in making linear-live Ultra HD into cable TV households a reality. We have a historic Ultra HD trial underway with an extremely innovative tier-2 cable operator. Name-brand tier-1 operators are testing their architectures with our Ultra HD demo channels and content producers and programmers are fully engaged in our platform," Corda said, listing some of SES' most recent Ultra HD accomplishments and milestones.
There have been many postcard moments along the pathway. One of the most memorable for Corda was how the new SES Ultra HD solution impressed even the most jaded engineers at the NAB and INTX shows.
"Ultra HD is incredibly life-like, with more pixels, better pixels and faster pixels," Corda said. "When we first turned up the live system at NAB, people literally stopped in their tracks. It was the ultimate experience, the ultimate return on all our hard work," Corda recalls. SES delivered linear live Ultra HD broadcasts to a cable system at the NAB and INTX conferences.
"The 4K resolution, the dynamic range, the frame rate all came together for a quality picture that had many attendees telling us that the live feed from outside the conference floor to our Ultra HD flat screens looked like a window to the street outside. We jumped through a lot of hoops to make this happen," Corda said to a couple of cable engineers who were watching the SES NAB demo that featured a live feed of a hula hoop performer who was staged outside the Las Vegas Convention Center. Admittedly, there are more hoops to come, as SES continues to adjust and tweak the Ultra HD platform in preparation for home delivery.
Powerful Partnerships
Creating a successful 4K Ultra HD ecosystem requires investment and innovation. SES has committed expansive investments of time and money to accelerate linear live Ultra HD. According to Corda, a significant amount of collaboration and mind share has occurred across SES as well as throughout the Ultra HD value chain to build the required technology. "SES pioneered the exploration of 3D, and that knowledge and insight has helped us to crack the Ultra HD code," he said.
The delivery of an end-to-end Ultra HD solution also cements into place partnerships that bring together the best minds and companies that are capable of turning a lofty vision into a viable reality. Corda and SES have built strong ties with a number of leaders in the industry during the development and ongoing evolution of the Ultra HD system.
For example, SES has worked closely with Harmonic in the development of the system and the delivery of Ultra HD content during the unveiling at NAB and INTX and the Armstrong trials. Content is encoded with Harmonic's Electra X3 encoder in HEVC/H.265, a compression scheme that is 50 percent more efficient than MPEG-4/H.264. The SES demo channel is transmitting native 4K content at 10 bit color and 60 frames per second with a data rate of 20-25 Mbps. Corda expects encoded data rates to drop to around 15 Mbps in the near future.
"It's important to note that our exclusive system is completely managed end-to-end with dedicated bandwidth on the satellite and within the cable network. No one else is doing this today," Corda said. "The result is high-quality encoded content delivered to the TV in an extremely reliable method that doesn't have any of the buffering issues that OTT has due to network congestion. This is truly a premium, cinema-quality service."
On The Horizon
Cable operators and programmers are evaluating their networks and content on SES' Ultra HD demo channels, the Armstrong trial is underway, other tests are in the works, and Corda and the SES team are readying for an extremely busy 2016. SES is planning to launch a number of full-time linear Ultra HD channels within the company's end-to-end North American system later this year, according to Corda, in preparation for Ultra HD's ramp up on the horizon.
"This will serve as a springboard into 2016 when we anticipate traditional programmers will begin launching their 4K channels," Corda said. "Then we will see a bouquet of Ultra HD channels, featuring highly compelling programming, offered in 2017. The bottom line is people want a better quality viewing experience, no matter where they are located. They're craving Ultra HD in North America, Europe, and emerging markets such as Brazil—SES has the system to bring it home."
www.ses.com/4KUHD
1Consumer Electronics Association July 2015 US Consumer Electronics Sales and Forecast Report
2Strategy Analytics' Connected Home Devices (CHD) Report 2015
---