The Global Positioning System—GPS—is a worldwide radio-navigation system that is formed by a constellation of 24 satellites that communicate with their respective ground stations. The Global Positioning System is mainly funded and controlled by the U.S. Department of Defense (DoD). The system was initially designed for the U.S. military. However, over the past 10 years, there has been a widespread introduction of innovative ways to introduce the GPS technology into the private sector; in fact, so many that other countries are now deploying their own none-military use GPS systems in order to fill the increasing global demand for location information on people and products.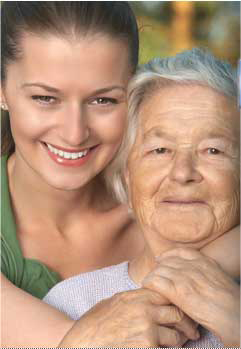 A 20 billion euros project named after the Italian astronomer
Galileo
is currently being built by the
European Union
(
EU
) and the
European Space Agency
(
ESA
). One of the goals of Galileo is to provide a high-precision positioning system upon which the European nations can rely, independent of the Russian
GLONASS
, U.S.
GPS
and Chinese
Compass
systems.
GPS works by relaying information on an exact location (latitude and longitude) and it can also track movement, bearing, altitude and speed. For example, a GPS tracking system can be used by a company to monitor the route and progress of a delivery truck. GPS can be used by parents to check on the location of their child. Monitoring high value assets in transit is yet another GPS capability.
A GPS tracking system can work in various ways. From a commercial perspective, GPS devices are generally used to record and monitor location and movement. Some systems will store the data (known as passive tracking) and some send the information to a centralized database or portal via a modem within the GPS system on a regular basis (known as real-time tracking, or 2-Way GPS.)
Recently, 2-way GPS has found its way into many different niche applications and is gaining traction as a solution for monitoring people with cognitive disorders, people who are prone to wander off, such as sufferers of dementia, Alzheimer's and autism.
I Am Lost...
"I am a victim of Alzheimer's disease and have joined the growing 35 million worldwide number of people suffering with this disease. I have my cogent moments, but as the disease progresses I find myself losing touch with the actual world. In fact, I've been told I wander—not aimlessly, but rather with a purpose—unfortunately I don't remember what that purpose was."
The above phrase is being heard around the world as the numbers of people who suffer with Alzheimer's disease is on the increase. These victims become lost, even when close to their homes. Many wander off quite regularly and are usually unable to navigate sufficiently to return to their homes. Doesn't this seem to be a perfect niche for a 2-way GPS solution?
The problem many Alzheimer victims who suffer with memory loss simply cannot remember to bring a GPS tracking device with them when they leave their home environment. Many seniors, as well as children with autism, do not welcome new technology or anything foreign becoming part of their lives.
The technology has not yet quite been miniaturized enough for a GPS unit to be implanted under the skin. The challenge, then, becomes how to place a small, non-intrusive GPS tracking device on someone all the while making certain the device will stay with them in a non-threatening way. Also needed is a method whereby the embedded technology can be protected while remaining fully functional. One answer could certainly be to embed the GPS technology inside something one would wear—and wears all the time.
A perfect product that comes to mind to meet these challenges is a pair of shoes. Shoes are not new and certainly are not foreign or unfriendly. They have plenty of room to house small electronic components and shoes will most likely always be worn by someone on the move.
Professor
Andrew Carle
, the director of the
George Mason University
's
Program in Senior Housing Administration
, seems to think so when he recently said, "A GPS Shoe has the potential to be life-saving as well as a life-changing technology for those afflicted and their caregivers. Such shoes also hold the potential to save governments hundreds of millions of dollars in search and rescue operations, as well as in health care costs for those otherwise injured."
By melding satellite and cellular technology seamlessly into consumer friendly products, an entire new level of functional oversight, security and peace of mind is being introduced to a wide variety of audiences and special needs. Enter the
Aetrax Navistor
GPS Footware System
, powered by GTX Corp.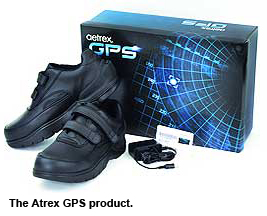 While wanderers may relieve themselves of virtually every material thing they own in pursuit of their "journey," they rarely—if ever—surrender their shoes.
Geo Fencing
on the GTX portal will alert to any breach of the preset monitored area to the caregiver long before the person being observed has gone far. With this in-a-minute information, the wanderer can be located and safely returned to their care givers.
As wanderers are not typically habitués, providing them with their privacy and personal sovereignty is a unique quality singularly found in this tracking solution. The GPS Shoe delivers the user with a real-time and cost effective (approximately $1 per day) technical solution which compliments responsible caretaking.
There's more to this shoe, as well. It's not just seniors who get lost—perhaps 2-way GPS can be used in additional ways.
Already, shipments and other assets of significant value can be tracked with GPS monitoring systems to ensure items are delivered when and where they are expected. Travelers can use GPS technology to map their trips so that family and friends can locate them for safety reasons. Travelers also can toss a tiny tracker into their luggage to help protect their valuables from loss or theft. Did you know that more than eight million suitcases are lost or stolen every year?
Runners and power walkers use GPS Tracking Devices to note where they have been, how fast they are going, and also for safety reason. Loved ones can log in to check on a runner's status in real time. Boaters and jet skiers use the GPS Tracking System to keep tabs on their boats—insurance companies are requiring GPS devices for personal safety on many policies. Bicyclists and motorcyclists use the GPS Tracking Products to track bicycles and motorcycles as a means of viewing speed, distance, and detailed maps of their travels, as well as to protect their vehicles from being stolen. Dog and horse owners use GPS Tracking Devices because they need to know where their pets are and this is also a means whereby they can be located should they make it out of the yard to experience a neighborhood adventure.
Clearly, most GPS hardware and software solutions are maps that are populated by graphical markers presented on web accessible devices. However, there are even more applications that can use personal GPS monitoring currently being introduced to the market; social networking, proximity marketing, business networking, remote telemedicine and games of skill and chance are all new avenues where GPS monitoring is becoming ubiquitous and starting to meld seamlessly into everyday life styles.
History would have us looking at GPS as a new and improved compass, but clearly the value of 2-way GPS personal location services has yet to be fully realized. The jury is still out on how far this technology will take us, but clearly, it's already far beyond use as only a navigation tool.

About the author
Mr. Bertagna is the Chairman, President, CEO and founder of GTX Corp and co-inventor of the patented GPS Footwear technology (US Patent No. 6,788,200). His career spans 27+ years in building companies in both technology and consumer branded products. Patrick started his career importing apparel from Europe and later went on to design and manufacture a line of clothing, accessories and footwear in over 20 countries, with sales exceeding $27 million, selling to U.S. retailers from JC Penny's to Neiman Marcus. In 1993 Mr. Bertagna transitioned into the world of software technology and founded Barcode World, Inc. a supply chain management application company, enabling the accurate tracking of consumer products from design to retail distribution. Within four years the company had over 450 premier branded accounts with a staff of 40 plus in the U.S., Eastern Europe and India. After selling his company Mr. Bertagna then combined his two past careers (consumer products and tracking technology) and founded GTX Corp in 2002. Mr. Bertagna was born in the South of France and is fluent in French and Spanish; has formed alliances with Fortune 500 companies such as IBM, AT&T, Sports Authority, Federated Stores, Netscape and GE; and has been a keynote speaker at numerous industry trade shows and conferences.
For additional information:
http://www.gtxcorp.com/