Leslie Klein is also the co-founder of C-COM Satellite Systems Inc., which was founded in 1997 with the intent of designing and developing a system capable of delivering high speed Internet over satellite into vehicles and transportable structures. With the rapidly growing demand for Internet services world wide, and with no technology available to make it transportable, C-COM designed, developed, manufactured and sells its proprietary iNetVu Mobile Satellite Antenna Systems which make it possible to deliver high speed Internet services, voice over IP and video over satellite into locations where no terrestrial infrastructure exists.

Leslie Klein is an Electrical (Professional) Engineer with MBA and PhD degrees. Dr. Klein was employed by such notable corporations as Hewlett Packard (NYSE: HPQ), IBM (NYSE: IBM), Control Data Corporation, and Bell Northern Research (part of Nortel Networks). He has been involved in the high-technology business over the past 35 years and has been a founder of a number of successful computer companies.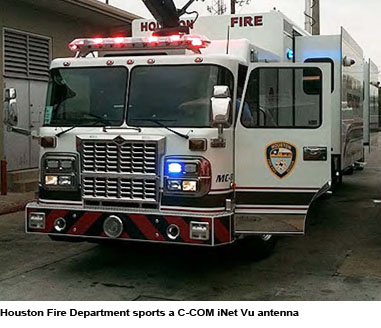 SatMagazine (SM)
Dr. Klein, would you please take us through C-COM's history and how the company has performed over years?
Leslie Klein
C-COM was established in 1997 and became a publicly traded company on the Toronto Venture Exchange in 2001 (symbol TSX: CMI). The company has since had 27 consecutive profitable quarters, remains debt free, and is one of the leading providers of auto-pointing satellite antenna systems around the world. The company has an extensive distribution network on all continents and over 3000 installed systems from areas like Northern Canada and Siberia to the deserts of Saudi Arabia and Australia.
SM
What are the mainstream products of C-COM and what applications are they used for?
Leslie Klein
C-COM manufactures the iNetVu mobile antenna systems which range in size from 66cm to 1.8M and offer Ka, Ku and C-Band coverage. We also manufacture auto-pointing flyaway and vehicle-mount antenna systems along with one of the most advanced controllers in the world, which are used to control the robotic iNetVu VSAT platforms. The iNetVu antenna systems are used in many vertical markets such as Oil and Gas Exploration, Emergency Management, Police, Military, Fire Fighting, Telemedicine, Emergency back-up, Cellular Backhaul, Wi-Fi Delivery, Mobile Banking, Mobile Post Office and many others.
SM
Did the global economic downturn impact C-COM?
Leslie Klein
C-COM has been growing organically over the last 13 years and has never had a bad year. Even during the economic downturn we performed very well, growing in the double digits. Our products are in great demand globally; we are not reliant on one particular market segment or region. Opportunities come our way from all around the world.
SM
You have had a busy 2010, what are your plans for 2011?
Leslie Klein
2011 is expected to be a banner year for C-COM, based on some initial orders and potential requests for equipment. We will have new products also released during the first half of the year which are expected to provide us with new customers and revenue streams. I can tell you that our existing customers are eagerly awaiting the release of our new products.
SM
What are your expectations from the launch of these products?
Leslie Klein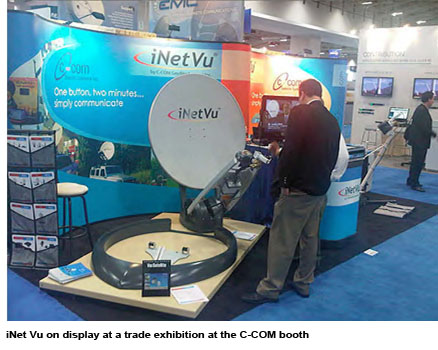 The new generation vehicle-mount antenna and the airline checkable system will fill another niche market we have been filling for the past 13 years as we are confident that they will deliver great price/performance and innovation. C-COM continues to hope to break a new barrier for delivering affordable high performance portable VSAT terminals.
SM
How is the new iNetVu vehicle-mount antenna system better than the previous generation of antenna systems?
Leslie Klein
The vehicle-based second-generation antenna systems are a complete redesign of the existing iNetVu workhorses that have proven to be extremely reliable and durable. The new design incorporates many of the features of the first generation product for reliability and durability; improvements will be noted in accuracy and modularity which will conversely allow us to manufacture the units more efficiently. Our nexgen 1200 uses the latest available technology which dramatically improves pointing accuracy, allowing users to operate in Ka band, along with the traditional Ku- and C-bands.
SM
What are the key features of the new iNetVu Airline-checkable system and what are its markets?
Leslie Klein
Our 1.2m airline checkable flyaway system will deliver new price performance benchmarks to the industry and uses advanced materials that will allow us to manufacture the units in large quantities at very competitive prices. The units will use segmented carbon reflectors and will incorporate new design features making them very precise, light weight and easy to assemble without the need of any tools.