SM
Are you focused on any particular segments, due to their growth potential? (i.e., launch, manufacturing, teleport, security, MILSATCOM, imagery, satellite broadcast, and others.) What market segments in Europe do you believe are the most promising for your Company?
David Hochner, SatLink
SatLink has been serving the market with high quality, creative and technologically superior solutions for over 20 years so our successes have been many. Some of our projects include: being the sole international satellite distributor of Thomson Reuters' core video product, Reuters World News Service around the world; working with Viacom's Nickelodeon Polska; supplying occasional use broadcast of HD sports, news and entertainment around the world including HD transmission of the UEFA football from Europe to Asia; and handling TT&C solutions for the SES group including SES WorldSkies and SES Astra including being SES WorldSkies Middle East POP. Our business method is to work closely with a client to become their partners — for the long term.

Roberto López, Hisdesat
We have a long list of successes in our company. Since 2005, we are providing satellite communications with the Xtar-Eur, covering from Brazil to Indonesia, including Europe, Africa, Middle East and much part of Asia. In 2006, we began to operate SpainSat, a satellite covering almost all the Americas, Africa, Europe, reaching de Middle East. This is a relevant milestone in the Spanish space industry. Moreover, the recent agreement with the Norwegian government, as well as the previous ones with the Belgian and Danish Ministries of Defense has placed Spain in the third position in Europe for provisioning government communications services through satellite.

Despite how young our company is we have an impressive list of successes. Since 2005, we offer secure communications services through the Spain-Sat and Xtar-Eur satellites and there is no better way to describe the quality of our services but through the relationship with our customers. In Spain, we serve the Ministry of Defence, the Ministry of Foreign Affairs and various agencies in the field of Security and Intelligence. In Europe, the Ministries of Defence in Belgium, Denmark and Norway trust us. In the USA, through our owned company, Xtar LLC, we are serving the DoS, the DoD and several other government agencies too.


The last international competition we won was with the Norwegian government to develop a joint communications satellite. We are now in the RFP stage while the launch of the satellite is forecasted for late 2014. There is no doubt that this project is a landmark in the young history of our company. All these projects encourage us to keep on working in order to consolidate the company in a leading international position as provider of government services via satellite.

Joerg Schmidt, DEV Systemtechnik
As we celebrate more than a decade of business, we have enjoyed successes with many challenging projects. Some examples include exciting projects with Astra, Eutelsat, Skylogic in Europe, and KDG in Germany. Our existing customers are well aware that by working with RF experts like DEV, they can avoid running into problematic RF signal delivery or complete service loss. I personally always like to help customers build systems that meet all their needs for high availability and reliability.

Paul Weldon, ASC Signal
Our Next Generation Controller (NGC) antenna controller, which was launched in Europe at IBC 2009, has revolutionized the way customers are able to manage their antenna tracking operations. With hundreds of customers now deploying NGC controllers in the European region, operators appreciate its operational efficiency and versatility, and their ability to opt for a level of functionality that is appropriate to their needs. So if their initial investment is constrained by tight budgets, customers can start with a basic tracking configuration, and then add other options later, including a wide range of possibilities such as spectrum analyzer or carrier monitoring to give increasing functionality and sophistication, when these are required.

Steve Beaumont, Skyware Global
Building long-term customer relationships requires a combination of elements all coming together in a consistent fashion — product, price, people, quality and innovation. Our reputation for supplying outstanding products to the domestic broadcast markets in the UK has taken many years to develop but our willingness to understand our customers' needs whether they be aesthetic, installation as well as technical capability is critical to building out successful projects. Within the UK we are particularly proud to be a significant part of the 'great digital switchover' as the foremost supply of antenna to domestic dwellings across the country.

Dr. Matt Perkins, SSTL
The ESA/EC Satellite Navigation program has been extremely important in demonstrating SSTL's capability to build satellites capable of flying in high orbits (MEO and GEO) with complex RF payloads. GIOVE-A, for which SSTL primed the satellite including both platform and payload, was declared a "full mission success" by ESA in 2008. This led the way to SSTL's participation in the full constellation through the contract signed in 2010 to supply the payloads for 14 "full operational capability" satellites.

Outside of the telecom area the other three landmark programs of the last decade have been constellations of small satellites. It's through constellations that the real benefit of low-cost small-satellites can be truly exploited — the much lower unit cost making systems financially viable. The first of theses systems was the Disaster Monitoring Constellation (DMC). DMC enables imaging of anywhere on the globe within 24 hours allowing for rapid response provision of data when it is needed. DMC was replenished in 2009 with the launch of two additional satellites. With the upcoming launch of further satellites this year the longevity of the system is assured for many years. DMC is partly institutional and partly commercial.

The RapidEye constellation, in which SSTL provided the satellite platforms and satellite level assembly integration & test, is almost totally commercially funded — illustrating the trend that EO is becoming far more commercial and will continue to do so. The system was launched in 2008 and is performing superbly with around 4,000,000 sq.km imaged per day by the constellation of 5 satellites. Most recently SSTL signed the agreements for the "DMC3" system, a constellation of three satellites with very high resolution imaging capability — 1m per pixel. DMC3 is a novel business model — akin to that of communications. The satellites are owned by SSTL's subsidiary company DMCii and the capacity on the satellites is leased to commercial companies who have a business exploiting the data they generate.

Dimitrios Papaharalabos, Europe Media Port
EMP was the first announced provider of Gateway Teleport services for O3b's global network. O3b, a subsidiary of SES, is building a new satellite-based, fibre-quality Internet backbone for telecommunications and Internet service providers that will link its reliable Gigabit IP network connectivity and bandwidth services to clients located in Asia, Africa, Europe, and the Middle East. This long-term agreement allows for the provision of a range of services through EMP via the Nemea, Greece teleport. The EMP team is an instrumental partner to O3b's plans for establishing a seamless data service network for their clients. We will assist O3b in rolling out the new, ground-breaking solution to provide fast Internet connectivity to billions of citizens, businesses and organizations in previously poorly connected regions around the world.

EMP also provides solutions to the broadcasting industry including playout services, uplink, turnaround, space segment leasing and occasional use services. EMP is partnering directly with satellite operators and teleport facilities around the world to provide diverse global end-to-end solutions in accordance with broadcasters' needs. For example, we are offering a customized DTH solution to the new channel Kahkeshan TV, broadcasting on Hotbird directly throughout Europe & Middle East to reach a wide audience.

Dr. Harald Stange, Romantis
We have successfully implemented numerous projects in various parts of the world. But perhaps the most complex and interesting project was the creation of a national satellite operator in Kyrgyzstan. This project demonstrates the possibilities of Romantis' strategy. The entire infrastructure of this operator is based on the resources and technologies of Romantis. Regardless of poor economy and difficult political situation this company has become the dominant provider of TV/Radio broadcasting, VSAT networking, has helped cellular operators to penetrate the inaccessible corners of this mountainous country. This project is a very good illustration of how the commercial European companies can help emerging markets on a mutually-profitable basis.

John Suranyi, Sencore
With the introduction of our IRD3387 back in 2004 — known today as the MRD 3187B receiver decoder — Sencore set the standard for receiver/decoder performance, scalable functionality, and low cost of ownership. The MRD 3187B has been well-received by the satellite industry because of its ability to adapt to almost any contribution, distribution, or backhaul environment. Following the MRD3187B, we introduced the ASM988A advanced satellite modulator, which addresses operators' requirement to increase bitrate efficiency by providing more bits per Hz. The ASM988A offers efficient 8PSK modulation as well as 16-QAM and QPSK, making it perfect for the DBS environment, contribution, or SNG. Finally, our SMD 989 DVB-S/S2 modulator offers unprecedented efficiency, flexibility, and reliability for all types of satellite digital video delivery applications — with intuitive user and remote interfaces that ensure fast setup and effortless system integration, and standard ASI and IP inputs.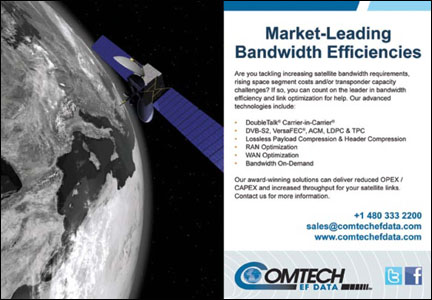 Arnold Friedman, SS/L
We are currently completing three satellites for SES and have developed a close working relationship with that company over the past few years. We have an open door policy with all of our customers, and the two to three year process of bringing a satellite into existence from designs on the computer screen to launch is a very collaborative process. Our European customers have offices on site with us here in California and I think they really like our openness about issues that might come up along the way. When they are right here with us on site, important decisions can be made and approved quickly and there are no surprises. That is very important in this business.

Mark Dankberg, ViaSat
Our single largest project has been to provide the ground networking equipment for KA-SAT. That involved an extensive network of teleport gateway terminals and network infrastructure, and will ultimately support in the neighborhood of one million direct to home broadband Internet subscribers. Last decade, as previously mentioned, we were the first company to introduce a VSAT terminal for less than US $1,000. In those days, we developed a partnership with Eutelsat and its wholly owned subsidiary, Skylogic, for the launch of LinkStar-based services (called D-Star) to professional users across Europe. At the time it was one of the largest Satellite IP-based shared networks in Europe, including 14 LinkStar hubs feeding eight different Eutelsat satellites and more than 10,000 terminals deployed.

SCADA is a specific vertical segment where our LinkStar product has been extremely successful over time and is mainly represented in Europe by two mission-critical projects: Gas Natural-Fenosa of Spain, a leader in the provision of monitoring and control services in the utilities European marketplace, serving thousands of kilometers of pipelines, river basins and electric lines; and ISKI of Turkey, the Istanbul department of Water and Waste management serving more than ten million people in the Turkish Capital city.

Another commercial project where we have been very successful worldwide, and especially in Europe, is a variety of mobile applications such as maritime though our agreement with KVH, airborne though our own Yonder®-branded service, and a specific service to the French National Railways (SNCF) TGV trains. In the government sector, we have been extremely successful in the deployment of UHF equipment in Italy and MIDS equipment in Turkey.

Gil Ilany, Spacecom
AMOS' biggest and most successful mission has been turning its name, services, and capabilities into a reliable brand known world-wide. Among our most important successes are our work launching and supporting important DTH providers such as T-Home SatTV in Hungary and MagioTV in Slovakia, both part of the Deutsche Telekom Group. In each instance we provide them with high quality solutions that expand their market offerings and the regions they reach. These important DTH services, along with Israel's Yes DTH, anchor the AMOS satellites. Our personal relationships, expert technical offerings, and our satellites' powerful beams all add up to an excellence of service and quality making the AMOS fleet the preferred choice for these important broadcasters. In CEE, the DTH is market growing and as more HDTV and 3D channels enter the market, we expect demand for our services to continue growing steadily. The prospects for continued growth in this market remain positive as communications and entertainment are popular.

Howard Hausman, MITEQ
MITEQ is a high end provider of satellite equipment. Our most successful projects have been with high end service providers entering new markets and using new frequency spectrum. Our excellence in engineering gives us the flexibility and adaptability required to keep our customers leaders in their respective markets. They count on MITEQ to push the technology and we do it with quality and reliable products.

Svend Lykke Larsen, KVH
Without a doubt, the mini-VSAT Broadband network has been our biggest success in the maritime market. It is now the world's fastest growing maritime VSAT service, and it's at the heart of two of the industry's most innovative and reliable products, the TracPhone V7 and TracPhone V3. We are always working to bring value-added options to this suite of products, including the CommBox Ship/Shore Network Manager, our Crew Calling Gateway, and options for GSM picocell service, but the network remains at the heart of it all. The most important things to any vessel manager choosing a SATCOM solution are coverage and reliability — will my crew be able to use the solution throughout their route? Can we depend on the system to work seamlessly whenever we need it? The answer, for mini-VSAT Broadband subscribers, is a resounding yes. And of course, with some of the most competitive airtime rates in the industry, mini-VSAT Broadband is a great fit for budgetary priorities, as well.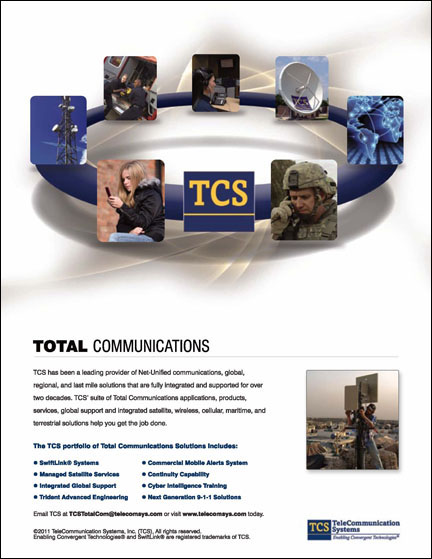 KVH is not strictly a SATCOM company, though — we also offer an innovative suite of TracVision® satellite TV systems, which are available in linear configurations specifically to serve the European maritime market. These solutions are trusted by a wide range of European mariners, from owners of small pleasure boats who enjoy the compact TracVision M3 to yacht owners taking advantage of the TracVision M9's WorldWide TV satellite library or the TracVision M7SK's automatic skew feature, to a Russian shipping fleet bringing affordable entertainment to its crew by deploying the TracVision M9 on 60 vessels.

Doron Elinav, Gilat
The recent award by SES is very important to us because it begins to fulfill part of our strategy to expand to Ka Band markets where we think most of the future growth will come from. Gilat has also been awarded a Ku-band consumer network contract by Hispasat, for broadband Internet services to Spain's growing consumer market.

We have many enterprise and corporate customers in Europe, such as Orange Business Services, the enterprise communications arm of France Telecom, with a SkyEdge II hub at their Bercenay site in France. GE SATCOM with hubs in Backnang Germany and AT&T serving InterMarche in France. One interesting project is in the UK, where we provide hybrid connectivity solution to Regis. This solution, based on Gilat's PrysmPro, enables seamless switchover between communication technologies to enable the best mix of price and availability.

Some European service providers also serve customers in Africa and the Middle East. Examples of these include Orange Business Services, Gateway Communications and GlobalTT. One such application, by Orange, facilitates a cellular backhaul network in Niger. This network is part of a multi-star topology allowing the expansion of the GSM network coverage to remote locations. An advantage of this multi-star topology is that Orange Business Services can manage the network from their teleport in France while maintaining direct, single-hop connectivity between Gilat's SkyEdge II terminals installed within the GSM network in Niger.

Ahsun Murad, Optimal SATCOM
A good example would be our project with Telenor, Vizada, and Marlink in Norway and The Netherlands. Telenor has a corporate culture that encourages efficiency and automation, and at the same time, its management is very receptive to innovative ideas. With Telenor's segregation of some of its service provider business into separate companies — Marlink and Vizada — and separation from its satellite operator business (now under Telenor Satellite Broadcast Services), Telenor has experienced unique challenges in supporting its separate but related satellite capacity management requirements across all of its operations. We are fortunate to have been able to work closely with all three companies for the past several years to help facilitate their operations — it has been a very rewarding project for us.

Peter Guggenbach, RUAG Space
On the commercial telecom market we have been very successful with our receivers and converters for more than 30 years now. We have supplied hundreds of microwave units, ranging from UHF to Ka-band frequencies, have been delivered to demanding customers. Our high-performance Converters/Receivers are used by a diversity of service providers: Eutelsat, Intelsat, SES Astra, Telesat, Hispasat, Thuraya, DirecTV and others. RUAG Space Converters/Receivers are characterized by small size, low noise, high linearity, excellent frequency stability and low spurious levels.

Gabriel Racah, ORBIT
ORBIT has participated in a diverse range of successful projects for both commercial and defense customers. Just recently Orbit was awarded a contract for the installation of VSAT solutions for a leading Asian Navy. As part of this project hundreds of VSAT terminals in Ku- and C-bands are being deployed across the entire fleet. During a lengthy and highly demanding selection process, the customer tested several vendor systems at sea. ORBIT's systems were the only ones that were able to meet the extremely high performance standards set by this customer.

Catherine De Peuter, Futron
Many of Futron's project's clients in the satellite market prefer to remain confidential, and it is therefore difficult for us to answer this question in as much detail as we would like. We are often asked to perform independent due diligence evaluations (both technical and financial) focused on planned satellites systems that focus on the European market. We would however like to highlight our in-depth yearly study of the satellite and space market (as part of the Space Competitiveness index), and our annual satellite communications forecast. Both products have a heavy focus on Europe and are available on our website.

SM
The challenges are numerous for entry into, and for business sustainment within, this area of the world. What do you see as among the most formidable challenges to surmount?

Jesse van Straaten, Vizada
All the new technological developments that the industry churns out at an incredible rate can make it difficult for the customer to make an appropriate choice for their specific needs. Vizada maintains a technology agnostic approach, meaning that we can always supply the right solution for our customers' needs, regardless of what kind of connectivity they have or will have in the future.

Our technology agnostic strategy also applies to the different connectivity solutions available today, as seen with our L-band (Inmarsat, Iridium, Thuraya) or Ku-band VSAT products and solutions. We are currently working to get ready for the upcoming Ka-band service so that it seamlessly fits into our offering and provides an upgrade path for our customers. We always strive to provide the most flexible and enhanced solutions, preparing for the industry's rapid advancement.

Steffano Vittor, Vizada Networks
From an operational aspect, access to skilled workforce at remote locations is a serious challenge. Therefore Vizada Networks focuses on making our solutions transparent and remotely operable, taking advantage of a highly integrated M&C system. Other challenges to emerging markets operation are local bureaucracy related to licensing and customs clearance of goods that often adds significant delays to implementation and fault restoration.

Howard Hausman, MITEQ
In the business of building satellite Earth station equipment the challenges are mainly in engineering, production and marketing, which covers most of the business universe. In engineering the challenge is designing the product that meets the customer's needs within the budget the customer is willing to pay. In production the problem is building the usually limited quantities of the product in a cost effective manner, i.e. within the customer's budget. In marketing the challenge is educating the customer on the value of MITEQ's high end engineering and product reliability, which are long term considerations that reduce recurring operating expenses.

Dimitrios Papaharalabos, Europe Media Port
Challenges in building a business are numerous. We have found that sound investments in both human and technical infrastructure enable our business to grow and create new products and services across our entire range of services to enhance customer experience. For example, we recently finished installation of three new large dishes ranging from 7.2 – 11 meters and already placed an order of more to be delivered for later this year. On the fiber side, recent upgrades now support STM-64 & Gigabit Ethernet high speed data rates. We are in a constant market search and we are actively looking for new technologies, new practices and business models that will help us to deliver the best service to our client needs.

Catherine De Peuter, Futron
For government satellite projects, the biggest hurdle is that cross fertilization between the military and non-military space. Given the breadth of stakeholders, this is ever more difficult (though not impossible) in Europe than in other parts of the world since European countries manage and finance their own defense (or as part of NATO), whereas scientific payloads are most often managed under the ESA umbrella. This makes it harder to achieve economies of scale by, for instance, combining several missions or applications on the same bus. Challenges in the commercial area are of a different nature. European Commercial satellite projects, in particular those focused on the consumer market (such as DTH or Direct Internet Access), are forced to compete with the most advanced terrestrial network build out in the world, and must be based on very realistic and conservative assumptions regarding the target market.


Phillippe Manzano, Globecast
Western Europe is quite a mature market, whose main challenges in the satellite domain are alternative delivery solutions, such as multiple devices, TVoIP, FTTH and OTT TV. We think that satellite is likely to remain a key service for video applications, however, the market will be shared differently than it is today, and the value of satellite delivery could decrease. Regarding Eastern Europe, which is less mature, the consolidation of the DTH players is the next challenge that will impact the industry.

Joerg Schmidt, DEV Systemtechnik
The most formidable challenge I see is the continued care and development of outstanding customer relationships. Digital technology advances are in the spotlight, but it is really important to understand that ultimately the world is analog. The digital communications advances that bring more services and bandwidth also require and depend on the delivery of new levels of higher performance analog circuitry and technology, for example, better RF solutions. So users of RF products need confidence that their technology partner has a deep knowledge of the technologies and customers' applications. The challenge of earning that confidence from a much larger slice of the global market pie is our biggest one at the moment, but we are enjoying successes.
The second challenge is how to meet the driving demand. I think there will be more demand for HD and later for HD-3D. With these applications more bandwidth is required, and also the quality of transmission equipment needs to be much better than that what is used since the old analog times.

Paul Weldon, ASC Signal
Antenna manufacturers have noticed a major challenge in the increasingly diverse frequency ranges requested by customers. Customers, including operators and resellers, see satellite operators launch new transponders with special frequencies and then turn toward operations in these frequencies. Two examples are Insat's C-band, and Arabsat's Ku-band. ASC Signal has more experience than anyone in understanding how changing frequencies affect feed design and antenna optics design and has been able to adapt and develop special products for specific customer needs.

John Suranyi, Sencore
Europe offers significant challenges to satellite technology providers, not the least of which is the great number of isolated, fragmented, and segmented markets that are in varying stages of technology adoption, and the influence of multiple languages and cultures. We're also dealing with multiple and sometimes competing broadcast standards such as DVB, ISDB, and CMB, and the varying certifications, regulations, and requirements of doing business across multiple countries.

Mark Dankberg, ViaSat
Probably the single biggest challenge we face for satellite broadband services is overcoming the poor reputation that satellite has acquired for high speed Internet access. This challenge is not unique to Europe — we encounter it everywhere. The latest generation of broadband satellites, such as KA-SAT in Europe and ViaSat-1 in North America can deliver subscriber speeds of 20 Mbps, with bandwidth provisioning sufficient for virtually all applications including high definition video teleconference and streaming video. In many case, we believe satellite broadband can offer superior performance and value relative to lower end terrestrial alternatives, including long-loop DSL and mobile wireless services used for fixed home Internet access. Yet, many government organizations simply assume that satellite is a last resort only — that satellite services are worse and more expensive than all terrestrial services.

We are working hard to show people that the fundamental issue with satellite is having sufficient bandwidth — and that it is an economics issue, not a technology problem. The economic advantages of high-capacity Ka- satellites are compelling and overturn many old assumptions about capital and operating costs for broadband deployment. Each new market is a challenge, yet we have made substantial progress in a number of countries around the world, and now with Eutelsat and KA-SAT we're seeing progress in Europe, too.

Gil Ilany, Spacecom
As a multi-regional satellite operator, Spacecom is familiar with the challenges and issues inherent in operating a business in this market. We have been successful because we listen to our customers and provide them with the solutions they need. It is not good enough to respond to a request for services, rather we must work hard to develop and implement the right solution to meet a client's needs. We have taken the time to establish beneficial relationships with distributors and business partners in the region to generate success for all. With the proper business conduct and practices in our markets, we are able to work with our partners and weather economic challenges, such as the ongoing world economic turmoil. We are always ready to take the necessary steps to keep our businesses moving forward. Internally, we have invested smartly to create a business team that works well together. Likewise, we have conducted research enabling us to better understand markets so that we can clearly see our potential moves and go in the right direction. Lastly, we are in business for the long run and take a long term view of what we need to do and when to do it. In this way, we are able to structure risks and manage them.

Mary Cotton, iDirect
It's a highly segmented marketplace, and there are numerous network operators. Several operators from areas such as Africa and the Middle East have uplinked their services out of Europe, but that dynamic is changing. And while it's quite segmented, it's also quite concentrated. There's a fair amount of competition for our customers, and there are a lot of customers going after the same projects.

Another challenge is in competing technologies, particularly in the arena of SCADA and utilities, where our customers often compete not against other SATCOM solutions, but against competing technologies like GPRS. The localization of connectivity creates challenges as well. Regions like Africa are seeing the emergence of more and more fiber every day. Subsea fiber delivers high speed Internet access to cable heads — the actual landing stations — in each country, such as SEACOM, which from a SATCOM perspective, effectively regionalizes connectivity to a localized area. Hubs have to be deployed in a country to deliver in-country services competing in turn with emerging local terrestrial network providers. This has had an impact on Middle East and African network operators that have historically based themselves in Europe to gain access to Tier 1 Internet Points of Presence (POPs).

Svend Lykke Larsen, KVH
Entering this market with a new product is a challenge in itself, but in just a few short years, mini-VSAT Broadband has become the world's most popular and fastest growing maritime VSAT network. We accomplished this by delivering on our promises — our hardware works as we say it does, we've expanded network coverage regularly to create the truly global coverage that our subscribers now enjoy, and we continue to innovate, offering new products and value-added services that make our customers' lives easier regardless of where or why they travel. Since KVH manages the mini-VSAT Broadband network along with our partner, ViaSat, we have the ongoing responsibility of ensuring that service remains constantly available and optimized throughout the global network. That's why we operate a dedicated Network Management and Global Support Center where network traffic and conditions are monitored and adjusted continuously to ensure the performance that our customers expect.

Gabriel Racah, ORBIT
Based on decades of experience, ORBIT has mastered the technical challenges of satellite communications and tracking, which allows us to provide industry-leading solutions in these fields. Our greatest challenge today is to put our accumulated technical know-how to good use by developing innovative solutions that address our customers' needs and provide revolutionary value. For example, when we started to define a new generation of C-Band maritime terminals we identified that our customers' main challenge was dealing with the large size and weight of their current solutions. This analysis led us to the design and development of a revolutionary compact system (2.7m footprint instead of an industry-standard 3.8m) that delivers equivalent RF performance and fully complies with all major satellite regulations. The system can fit into much smaller vessels and can be deployed in a fraction of the time and cost of traditional solutions.

Steve Beaumont, Skyware Global
Assuming the technical capability one has always to consider the 'local' culture within a market to ensure that your logistics, customer approach and products reflect the needs of the country in which you are operating. For this reason Skyware Global always appoints a local partner in market, with strong connections to help promote and respond to local demands. With a global organization and a strong local presence Skyware Global can offer the best of all worlds — true global expertise harnessed and focused on delivering the most appropriate product solution at highly competitive price points. This key attribute linked to a flexible and agile customer response makes Skyware the obvious solutions provider throughout Europe.

Doron Elinav, Gilat
One of the main challenges the SATCOM industry faces is competition with terrestrial networks. Overcoming this challenge is taken through several paths: Provide more capacity, at lower price per Mbps. — Ka-band satellites, with their high capacities, will bring higher throughput to regions that are underserved by terrestrial networks. As demand for high speed broadband grows, the number of underserved regions will grow, because DSL and fiber cannot cover well less dense areas. Complement terrestrial networks — Hybrid networks are an excellent solution for systems that require high availability connectivity, yet lack terrestrial alternatives at a competitive price, such as MPLS. Led by US enterprises, many have implemented hybrid solutions, such as DSL or 3G together with satellite. Areas where terrestrial networks are not applicable — Military and Defense applications, by their nature, often cannot depend on terrestrial networks. They therefore require a satellite component to augment the terrestrial component. Other examples include on-the-move applications, such as for ships, planes and trains.


Kai Koppenburg, WORK Microwave
The biggest challenge that we have encountered is dependence on, and compatibility with, legacy equipment. We have found time and again that users of legacy equipment are slow to migrate to newer technologies and standards, and newer equipment is not always compatible with old or existing equipment. However, the steadily growing demand for larger bandwidth raises the need for equipment compatible with higher frequency bands. An example is the Ka-band. With its larger amount of available bandwidth, it's becoming more and more attractive to satellite service providers as lower and more traditional frequency bands become increasingly congested. But the rate of migration is slow and fraught with challenges.

Ahsun Murad, Optimal SATCOM
Enterprises around the world, not just in Europe, see challenges in efficiently managing their satellite capacity and all of the business processes related to this. The increasing emphasis on operational efficiency and profitability strongly favor a push towards integrated systems such as Optimal SATCOM's ECM. Adopting an enterprise system like ECM usually involves major changes throughout a company. This transition from legacy systems (which usually consist of a combination of stand-alone tools and manual processes) to a fully integrated system like ECM affects almost every business process in some way or the other. With the expertise we have acquired working with our large customer base, we have learned that it is important to involve people at all levels of the company from the earliest stages of the project, to thoroughly understand the functionality of the legacy system, and to efficiently transition from legacy processes to the new system.

David Hochner, SatLink
Building a business is based upon proving capabilities and showing results in budget that turn clients into long term business partners. Through our people, creativity and efficiency we maximize our global infrastructure, products and relationships to deliver superior service. In Europe, we are focusing efforts to add more news and sports segments that maximize our more than 100 earth stations. We are also furthering our capabilities to deliver DTH over our platforms on Hot Bird and EB9. In Eastern Europe, we are building specific solutions to reach those markets. We have generated successful case studies from scores of clients including Viacom's MTV International, euronews, the European Broadcast Union (EBU), Thompson Reuters, and recently added NTV MIR distribution to Russia together with Globecast. The most formidable challenges are proving capabilities. We have found that expertise is not enough — creativity and the ability to think 'solution' in any and every case is really what keeps customers working with SatLink. When we translate a concept into reality, and make it work, we prove to our clients that building a relationship is for the long run.

Dr. Matt Perkins, SSTL
Space is a hostile environment and space projects are inherently risky — it's not easy to repair satellites once they are in orbit! This means that customers can be quite conservative in terms of the technology they are prepared to allow onto their missions. This leads to a major problem for satellite builders – how do you qualify new technology? In the UK the Government's Technology Strategy Board has recognised this fact and is funding the provision of a technology demonstration satellite, TDS-1, which will allow SSTL and other UK organisations to qualify new developments. To a large extent SSTL relies on its excellent and substantial heritage but initiatives like TDS-1 really do help.

Dr. Harald Stange, Romantis
There are challenges all of the time, but those who do not accept the challenge will not be successful in the future. Furthermore, we see the demand for a very flexible and efficient VSAT system, one that can be changed and adapted to changing network requirements by the selection of software modules only. This can be also grown into HTS market needs and we see the enormous potential of IP SNG, IP broadcast and Tele-presence via satellite.

John Restivo, Teledyne Paradise Datacom
This year has been a very difficult year for many European countries, with little or no growth in their economies. (e.g,. The U.K. economy grew only 0.2 percent in the three months to June 30th, as compared to 0.5 percent for the previous quarter). However, a number of European governments have been taking aggressive measures to reduce their countries budget deficits, and there is now a willingness among the major financial players in the EU zone to address the financial crisis facing the euro zone. We, therefore, expect our income generation and growth in the region to be flat during 2011, with the prospects for significant growth occurring in 2012. The opportunities for growth for Teledyne Paradise Datacom will be through a number of intra-government organization communication programs, providing strategic military communications, and also through technology refresh on essential non military government networks.

SM
What applications are driving the demand for satellite-delivered communications in Europe? What do you see as the major focuses for driving existing and new business in this arena?

John Suranyi, Sencore
Applications that are currently fueling the market for satellite technology solutions include digital satellite news gathering, distribution of video services to IPTV and cable TV head ends, distribution of video services for terrestrial SFN and gap-filling re-transmission applications, the addition of new channels to multi-channel distribution infrastructures, and the addition of HD channels to existing service offerings.

Mary Cotton, iDirect
In the maritime vertical, there's a changing regulatory environment that requires certain types of data to be delivered to vessels, such as ECDIS (Electronic Chart Display and Information System) maps, as well as integrating vessels within the corporate network infrastructure of a shipping company.

Within the military vertical, despite the changing nature of the battlefield in Iraq and Afghanistan, there's a requirement to continue to support rapid reaction deployments, the recent example being Libya, as well as increased sensory requirements that drive up IP utilization, such as UAV and remotes sensors. Within SCADA, again we see an increased data requirement with an increase in data demand and utilization in areas such as video surveillance. The upcoming Olympics in London has also increased the demand for civil infrastructure (civil contingency networks) and backup networks to support increased traffic in this area.

Joerg Schmidt, DEV Systemtechnik
There are three, main, required elements for driving our business. They include more bandwidth, more transmission system uptime (with redundancies built in that can be used automatically, and the transmission system must be of higher quality, as the digitally modulated signals do not accept signal degradation to the same extent as analog modulated signals. To address all these requirements, DEV launched its Optribution product line in 2010. Optribution is our term for the optical transmission and distribution of your RF signals. The added value is more functionality in fewer devices at lower costs.

John Restivo, Teledyne Paradise Datacom
The worldwide migration to IP traffic is affecting virtually all applications. Teledyne Paradise Datacom is positioned to address this through satellite bandwidth saving and sophisticated traffic management techniques. The deployment of European forces overseas in areas of conflict is also a primary driving force for the provision of communications for strategic and welfare purposes.

Paul Weldon, ASC Signal
The satellite communications market in Europe is quite mature, but there are still new opportunities. One example is delivering broadband Internet to more remote, rural regions. Again, ASC Signal has seen the emergence of Ka-band with operators such as Eutelsat and Avanti as they target such markets. Both have built business plans based on rolling out networks to a high-volume subscriber base throughout Europe. In addition, more traditional applications continue to create demand, as problems of theft or sabotage, for example, keep reminding operators that satellite uplinks are far less vulnerable to these issues.

Mark Dankberg, ViaSat
We see the single most significant theme being the dramatic growth in bandwidth consumption. While terrestrial networks have made big improvements to their unit bandwidth costs — that has not been the case for satellite because broadcast has been the dominant source of profits. As a result, in general we have seen satellite networks increasingly relegated only to those applications that are NOT bandwidth intensive. And, those applications are increasingly rare. The bandwidth economics of Ka-band — and especially KA-SAT in Europe, creates a big advantage compared to conventional FSS satellites for data driven applications. That covers a broad spectrum of uses including home Internet, enterprise, defense, and mobility.

Romain Bausch, SES
HD is certainly a driver, as more programming is offered in high-def and more HDTV sets are sold throughout Europe. Then there are the developments in Eastern Europe where new satellite platforms are being launched in a number of markets. We have recently launched services in the Ukraine, a new market to SES. Europe also has a niche market for satellite Internet services. Even in well developed, wired European countries, we're seeing a niche group of households that may never be connected to high-speed terrestrial broadband. In those cases, satellite is the only alternative for people who want to benefit from high-speed connectivity.

Svend Lykke Larsen, KVH
There are a number of reasons for vessels to bring satellite communications onboard, and each company or yacht owner has their own unique requirements. However, some of the applications we hear about repeatedly are regulatory compliance (electronic filing of paperwork for programs like ECDIS), remote monitoring of engines and other systems, as well as IT systems, and affordable, always-on connectivity to support business efficiency, including sending large files. The connection is often used for remote monitoring and management of IT systems — mini-VSAT Broadband can be easily integrated with a ship operator's corporate IT structure to support these functions. Many of our customers also utilize the mini-VSAT Broadband connection to support recruiting and crew retention efforts, because a connection to home is an important benefit to many mariners. Since this kind of connection can be provided easily and at a very low cost with a TracPhone V7 or V3, our customers are able to offer their crews this essential benefit.

Dimitrios Papaharalabos, Europe Media Port
One existing hot topic is the high-speed, bandwidth rich applications that are prepared to be in place in the next couple of years, via the new allocations of vast amounts of bandwidths in the Ka-band frequency. Europe is playing a major role in hosting operators that already invest heavily into these next generation systems and alongside European teleports are partnering for providing the gateway and fiber connectivity with multiple Gbit connections. This is really a big case for growth and European market development.

David Hochner, SatLink
The demand for satellite communications in Europe is being driven not only by the opportunities the modernization of infrastructure in new areas but also by the uptake of new technologies such as 3D and HD in the more mature markets. SatLink understands that each region or country has different needs and thus we can provide dedicated solutions to satellite operators, channels, networks and IPTV operators. We continue to be excited by the myriad opportunities that each region in Europe offers and via our people, creativity and efficiency we examine various technologies and solutions so that we can deliver superior service to match each and every market's requirements.


Dr. Matt Perkins, SSTL
The world's appetite for bandwidth for direct broadcast TV seems to be continually growing at quite a rate. Developments such as HD TV and 3D TV are driving the bandwidth requirements. The other growth area is broadband and we believe this market will exhibit the highest growth rates in the next decades — there's a large proportion of the both Europe's and the world's population whose only viable option for broadband is via satellite.

Kai Koppenburg, WORK Microwave
Several applications are driving the demand for SATCOM technologies in Europe, but the biggest trigger factor is possibly the growth of IP-based services worldwide. IP technology is growing and will certainly play an evolutionary role in providing development opportunities for the satellite industry. Also, high throughput platforms using spot beam technology and efficient use of bandwidth have the potential to become engines of growth for the satellite industry. Finally, the increasing bandwidth demand in the Middle East is another influential factor for driving the business in Europe.

Dr. Harald Stange, Romantis
The change from analog to digital broadcast with new HD and 3D requirements, IP SNG, and more and more requested flexible Tele-presence / back-up or disaster recovery solutions.

Jesse van Straaten, Vizada
Nowadays people want to be connected via networks such as e-mail, social media, etc., no matter where they are in the world. This trend is boosting the need to provide communications capabilities in remote locations where no GSM or terrestrial infrastructure are available, whether it be on land, at sea or in the air. This is where the satellite communications industry comes in.

In the maritime segment, the increasing requirement for data connections via satellite communication is coming from both crew as well as operational requirements to turn the vessel into a digital office at sea, with increasing demand for IP connectivity and bandwidth similar to offices on land. For both of these developments, the customer must be provided with a reliable and cost-efficient communications system that is able to handle heavy data usage. We are focused on providing these customers a wide variety of connectivity services, enriched with various business and crew applications that are optimized for usage over satellite.

Phillippe Manzano, Globecast
In the video domain, satellite-delivered communications are used for a variety of applications; from occasional contribution to cable/IPTV/DTT distribution and direct-to-home broadcasting. Both existing broadcasters and start-up channels have either a short-term or a long-term goal of being present on as many of these distribution platforms as possible.

Roberto López, Hisdesat
Satellite services represent a unique opportunity for all those government organizations that require fast, secure and flexible communications systems. The HISDESAT systems have been developed specifically to provide next-generation high reliability and quality communications services for both civil and military applications. In order to keep on achieving success in this competitive environment, we will continue with our strategy based on innovation that will allow us the permanent improvement and diversity of our services as well as the amelioration of our international position to increase the number of users of our systems.

Steffano Vittor, Vizada Networks
As mentioned above the strong economic growth in emerging markets are the major driver for European industrial activities in these regions. The untapped potential in the rapidly increasing middle class within the emerging market economies means that people are acquiring the same level of goods and services that we see in the industrialized world.

Catherine De Peuter, Futron
The migration to Ka-band for consumer applications will continue. The introduction of large amounts of Ka-band capacity to the European market will continue and might be a "game changer" for the price points between satellite versus terrestrial delivery of Internet broadband and television services.

Steve Beaumont, Skyware Global
New satellites are driving usage across a variety of needs as well as consumer driven demand for improved communication solutions e.g. broadband in more remote regions. As the sky becomes more crowded with 'birds' the need to adopt a Ka Band solution with its increased accuracy is a critical transfer for all but especially the early adopters who look to maintain a market leadership position. With Skyware being the foremost supplier of Ka solutions both antenna and electronic Ka products are experiencing increased demand. Skyware Global have recently successfully launched a range of Ka antennas and transceivers to answer the increased demand.

Ahsun Murad, Optimal SATCOM
HD TV has definitely been the biggest driver of demand for satellite capacity from a bandwidth perspective. New and innovative technologies including highly efficient modulation and coding schemes have greatly facilitated this demand. Service providers are using these same innovations to deliver enterprise satellite services to end-users (especially to emerging markets) at lower price points, driving a robust broad-based demand for satellite capacity across the world. Connectivity to the Internet and social media is increasingly becoming a necessity even in the developing world, creating another huge driver of sustained, long-term demand.

Bruno Dupas, Integral Systems Europe
Over the past decade, satellite operators in Europe have consolidated their Telemetry Tracking and Control (TT&C) sites for their satellites by centralizing the management and control of these assets into a single system. They have also acquired effective RF mitigation solutions, such as Monics® from SAT Corporation for carrier monitoring and RF signal interference analysis and detection. Thus, the market from this perspective is rather mature. Where we do see major growth opportunities are in new, green field projects where we are able to offer a complete line of ground segment products, solutions and services — from fully integrated Earth Stations to software installations. Because we provide commercial-based products, customers are able to cost-effectively implement solutions that will sustain their operations for the long-term, regardless of the satellite bus they are using.

Service providers have a different problem. Signal modulation techniques evolve constantly to make better use of the bandwidth. Again, because we offer commercial-based technology solutions, we are able to up with the constant evolution, which help satellite services providers streamline their operations, cut costs and increase efficiencies. Finally, on the government and military side, debt concerns have put a strain on budgets. While this trend will continue into the foreseeable future, there is still opportunity as government agencies and the military need to modernize their networks and operations to meet the growing demands of end users. In this environment, these customers should look to offerings that are not only cost-effective, but are flexible enough to provide support beyond the scope of the original project.

Howard Hausman, MITEQ
Television and the Internet are driving the demand for increased in communications connectivity. Satellite communication is one leg of the communication structure that proportionately will grow as demand increases. In the recent past HDTV drove an increase in broadcast bandwidth, in the near future 3D TV will also increase the broadcast bandwidth demand. On the Internet side of the equation, smart phones, mobile emails, and texting is driving the demand for more bandwidth.

Gil Ilany, Spacecom
Technology is a primary market driver for communications in Europe. In the broadcast sector, HD and 3D are generating new TV channels and as we have already seen, adding supplementary versions of pre-existing channels. We are confident that entertainment, sports and communications applications will keep the needs for satellite capacity moving ahead into the future.

Opportunities also exist for new DTH platforms and new TV channels throughout the region. New DTH players are coming into the market such as Magio TV in Slovakia. The AMOS fleet is well positioned to take advantage of broadcast trends as economic growth engages the local economies in our target CEE markets, and we will see more channels as well as new payTV platforms creating opportunities for AMOS.

SM
Have you offered any guidance to your business teams and/or shareholders as to how you project your Company's quarterly earnings for this market and for the global market overall?

Joerg Schmidt, DEV Systemtechnik
We see big opportunities outside of Europe as well. For example, we recently formed DEV America (www.dev-america.com), based in California, so DEV will be even better positioned to meet growing demand for our advanced technologies from satellite teleports, uplinks, direct-to-home (DTH) and IPTV head ends, as well as cable TV systems and playout facilities. We also see growing demand from Asia and the Mideast, for example, with recent projects in India and the Mideast, with installations for major operators such as Etisalat.

Dimitrios Papaharalabos, Europe Media Port
EMP is a private company with private investors that like everyone else is operating with regular forecasts and internal updates for growth plans and especially for maintaining healthy profitability.

Paul Weldon, ASC Signal
Europe should certainly not be seen as a declining market. I think "steady as she goes" sums up Europe's revenue generation for the immediate future.

Roberto López, Hisdesat
It is critical to perform a long-term planning, be visionary and leave nothing to chance. In an industry as complex as this, that requires large investments, the comprehensive planning of innovative, sophisticated and complex projects is essential to achieve their successful completion. This is what creates trust, investments and opportunities for further growth.

Doron Elinav, Gilat
In general, we do not publish guidance or projections for our earnings. We think the market is getting better in 2011, compared to the past two to three years. We can see a sign of this in our backlog. At the end of 200, our backlog was $180 million, and at the end of 2010, it was $232 million. Our management objectives for 2011 are to increase our revenues to more than $330 million and achieve an EBITDA margin of 10 percent.

Mark Dankberg, ViaSat
Economic environments are difficult and challenging. However, there are always opportunities when you can deliver higher performance AND lower costs to your customers. The bandwidth economics of high-capacity Ka-band satellites make that possible and that is the area we are most focused on for growth.

In general, given that we see bandwidth as a core value proposition — especially the unit cost of bandwidth (such as cost per MByte, or Mbps stream) — we have seen our markets constrained until the launch of these next generation satellites. Now that KA-SAT is in service, with ViaSat-1 scheduled for launch in September, we believe that creates more opportunities for us to grow our equipment and services revenues. In the meantime, we have seen the greatest growth from migrating broadband users away from conventional L-band MSS services and onto spread spectrum Ku-band and/or C-band services because that also supports the higher performance at lower c