Asia Pacific is a fascinating telecoms landscape. The region is renowned for having the highest GSM subscriptions in the world with an average annual growth of 30 percent. Currently, there are over 2 billion mobile phone subscribers in Asia Pacific accounting for about 46 percent of global subscriptions, the majority of which originate from China with over 710 million subscribers. Research predictions forecast that the region's consumer spending on communications will reach US$815 billion by 2015 amounting to approximately 3.1 billion users.
Smartphones are highly popular in Asia-Pacific. Analysts believe that users will reach 347 million by 2015. The smartphone market is expected to double by 2016 and account for 32 percent of all mobile phones in the region, with projected figures of 653 million users within five years.
Nonetheless, despite these significantly large numbers, there is still immense room for telecom expansion as penetration rates remain below average in comparison to the Americas and Europe. Growth in the telecom scene in Asia is predicted to result from strong economic growth, boosted urbanization, government investments, and infrastructure building. It is predicted, however, that more than $1 trillion investment is required in new infrastructure to meet Asia's market needs.
In addition to mobile phones, broadband has been growing rapidly. The social media revolution and web have created lucrative opportunities for the Asia-Pacific broadband market. But the regional household broadband penetration is less than 20 percent, defining the market as still growing. Concurrently, Asia-Pacific is estimated to be the top region for video consumption through broadband wireless access and, by 2017, the region is expected to contribute more than 53 percent of all global traffic.
The MSS Situation
Similar to the Asian GSM world, the MSS sector will also witness accelerated growth over the coming years. Despite the unprecedented boom in terrestrial networks and expansion in the region, there is still demand for MSS communications in areas that are still underdeveloped, remote, or that cannot be covered by terrestrial networks, such as the significant water areas. The high CAPEX funding requirements for full development of new telecom infrastructures in Asia-Pacific allows for significant potential for MSS operators with satellites currently covering the area.
Analysts project that the number of MSS terminals deployed in the region will increase at a CAGR of 20 percent from today until 2018, resulting in 1.4 million terminals in the market. Driving the MSS growth in Asia-Pacific will primarily be the maritime sector, due to an increase in maritime trade on the back of solid economic development and the presence of major ports. The number of maritime terminals is expected to grow to over 123,000 units and the annual wholesale revenue are forecasted to reach US$212 million in 2018.
Another major growth driver will be the broadband sector, which is showing projected figures of CAGR at 20 percent, resulting in 48,000 terminals and wholesale revenue of US$191 million in 2018.
The satellite handheld market in Asia is predicted to continue increasing, especially between 2013 and 2018, and will account for more than 21 percent of the global market. The number of terminals used in the region is expected to reach 202,000 by 2018.
Thuraya's Seamless Position In Asia
Thuraya launched its third satellite in 2008 to cater to the increasing demand for SatCom services in the region. With a state-of-the-art network that offers strong capacity over Asia, the ability to support data, maritime and land services, Thuraya is well poised to meet the full communications needs of the region. With a vast coverage area that is uninhibited by borders, Thuraya addresses the basic requirement for seamless mobility through a diverse portfolio of communication products.
Moving in line with current market trends, Thuraya has developed product offerings that match the growth drivers of the Asia-Pacific market. For low- to high-end maritime segments, the Company offers three specialized maritime products:
– Thuraya Marine
– Seagull 5000i
– The soon to be launched MarineNet Pro terminal
These tailor-made solutions are designed with the knowledge that the region is composed of a multitude of islands and prominent trade routes that can only access communications via satellite. In keeping with international regulations, the
Seagull 5000i
terminal has
Long Range International Tracking
(LRIT) functionality, which is becoming a mandatory requirement by many maritime and fishery bodies.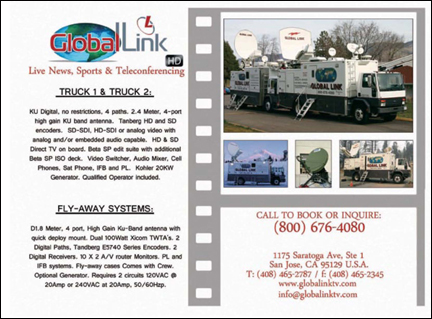 For the satellite high-speed data market, Thuraya pioneered the world's smallest satellite broadband solution that supports 384 Kbps streaming — the
Thuraya IP
. This terminal was used most recently in the Asia-Pacific region by government agencies for search and rescue operations following the devastating earthquake that struck Japan in March of this year. The rapidly deployable solution was provided in coordination with the
International Telecommunications Union
to provide high-speed data communications, which was otherwise impossible via terrestrial networks as they has been destroyed during the natural disaster.
Similarly, Thuraya's rugged handheld phone, the XT (which is also known as the world's toughest satellite phone) was also deployed in Japan during the humanitarian operations following the quake and tsunami. Last year, Thuraya XT was selected by Taiwan's
National Fire Agency
as a main component of its emergency communications suite of products. The phone was selected following thorough testing by the Agency that required a satellite handheld able to provide reliable service and one that could withstand challenging conditions. As the phone is the only satellite handheld to be both IP54, and certified making it dust, splash water and shock proof, the device is definitively operable in enduring conditions.
This is certainly not the first time Thuraya has played a major role in providing communications during disasters in the region. The Company's CSR efforts have formerly extended in Samoa, Pakistan, Indonesia, China, Myanmar and Taiwan. Asia-Pacific is a belt that has a history of exposure to natural disasters and Thuraya's SatCom solutions have proven to be a valuable asset in the coordination of relief management and in saving lives.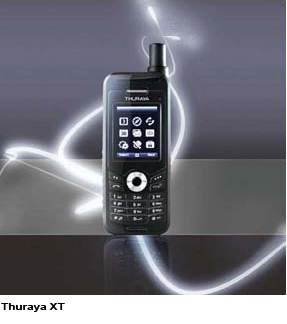 As smartphones are an important telecom component in the Asia-Pacific region, (in South Asia, more people own a smartphone than a PC), Thuraya's XT, which provides the fastest satellite data service via a handheld terminal in the market, attracts consumers who need reliable and quick access to the Internet and email, especially when out of GSM reach.
To ensure market reach of Thuraya products in the Asia-Pacific region, Thuraya has built a strong distribution network of partners in several markets. In Korea, Thuraya launched service with Asia-Pacific Systems Inc. (APSI). The Malaysian market is being served by Tekknikom, while Thuraya's partners in Australia are Optus and Indigo Telecom. Thuraya acquired the license for Indonesia through PT SOG and Taiwan is managed in cooperation with Chunghwa Telecom. This is in addition to International Service Providers such as Vizada, AST, IEC and SatCom Distribution that house regional offices in Asia. Through these commercial relationships, Thuraya has begun the steady journey of offering its services in the relevant market segments.
Thuraya's broad portfolio of products, be it data, maritime or voice ensures that as an MSS operator the Company meets the needs of vital sectors that depend on satellite communications in the Asia-Pacific region. With its depth and history of experience in providing communications during natural disasters, Thuraya will continue its pivotal role in supporting humanitarian agencies through its Thuraya IP and handheld terminals. As Asia-Pacific is a strong maritime market, Thuraya will be gearing its focus to ensuring that all the segments of this diverse industry, be it fishing, medium-sized vessels, leisure, or merchant ships, are well-equipped with the company's products.