For the tenth consecutive year the satellite industry will be converging on New York City for the SATCON exhibition and conference October 12 & 13 at the Jacob Javits Convention Center.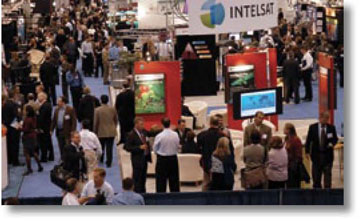 SATCON
has grown each year since 2002 as an annual industry showcase and conference. This year SATCON combined with CCW will again feature a world-class program with 175 speakers, 40 sessions and over 250 exhibitors displaying the latest satellite communications and content delivery technologies. More than 6,000 people are expected to attend. SATCON attendees will be treated to two full days of panel sessions focused on Government and Military, Broadcast, Media and Entertainment and Mobile Satellite Applications with additional sessions covering digital signage, emergency response, business strategies and new technologies. Leading expert speakers will provide SATCON attendees with strategies for managing their communications infrastructure including video, data, voice and Internet using satellite, fiber mobile and wireless technologies. Here are just a few highlights of the SATCON 2011 program.
The program on Wednesday, October 12th, includes:
– KEYNOTE: Next Generation Satellites
: A Conversation with
Mark Dankberg
, CEO,
Viasat
, and
Pradman Kaul
, CEO,
Hughes Communications, Inc
.
– Future Resiliency in SATCOM
: A discussion of recent DoD policy and strategy and the need for resilient space architecture
– New Technologies and Choices for Comms-on-the-Move
– Update
:
Future Commercial Satellite Communications Services Acquisition (FCSA)
– New Techniques
:
Extending the Life of the Satellite
– Delivering Satellite-Based ICT for Disaster Preparedness... Sustainability
– Fundamentals of Satellite Communications, Part 1
– KEYNOTE Panel
-
International 3D Society
—
Your World in 3D - Separating the Facts from the Hype

– File-based Distribution Over Satellite
What is the Satellite and Fiber Model for the Next Generation Program Delivery for 'Old Media'?
The program on October 13th includes:
– Government & Military Keynote: Lt. Gen. Michael J. Basla, Vice Commander, Air Force Space Command, U. S. Air Force
– Hosted Payloads On The Horizon: Opportunities and Challenges
– Hosted Payloads Alliance (HPA) meeting and briefing (RSVP Required)
– Advanced Technologies – What's Next for COMSATCOM in the Military?

– Financing Satellite Businesses: New Strategies for a New Market Environment?

– MSUA: Competition in Mobility Services: MSS and FSS Operators go Head to Head

– Fundamental of Satellite Communications, Part 2

– Are We Winning The War Against Satellite Interference?

– Dynamic Digital Signage: How Satellite Generated Dynamic Place-based Media is Creating New Opportunities
What's New @ SATCON This Year?
"We have some great new sessions, and I am especially excited about New Techniques: Extending the Life of the Satellite which addresses the challenges and benefits of in-orbit servicing from the perspective of the service providers, satellite owner-operators, and the satellite services end users. The military and industry keynote speakers are sure to attract a full house, and we have a terrific panel lined up for the Hosted Payloads on the Horizon: Opportunities and Challenges panel session this year." — Susan Irwin, SATCON Conference Chair and President, Euroconsult USA
The speakers on the Hosted Payloads panel include:
– MODERATOR:
Patricia Cooper,
President, SIA
– SPEAKERS:
Robert "Tip" Osterthaler
, (USAF, Ret), President & CEO,
SES US Government Solutions
–
Charles Baker
, Deputy Assistant Administrator for Satellite & Information Services,
National Oceanic and Atmospheric Administration (NOAA)
–
Don Brown
, Vice President, Hosted Payloads,
Intelsat General Corporation
–
Byron Browning
, Chief, Space and Airborne Branch,
Army CIO G6
, U.S. Army
–
Don Thoma
, Chairman of the
Hosted Payload Alliance
and Executive Vice President Marketing,
Iridium
What About Special Events?
"I am looking forward to the Military Breakfast presentation by Lt. Col. Gregory H. Coile, Product Manager SATCOM, U.S. Army PM WIN-T, PEO C3T entitled 'Connecting Soldiers in Afghanistan with Satellite Communications' which is an invitation-only event for our DoD attendees, and the Hosted Payload Alliance (HPA) meeting will be a great opportunity for the industry to learn more about current initiatives that are strengthening government and commercial partnerships within the satellite industry." —
Michael Driscoll
, Vice President and Event Director,
CCW/SATCON
.
SATCON attendees can also attend sessions in the CCW conference program that include top speakers and topics related to HD, 3D, multiplatform content delivery and mobile media production.
SATCON attendees can register separately to attend the
SSPI Future Leaders Dinner
being held on the evening of October 12 — info at
www.satfuture.com
. Since 2006, SSPI's Future Leaders Dinner has honored men and women under 35 with the talent and motivation to advance into leadership positions in the satellite industry, as well as one executive recognized for mentorship of the next generation. During the Future Leaders Dinner, SSPI presents the
Promise and Mentor Awards
.
Registration
Attendee registration at SATCON is online at
www.satconexpo.com
.
SatNews
readers, apply for your complimentary pass using VIP Code CCG16. Contact the organizers of SATCON at
info@jdevents.com
with any questions.