Advanced coding and modulation technologies, often used in various combinations, offer a quantum-leap in efficiency that brings structural changes to the ground segment business of most satellite-delivered applications. Satellite sectors and applications that benefit from advanced modulation and/or video compression include DTH, video distribution and contribution, satellite broadband and IP trunking/backhaul, HITS, digital cinema distribution and SCPC.
DVB-S2
modulation and
MPEG-4 AVC
(
H.264
) video compression have been widely accepted as the prevalent standardized means to optimize satellite links in video broadcast and
point-to-multipoint
(
P2MP
) networks. Nevertheless, business and technical conditions are also inducing the use of non-standard advanced techniques such as frequency reuse and flexible LDPC coding in point-to-point and P2MP scenarios to match new trade-offs associated with bandwidth, power and latency in interactive applications.
Despite wide industry acceptance and validated bandwidth savings, questions remain as to what speed will these advanced technologies be deployed, where and how for the relevant scenarios. Depending on a number of industry and application-specific considerations, the case for deploying advanced systems against traditional systems can vary substantially from region-to-region and from application-to-application. Factors accelerating or deterring new system and migration deployments include HD growth, costs of advanced
set-top boxes
(
STB
), current/planned satellite footprint and frequency bands, installed base of legacy components, space segment cost, network scale and collective switching issues.
The drivers and contextual considerations for each of the sub-sectors where advanced coding and modulation apply mean regional-specific degrees of adoption speed and tipping points for hardware vendors, operators and service providers to take into consideration when planning deployments in both greenfield and replacement scenarios.
This second edition of
NSR
's comprehensive study on the advanced coding and modulation market has expanded in scope and depth, with more granularity in equipment forecasts for both end-side and teleport-side equipment, as well as the addition of categories not covered in the 1st edition. This report is the result of extensive research, development of application-specific "bottom-up" forecast models and interviews with industry-leading hardware suppliers and service providers in the sectors of DTH, video broadcast, satellite broadband, IP Trunking, SCPC and digital media distribution.
Advanced satellite channel modulation and coding and video compression technologies offer a quantum leap in efficiency that fuels structural changes in satellite-delivered entertainment and connectivity across a wide range of scenarios. Applications that benefit from advanced satellite coding and modulation and/or video compression range from satellite HDTV distribution and contribution, to professional applications, to star-type satellite broadband networks, to the emergence of new "
HITS
" platforms, content "push" for digital media distribution and application backhaul over satellite. Additionally non-DVB-S2 standard advanced coding and modulation technologies apply to the markets of consumer satellite broadband access, LDPC-coded SCPC and carrier signal canceling.
NSR projects shipments of more than 142 million advanced end units and almost 50,000 teleport advanced equipment units between 2009 and 2014. Equipment manufacturers and vendors are expected to achieve revenues of over $18 billion for the sale of these advanced units. The global market of advanced equipment shipments is expected to grow at a compounded annual growth rate (CAGR) of 7 percent between 2009 and 2014, reaching 32 million annual unit shipments worldwide in 2014 and generating $3.6 billion in OEM annual revenues.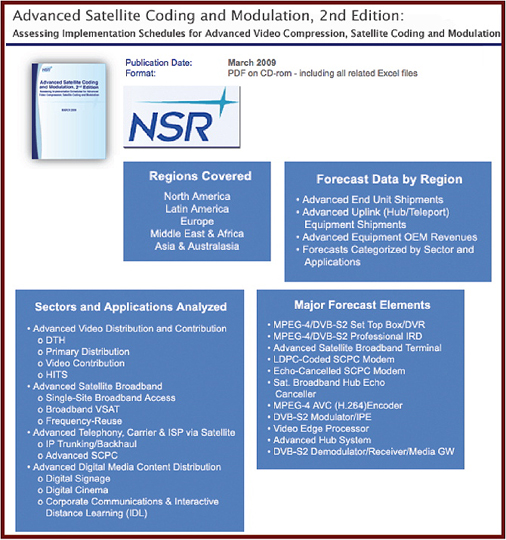 While the projected schedules result from a combination of distinct products for different applications analyzed separately in this study, the vast majority of the projected sale of end units will come from the growing use of MPEG-4 video decoding and DVB-S2 demodulation in DTH set-top boxes and DTH-DVRs. Furthermore, the sale of these end units will increasingly weigh more in the revenue mix. While in 2009 NSR projects that the sale of advanced set-top boxes and DVRs will account for almost 58 percent of total equipment revenues, these devices will represent 78 percent of total advanced equipment revenues by 2014 as MPEG-4 and DVB-S2 continue being adopted in DTH HD offerings and operators push for DVR massification.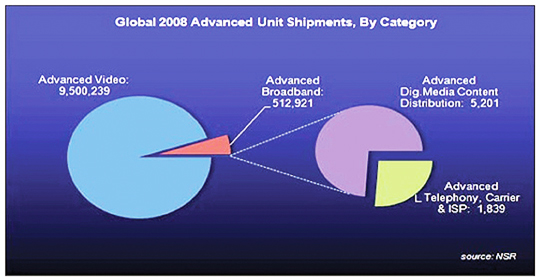 The main driver behind DTH momentum is a set-top box replacement cycle that started almost exclusively in North America. This situation was fostered by
DirecTV
and
EchoStar
through extensive HD offerings aimed at helping them differentiate against cable VOD and triple-play competition. 2008 could be considered a key growth year for DTH-HDTV in North America, and expansion in some Western European countries such as in the U.K. via BSkyB and FreeSat. Nevertheless, during 2008, many DTH operators started offering HD services in most parts of the world, a situation that, while still embryonic from both a channel count and subscriber base, is set to further enable an expanding replacement market for advanced STBs.
The sale of these end units will increasingly weigh more in the revenue mix. While in 2009 NSR projects that the sale of advanced set-top boxes and DVRs will account for almost 58 percent of total equipment revenues, these devices will represent 78 percent of total advanced equipment revenues by 2014 as MPEG-4 and DVB-S2 continue being adopted in DTH HD offerings and operators push for DVR massification.
2008 could also be considered a key year for the use of MPEG-4/DVB-S2 in high growth, low-ARPU DTH markets. The
Telecom Regulatory Authority of India
(
TRAI
) proposed new rules during 2008 for HITS and DTH services that, among other things, require new DTH players such as
Bharti
(
Airtel Digital
),
Sun Direct
and
Big TV
(
Reliance
) to adopt MPEG-4 and DVB-S2 for their standard definition DTH services. These new Indian players using exclusively MPEG-4 / DVB-S2 systems had together more than 3.2 million subscribers in January 2009 after less than one year in operation and have been adding subscribers at a pace of more than one half million subscribers per month between the close of 2008 and the start of 2009. Due to the sheer potential scale of the Indian DTH market, this TRAI mandate is expected to positively affect the market for advanced STBs and translate into enough demand to bring the price of standard-def DVB-S2/MPEG-4 STBs down faster and lower the market risk for STB makers.
While the 2009 global economic slowdown is expected to negatively influence business growth, a number of key counteracting factors that took place are set to pave the way for a healthy market during the entire period of analysis. Such factors facilitating the business of advanced equipment include:
DTH uplink (teleport) infrastructure upgrades near completion for both HD offerings in North America and new, fast-growing MPEG-4-based DTH platforms in emerging markets such as India
A large untapped market of HD-ready households without HD services in Europe
Chipset convergence and lower end unit costs cannibalizing the business for traditional MPEG-2/ DVB-S market
High space segment costs encouraging the use of bandwidth-saving technologies, such as carrier-overlapping or LDPC
Advanced DVB-S2 satellite broadband expansion, among other factors
Consequently, NSR believes that, provided global markets do not collapse into a crisis of unprecedented proportions resulting in a long and deep global recession, the business climate should improve towards 2010 (as many economists anticipate), and the market for advanced satellite coding and modulation equipment should hold up well during the period of analysis. In fact, 2008 inertia from capital expenditures in uplink equipment upgrades are expected to drive short-term sales for end unit shipments in both replacement markets (such as the U.S. HD-DTH) and growth markets (such as for Indian MPEG-4 DTH platforms).
Research carried out by NSR on the advanced satellite coding and modulation market, including a large number of interviews with leading industry players, reveals a good degree of resilience to the global economic crisis for some (not all) of the applications analyzed. This resilience does not apply homogeneously to all sectors for advanced coding and modulation technologies, but it does seem to show that the combination of high growth and replacement markets are positive, diversified global influencers for sustained business.
About the author

Carlos Placido has more than 12 years of progressive experience in the areas of consulting, program management, research and engineering in telecommunications and entertainment. Mr. Placido has carried out independent business development, technology assessment and management activities, including market research studies for NSR, assessment of regional business potential for vendors and project management at Telefonica.
Until 2004, he led a development team at Intelsat in Washington, D.C. where he was responsible for identifying and validating emerging video and data technologies for their potential applicability to new and existing services. Mr. Placido's development efforts at Intelsat included advanced video networks, IP television, satellite multicasting and broadband, having made significant contributions including spearheading satellite IPTV, improving Internet throughput enhancement and pioneering high-speed satellite LAN-to-LAN.

Prior to joining Intelsat in 1999, Carlos was a specialist engineer with Telintar, the international carrier of Argentina, where he engineered and managed the implementation of a number of infrastructure projects including satellite earth stations, transmission systems, digital voice compression and mobile occasional-use international services. Prior to joining Telintar, he spent two years as a post-sales network support engineer at Impsat Fiber Networks, a company acquired by Global Crossing in 2007.