A Breeze Of An ILS Turksat-4A Launch
International Launch Services (ILS) successfully launched the Mitsubishi Electric Corporation-built TURKSAT-4A satellite into orbit on February 15th at 6:09 a.m. (Japanese time)—21:09 GMT and 16:09 EST, February 14th, on an ILS Proton vehicle.
The satellite was built by Mitsubishi Electric Corporation for TURKSAT Satellite Communication, Cable TV and Operation Inc. Co. (TURKSAT A.S.), one of the world's leading operators in the satellite communication business. This was the first ILS Proton launch for both the satellite operator and the manufacturer; it was also the first Proton launch of the year.
The ILS Proton Breeze M vehicle launched from Pad 24 at the Baikonur Cosmodrome. The first three stages of the Proton used a standard ascent profile to place the orbital unit (Breeze M upper stage and the TURKSAT-4A satellite) into a sub-orbital trajectory. From that point in the mission, the Breeze M performed planned mission maneuvers to advance the orbital unit first to a circular parking orbit, then to an intermediate orbit, followed by a transfer orbit, and finally to a geostationary transfer orbit. Separation of the TURKSAT-4A satvellite occurred approximately 9 hours and 13 minutes after liftoff.
TURKSAT-4A will provide telecommunication and direct TV broadcasting services over a wide geographic region ranging between the west of China and the east of England, spanning Turkey, Europe, Central Asia, as well as the Middle East and Africa.
TURKSAT-4A is a multi-band satellite with an expected on-orbit lifespan of 30 years. The satellite will provide high flexibility of switchability and connectivity among different service areas to its customers.
The satellite weighed 4.8 metric tons at liftoff and is the ninth satellite built on Mitsubishi Electric's DS2000 platform, a fully proven modular platform with the flexibility to handle a broad range of payload applications.
ILS President Phil Slack said, "This is the first ILS Proton launch for our partners, Mitsubishi Electric and TURKSAT, and we are happy to have such a strong foundation for our new relationship. We are honored to be entrusted to deliver our customers' satellites to orbit."
Ozkan Dalbay, TURKSAT A.S. CEO and Chairman of the Board, said, "Today's launch is a significant milestone that strengthens our ties with both ILS and Khrunichev."
Mitsubishi Electric General Manager of Space Systems Division, Yasunori Kamochi, added, "We appreciate that through ILS' conscientious efforts, they conducted a flawless mission leading to the successful launch of TURKSAT 4A, our first Proton launch."
* * * * * * * * *
A Flock Of Doves Fly Out Of The ISS
Considered the largest single constellation of Earth-imaging satellites ever to launch into space... the 28 Dove satellites that comprise the Planet Labs' Flock 1 mission will be the largest single constellation of Earth-imaging satellites ever to launch into space
The Flock 1 constellation of satellites deployed on February 11th from the International Space Station. Built and operated by Planet Labs of San Francisco, the Flock 1 small satellites are individually referred to as Doves. The Dove satellites are part of a class of miniature satellites often called CubeSats. These small satellites will capture imagery of Earth for use in humanitarian, environmental and commercial applications. Data collected by the Flock 1 constellation will be universally accessible to anyone who wishes to use it.
"We believe that the democratization of information about a changing planet is the mission that we are focused on, and that, in and of itself, is going to be quite valuable for the planet," said Robbie Schingler, co-founder of Planet Labs. "One tenet that we have is to make sure that we produce more value than we actually capture, so we have an open principle within the company with respect to anyone getting access to the data."
The Dove CubeSats use an automated approach where the spacecraft take pictures over various areas, store them, and transmit them when positioned over a ground station. Planet Labs then processes the imagery and uploads it online for anyone to access it. The Flock 1 constellation of satellites may also be used in concert with high-resolution assets like unmanned aerial vehicles and large imaging satellites in order to follow-up on an identified area and gather more imagery in greater detail.
Imagery from Flock 1 enables identification of areas for disaster relief and improved agricultural yields in developing countries around the globe. Users also can apply this imagery resource to global environmental protection measures, such as monitoring deforestation and changes to polar ice caps.

"Our company goal is to image everywhere very frequently, for everyone," explains Schingler. "If you image everywhere, then that actually means that you can image anywhere. That's going to be quite transformative for a number of countries, for a number of companies, and so forth. Our monitoring capability is always on. We are always taking a picture."
Commercial applications of the imagery include mapping, real estate and construction, and oil and gas monitoring. If a company has high-value, distributed assets that need regular monitoring, Flock 1 imagery can assist in this type of endeavor. For example, Flock 1 can supplement or replace the need for flying a helicopter over an oil pipeline to monitor for a leak, since the 28 Dove CubeSats can quickly collect the necessary imagery.
The revisit rate, or frequency with which Dove CubeSats pass over a given area, is currently unprecedented among existing satellite systems in orbit. Imagery will be collected at latitudes within 52 degrees of the equator, which encompass expanses north and south of the equator that cover the majority of the world's populated areas and agricultural regions. The Flock 1 constellation will travel in a lower orbit than most satellites, at a distance between 240 and 400 miles above Earth. For comparison, weather and commercial communications satellites are often given geostationary orbits, which are circular orbits above the Earth's equator at a distance of approximately 22,236 miles above Earth.
The Flock 1 constellation deployed from ISS using the NanoRacks Smallsat Deployment Program to launch from the station's Japanese Experiment Module (JEM) airlock. The NanoRacks deployer provides commercial access to space, via the space station, for CubeSats to perform Earth and deep space observation. View the illustrated simulation by NanoRacks to see how these small satellites are deployed into space.
Previous launches of similar CubeSat hardware by Planet Labs served as an extension of their laboratory and optimized the software and hardware to prepare the Dove CubeSats for success. Software for all satellites in the Flock 1 constellation can be reprogrammed very quickly while in orbit.
"Our ability to build and operate spacecraft will allow us to do more with these spacecraft in the future as we begin to think about the satellite segment as a very remote server with a whole bunch of sensors on board that could be reprogrammed to do other things," says Schingler.
Story by Laura Niles, ISS Program Science + Public Affairs Office, NASA's Johnson Space Center
* * * * * * * * *
ABS-2 Is Away For Asia Broadcast Satellite
Asia Broadcast Satellite (ABS) celebrated the launch of their ABS-2 satellite at 17:30 Kourou (8:30 p.m. UTC) on February 14th.
The satellite was launched on an Ariane ECA launch vehicle by Arianespace from the Guiana Space Center, Europe's Space port in Kourou.
ABS-2 was manufactured by Space Systems/Loral (SSL) and is a highly sophisticated, multi-mission satellite, featuring as many as 89 active C-, Ku- and Ka-band transponders across 10 different beams.
ABS-2 brings unparalleled coverage and expansion capacity at ABS' prime location of 75 degrees East, extending affordable and reliable communications and broadcast services to the emerging markets of the world.
"We are delighted with the launch of ABS-2 satellite, our first satellite launch. We would like to thank both Arianespace and SSL for their collaboration for delivering today's successful launch," said Tom Choi, CEO of ABS. "Our customers are looking forward to the new capacity on ABS-2 at 75E, a new state-of-the-art satellite serving the Eastern hemisphere. The ABS-2 satellite will significantly contribute towards our expansion plans and is part of our growth strategy to increase the ABS satellite fleet and becoming a global satellite operator in the coming years."
"We would like to express our pride this evening following the successful launch of ABS-2," said Stéphane Israël, Chairman & CEO of Arianespace. "We are focused on delivering high-quality launch services to commercial satellite operators worldwide and being entrusted by ABS for its first launch contract is a great honor for us. Congratulations also to Space Systems/Loral. It is a great privilege to work with such an experienced and proven team, a leader in the comsat market."
John Celli, president of SSL, said, "A satellite launch is the culmination of collaboration, hard work and relentless focus on quality. ABS-2 is a very advanced satellite that has the capability to improve the human experience in multiple regions of the world."
* * * * * * * * *
SSTL—A Lot Of Momentum For Rosetta
On January 20, 2014, after 957 days of deep-space hibernation, ESA's comet-chasing mission Rosetta woke up.
In August of this year, after traveling for nearly 10 years, the Rosetta spacecraft is due to reach its target—the comet 67P/Churyumov–Gerasimenko. Once there, the spacecraft will map the comet's surface, and then in November Rosetta will dispatch a lander in order to closely inspect the comet's nucleus and to sample its physical and chemical composition. This is when the excitement really begins at Surrey as the lander, Philae, carries a Surrey momentum wheel, delivered for the mission way back in 2001.
The momentum wheel on board Philae is there to provide gyroscopic stabilization for the lander as it makes its descent to the comet's surface. A momentum wheel is a wheel connected to a motor that is spun up to a high rotational speed—this provides what is referred to as an angular momentum bias to the lander. The bias helps stabilize the lander in the same way that the spinning motion of a gyroscope helps it to stay upright. The Surrey wheel design was a great choice for this mission because of its special bearing, which is particularly good for long periods of storage in vacuum.
The bearing makes use of a solid lubricant which cannot evaporate into space, unlike the oils used by most wheels in space and on the ground. The wheel is also extremely power efficient, only consuming about 6 watts, which is extremely important on such a power-limited spacecraft. After the lander has rendezvoused with 67P/Churyumov–Gerasimenko, the Rosetta spacecraft will follow the comet, and Philae will beam back data. The comet will be at its closest approach to the sun in August 2015, and as it warms up, Philae will be collecting data about the ever-changing conditions at the comet's surface.
The waking up of the Rosetta spacecraft is just the start of another countdown for SSTL—checking off the days until November when Philae is released to begin its journey toward the surface of the comet.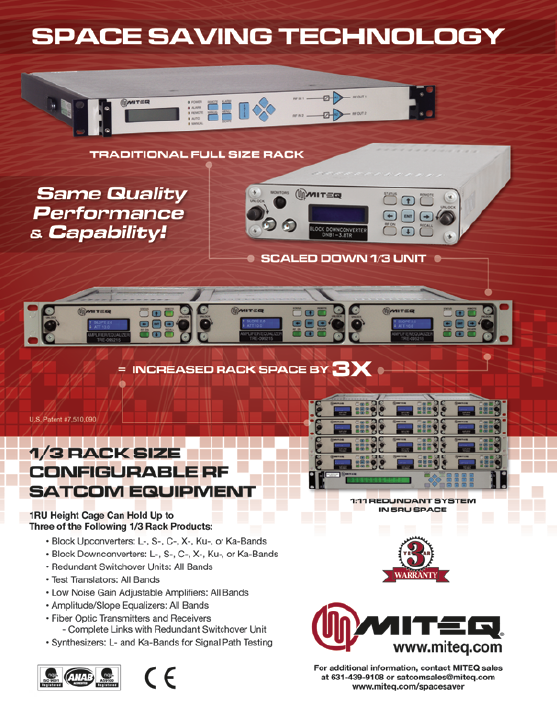 The SSTL infosite is located at http://www.sstl.co.uk/
* * * * * * * * *
COM DEV Int'l + Ontario—Funding Coming
The Ontario, Canada, government is providing support to COM DEV International Ltd. to double its production capacity and create 75 new jobs and retain another 917 jobs.
With support from the province's Southwestern Ontario Development Fund, the company will expand its facility and invest in innovative technology to improve efficiency, increase productivity and lower environmental impacts.
COM DEV is a leading global designer and manufacturer of advanced space hardware. More than 80 percent of commercial communications satellites launched worldwide have included COM DEV technology. Helping Ontario businesses stay competitive and grow is part of the government's economic plan that is creating jobs for today and into tomorrow.
The comprehensive plan and its six priorities focus on Ontario's greatest strength—its people and strategic partnerships.
Quick Facts
Ontario is providing a grant of $1 million to support COM DEV's substantial investment in this project.
COM DEV International Ltd. is headquartered in Cambridge, Ontario, and employs more than 1,200 people across its facilities in Canada, the United Kingdom and the United States.
The Southwestern Ontario Southwestern Ontario Development Fund is helping to create jobs and diversify the economy by encouraging regional businesses to pursue innovation and new markets. To date, the fund has helped create and protect approximately 9,000 jobs throughout southwestern Ontario.
The COM DEV International infosite: http://www.comdevinternational.com/
* * * * * * * * *
ESI + Skybox—Joining Forces For Imagery
Emirates Space Imaging (ESI) has announced the execution of a multi-year agreement with Skybox Imaging (Skybox) to deliver timely, sub-meter resolution satellite imagery and high-resolution, high-definition (HD) video to Middle East, Europe and North Africa (MEENA).
Space Imaging Middle East (SIME) and European Space Imaging (EUSI) have been assigned to implement operations within their respective regions.
Under this agreement, ESI has purchased two compact ground stations, named SkyNodes, that each consists of a 2.4 meter antenna and two racks of supporting equipment.
The small-footprint system and complete software suite of easy-to-use applications will enable SIME and EUSI to schedule, task, image, downlink, and process imagery and video products captured from the Skybox constellation. The two ground stations will be located near Abu Dhabi and Munich.
SkySat-1, Skybox's first satellite of the planned 24-satellite constellation, was successfully launched on November 21, 2013, and is currently undergoing calibration. SkySat-1 captures sub-meter resolution color imagery, as well as high-resolution, full motion video.
SkySat-2 and SkySat-3 are planned for launch in mid-2014 and early 2015, with the first block launch of six additional satellites planned for late 2015.
* * * * * * * * *
United Launch Alliance—A Momentous Anniversary
United Launch Alliance (ULA) has commemorated the 25th anniversary of the proven industry workhorse rocket, the Delta II. The first Delta II mission blasted off from Cape Canaveral on February 14, 1989, successfully placing the GPS BII-01 mission into orbit.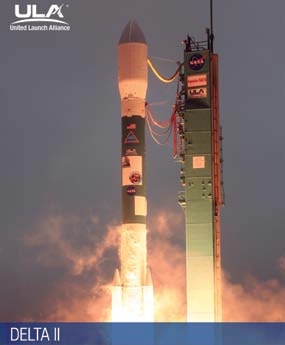 "We could not be more pleased to take time today to reflect on the tremendous success of the Delta II program and the nearly 150 missions it successfully delivered to orbit," said Michael Gass, ULA president and CEO. "While we count success one mission at a time, the ULA and prior Boeing heritage team have been able to count on the Delta II's success 97 times in a row over the last decade. This is a tribute to our dedicated ULA employees, our supplier teammates and our customers who ensure mission success is the focus of each and every launch."
ULA's Delta II has launched the majority of NASA's critical science missions over the last decade including the Mars' rovers Spirit and Opportunity, Genesis, Phoenix Mars Lander, Stardust, the twin Gravity Recovery and Interior Laboratory (GRAIL) spacecraft and most recently the NPOESS Preparatory Project (NPP) from Vandenberg Air Force Base in California in October 2011.
In addition to the science missions, Delta II has launched nearly 50 GPS satellites, dozens of other military payloads for the U.S. Air Force, as well as numerous commercial missions.
This year, ULA's Delta II will launch two NASA spacecraft, the Orbiting Carbon Observatory (OCO)-2 mission in July and the Soil Moisture Active Passive (SMAP) mission in November, both from Vandenberg Air Force Base in California. NASA once again selected Delta II to launch its Joint Polar Satellite System-1 (JPSS) and the Ice, Cloud, and land Elevation Satellite-2 (ICESat-2) missions in 2016.
"ULA is in the final stages of manufacturing the Delta II rockets at our factory in Decatur, Alabama, for this year's NASA missions," said Gass. "We look forward to working with NASA for these two missions and the future Delta II launch campaigns."
With more than a century of combined heritage, United Launch Alliance is the nation's most experienced and reliable launch service provider.
ULA has successfully delivered more than 75 satellites to orbit that provide critical capabilities for troops in the field, aid meteorologists in tracking severe weather, enable personal device-based GPS navigation and unlock the mysteries of our solar system. Reliable launch, real-world benefits.
For more information on ULA, visit the ULA website at http://www.ulalaunch.com/